4 small caps to watch in 2018
Team Veye | 08 Jan 2018

ASX - NWH, MNS, NEA, EDE
NRW Holdings Limited
NRW Holdings Limited (ASX: NWH) stock delivered an outstanding performance in 2017, which generated over 139% (Source: Google finance). The stock also started on a positive note in 2018 which generated over 6% till date (As of Jan 5th, 2018; Source: Google finance).
NRW has work in hand position of $1.7 billion and the tender pipeline is at a healthy $6.0 billion, which places NWH in a position to deliver strong returns to the shareholders in the coming years. Additionally, in FY 17 NWH has reported 20% year-over-year increase in revenue to $370.2 million and 25% increase in net profit after tax to $28.5 million, due to the higher earnings and lower financial costs. Further, in FY 17, NWH has restructured its debt through an innovative corporate note issue. The corporate note issue has now restructured debt payments over the life of the assets while being utilised and will improve liquidity in the business. As at 30 June 2017, the company had debt levels at $20.8M, which was a significant reduction from FY16 of $59.3M.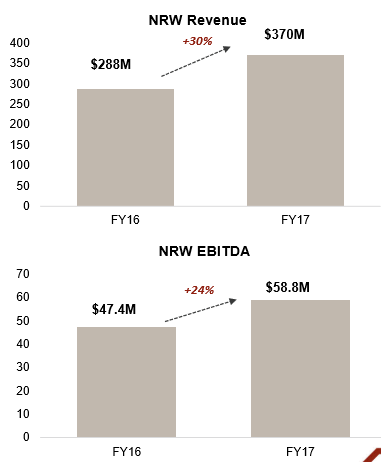 FY 17 Financial Performance (Source: Company reports)
The group recently finalized the contract for Gascoyne Resources Dalgaranga Gold Project, which is expected to generate approximately $324m revenue over 72 months.The contract is for open pit mining together with drill and blast operations. The work is expected to commence on the ground during the first quarter of 2018.
We believe NRW stock has more room for growth and recommend investors to add the stock in their portfolio. Hence we give a "BUY" Recommendation at $ 1.67
Eden Innovations Ltd
Eden Innovations Ltd (ASX: EDE) stock ended 2017 on a weak note and lost over 49.1% (Source: Google finance).
But the stock started 2018 on a positive note and generated over 32.2% in just 4 days(from Jan 2nd to Jan 5th; Source: Google finance).
The group finished developing and in-house testing of Eden Crete HC, a high concentration, lower cost version, and Eden Crete P, which is a new version suitable for use in the widely used concrete made with pozzolanic cement. The company has achieved encouraging performance levels with each product in the in-house testing program, and each product is expected to deliver cost competitive benefits to a wide range of customers across the US.
Moreover, EDE was among eight highly respected, independent US laboratories, all in different States, to test the new products (seven testing EdenCrete HC, and one in New York testing EdenCreteP) using regional cements and widely used commercial mixes. The independent laboratory trials is expected to start as soon as possible and this wide range of testing would be finished in the next three months.
Further, the formal commercial release of both EdenCreteHC and EdenCrete P is planned for the 2018 World of Concrete convention in Las Vegas in January 2018 and is expected to generate a major commercial interest. There will be up to 30 commercial trials across all products, which are planned over next three to six months. NTPEP trials of both new products and ASTM trials of EdenCrete P is expected to start in early 2018. We give a "BUY" at $ 0.155
Magnis Resources Ltd
Magnis Resources Ltd (ASX: MNS) has signed the MOU with WIN for a plant based in North Rhine Westfalia.
The group also won a Sales Agreement for the supply of flake graphite with World Plastik ve Petrokimya Sanayi ve Ticaret, a division of the World Group. The sales agreement is for 25,000 tonnes per annum of flake graphite consisting of 15,000 tonnes per annum of Super Jumbo (+500 microns) at 97-99%TGC purity and 10,000 tonnes per annum of Jumbo (+300 microns) at a purity of 97.5% - 99.5%TGC.
As per the agreement, MNS can source the graphite from its Nachu project, as well as from other mines that produce graphite based on the above specifications. The pricing is fixed over the initial 3-year term and is commercial in confidence and the first delivery anticipated in 2019.This agreement promises certainty for the group's core Nachu Project given the volatile commodity scenario.
MNS stock rallied over 5.8% in the last four weeks and we believe this bullish momentum in the stock to continue in the coming months. We give a BUY Recommendation at $ 0.46
Nearmap Ltd
Nearmap Ltd (ASX:NEA) stock entered 2018 on a positive note delivering 7.6% returns (YTD as of Jan 5th, 2018; Source: Google finance) driven by the group's significant commercialization milestones.

NEA stock performance in the last five years (Source: Company reports)
NEA's revolutionary HyperCamera 2 technology features accuracy more than 3 times greater than previous generation systems. Therefore, utilizing this technology, NEA's location content now extends to new geospatial data services, all within an instantly accessible, cloud based environment. The company's capture program using HyperCamera 2 is underway, with significant components of the footprint in both the United States (covering 50% of the US population) and Australia (covering the 6 major capital cities) captured and available to customers online.
Both the products would expand the group's verticals to a range of industries, like telecommunications, insurance, solar and local government. With the launch of Nearmap's new Map Browser interface in the United States, these products are available now to US customers with early commercial sales underway in that market. The commercial launch of the new Map Browser, Nearmap Panorama and Nearmap Oblique products to Australian customers is expected in the first quarter of 2018.
Additionally, NEA is able to generate 3D reconstructions on an unprecedented scale. The early commercial sales have been made to trial customers of 3D models, with 3D product and pricing to be rolled out in 2018. We give a BUY Recommendation at $ 0.635
Disclaimer
Veye Pty Ltd(ABN 58 623 120 865), holds (AFSL No. 523157 ). All information provided by Veye Pty Ltd through its website, reports, and newsletters is general financial product advice only and should not be considered a personal recommendation to buy or sell any asset or security. Before acting on the advice, you should consider whether it's appropriate to you, in light of your objectives, financial situation, or needs. You should look at the Product Disclosure Statement or other offer document associated with the security or product before making a decision on acquiring the security or product. You can refer to our Terms & Conditions and Financial Services Guide for more information. Any recommendation contained herein may not be suitable for all investors as it does not take into account your personal financial needs or investment objectives. Although Veye takes the utmost care to ensure accuracy of the content and that the information is gathered and processed from reliable resources, we strongly recommend that you seek professional advice from your financial advisor or stockbroker before making any investment decision based on any of our recommendations. All the information we share represents our views on the date of publishing as stocks are subject to real time changes and therefore may change without notice. Please remember that investments can go up and down and past performance is not necessarily indicative of future returns. We request our readers not to interpret our reports as direct recommendations. To the extent permitted by law, Veye Pty Ltd excludes all liability for any loss or damage arising from the use of this website and any information published (including any indirect or consequential loss, any data loss, or data corruption) (as mentioned on the website www.veye.com.au), and confirms that the employees and/or associates of Veye Pty Ltd do not hold positions in any of the financial products covered on the website on the date of publishing this report. Veye Pty Ltd hereby limits its liability, to the extent permitted by law to the resupply of services.