IDP Education Limited, regaining momentum
Team Veye | 02 Mar 2021

ASX - IEL
IDP Education Limited (ASX: IEL)
IDP Education Limited (ASX: IEL) on 24 February 2021 presented its consolidated financial results for the half-year ended 31 December 2020 (H1 FY21)
The financial performance of the Group, during the period, was impacted by the restrictions on operations caused by COVID-19 with half-year revenue and earnings declining compared to the same period in FY20.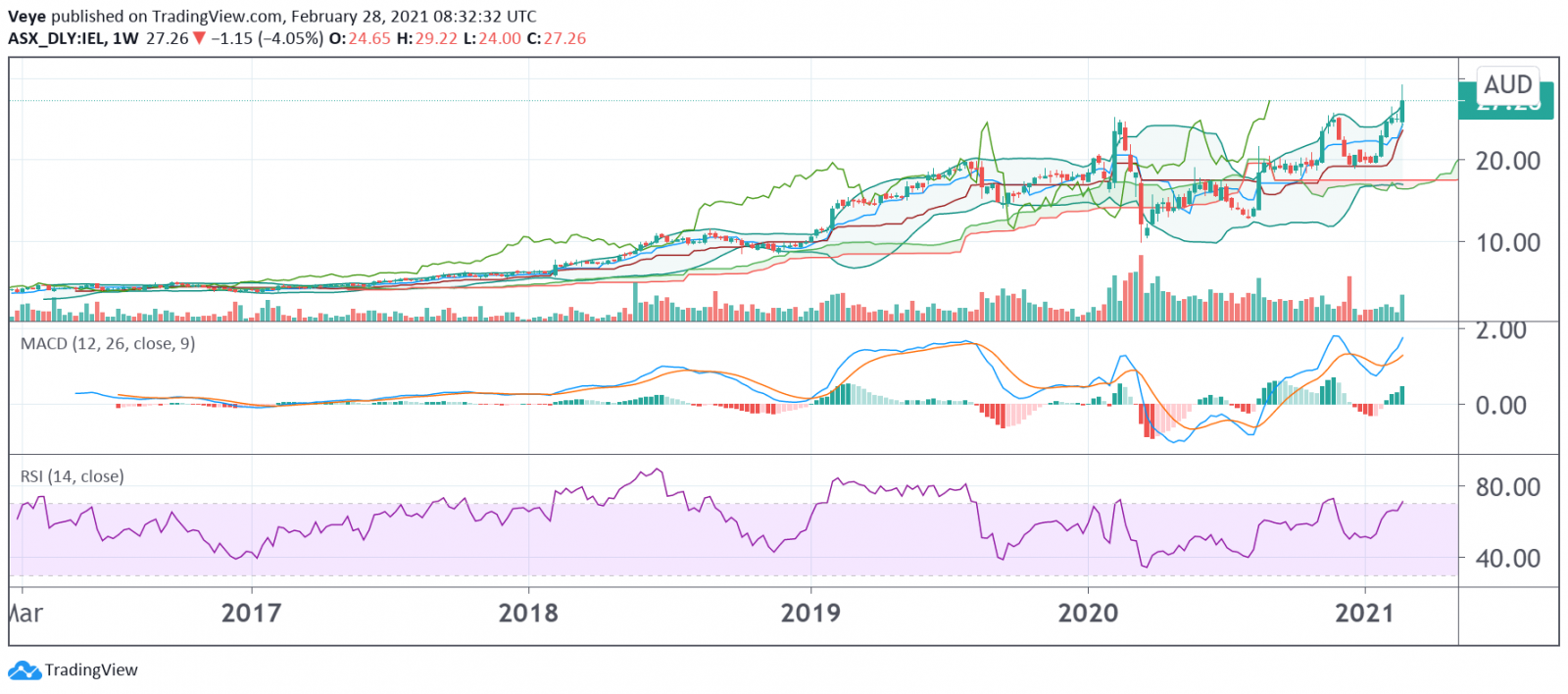 (Chart source: TradingView)
Financial Highlights:
The Group reported a decline in earnings for H1 FY21

Net profit after tax was down by 49% to $29.7m compared to the half year ended 31 December 2019 (H1 FY20) of $57.7m.

H1 FY21 EBITDA margin 25% v 28% in pcp (20% in H2 FY20)

Reported 29% decrease in revenue with each of the Group's product lines declining during the reporting period.

English Language Testing revenue declined by 26% in the half with IELTS volumes declining by the same amount. IELTS testing volumes recovered as the period progressed with volumes only down 15% in the second quarter versus a 37% decline in the first quarter relative to the same period in FY20

Revenue from Canadian placements declined 41% as borders were largely closed to international students until late October and visa issuance was restricted due to processing delays.

English Language Teaching revenue declined 41% with both Cambodia and Vietnam schools moving to online classes

Digital Marketing and Events revenue declined 8% with digital marketing growing 9% but events moving online and declining 51%.

Asia remained the Group's largest segment with approximately 60% of group revenue.

Australasia revenue declined 30% with the Australian onshore market restricted. Australasia EBIT improved by 26% as expenses were reduced by 38% with staff expenses lower by 40% and other expenses lower by 23%

Student placement volumes in H1 down 37% with Australia (down 47%) most impacted by hard border closure.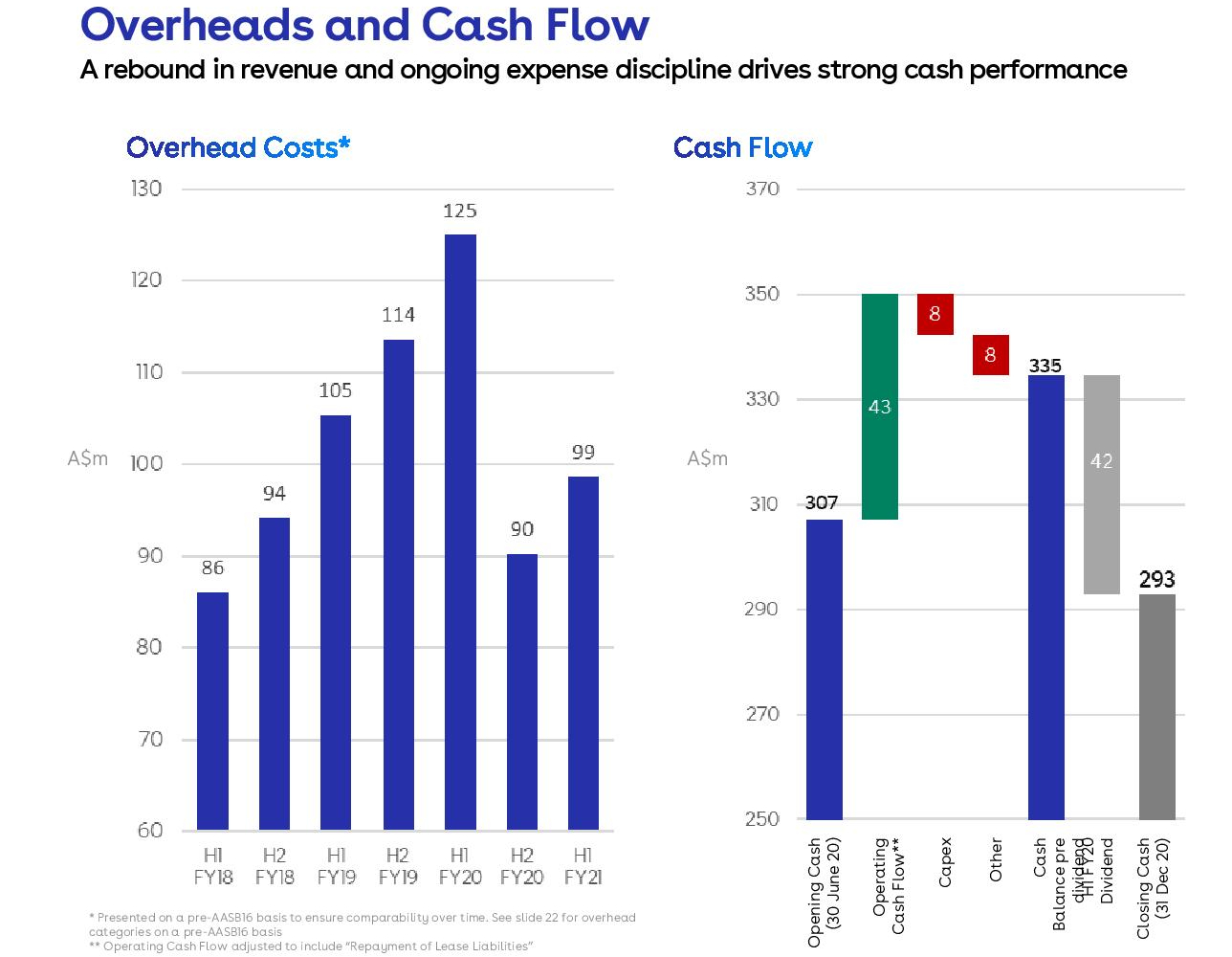 (Graphic Source – Company Reports)
Gross margin remained stable at 58.4% as of H1 FY20 with a decline in student placement margins offset by an improvement in IELTS margins as computer delivered IELTS made a larger contribution and digital marketing and events margin improved as events became virtual.

The EBIT decreased by 46%. EBIT decline was greater than the revenue decline of 29%. The fall was mainly due to all staff retaining during the period.

As of 31 December 2020, the Group had total assets of $702.5m which exceeded total liabilities by $414.9m.

As of 31 December 2020, the Group had $292.8m of cash on the balance sheet. This significantly exceeded the total interest-bearing debt position which was $59.3m.

Global Net Promoter Score increased from 55 in Q1 FY20 to 59 in Q2 FY21

An unfranked interim dividend of 8.0 cents per share declared

(Data Source – Company Reports)
Veye's Take
IEL future growth is underpinned by its Multi-destination model providing choice for students and resilience for IDP. Strong rebound of IELTS test volume and ongoing network expansion via computer-delivered centre rollout and Digital transformation combined with increased marketing capabilities are building a higher quality pipeline for the company and improving conversion. The stock had taken very strong support at $19.58-$19.59, near the middle band of the Bollinger. The "Higher High" formation on the price charts well supported by "Positive Divergence" on RSI and MACD positive crossover indicates upside potential in the stock. The stock is exhibiting bullishness on both short and long term charts. "Buy" was given to "IDP Education Limited" at the price of $14.75 on 3 April 2020. It has already grown by more than 84% in just eleven months till now. Veye maintains a "Hold" on "IDP Education Limited" at the current price of $27.26
Disclaimer
Veye Pty Ltd(ABN 58 623 120 865), holds (AFSL No. 523157 ). All information provided by Veye Pty Ltd through its website, reports, and newsletters is general financial product advice only and should not be considered a personal recommendation to buy or sell any asset or security. Before acting on the advice, you should consider whether it's appropriate to you, in light of your objectives, financial situation, or needs. You should look at the Product Disclosure Statement or other offer document associated with the security or product before making a decision on acquiring the security or product. You can refer to our Terms & Conditions and Financial Services Guide for more information. Any recommendation contained herein may not be suitable for all investors as it does not take into account your personal financial needs or investment objectives. Although Veye takes the utmost care to ensure accuracy of the content and that the information is gathered and processed from reliable resources, we strongly recommend that you seek professional advice from your financial advisor or stockbroker before making any investment decision based on any of our recommendations. All the information we share represents our views on the date of publishing as stocks are subject to real time changes and therefore may change without notice. Please remember that investments can go up and down and past performance is not necessarily indicative of future returns. We request our readers not to interpret our reports as direct recommendations. To the extent permitted by law, Veye Pty Ltd excludes all liability for any loss or damage arising from the use of this website and any information published (including any indirect or consequential loss, any data loss, or data corruption) (as mentioned on the website www.veye.com.au), and confirms that the employees and/or associates of Veye Pty Ltd do not hold positions in any of the financial products covered on the website on the date of publishing this report. Veye Pty Ltd hereby limits its liability, to the extent permitted by law to the resupply of services.