BINGO Industries Limited, solid result in a challenging market
Team Veye | 02 Mar 2021

ASX - BIN
BINGO Industries Limited (ASX: BIN)
Bingo Industries Limited (ASX: BIN) on 22 February 2021 reported its financial results for 1HFY21.
BIN has delivered a solid result in a challenging operating environment. The strong result was driven by its five-year strategy of weighting the business towards defensive infrastructure assets. 85% of the Group's earnings for the period came from its Post-Collections operations. BIN expects to benefit from the strong infrastructure pipelines in NSW and VIC, before a recovery in the residential and non-residential markets over the medium term. C&I volumes are also set to increase with reduced restrictions and the wider workforce moving back to offices in the short term.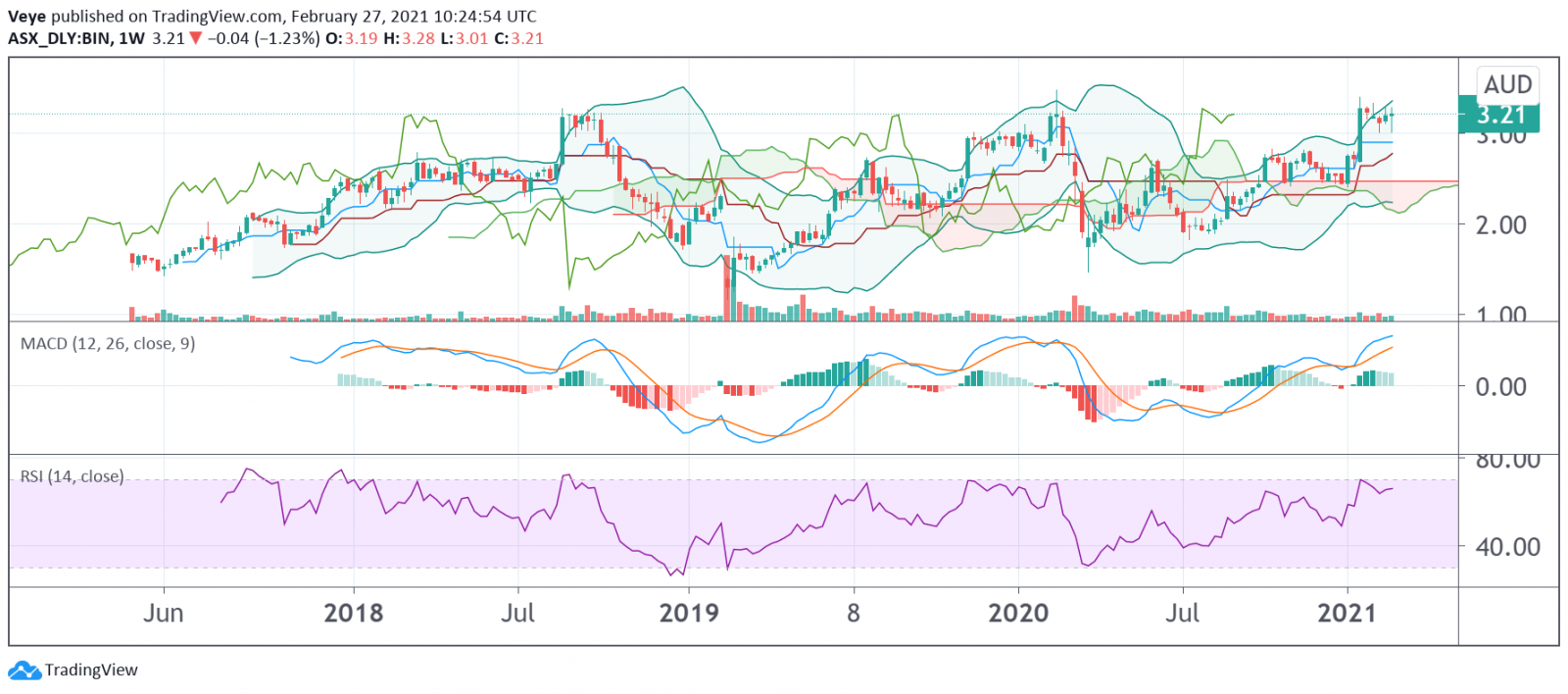 (Chart source: TradingView)
Financial Highlights:
Revenue was down 3.1% against the PCP to $241.1 million.

Collections revenue decreased by 19.3% to $98.5 million, largely due to the challenging COVID-19 environment across both B&D and C&I waste streams.

Collections Underlying EBITDA was $15.3 million, down 38.1% against the PCP of $24.7 million. Collections EBITDA margin decreased by 480 basis points to 15.5% driven by a decline in B&D cube rates together with reduced C&I activity in NSW and VIC, as a result of challenging market conditions.

Post-Collections revenue increased by 5.0% from $162.7 million to $170.9 million, driven by increased volumes in line with BINGO's network capacity uplift and focus on attracting volumes in a contracting market.

Post-Collections Underlying EBITDA was down by 0.2% from $55.6 million to $55.5 million. Underlying EBITDA margin contracted by 170 basis points to 32.5%, underpinned by reduced pricing across landfill and recycling facilities.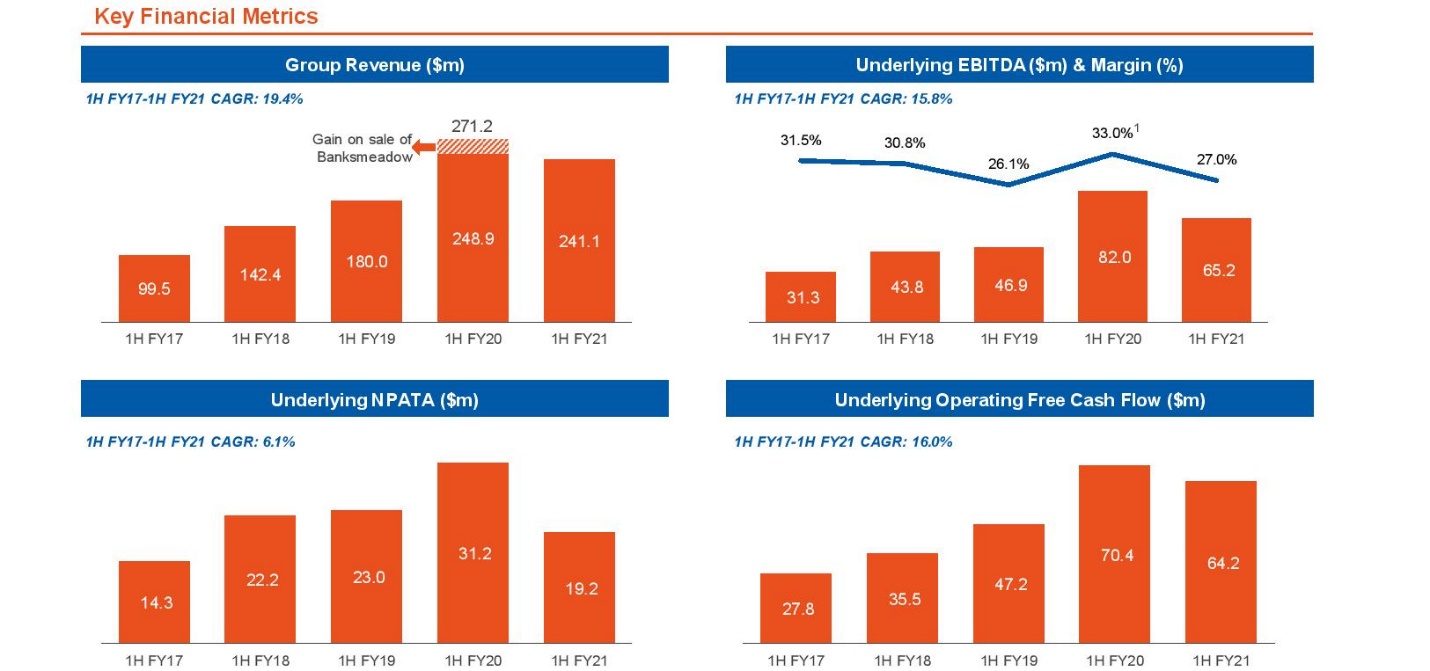 (Graphic Source – Company Reports)
Other Underlying revenue was down by 21.4% to $13.7 million from $17.4 million in the PCP.

TORO revenue was down slightly to $12.5 million, down 10.1% against the PCP. Pleasingly, TORO external sales represented 65% of revenue and the business currently has a record level of work in hand at circa $5 million.

Underlying EBITDA was down by 20.5% against the PCP to $65.2 million

Underlying EBITDA margin of 27.0% down 600 bps against the PCP

Achieved Cash conversion of 98.5% and generated positive organic free cash flow across the 2020 calendar year (CY20) despite COVID-19 impacts on the business.

Net Debt reduced from $321.1 million to $317.4 million over the past 12 months

Refinanced $500 million Syndicated Debt Facility providing increased financial flexibility and extending the facility tenor out to October 2024.

The Board has declared an interim dividend of 1.5 cents per share

BINGO expected Group EBITDA margin to decline in FY21 by approximately 200-300 bps, before rebounding to its longer-term target of 30%

(Data Source – Company Reports)
Veye's Take
BINGO expects its state of the art Materials Processing Facility 2 (MPC 2) to be commissioned in late 2H FY21. It will be the largest most sophisticated B&D and C&I waste processing facility in Australia and is expected to further improve BINGO's industry leading recovery rate in NSW. The stock after remaining in an uptrend witnessed minor dips. The stock has taken strong support at $3.01 and gaining back the upside momentum. RSI and MACD already in positive territory supporting the upside price pattern. It faces some resistance between $3.40-$3.60 area, crossing which it can have the potential of growing strength in the near to medium term. The Latest "Buy" on "BINGO Industries Limited" at the price of $1.625 was given on 14 March 2019. It has already grown by more than 97% since then. Veye maintains a "Hold" on "BINGO Industries Limited" at the current price of $3.21
Disclaimer
Veye Pty Ltd(ABN 58 623 120 865), holds (AFSL No. 523157 ). All information provided by Veye Pty Ltd through its website, reports, and newsletters is general financial product advice only and should not be considered a personal recommendation to buy or sell any asset or security. Before acting on the advice, you should consider whether it's appropriate to you, in light of your objectives, financial situation, or needs. You should look at the Product Disclosure Statement or other offer document associated with the security or product before making a decision on acquiring the security or product. You can refer to our Terms & Conditions and Financial Services Guide for more information. Any recommendation contained herein may not be suitable for all investors as it does not take into account your personal financial needs or investment objectives. Although Veye takes the utmost care to ensure accuracy of the content and that the information is gathered and processed from reliable resources, we strongly recommend that you seek professional advice from your financial advisor or stockbroker before making any investment decision based on any of our recommendations. All the information we share represents our views on the date of publishing as stocks are subject to real time changes and therefore may change without notice. Please remember that investments can go up and down and past performance is not necessarily indicative of future returns. We request our readers not to interpret our reports as direct recommendations. To the extent permitted by law, Veye Pty Ltd excludes all liability for any loss or damage arising from the use of this website and any information published (including any indirect or consequential loss, any data loss, or data corruption) (as mentioned on the website www.veye.com.au), and confirms that the employees and/or associates of Veye Pty Ltd do not hold positions in any of the financial products covered on the website on the date of publishing this report. Veye Pty Ltd hereby limits its liability, to the extent permitted by law to the resupply of services.