BrainChip Holdings Ltd, made significant strides
Team Veye | 02 Mar 2021

ASX - BRN
BrainChip Holdings Ltd (ASX: BRN)
BrainChip Holdings Ltd (ASX: BRN) a leading provider of ultra-low power high performance AI technology, on 27 January 2021 provided the following update in conjunction with its Appendix 4C lodged for the quarter ending 31 December 2020.
Cash Balance as of 31 December 2020 US$19.1M

Confirms Completion of the AkidaTM Production Design

Company Ships AkidaTM Evaluation Boards

Company Signs First Akida™ Intellectual Property License Agreement

NASA places an order under Akida Early Access Program

Announces Amendment to Financial Instrument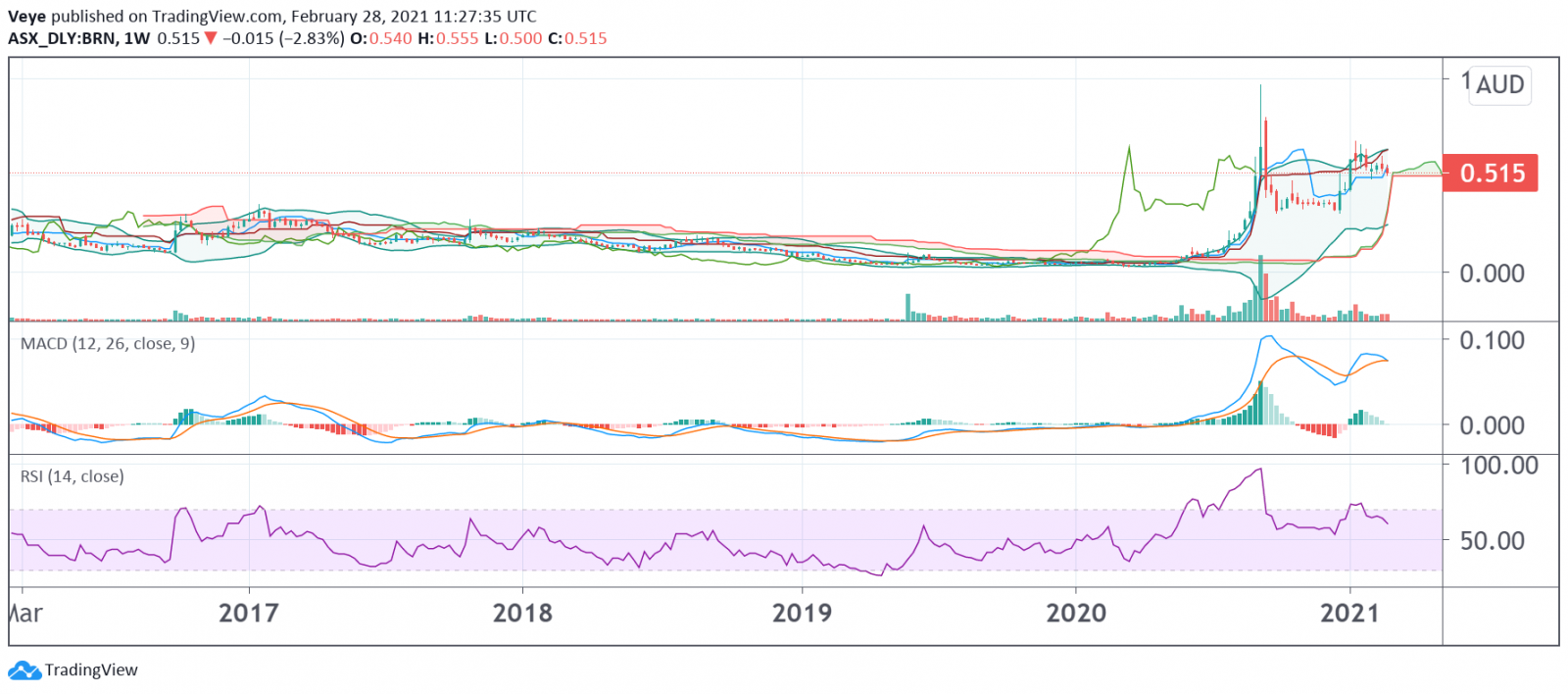 (Chart source: TradingView)
The Company ended the December quarter with US$19.1M in cash compared to US$12.2M in the prior quarter. Subsequent to the quarter the Company increased its cash balance and as of 24 January, 2021 had US$21.8M on balance.
During the quarter, the Company had net cash outflows from operating activities of US$2.69M compared to US$2.2M in the prior quarter. The increase in expenses was primarily to support the Company's validation of the AkidaTM device, the development of evaluation boards to support the Early Access Program, additional sales and marketing expenses as well as public company expenses associated with significant growth in the Company's shareholder base
The Company has entered into several additional agreements for its Early Access Program (EAP) and signed its first commercial agreement for the delivery of the Akida intellectual property to a leading Japanese semiconductor company. Further cash receipts from IP and EAP customers are expected in the quarter ending March 2021 (Data Source – Company Reports)
Veye's Take
BrainChip had demonstrated great success in advancing AI at the Edge and the commercialization of the AkidaTM device and intellectual property. This success has included partnerships with industry leaders and expansion of the Company's presence with investors, editors and analysts that follow trends in the artificial intelligence area. The stock is experiencing some dips. Support near $0.485 is expected. The overall bullish move is supported by RSI and MACD. It has strong support at $0.48 at which point it can potentially rebound. The Latest "Buy" was given to "BrainChip Holdings Ltd" at the price of $0.19 on 4 August 2020. It has gained more than 171% in just seven months until now. Veye maintains a "Hold" on "BrainChip Holdings Ltd" at the current price of $0.515
Disclaimer
Veye Pty Ltd(ABN 58 623 120 865), holds (AFSL No. 523157 ). All information provided by Veye Pty Ltd through its website, reports, and newsletters is general financial product advice only and should not be considered a personal recommendation to buy or sell any asset or security. Before acting on the advice, you should consider whether it's appropriate to you, in light of your objectives, financial situation, or needs. You should look at the Product Disclosure Statement or other offer document associated with the security or product before making a decision on acquiring the security or product. You can refer to our Terms & Conditions and Financial Services Guide for more information. Any recommendation contained herein may not be suitable for all investors as it does not take into account your personal financial needs or investment objectives. Although Veye takes the utmost care to ensure accuracy of the content and that the information is gathered and processed from reliable resources, we strongly recommend that you seek professional advice from your financial advisor or stockbroker before making any investment decision based on any of our recommendations. All the information we share represents our views on the date of publishing as stocks are subject to real time changes and therefore may change without notice. Please remember that investments can go up and down and past performance is not necessarily indicative of future returns. We request our readers not to interpret our reports as direct recommendations. To the extent permitted by law, Veye Pty Ltd excludes all liability for any loss or damage arising from the use of this website and any information published (including any indirect or consequential loss, any data loss, or data corruption) (as mentioned on the website www.veye.com.au), and confirms that the employees and/or associates of Veye Pty Ltd do not hold positions in any of the financial products covered on the website on the date of publishing this report. Veye Pty Ltd hereby limits its liability, to the extent permitted by law to the resupply of services.