APN Industria REIT, strongly aligned to long term performance
Team Veye | 27 Feb 2021

ASX - ADI
APN Industria REIT (ASX: ADI)
APN Industria REIT (ASX: ADI) on 17 February 2021, announced the results for the period ending 31 December 2020.
The APN Industria REIT portfolio is comprised of 37 properties, 61% of which are industrial warehouses and 39% business park office properties (by value). Occupancy is 97%, the weighted average cap rate 6.16% and weighted average lease expiry (WALE) 5.1 years.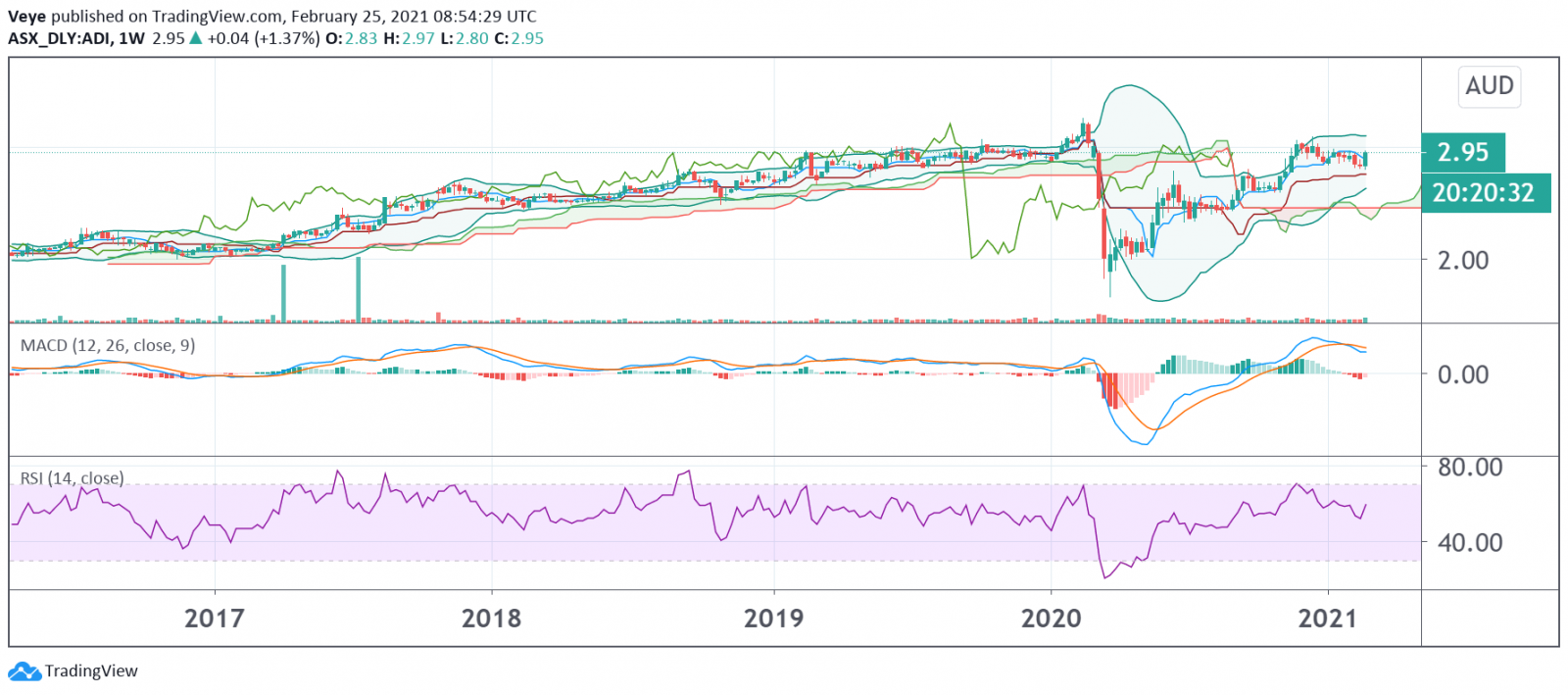 (Chart Source: Trading View)
Financial Highlights:
Statutory net profit reported a reduction of $7.4 million on the prior comparative period (pcp) to$3 1.9 million. The fall was largely attributable to non-cash items including property revaluation gains, which were $19.0 million, $6.5 million lower than pcp.

Funds From Operations (FFO) increased by 8.2% to $19.8 million or 10.0 cents per security, consistent with the prior period.

Net Property Income increased by 6.7% to $1.5 million (6.7%), driven by rental uplifts and acquisitions.

This high-quality result included 99.3% rent collections, demonstrating the robustness of the portfolio.

Net Tangible Assets (NTA) increased by 2.1% to $2.88 per security, with valuation uplifts equivalent to 9 cents offset by transaction costs (largely stamp duty).

Industrial assets independently revalued increased by 7.9%, and business park properties increased 1.2%. 100% of assets were independently revalued throughout the calendar year 2020.

A strong balance sheet with 31.1% gearing, the lower end of the 30 – 40% target band.

Secure debt facilities of $90 million during the period with an average maturity of 4 years. The weighted average debt maturity was 2.8 years and interest rate 2.8%, with financing from three banks and no more than 45% exposure to a single lender. 58% of debt is hedged at an average rate of 1.7%.

Active management driving value: 25,100 square metres of leasing completed; independent valuations of industrial properties increased by 7.9%, driving $19.0 million of valuation uplifts across the portfolio

Deployed $108.1 million into high quality industrial assets at an average yield of 6.9%
Reiterated upgraded FY21 guidance
FFO to grow approximately 2%-3% to19.7 – 19.9 cents per security

DPS 17.3 cents per security (consistent with FY20)

(Data Source – Company Reports)
Veye's Take
APN has been actively reducing carbon emissions and enhancing the energy efficiency across the portfolio, largely through investments in solar PV and LED lighting. Approximately 2.5MW of solar has now been installed, and CO2 emission reductions for FY21 are anticipated to be approximately 3,800 tonnes. The robust balance sheet provides the capacity to debt fund further growth opportunities that generate income and add-value over time, well in line with acquisitions completed in recent periods. The rally with minor dips is well seen on charts. The bullish candle covering the previous bear candles and RSI supporting the trend strength indicates further upside potential in the stock. Veye maintains a "Hold" on "APN Industria REIT" at the current price of $2.93
Disclaimer
Veye Pty Ltd(ABN 58 623 120 865), holds (AFSL No. 523157 ). All information provided by Veye Pty Ltd through its website, reports, and newsletters is general financial product advice only and should not be considered a personal recommendation to buy or sell any asset or security. Before acting on the advice, you should consider whether it's appropriate to you, in light of your objectives, financial situation, or needs. You should look at the Product Disclosure Statement or other offer document associated with the security or product before making a decision on acquiring the security or product. You can refer to our Terms & Conditions and Financial Services Guide for more information. Any recommendation contained herein may not be suitable for all investors as it does not take into account your personal financial needs or investment objectives. Although Veye takes the utmost care to ensure accuracy of the content and that the information is gathered and processed from reliable resources, we strongly recommend that you seek professional advice from your financial advisor or stockbroker before making any investment decision based on any of our recommendations. All the information we share represents our views on the date of publishing as stocks are subject to real time changes and therefore may change without notice. Please remember that investments can go up and down and past performance is not necessarily indicative of future returns. We request our readers not to interpret our reports as direct recommendations. To the extent permitted by law, Veye Pty Ltd excludes all liability for any loss or damage arising from the use of this website and any information published (including any indirect or consequential loss, any data loss, or data corruption) (as mentioned on the website www.veye.com.au), and confirms that the employees and/or associates of Veye Pty Ltd do not hold positions in any of the financial products covered on the website on the date of publishing this report. Veye Pty Ltd hereby limits its liability, to the extent permitted by law to the resupply of services.