OZ Minerals Limited, foundations in place for next growth phase
Team Veye | 23 Feb 2021

ASX - OZL
OZ Minerals Limited (ASX: OZL)
The company OZ Minerals Limited (ASX: OZL) on 18 February 2021, reported its full financial year results.
The company delivered strong operational and financial performance.

(Chart source: TradingView)
Operational Highlights:
CARRAPATEENA successful ramp up
Mine ramp-up to 4.25Mtpa completed within 12 months,6 months earlier than originally planned

Cave growth progressing in line with predictions

Advancement with Block Cave Expansion
CARAJÁS Hub strategy is taking shape
Full year production of 8,613 tonnes of copper and 6,312 ounces of gold

Carajás East Hub progressing with Pedra Branca supplementing Antas ore supply
Prominent Hill Reinforcing position as low-cost reliable operation
Copper production guidance met for sixth consecutive year with full year production of 61,375 tonnes of copper and 198,586 ounces of gold

Annual record of 3.9Mt underground ore movement with annualised run rate of 4.2Mtpa sustained for the second half of the year

Expansion study confirming the feasibility of a vertical hoisting shaft and potential to increase production and extend mine life
Financial Highlights:
The company delivered a strong financial performance for 2020.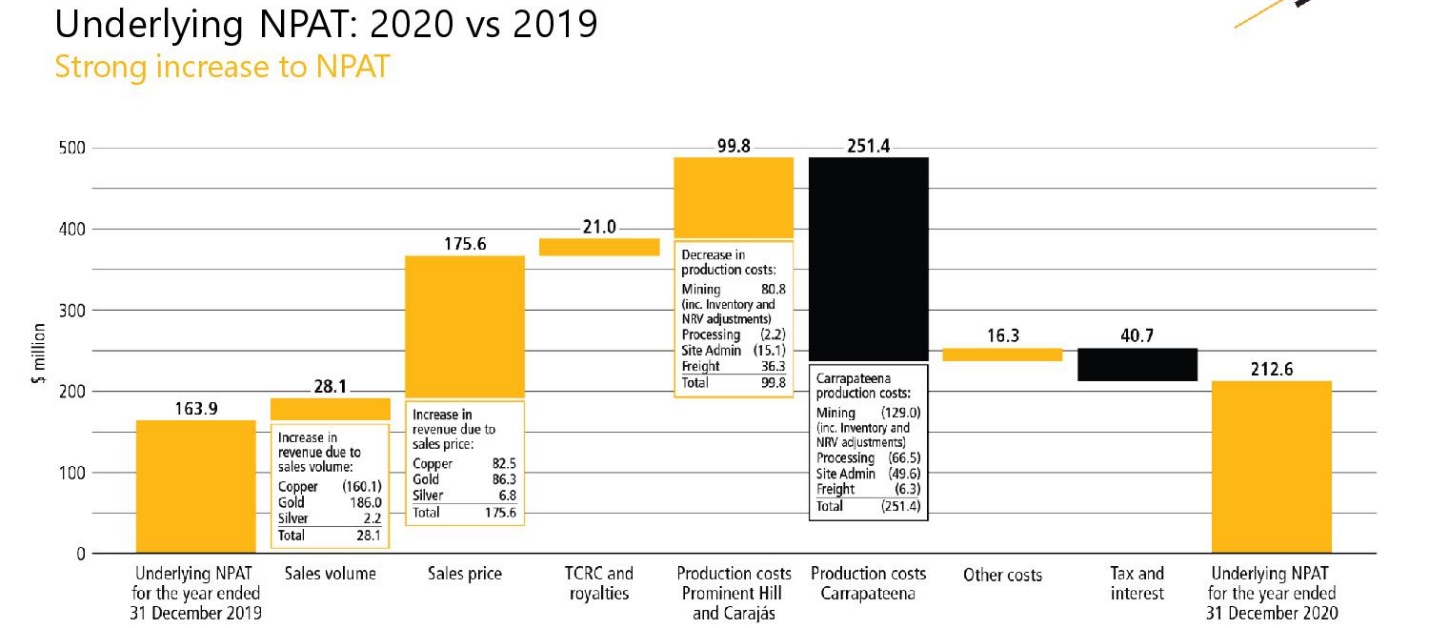 (Graphic Source – Company Reports)
Highlights:
Net Revenue of $1,342 million, the revenue excludes $43 million net revenue from Carrapateena & Pedra Branca allocated against capital costs

Underlying EBITDA of $606 million

Underlying EBIT of $323million as compared to $234million in FY2019

Underlying NPAT of $213 million as compared to $164million in FY2019

Trade receivables increased to $160m from $83m in FY2019, due to the inclusion of Carrapateena

Increase in PP&E to $2914m from$2696m, with capex at Carrapateena and Prominent Hill underground, partially offset by depreciation

Earnings per share of 65 cents

NPAT increased by 30% to $213 million driven by higher gold volumes and stronger gold prices.

Operating cash flows were reported at $550 million

Closing cash balance at $132 million

Reported Debt balance $100 million on credit revolver and $480 million working capital facility in place
2021 Growth Expectations:
Prominent Hill will continue to draw down open pit ore inventory through 2021

Ore stockpile costs of $110 -$120 million (mining costs ~$60 million and capitalised depreciation ~$50-$60 million) will be recognised in the income statement during 2021

Following Board approval to proceed with the Block Cave Expansion and support additional funding for key SLC optimisation projects, the 2021-2025 capital spend provided in the 5-year guidance schedule in January 2020 now totals $1.75 billion

(Data Source – Company Reports)
Veye's Take
OZL has its foundations in place for the next growth phase driven by the advancements in its growth projects' strong financial and operational performance reported during the year. The Company delivered a sixth consecutive year of meeting or exceeding copper production guidance. Its Operating cash flows improved by 8 percent to $550 million due to higher revenue receipts from customers. The stock is rejecting the downside move and standing well above the middle band of the Bollinger, With RSI and MACD well supporting the upside trend strength, it is expected to maintain the uptrend in the near term. While trading above its MAs it broke the previous high with good volumes. Initial "Buy" was given to "OZ Minerals Limited" at the price of $10.61 on 25 June 2020. It has given very good returns of more than 113% in less than eight months till now. Veye maintains a "Buy" on "OZ Minerals Limited" at the current price of $22.63
Disclaimer
Veye Pty Ltd(ABN 58 623 120 865), holds (AFSL No. 523157 ). All information provided by Veye Pty Ltd through its website, reports, and newsletters is general financial product advice only and should not be considered a personal recommendation to buy or sell any asset or security. Before acting on the advice, you should consider whether it's appropriate to you, in light of your objectives, financial situation, or needs. You should look at the Product Disclosure Statement or other offer document associated with the security or product before making a decision on acquiring the security or product. You can refer to our Terms & Conditions and Financial Services Guide for more information. Any recommendation contained herein may not be suitable for all investors as it does not take into account your personal financial needs or investment objectives. Although Veye takes the utmost care to ensure accuracy of the content and that the information is gathered and processed from reliable resources, we strongly recommend that you seek professional advice from your financial advisor or stockbroker before making any investment decision based on any of our recommendations. All the information we share represents our views on the date of publishing as stocks are subject to real time changes and therefore may change without notice. Please remember that investments can go up and down and past performance is not necessarily indicative of future returns. We request our readers not to interpret our reports as direct recommendations. To the extent permitted by law, Veye Pty Ltd excludes all liability for any loss or damage arising from the use of this website and any information published (including any indirect or consequential loss, any data loss, or data corruption) (as mentioned on the website www.veye.com.au), and confirms that the employees and/or associates of Veye Pty Ltd do not hold positions in any of the financial products covered on the website on the date of publishing this report. Veye Pty Ltd hereby limits its liability, to the extent permitted by law to the resupply of services.