PWR Holdings Limited, strong potential for continued growth
Team Veye | 23 Feb 2021

ASX - PWH
PWR Holdings Limited (ASX: PWH)
PWR Holdings Limited (ASX: PWH) and its wholly owned subsidiaries (PWR Group), on 18 February 2021 released their results for the period ended 31 December 2020.
The company successfully delivered a strong performance. The remarkable increase in NPAT by 90% illustrates the capability and potential the company holds. It remains focussed towards its strategy to grow and diversify the business into new channels.

(Chart source: TradingView)
Financial Highlights:
The group achieved overall revenue growth of 25% compared to the previous corresponding period. The increment in revenue was mainly due to some economic activity being deferred from FY20 as well as substantial growth in emerging technologies and OEM products

Operating cash flow reported an improvement by 317% compared to previous corresponding period. The improvement was driven by efficient utilisation of the working.

Prepaid contractual commitments also contributed to the significantly improved cash position.

EBITDA reported 60% growth reflecting efficiency improvements, economies of scale from higher volumes, increased revenue at constant growth margins

Higher EBITDA was also the result of $1.9m JobKeeper receipts, resulting in an improved EBITDA margin of 32%.

Increase in EBITDA was in line with higher revenue with improved margins of 32.8% vs pcp of 25.6%.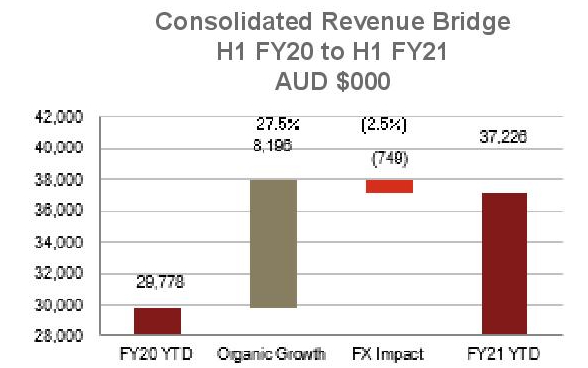 (Graphic Source – Company Reports)
NPAT increased by a substantial 90%.

The hedging strategy and exchange rate movements delivered a net loss of $0.2 million on 31 December 2020 compared to a loss of $0.3m on 31 December 2019

Cash on hand as of 31 December 2020 was up 213% to $16.8m as compared to $7.9m in H1FY20.

The increase in cash on hand was mainly due to decreased working capital & prepaid contractual amounts

An interim dividend in HYFY21 was up by 47% to 2.8cps as compared to1.9cps during H1FY20

EBITDA to the cash conversion ratio of 122% for the period compared to PCP at 68%.

(Data Source – Company Reports)
Veye's Take
PWH's strong focus on working capital utilisation and with FY21capex expansion program largely completed in the current half places the company in a good position for anticipated growth and productivity benefits. PWH with a market cap of$479.86m as of 22 Feb2021 is a good value stock based on its P/E ratio at 29.6x compared to the AU auto components industry average at 32.6x and a low debt to equity ratio of 6.4% and high ROE at 29.1%. The upside breakout in stock price was well supported by RSI and positive crossover in MACD. The stock is trading near the upper band of the Bollinger and expected to have more upside potential in the near term. The stock price of the company has grown 88% since Veye gave them a "Buy" recommendation at $2.75 on 11th Jun'18. Veye maintains a "Hold" "PWR Holdings Ltd" at the current price of $5.17
Disclaimer
Veye Pty Ltd(ABN 58 623 120 865), holds (AFSL No. 523157 ). All information provided by Veye Pty Ltd through its website, reports, and newsletters is general financial product advice only and should not be considered a personal recommendation to buy or sell any asset or security. Before acting on the advice, you should consider whether it's appropriate to you, in light of your objectives, financial situation, or needs. You should look at the Product Disclosure Statement or other offer document associated with the security or product before making a decision on acquiring the security or product. You can refer to our Terms & Conditions and Financial Services Guide for more information. Any recommendation contained herein may not be suitable for all investors as it does not take into account your personal financial needs or investment objectives. Although Veye takes the utmost care to ensure accuracy of the content and that the information is gathered and processed from reliable resources, we strongly recommend that you seek professional advice from your financial advisor or stockbroker before making any investment decision based on any of our recommendations. All the information we share represents our views on the date of publishing as stocks are subject to real time changes and therefore may change without notice. Please remember that investments can go up and down and past performance is not necessarily indicative of future returns. We request our readers not to interpret our reports as direct recommendations. To the extent permitted by law, Veye Pty Ltd excludes all liability for any loss or damage arising from the use of this website and any information published (including any indirect or consequential loss, any data loss, or data corruption) (as mentioned on the website www.veye.com.au), and confirms that the employees and/or associates of Veye Pty Ltd do not hold positions in any of the financial products covered on the website on the date of publishing this report. Veye Pty Ltd hereby limits its liability, to the extent permitted by law to the resupply of services.