Orocobre Limited, well positioned for growth
Team Veye | 28 Jan 2021

ASX - ORE
Orocobre Limited (ASX: ORE)
Quarterly Report of Operations for the Period Ended 31 December 2020
The company Orocobre Limited (ASX: ORE) presented its quarterly report on 27 January 2021 for the period ended on 31 December 2020. December quarter sales were up by 18% to 10,573 tonnes, approximately 23% up from the previous corresponding period and total sales revenue were up 14% on a QoQ basis.
Olaroz Lithium Facility with 66.5% holding of ORE: The operations at the site reported record sales volume during the quarter with a positive gross cash margin. Cost reported at all-time lows. Quarterly production was the third highest ever since its commencement.

(Chart source: TradingView)
58% quarter on quarter (QoQ) increase in production of 3,727 tonnes driven by increased demand thereby reflecting ongoing plant stability and improved operating practices.

Sales volume increased 28% QoQ to a new record of 4,345 tonnes.

Production of battery grade lithium carbonate was 34% of total production, up from 22% in the September quarter

Sales revenue was up by 57% QoQ to US$16.5 million.

9% quarter on quarter (QoQ) reduction in cash cost (excluding the export tax of US$85/tonne) to US$3,623/tonne

The realised average price achieved was US$3,797/tonne on a free on board basis (FOB), up 22% QoQ.

Improved gross cash margin driven by better pricing and lower cost. Gross margin was positive at US$174/t, an improvement of US$1,046/t on the September quarter.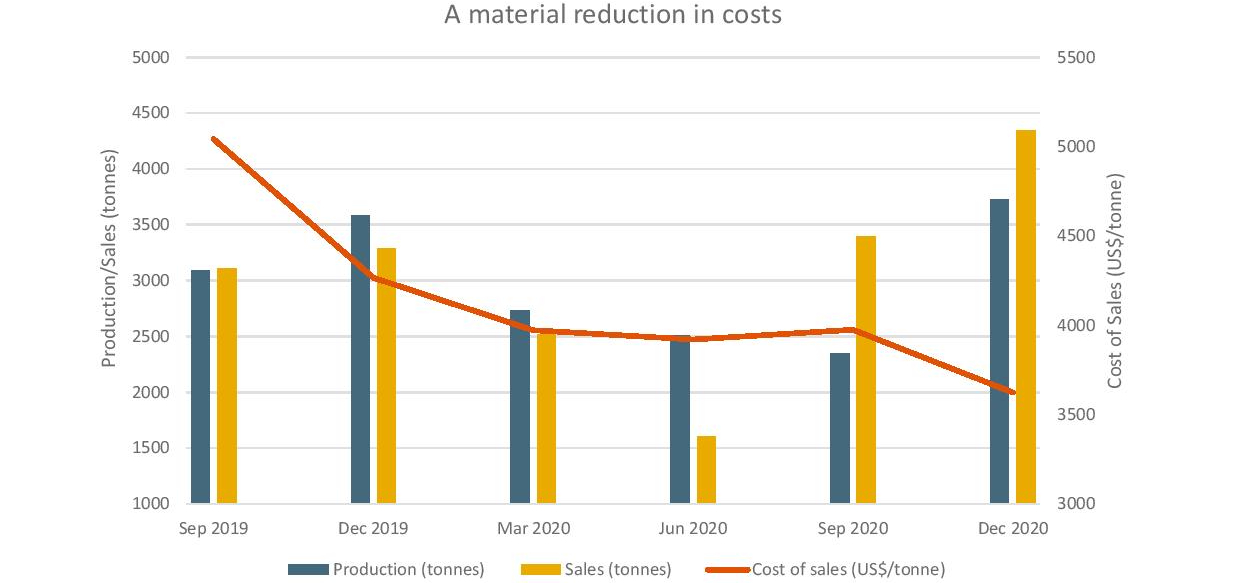 (Graphic Source – Company Reports)
Lithium growth projects
Construction work on Stage 2 was impacted during the quarter by COVID-19 restrictions. Construction has progressed to approximately 50% completion. Stage 2 is expected to commence production in H2 CY22, ramping up over two years to the full capacity of 25,000 tonnes per annum of primary grade lithium carbonate by H2 CY24

Naraha Lithium Hydroxide Plant construction has continued throughout the period with activities now approximately 89% complete

A scoping study into a further expansion at Olaroz (Stage 3) to investigate options for additional production of 25-50ktpa from Olaroz, Cauchari or a combination of both, leveraging existing Stage 2 and 3 infrastructure will commence during the March quarter

Initial discussions have taken place with Toyota Tsusho Corporation (TTC) regarding an expansion of lithium hydroxide production as Naraha Stage
Borax Argentina: Sales volume was up by 18% QoQ to 10,573 tonnes and up 23% on the previous corresponding period (PCP) and sales revenue increased 14% QoQ due to increased volume
As of 31 December 2020, Cash available was US$246.8 million of which US$11.1 million and US$59.6 million have been set aside as pre-completion guarantees for the Naraha debt facility and Olaroz Expansion debt facility respectively (Data Source – Company Reports)
Veye's Take
Orocobre Limited's business, driven by low costs and strong, stable production is well positioned to participate in the improving lithium market. The company expects further improvement in gross cash margins with better pricing in H2 FY21. The formation of seven bullish candles at the upper band of the Bollinger with Higher High formation on the price charts well supported by RSI and MACD gives an indication of potential upside strength. The stock might experience some bearish move, but with a cup and handle pattern in the making, it can have the potential of reaching its earlier highs in the near to medium term. The Latest "Buy" on "Orocobre Limited" at the price of $3.19 was given on 23 July 2020. It has already grown by more than 82% in less than seven months till now. Veye maintains a "Hold" on "Orocobre Limited" at the current price of $5.81
Disclaimer
Veye Pty Ltd(ABN 58 623 120 865), holds (AFSL No. 523157 ). All information provided by Veye Pty Ltd through its website, reports, and newsletters is general financial product advice only and should not be considered a personal recommendation to buy or sell any asset or security. Before acting on the advice, you should consider whether it's appropriate to you, in light of your objectives, financial situation, or needs. You should look at the Product Disclosure Statement or other offer document associated with the security or product before making a decision on acquiring the security or product. You can refer to our Terms & Conditions and Financial Services Guide for more information. Any recommendation contained herein may not be suitable for all investors as it does not take into account your personal financial needs or investment objectives. Although Veye takes the utmost care to ensure accuracy of the content and that the information is gathered and processed from reliable resources, we strongly recommend that you seek professional advice from your financial advisor or stockbroker before making any investment decision based on any of our recommendations. All the information we share represents our views on the date of publishing as stocks are subject to real time changes and therefore may change without notice. Please remember that investments can go up and down and past performance is not necessarily indicative of future returns. We request our readers not to interpret our reports as direct recommendations. To the extent permitted by law, Veye Pty Ltd excludes all liability for any loss or damage arising from the use of this website and any information published (including any indirect or consequential loss, any data loss, or data corruption) (as mentioned on the website www.veye.com.au), and confirms that the employees and/or associates of Veye Pty Ltd do not hold positions in any of the financial products covered on the website on the date of publishing this report. Veye Pty Ltd hereby limits its liability, to the extent permitted by law to the resupply of services.