FirstWave Cloud Technology Limited, growing addressable market
Team Veye | 28 Jan 2021

ASX - FCT
FirstWave Cloud Technology Limited (ASX: FCT)
FirstWave Cloud Technology Limited (ASX: FCT) is a leading Australian headquartered global cyber security company. FirstWave provides safety through the most accessible and adaptive cloud-based cybersecurity solutions that are affordable, easy and fast to implement enabling SaaS. Its unique proprietary cloud-platform orchestration is available for service providers and enterprises of any size, anywhere.
It has established a long term incentive scheme (LTI) under the Company's existing FirstWave Cloud Technology Limited Rights Plan (Plan) On 24 December 2020. The Plan was approved by Shareholders on 29 July 2020. The Board has completed its remuneration review for FY21 and has assessed an initial grant of 2,575,739 Rights under the Plan.
On 28 October 2020 Company has provided its quarterly updates for the 1 st quarter of FY21 ended 30 September 2020.

(Chart source: TradingView)
Operating Highlights
Q1 reported a 16% increase in revenue well ahead of plan at $2.1m (as presented to shareholders as part of the June 2020 capital raise).

Q1 costs well on plan reported fall of 4.7% from previous quarter

Q1 cash ahead of plan by $1.15m due to:

Loan repayment of $222k loan and exercising $232k sub-underwriter options and timing of vendor and customer payments.

H1 cash projected to stay ahead of plan on account of, earlier receipt of R&D tax refund now anticipated in Q2 against the original plan of Q3 and a larger than planned, R&D tax offset.

H1 revenue and expense performance is tracking on or above plan
Business Update
Q1 FY21 operating achievements included:

Signed two additional Level 1 partners (TTL and Vi in India as announced in ASX releases on 20/08/20 and 29/09/20 respectively).

Billing partners increased from 28 to 37.

Several new appointments to strengthen the executive and advisory team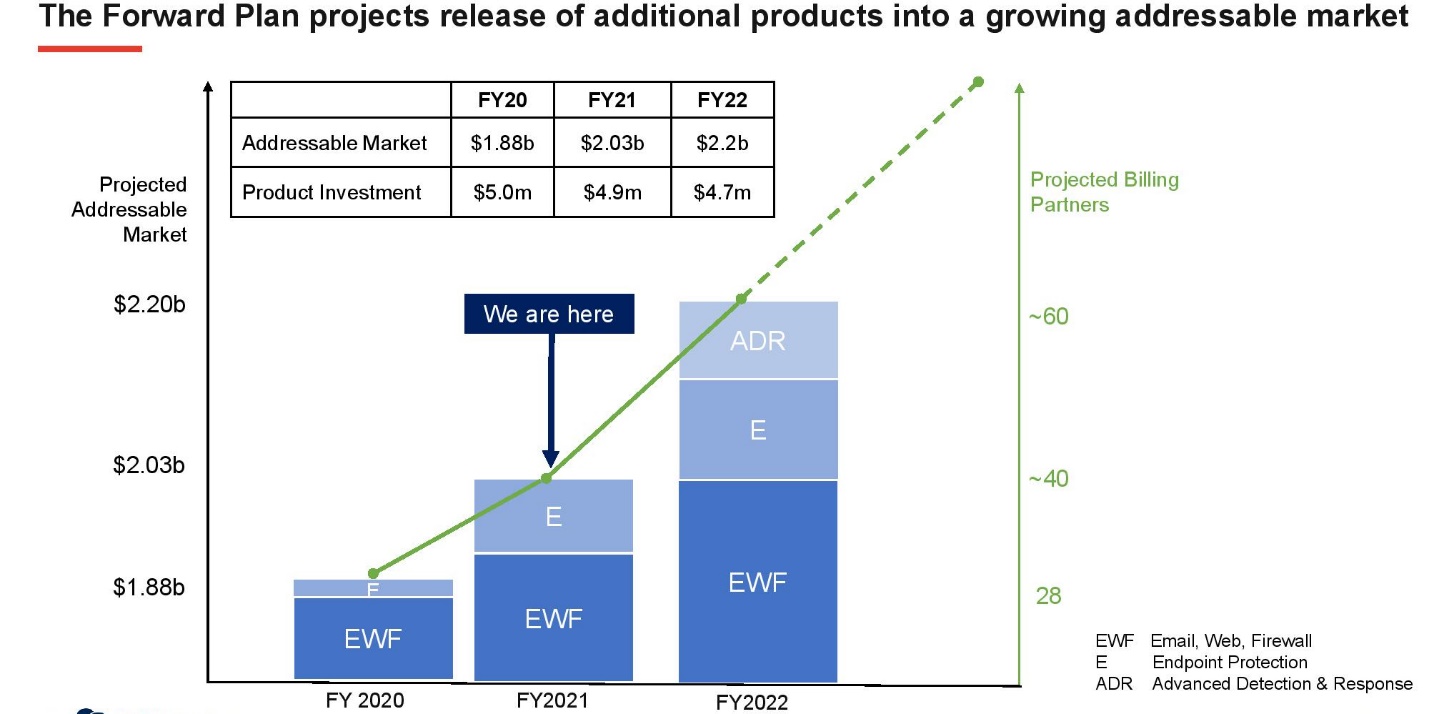 (Graphic Source – Company Reports)
Cash Flow Highlights:
The cash balance at the end of Q1 FY21 was ahead of plan at $12.3m, including bank guarantee deposits of $134k.

Operating cash in-flows received from customers in the quarter was $1.3m compared to $1.1m in the previous quarter.

Operating cash payments of $1.0m for product manufacturing and operating costs compared to $1.5m in the previous quarter. The $0.5m difference was mainly due to the favourable timing of the payment of COGS.

Operating cash payments of $2.2m for staff costs in the quarter was $0.5m higher than the previous quarter due to $0.2m less capitalisation of staff costs, the re-instatement of Directors' fees after several months of salary sacrifice, some new hires and one-off items and commissions that had been accrued but not paid in the FY20 expenses.

The net cash outflow for Q1 FY21 was $3.1m which compared favourably to the forecast $5.6M in the Q4 FY20

Estimated cash payments for Q2 FY21 is forecast to be in line with a plan

(Data Source – Company Reports)
Veye's Take
The company's Q1 performance was ahead of the plan overall and was back on a positive trajectory. It has sufficient cash to fund its Q2 FY21 estimated cash outflows and the outlook remains positive. FirstWave Cloud Technology has multiple partners with expanding portfolio across geographies. The Forward Plan projects acquisition of more partners that deliver more revenue. The formation of "Doji" at the middle band of the Bollinger with a long wick indicating strong downside rejection indicated the upside strength in the stock. The formation of an immediate bullish candle, well supported by RSI and MACD signals the stock has upside potential. Veye recommends a "Speculative Buy" on "FirstWave Cloud Technology Limited" at the current price of$0.165
Disclaimer
Veye Pty Ltd(ABN 58 623 120 865), holds (AFSL No. 523157 ). All information provided by Veye Pty Ltd through its website, reports, and newsletters is general financial product advice only and should not be considered a personal recommendation to buy or sell any asset or security. Before acting on the advice, you should consider whether it's appropriate to you, in light of your objectives, financial situation, or needs. You should look at the Product Disclosure Statement or other offer document associated with the security or product before making a decision on acquiring the security or product. You can refer to our Terms & Conditions and Financial Services Guide for more information. Any recommendation contained herein may not be suitable for all investors as it does not take into account your personal financial needs or investment objectives. Although Veye takes the utmost care to ensure accuracy of the content and that the information is gathered and processed from reliable resources, we strongly recommend that you seek professional advice from your financial advisor or stockbroker before making any investment decision based on any of our recommendations. All the information we share represents our views on the date of publishing as stocks are subject to real time changes and therefore may change without notice. Please remember that investments can go up and down and past performance is not necessarily indicative of future returns. We request our readers not to interpret our reports as direct recommendations. To the extent permitted by law, Veye Pty Ltd excludes all liability for any loss or damage arising from the use of this website and any information published (including any indirect or consequential loss, any data loss, or data corruption) (as mentioned on the website www.veye.com.au), and confirms that the employees and/or associates of Veye Pty Ltd do not hold positions in any of the financial products covered on the website on the date of publishing this report. Veye Pty Ltd hereby limits its liability, to the extent permitted by law to the resupply of services.