Grange Resources Limited, continued strong demand
Team Veye | 27 Jan 2021

ASX - GRR
Grange Resources Limited (ASX: GRR)
Grange Resources Limited (ASX: GRR) on 25 January 2021, released its quarterly report for 3 months ended on 31 December 2020.
The company has closed the year 2020 on a very strong note. It has managed to deliver exceptional sales volume figures. The stronger performance of the downstream processing and engineering team in installing and commissioning the Steel Pan Conveyer system in a shorter time than expected resulted in the production of the higher quality pellets with higher compression strength, with less down time and less maintenance and more effective use of energy.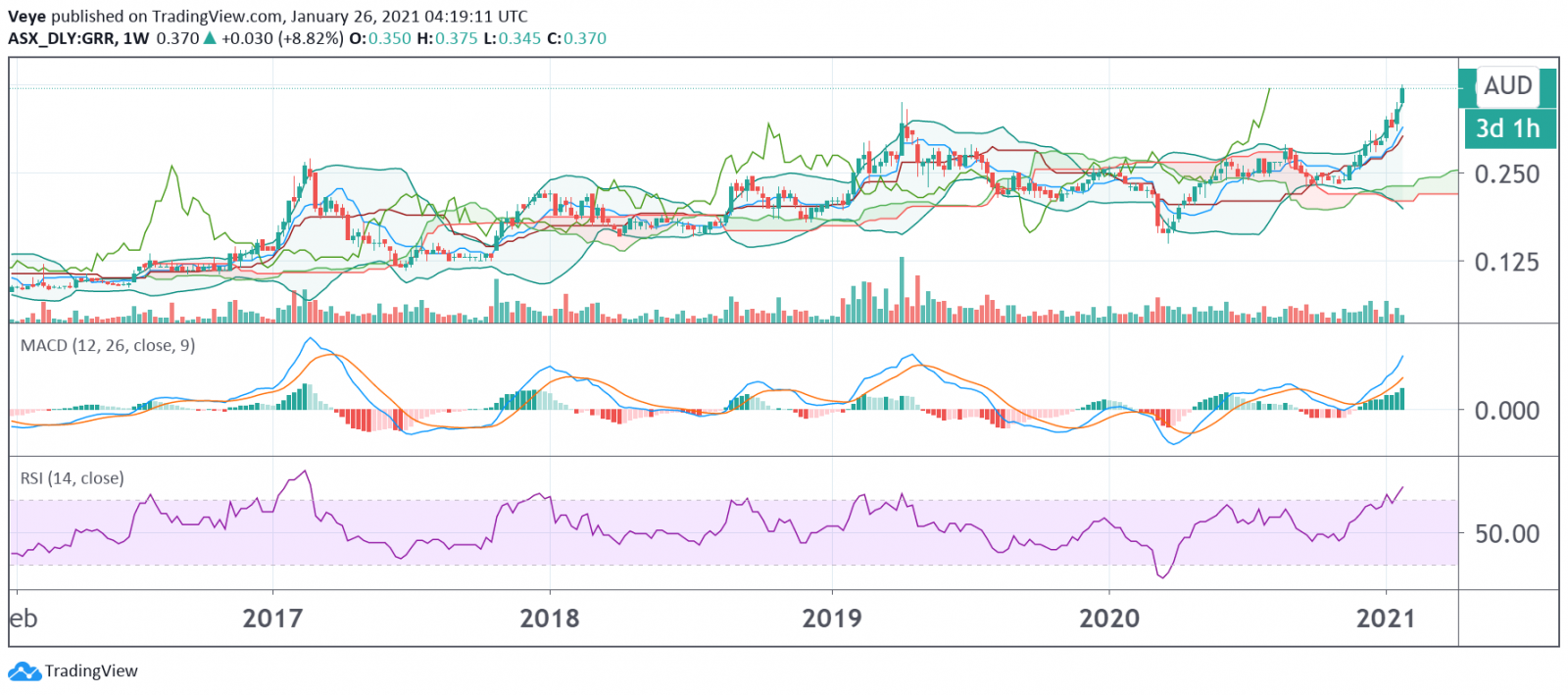 (Chart source: TradingView)
Highlights:
Keeping the health, safety and well-being of the company's workforce on a priority, the operation achieved over 1380 days Lost Time Injury Free

Pellet production decreased for the quarter with 479kt compared to 639kt for the September quarter due to the planned major shut for the steel pan conveyor installation.

Pellet sales increased for the quarter to 754kt compared with 422kt for the September quarter

Increase in average received prices for the quarter to US$174.69/t (A$236.77/t) (FOB Port Latta) compared with US$130.22/t (A$182.49/t) for the September quarter.

Unit cash operating cost decreased for the quarter to $101.13/t compared with $101.45/t for the September quarter.

Cash and liquid investments of $202.93 million and trade receivables of $79.32 million compared with cash and liquid investments of $175.53 million and trade receivables of $13.15 million for the September quarter.

Outlays of approximately $16.7 million has been made in the quarter on capital projects including Mine Control, Truck Trays, NP Open Pit drilling program and Pellet Plant improvement projects.
The Company has also provided an update on its major projects
North Pit Underground: Prefeasibility study work continues with designs and schedules being developed to assess different methods of mining. The pre-stripping of waste material from Centre Pit has continued in preparation for ore supply later in 2021. The environmental impact statement for the ultimate design has been prepared and the approval process is underway with a review expected through the first quarter of 2021.

Port Latta Improvement Projects

: Redesigning and rebuilding of the fifth furnace continue in order to improve the airflow. Successful completion of the project will improve pellet quality and reduce energy consumption. The conceptual design was developed through Q4, with detailed design work and a review of the procurement of key components being done in Q1, 2021.

Southdown Magnetite Project: Company was granted approval of the Southdown Magnetite Project (EPBC 2011/6053) under the Environment Protection and Biodiversity Conservation Act 1999. Strategic review of the project under the current market conditions is being carried out along with the process of seeking a strategic investor(s) for the project

(Data Source – Company Reports)
Veye's Take
Grange had a very strong fourth quarter that completes a strong 2020, delivering exceptional sales volume figures in combination with record sales prices in recent years. The successful installing and commissioning of the Steel Pan Conveyer system in a shorter time than planned enables higher quality pellets with higher compression strength to be produced, reduced down time and less maintenance and more effective use of energy. Grange has fully allocated all of 2021 production through offtake agreements at an additional premium above the 65% Fe fines and pellet premium indices. This demonstrates the strong demand for Grange's high quality and low impurity products to existing in the future. The stock has been on an upside rally after taking the support of the middle band of the Bollinger at $0.255. Positive divergence formation on RSI, Positive cross over on MACD and "Higher High" formation with no reversal pattern indicates further bullishness. It is trading above its MAs and a close above $0.39, its daily resistance, can have the potential of accelerating its momentum. Veye maintains "Hold" on Grange Resources Limited at the current price levels of $0.370
Disclaimer
Veye Pty Ltd(ABN 58 623 120 865), holds (AFSL No. 523157 ). All information provided by Veye Pty Ltd through its website, reports, and newsletters is general financial product advice only and should not be considered a personal recommendation to buy or sell any asset or security. Before acting on the advice, you should consider whether it's appropriate to you, in light of your objectives, financial situation, or needs. You should look at the Product Disclosure Statement or other offer document associated with the security or product before making a decision on acquiring the security or product. You can refer to our Terms & Conditions and Financial Services Guide for more information. Any recommendation contained herein may not be suitable for all investors as it does not take into account your personal financial needs or investment objectives. Although Veye takes the utmost care to ensure accuracy of the content and that the information is gathered and processed from reliable resources, we strongly recommend that you seek professional advice from your financial advisor or stockbroker before making any investment decision based on any of our recommendations. All the information we share represents our views on the date of publishing as stocks are subject to real time changes and therefore may change without notice. Please remember that investments can go up and down and past performance is not necessarily indicative of future returns. We request our readers not to interpret our reports as direct recommendations. To the extent permitted by law, Veye Pty Ltd excludes all liability for any loss or damage arising from the use of this website and any information published (including any indirect or consequential loss, any data loss, or data corruption) (as mentioned on the website www.veye.com.au), and confirms that the employees and/or associates of Veye Pty Ltd do not hold positions in any of the financial products covered on the website on the date of publishing this report. Veye Pty Ltd hereby limits its liability, to the extent permitted by law to the resupply of services.