Steadfast Group Limited, focused on risk management for long term profitability
Team Veye | 27 Jan 2021

ASX - SDF
Steadfast Group Limited (ASX: SDF)
Steadfast Group Limited (ASX: SDF) on 28 October 2020 had its AGM providing FY20 financial performance and trading updates for the first quarter of FY21 and FY21 guidance.
Steadfast has reported a growth of 21.9% per annum in its underlying EBITA over the past seven years and underlying earnings per share grew by 13.0% per annum, in line with its long-term sustainable growth strategy
FY20 results were driven by organic and acquisition growth in the Group's Insurance Broking and Underwriting Agencies
Highlights FY20
The group has delivered underlying earnings before interest, tax and amortisation of $223.5million reporting an increase of 15.5% and underlying net profit after tax (NPAT) up by 22.6% to $108.7 million.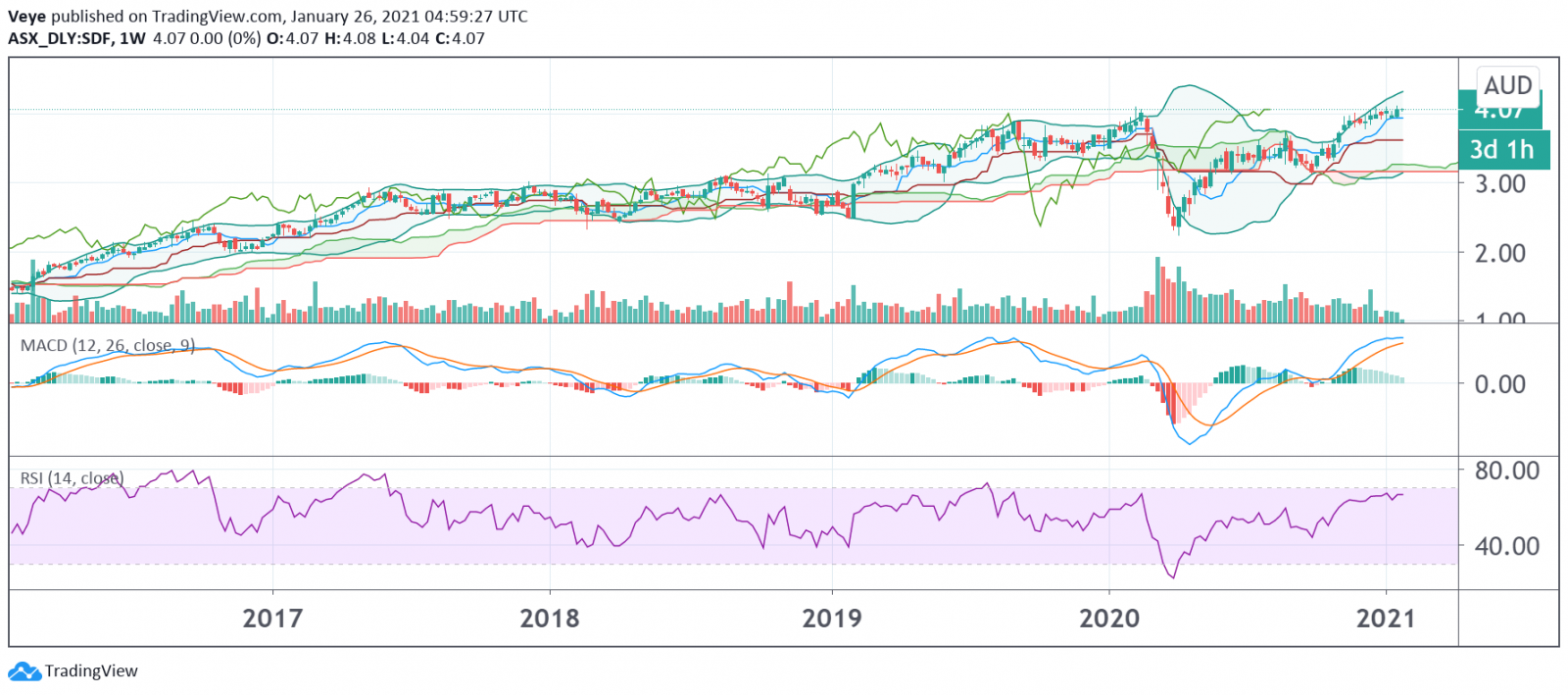 (Chart source: TradingView)
Steadfast Insurance Broking: The broking network reported an increase in revenue by 10.2%, including organic growth of 6.3%. This revenue was translated to 7.3% organic growth at the EBITA level. The total underlying EBITA growth was 23.9%, driven by acquisitions including acquiring the Professional Services Fee (PSF) Rebate from the network.
Underwriting Agencies: The business generated over $1.3 billion of GWP, which was a 13.1% increase over FY19, mainly driven by organic growth.EBITA
increased by 14.7% during the financial year.
InsurTech: Steadfast Client Trading Platform (SCTP) usage was increased by 45% in FY20, with a majority of Australian and New Zealand brokers using the platform. $638 million of GWP was transacted on SCTP
Over the last 10 years, Steadfast has made an investment of $65 million towards the development of its global leading InsurTech product suite. This investment resulted in a 21.1% return on capital invested for FY20, mainly from policies traded on the SCTP.
The Steadfast Network brokers' gross written premium (GWP) grew by 34.8% to $8.3 billion in FY20

The cash has been utilised to fund further acquisitions, our continuing technology investment, and increased dividends to shareholders at a consistent payout ratio of c.75% of net profit after tax.
First quarter FY21 Trading Update
The first quarter EBITA reported an increase of 20.7% from the same period last year. This was a tremendous start to FY21

Insurers continued to increase premium rates, and volumes holding firmly

Underwriting Agencies outperformed with strong organic growth.

Technology usage continues to grow with $677m of SCTP volume in the 12 months to 30 September 2020.

The roll out of INSIGHT continues to progress with 150 brokers on the system as at 30 September 2020
Revised FY21 guidance.
Underlying EBITA revised from $245 million to $255 million

Underlying NPAT revised from $120 million to $127 million.

Growth in underlying diluted EPS (NPAT) of 10% to 15%.

(Data Source – Company Reports)
Veye's Take
Even though such uncertainty prevailing in the economy, the last six months trading conditions have given the confidence and growth to be experienced by Steadfast Group's insurance broking and underwriting agency businesses. With a strong pipeline of acquisition opportunities and investment towards the expansion of technology capabilities, the future outlook looks promising. The stock has managed to hold well above the middle band of the Bollinger and trading near the minor resistance level at $4.11. The positive crossover in MACD and RSI holding positively along with an upside rally on the price charts indicates that it can have upside potential in the near term. Veye maintains a "Hold" on "Steadfast Group Limited" at the current price of $4.07
Disclaimer
Veye Pty Ltd(ABN 58 623 120 865), holds (AFSL No. 523157 ). All information provided by Veye Pty Ltd through its website, reports, and newsletters is general financial product advice only and should not be considered a personal recommendation to buy or sell any asset or security. Before acting on the advice, you should consider whether it's appropriate to you, in light of your objectives, financial situation, or needs. You should look at the Product Disclosure Statement or other offer document associated with the security or product before making a decision on acquiring the security or product. You can refer to our Terms & Conditions and Financial Services Guide for more information. Any recommendation contained herein may not be suitable for all investors as it does not take into account your personal financial needs or investment objectives. Although Veye takes the utmost care to ensure accuracy of the content and that the information is gathered and processed from reliable resources, we strongly recommend that you seek professional advice from your financial advisor or stockbroker before making any investment decision based on any of our recommendations. All the information we share represents our views on the date of publishing as stocks are subject to real time changes and therefore may change without notice. Please remember that investments can go up and down and past performance is not necessarily indicative of future returns. We request our readers not to interpret our reports as direct recommendations. To the extent permitted by law, Veye Pty Ltd excludes all liability for any loss or damage arising from the use of this website and any information published (including any indirect or consequential loss, any data loss, or data corruption) (as mentioned on the website www.veye.com.au), and confirms that the employees and/or associates of Veye Pty Ltd do not hold positions in any of the financial products covered on the website on the date of publishing this report. Veye Pty Ltd hereby limits its liability, to the extent permitted by law to the resupply of services.