Woodside Petroleum Limited, revenue boosted by improving market
Team Veye | 25 Jan 2021

ASX - WPL
Woodside Petroleum Limited (ASX: WPL)
Fourth Quarter Report for the period ended 31 December 2020
The company Woodside Petroleum Limited (ASX: WPL) on 21 January 2021, provided its fourth quarter report for the period ended 31 December 2020
Highlights
Q4 production was down by 2% from Q3 2020 at 24.9 MMboe, contributing to a record annual production of 100.3 MMboe.

Sales revenue reported growth of 32% from Q3 2020 at $920 million

9% growth in sales volume at 29.1 MMboe from Q3 2020.

Completed the Installation of the Pluto water handling module on the Pluto offshore platform.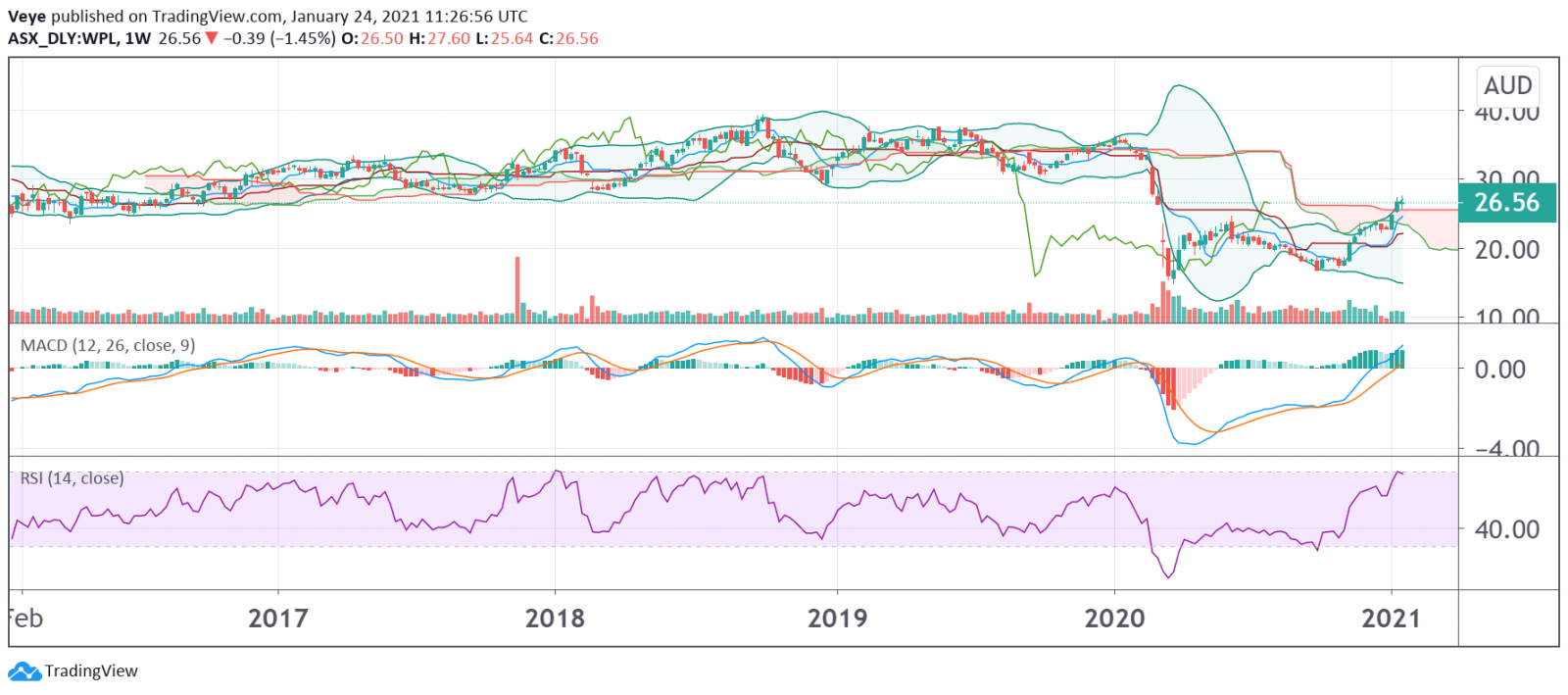 (Chart source: TradingView)
Recent Developments
Cairn Sangomar acquisition completed:
The company had completed the acquisition of Cairn's interest in the Sangomar offshore oil development. The contract was awarded for the operations and maintenance of the floating production storage and offloading facility. The development remains on track for targeted first oil in 2023.
North West Shelf Project Extension
The NWS Project participants executed key commercial and governance agreements, and fully-termed gas processing agreements (GPAs) in December 2020 for processing third-party gas through the NWS. Execution of these agreements is a key milestone in the transformation of KGP to a world-class third-party gas tolling facility and secures gas to utilise emerging processing capacity.
FID for the infrastructure required to receive gas from the Pluto-KGP Interconnector and Burrup Extension Pipeline has successfully been achieved by the project participants
Scarborough production licences granted:
Received production licences by the Commonwealth and Western Australian Offshore Petroleum Joint Authority in respect of WA-61-L (Scarborough) and WA-62-L (North Scarborough).

The design capacity of the offshore development was increased by approximately 20% to 8.0 Mtpa of LNG. Technical feasibility studies were completed in December 2020.

Construction plan of the Pluto Train 2 was reviewed and optimised to improve execution efficiency with the chosen engineering, procurement and construction contractor, Bechtel (Western Australia) Pty Ltd

Engineering and construction contracts of Scarborough were extended in readiness for the targeted final investment decision (FID) in H2 2021 subjecting to commercial arrangements and joint venture and regulatory approvals.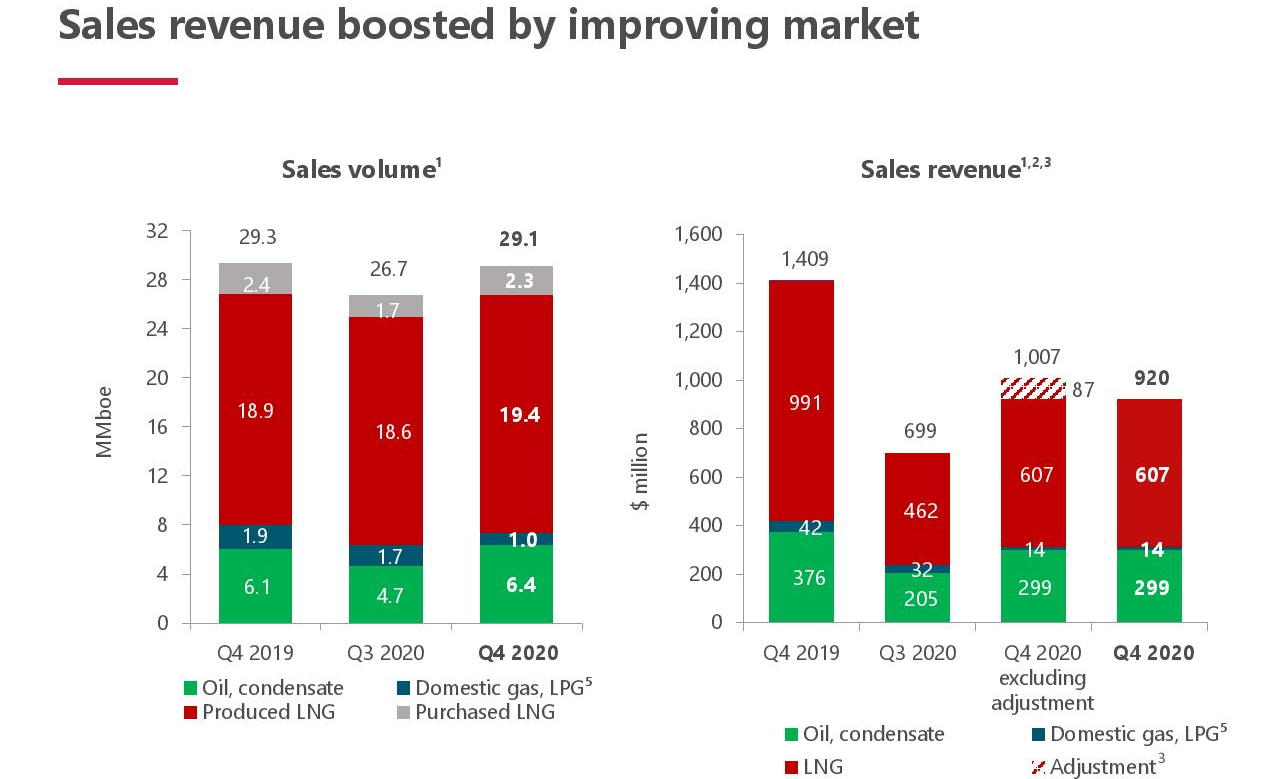 (Graphic Source – Company Reports)
Expansion of Uniper LNG agreement: Woodside and Uniper Global Commodities SE (Uniper) agreed to double the supply of LNG under their existing long-term sale and purchase agreement.
Initial supply commencing in 2021 is now for a volume of up to 1 million tonnes per annum (Mtpa), increasing to approximately 2 Mtpa from 2026.

The majority of LNG supply from 2025 is conditional upon Scarborough FID.

The LNG produced and sold on a spot basis in 2020 was approximately 30%
Woodside's 2021 Production and Expenditure Guidance:
Production guidance is 90 – 95 MMboe

Investment expenditure guidance is $2,900 – 3,200 million

Production cost guidance is $460-510 Million

Trading Cost guidance is $190-230 Million

General and administrative cost guidance is $170-210 Million

(Data Source – Company Reports)
Veye's Take
WPL has showcased significant progress on its growth projects during the fourth quarter. Right from Production licence approval to execution of gas agreements, acquisition of Cairn's interest, doubling the volume of gas to be supplied to Uniper from 2021 WPL remains on track for a targeted final investment decision on the development in the second half of this year. The formation of "Doji at the upper band of the Bollinger with long wicks is indicating rejection to the downside. RSI and MACD are pointing towards a positive uptrend indicating its upside potential. Veye maintains "Hold" on "Woodside Petroleum Limited" at the current price levels of $26.56
Disclaimer
Veye Pty Ltd(ABN 58 623 120 865), holds (AFSL No. 523157 ). All information provided by Veye Pty Ltd through its website, reports, and newsletters is general financial product advice only and should not be considered a personal recommendation to buy or sell any asset or security. Before acting on the advice, you should consider whether it's appropriate to you, in light of your objectives, financial situation, or needs. You should look at the Product Disclosure Statement or other offer document associated with the security or product before making a decision on acquiring the security or product. You can refer to our Terms & Conditions and Financial Services Guide for more information. Any recommendation contained herein may not be suitable for all investors as it does not take into account your personal financial needs or investment objectives. Although Veye takes the utmost care to ensure accuracy of the content and that the information is gathered and processed from reliable resources, we strongly recommend that you seek professional advice from your financial advisor or stockbroker before making any investment decision based on any of our recommendations. All the information we share represents our views on the date of publishing as stocks are subject to real time changes and therefore may change without notice. Please remember that investments can go up and down and past performance is not necessarily indicative of future returns. We request our readers not to interpret our reports as direct recommendations. To the extent permitted by law, Veye Pty Ltd excludes all liability for any loss or damage arising from the use of this website and any information published (including any indirect or consequential loss, any data loss, or data corruption) (as mentioned on the website www.veye.com.au), and confirms that the employees and/or associates of Veye Pty Ltd do not hold positions in any of the financial products covered on the website on the date of publishing this report. Veye Pty Ltd hereby limits its liability, to the extent permitted by law to the resupply of services.