Australian Vanadium Limited, robust project economics
Team Veye | 14 Jan 2021

ASX - AVL
Australian Vanadium Limited (ASX: AVL)
Australian Vanadium Limited (ASX: AVL), formerly Yellow Rock Resources Limited) is a mining company focusing on uranium, vanadium/titanium, copper and gold exploration in Australia.
Australian Vanadium Limited (ASX: AVL, "the Company" or "AVL") on 6 January 2021 announced that through its 100% owned VRFB subsidiary, VSUN Energy, it had engaged CADDS Group to undertake local design and consultancy for its 5kW/30kWh residential VRFB, which recently arrived from China.

(Chart source: TradingView)
AVL had signed an MOU with Chinese VRFB manufacturer Gui Zhou Collect Energy Century Science and Technology Co Ltd, trading as CEC VRFB Co. Ltd (CEC), based in Guizhou province. The MOU included product development for CEC's residential VRFB for the Australian market.
CADDS Group had been engaged to design a new housing for the VRFB system and to provide potential design changes to improve the battery for Australian residential market conditions. The VRFB will be tested onsite at CADDS with the help of engineering capability from Curtin University.
On successful completion of testing, VSUN Energy plans to deploy the unit to a residential customer with a single-phase system, for tests to be completed in a residential environment with solar energy input.
On 22 December 2020, Australian Vanadium Limited announced an updated Pre-Feasibility Study (PFS) for the Australian Vanadium Project at Gabanintha ("the Project"), near Meekatharra in Western Australia.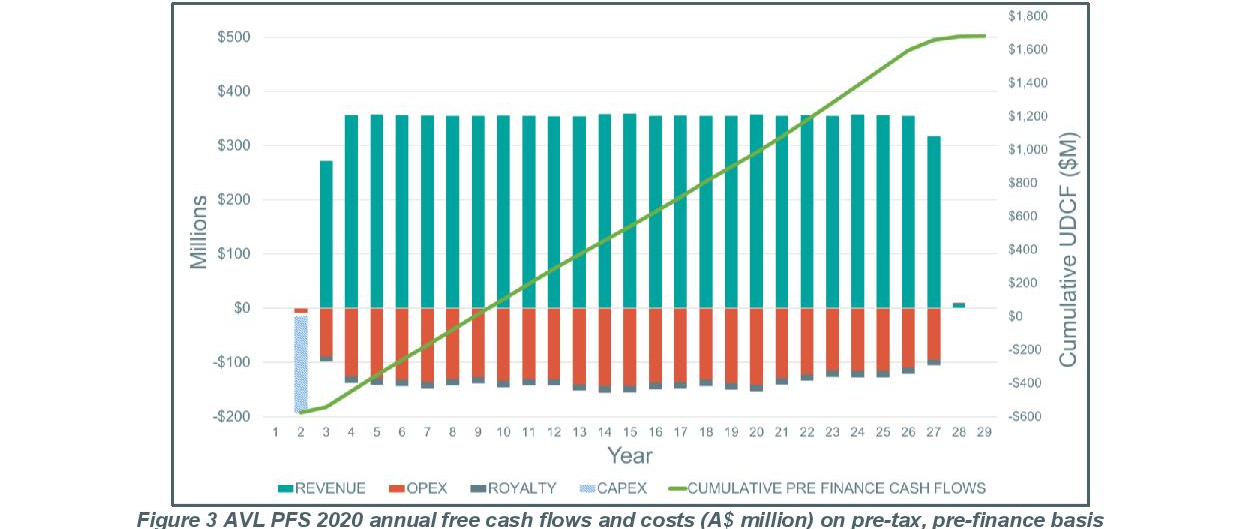 (Graphic Source – Company Reports)
Since the release of AVL's PFS in December 2018, the Company had undertaken key work to improve the Project's economics and minimise risk. Pilot scale test work performed on samples designed to be indicative of average early years and life of mine process feed, had verified AVL's process flowsheets and their capability to deliver high quality vanadium products and an improvement in vanadium recovery at industry competitive low operating cost. (Data Source – Company Reports)
Veye's Take
Australian Vanadium's working with CADDS Group to develop the design for the residential VRFB will give it the opportunity to provide feedback to CEC and ensure that the product is ideal for the Australian market. By initiating market growth in smaller systems, it anticipates a knock-on effect for larger VRFB uptake, which in turn will grow the market for vanadium pentoxide in energy storage. AVL's plans for vanadium electrolyte production also aligns with both Federal and State Governments' strategies for increasing manufacturing and green energy capability in Australia. The updated PFS for the Australian Vanadium Project reflects robust economics, revised layout and location, updated process design and a new extended Ore Reserve for the Project. The stocks had made "Doji" candle on the price charts at the upper band of the "Bollinger" indicating uncertainty and witnessed a bearish move from there and failed to close above the middle band of the Bollinger. In the month of November, the stock managed to close above the middle band of the Bollinger. The stock made" Higher High" from there along with RSI supporting it with the formation of the positive divergence and MACD entering in the positive territory from there. The candle formation at the top with wick rejecting the downside move indicates the stock hold upside potential with $0.023 posing minor resistance. Veye recommends a "Speculative buy" on "Australian Vanadium Limited" at the current price of $0.019
Disclaimer
Veye Pty Ltd(ABN 58 623 120 865), holds (AFSL No. 523157 ). All information provided by Veye Pty Ltd through its website, reports, and newsletters is general financial product advice only and should not be considered a personal recommendation to buy or sell any asset or security. Before acting on the advice, you should consider whether it's appropriate to you, in light of your objectives, financial situation, or needs. You should look at the Product Disclosure Statement or other offer document associated with the security or product before making a decision on acquiring the security or product. You can refer to our Terms & Conditions and Financial Services Guide for more information. Any recommendation contained herein may not be suitable for all investors as it does not take into account your personal financial needs or investment objectives. Although Veye takes the utmost care to ensure accuracy of the content and that the information is gathered and processed from reliable resources, we strongly recommend that you seek professional advice from your financial advisor or stockbroker before making any investment decision based on any of our recommendations. All the information we share represents our views on the date of publishing as stocks are subject to real time changes and therefore may change without notice. Please remember that investments can go up and down and past performance is not necessarily indicative of future returns. We request our readers not to interpret our reports as direct recommendations. To the extent permitted by law, Veye Pty Ltd excludes all liability for any loss or damage arising from the use of this website and any information published (including any indirect or consequential loss, any data loss, or data corruption) (as mentioned on the website www.veye.com.au), and confirms that the employees and/or associates of Veye Pty Ltd do not hold positions in any of the financial products covered on the website on the date of publishing this report. Veye Pty Ltd hereby limits its liability, to the extent permitted by law to the resupply of services.