Rhythm Biosciences Limited, scalable & capital light commercial model
Team Veye | 14 Jan 2021

ASX - RHY
Rhythm Biosciences Limited (ASX: RHY)
Rhythm Biosciences Limited (ASX: RHY) is a transformative, predictive diagnostics company, specialising in early cancer detection. Its initial business pursuit is centred upon technology originally developed by the CSIRO and involves the development and commercialisation of a screening and diagnostic test for the early detection of colorectal cancer, the third biggest cause of cancer-related deaths globally.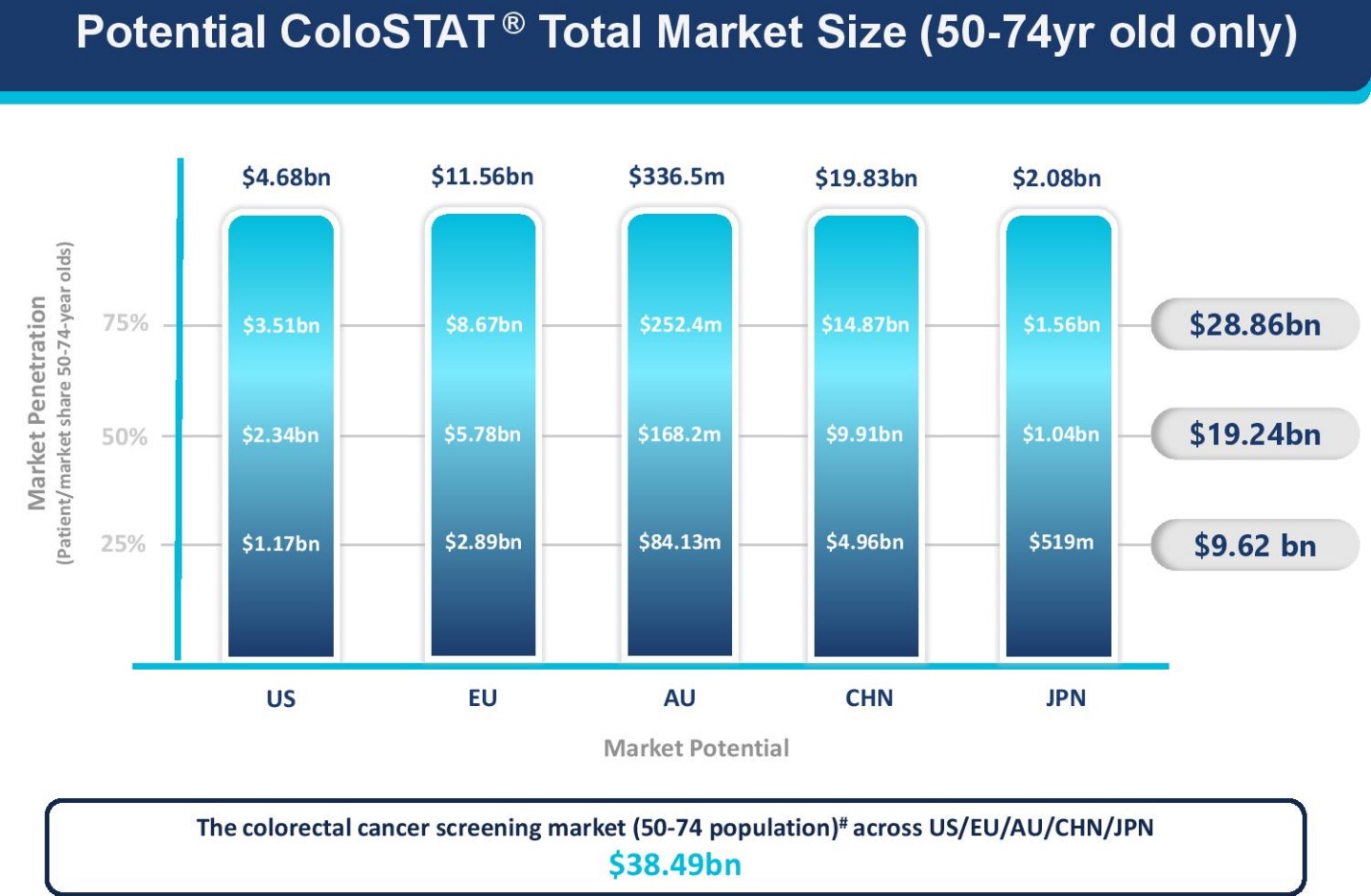 (Graphic Source – Company Reports)
Rhythm's lead product, ColoSTAT®, is the first product in development, representing a transformative diagnostic tool, to more accurately detect colorectal cancer, via a simple, accurate, low-cost blood test, aimed at global mass-market screening.
Key Highlights from Investor presentation on 21 December 2020
Technically validated the key lead and four adjunct biomarkers.

Appointed additional clinical trial (Study 7) sites.

Completed reagent development program.

Commenced high-volume manufacturer selection process.

Granting of China divisional patent.

Completed approx. $6m capital raise.

Received $1.1m FY20 R&D tax incentive.

Commenced design transfer of the prototype test-kit to a high-volume manufacturer.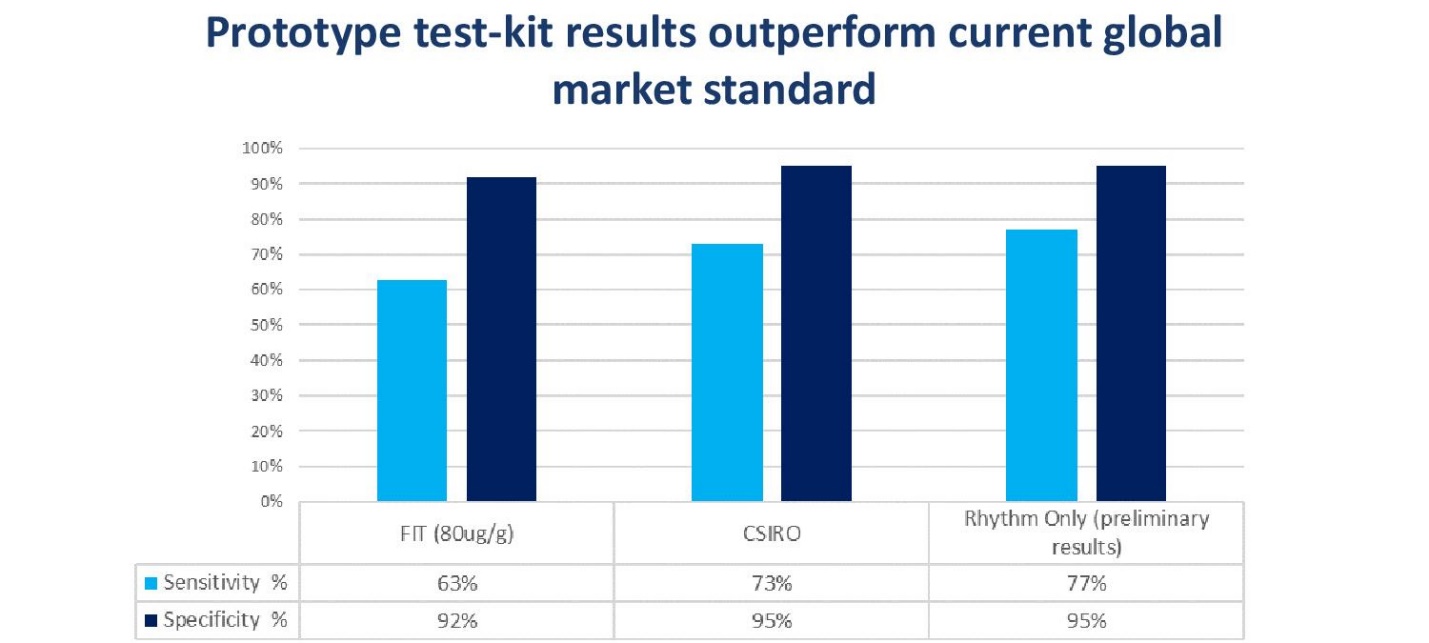 (Graphic Source – Company Reports)
On 17 December 2020, the company had received the granting of a patent for its key ColoSTAT® biomarkers in the United States of America (US) by the US Patents and Trademarks Office (USPTO).
The US granted patent covers three defined core biomarkers that form part of ColoSTAT®. The granting of the patent was a strong outcome for Rhythm given less than 35% of diagnostic patent applications are approved by the USPTO.

(Chart source: TradingView)
On 2 December 2020, RHY appointed France based Biotem Limited, as the global manufacturer of its ColoSTAT® test-kit. With over 40 years of immunoassay development and manufacturing experience, Biotem has the capability to deliver the optimisation and process validation of the manufacturing procedure and the ability to economically produce large-scale quantities of the ColoSTAT® test-kit. Initial design transfer and the broader core technology transfer is currently underway. The initial batch will used for testing on cancerous and healthy blood samples, forming Study 6, which is on track for completion by Q3FY'21. (Data Source – Company Reports)
Veye's Take
With the grant of the US, patent Rhythm has now been granted patents for the early detection of colorectal cancer in 18 countries, which represent an addressable screening population of almost 800 million people. It has a Lean business structure and scalable & flexible implementation by market & segment. The stock has taken the support of the middle band of the Bollinger and after making "Higher High" on the price charts it made a "Hanging Man" candlestick at the top of the Bollinger band". The wick of the candle is rejecting any downside move. The stock might pose small resistance at $1.22, closing above this indicates upside potential for the stock. Veye recommends a "Buy" on "Rhythm Biosciences Limited" at the current price of $1.18
Disclaimer
Veye Pty Ltd(ABN 58 623 120 865), holds (AFSL No. 523157 ). All information provided by Veye Pty Ltd through its website, reports, and newsletters is general financial product advice only and should not be considered a personal recommendation to buy or sell any asset or security. Before acting on the advice, you should consider whether it's appropriate to you, in light of your objectives, financial situation, or needs. You should look at the Product Disclosure Statement or other offer document associated with the security or product before making a decision on acquiring the security or product. You can refer to our Terms & Conditions and Financial Services Guide for more information. Any recommendation contained herein may not be suitable for all investors as it does not take into account your personal financial needs or investment objectives. Although Veye takes the utmost care to ensure accuracy of the content and that the information is gathered and processed from reliable resources, we strongly recommend that you seek professional advice from your financial advisor or stockbroker before making any investment decision based on any of our recommendations. All the information we share represents our views on the date of publishing as stocks are subject to real time changes and therefore may change without notice. Please remember that investments can go up and down and past performance is not necessarily indicative of future returns. We request our readers not to interpret our reports as direct recommendations. To the extent permitted by law, Veye Pty Ltd excludes all liability for any loss or damage arising from the use of this website and any information published (including any indirect or consequential loss, any data loss, or data corruption) (as mentioned on the website www.veye.com.au), and confirms that the employees and/or associates of Veye Pty Ltd do not hold positions in any of the financial products covered on the website on the date of publishing this report. Veye Pty Ltd hereby limits its liability, to the extent permitted by law to the resupply of services.