Bendigo and Adelaide Bank, supporting customers through COVID-19
Team Veye | 28 Oct 2020

ASX - BEN
Bendigo and Adelaide Bank (ASX: BEN)
Update on 1Q21 trading result and COVID-19 support packages
Bendigo and Adelaide Bank (ASX: BEN) on 27 October 2020 provided an update on its 1Q21 trading result and COVID-19 support packages.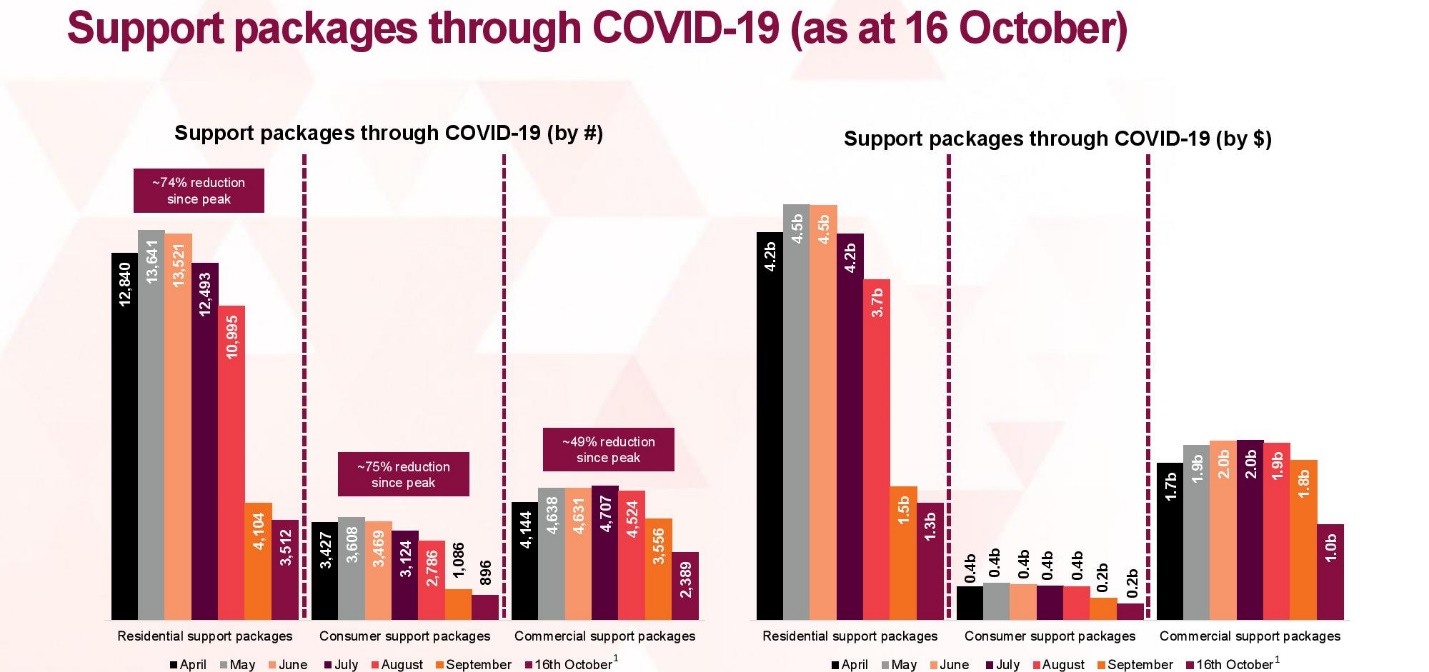 (Graphic Source – Company Reports)
The Bank's total lending continues to be a strength with year to date growth at 11 percent and residential lending at 16.1 percent, both well above system. Net Interest Margin continues to be well managed, increasing one basis point on 2H20 to 2.30 percent in the first quarter of the financial year 2021.
As at 16 October, 6,797 customer accounts remain on deferral, down 69 per cent from the peak on 31 May and down 63 percent since 31 August. The value of the accounts where repayments have been deferred is ~$2.5bn, down from a peak of $6.9bn which occurred in June.
Residential and consumer support packages total 4,408 accounts, down 74 per cent since the peak in May.

Commercial support packages total 2,389 accounts, down 49 per cent since the peak in July.
Customers transitioning away from deferral arrangements will continue to occur through the remainder of October and November as repayment deferral periods expire.
In line with its purpose and customer commitment, Bendigo and Adelaide Bank supported customers and the over 25,000 personal and commercial accounts they have with it since March, to help them manage through the pandemic. It's rewarding to see that this personalised support had enabled more than two-thirds of these customers to get back on their feet. The Bank is further encouraged by the Victorian Premier's announcement to reopen Melbourne's retail and hospitality industries from the next day.

(Chart source: TradingView)
The bank is also committed to ensuring tailored arrangements were agreed with those customers still on repayment deferral arrangements prior to their deferral period ending, and that measures were in place to allow for a smooth transition and fair outcomes were achieved for customers and shareholders. (Data Source – Company Reports)
Veye's Take
In line with its strategy, Bendigo and Adelaide Bank is focused on driving sustainable growth through active cost management, and it continued to target income growth to exceed cost growth this financial year. The bank is adequately provisioned to manage through the pandemic. Significantly, the number and balances of COVID-19 support packages have significantly reduced, including in Victoria, as the Bank continued to work individually with customers on repayment deferral arrangements. The stock had been trying to recover but not yet fully successful. It has strong support near $6.2 area from where short term bounces are possible. The real strength in the share price can come only above $10.30. Veye maintains a "Hold" on "Bendigo and Adelaide Bank" at the current price of $6.82
Disclaimer
Veye Pty Ltd(ABN 58 623 120 865), holds (AFSL No. 523157 ). All information provided by Veye Pty Ltd through its website, reports, and newsletters is general financial product advice only and should not be considered a personal recommendation to buy or sell any asset or security. Before acting on the advice, you should consider whether it's appropriate to you, in light of your objectives, financial situation, or needs. You should look at the Product Disclosure Statement or other offer document associated with the security or product before making a decision on acquiring the security or product. You can refer to our Terms & Conditions and Financial Services Guide for more information. Any recommendation contained herein may not be suitable for all investors as it does not take into account your personal financial needs or investment objectives. Although Veye takes the utmost care to ensure accuracy of the content and that the information is gathered and processed from reliable resources, we strongly recommend that you seek professional advice from your financial advisor or stockbroker before making any investment decision based on any of our recommendations. All the information we share represents our views on the date of publishing as stocks are subject to real time changes and therefore may change without notice. Please remember that investments can go up and down and past performance is not necessarily indicative of future returns. We request our readers not to interpret our reports as direct recommendations. To the extent permitted by law, Veye Pty Ltd excludes all liability for any loss or damage arising from the use of this website and any information published (including any indirect or consequential loss, any data loss, or data corruption) (as mentioned on the website www.veye.com.au), and confirms that the employees and/or associates of Veye Pty Ltd do not hold positions in any of the financial products covered on the website on the date of publishing this report. Veye Pty Ltd hereby limits its liability, to the extent permitted by law to the resupply of services.