LiveTiles Limited, large and rapidly-growing addressable market
Team Veye | 28 Oct 2020

ASX - LVT
LiveTiles Limited (ASX: LVT)
Accelerated ARR growth and another record Q1 cash receipts
LiveTiles Limited (ASX: LVT) (LiveTiles or the Company), the global leader in intranet and workplace technology software, on 27 October 2020 announced another quarter of record ARR and cash receipts, including substantial improvements in operating cashflow.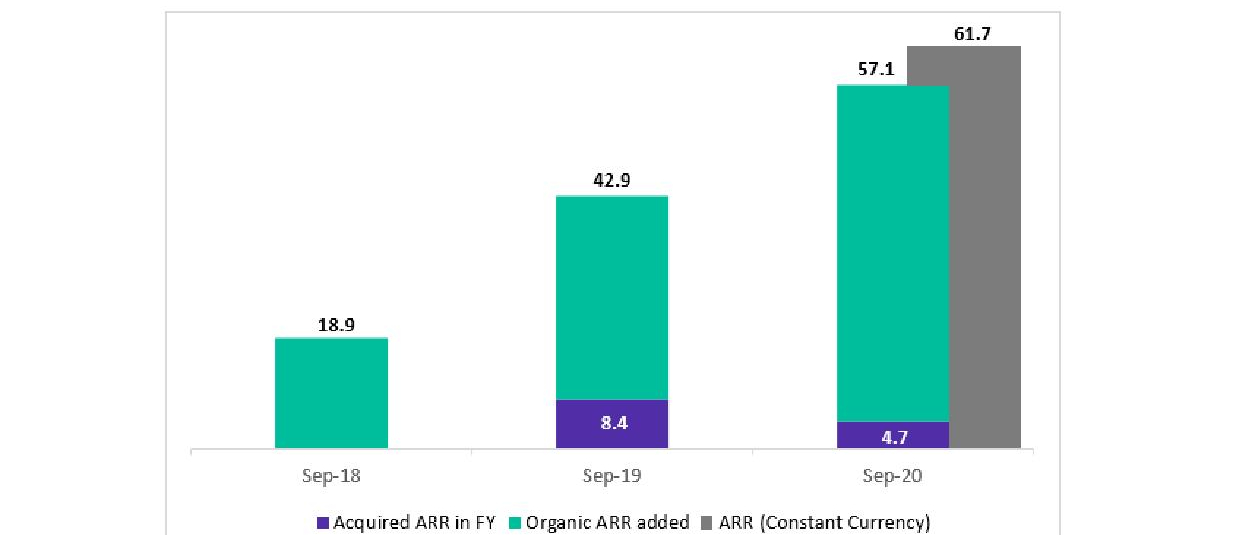 (Graphic Source – Company Reports)
Annualised recurring revenue (ARR) has grown to $57.1m, up 33% in the last year. On a Constant Currency basis, ARR has grown to $61.7m on a constant currency basis; up 44% in the last year and up 227% in 2 years.

Strong Q1FY20 customer cash receipts of $12.0m, a fourth consecutive record quarter and 41% higher than the prior corresponding period (Sep-19). Net operating cash outflow (excluding non-recurring items) of $(0.8) m, 90% improvement on the corresponding period last year. When combined with Q4-FY20 +$1.2m, operating cashflow is positive +$0.4m

Cash on hand at 30 September 2020 of $34.6m

Accelerated pipeline growth in the quarter and the successes of a refreshed product portfolio taken to market, demonstrated with a company record multi-million, multi-year deal across the LiveTiles Reach and LiveTiles Intranet products.
LiveTiles strengthens Microsoft US partnership after a record deal with major US retailer
LiveTiles Limited on 23 October 2020 announced that its relationship with Microsoft Corporation will be further strengthened under a new co-sell agreement, after securing a record license deal with a global athletic apparel retailer headquartered in the United States (US).

(Chart source: TradingView)
LiveTiles enters new co-sell agreement with Microsoft in the US

Microsoft US sales teams are being trained to sell LiveTiles Reach and LiveTiles Directory

LiveTiles and Microsoft US jointly marketing to retail, manufacturing and healthcare industries

LiveTiles secures largest ever LiveTiles Intranet deal

(Data Source – Company Reports)
Veye's Take
LiveTiles' partnership with Microsoft had been instrumental in growing LiveTiles Intranet into the leading industry provider in just a few short years. LiveTiles secured a record deal with a leading US company for LiveTiles Reach and LiveTiles Intranet. Its annualised recurring revenue (ARR) has risen to $61.7 million on a constant currency basis, which is up 44% since last year and 227% in two years. The Company's sales pipeline continues to show accelerated growth from both direct and partner sales channels as companies around the world look to implement COVID-19 re-opening strategies by embracing digital workplace solutions. In our earlier review, we had mentioned that the stock had moved up as per c wave, broke the low and now can have the potential to reach earlier high. The immediate resistance at $0.28 may hold it for some time. We maintain a "Hold" recommendation on "LiveTiles Ltd" at the current price of $0.255
Disclaimer
Veye Pty Ltd(ABN 58 623 120 865), holds (AFSL No. 523157 ). All information provided by Veye Pty Ltd through its website, reports, and newsletters is general financial product advice only and should not be considered a personal recommendation to buy or sell any asset or security. Before acting on the advice, you should consider whether it's appropriate to you, in light of your objectives, financial situation, or needs. You should look at the Product Disclosure Statement or other offer document associated with the security or product before making a decision on acquiring the security or product. You can refer to our Terms & Conditions and Financial Services Guide for more information. Any recommendation contained herein may not be suitable for all investors as it does not take into account your personal financial needs or investment objectives. Although Veye takes the utmost care to ensure accuracy of the content and that the information is gathered and processed from reliable resources, we strongly recommend that you seek professional advice from your financial advisor or stockbroker before making any investment decision based on any of our recommendations. All the information we share represents our views on the date of publishing as stocks are subject to real time changes and therefore may change without notice. Please remember that investments can go up and down and past performance is not necessarily indicative of future returns. We request our readers not to interpret our reports as direct recommendations. To the extent permitted by law, Veye Pty Ltd excludes all liability for any loss or damage arising from the use of this website and any information published (including any indirect or consequential loss, any data loss, or data corruption) (as mentioned on the website www.veye.com.au), and confirms that the employees and/or associates of Veye Pty Ltd do not hold positions in any of the financial products covered on the website on the date of publishing this report. Veye Pty Ltd hereby limits its liability, to the extent permitted by law to the resupply of services.