Greenland Minerals Ltd, test work continues to increase overall recoveries
Team Veye | 28 Oct 2020

ASX - GGG
Greenland Minerals Ltd (ASX: GGG)
September 2020 Quarterly Report
Greenland Minerals Ltd (ASX: GGG) ('GML' or 'the Company') on 27 October 2020 reported on Q3, 2020 activities, and progress in the development of the Kvanefjeld rare earth project.
Highlights:
Major Kvanefjeld Project milestone
Independent scientific review of Environmental Impact Assessment (EIA) complete

The project fulfils Greenland Guidelines, meets international standards and principles of 'Best Available Technology' and 'Best Environmental Practice'

Translations of EIA to Greenlandic and Danish close to completion

All components of formal exploitation (mining) license application will then be complete, such that statutory processes can be scheduled to conclude permitting

Preparation for the public consultation phase underway in consultation with Greenland's Ministry for Mineral Resources and Environmental Agency for Mineral Resources Activities, schedule to be set when language/grammar checks of translated documents finalised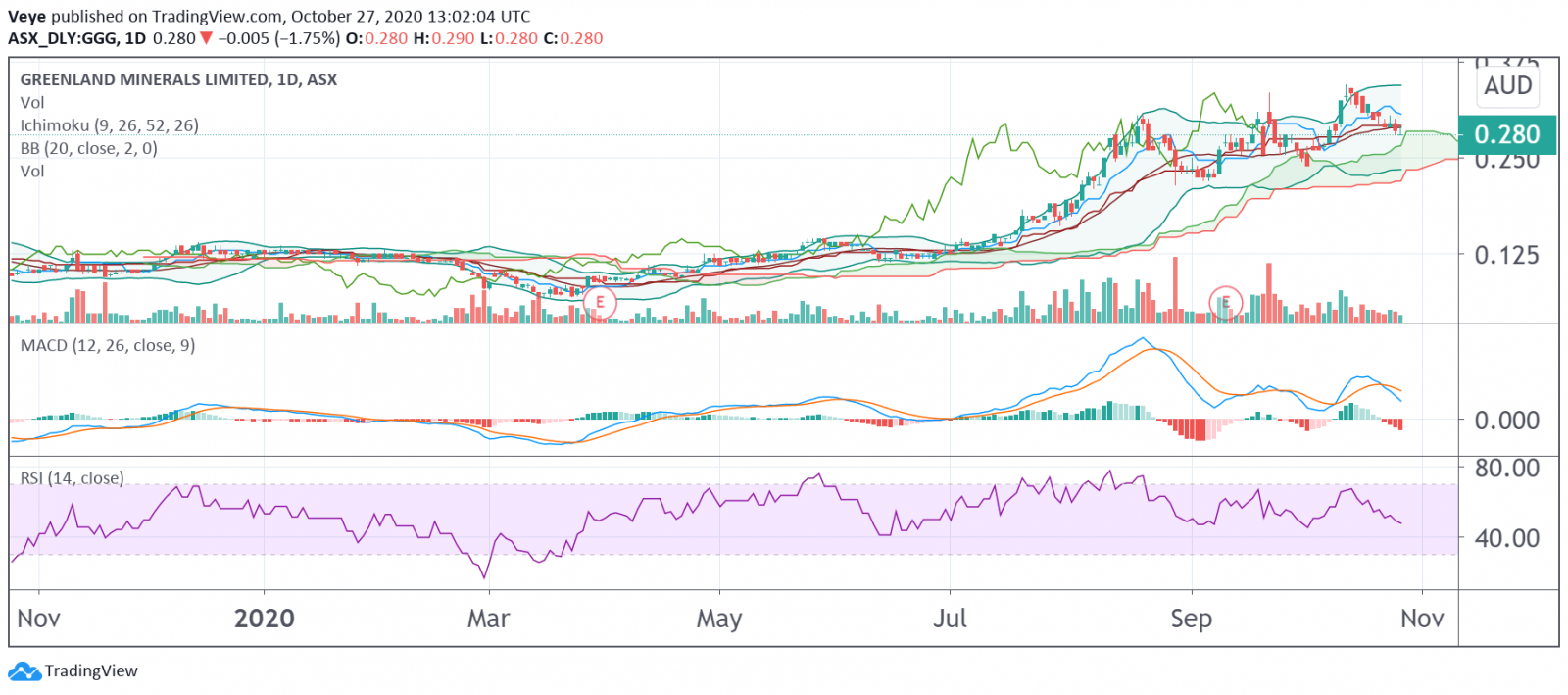 (Chart source: TradingView)
Ongoing test work continues to increase overall rare earth recoveries
Locked cycle flotation test work producing rare earth mineral concentrate of >23% rare earth oxide (REO)

Rare earth recoveries in mineral concentrate increased to 85% (previously 80%): Light REO recovery 87%, heavy REO recovery 68%

Increased recoveries will increase Project output and profitability
European engagement increasing with strong EU focus on rare earth supply
The criticality of rare earth supply to European industry emphasized at the launch of European Raw Materials Alliance in September

The company presented to Global Rare Earth Industry Association (Brussels based), and European Rare Earth Resources (formerly EURARE)

Initial engagement of the European Rare Materials Alliance

(Data Source – Company Reports)
Veye's Take
The Quarter saw a major project milestone achieved with the conclusion of independent technical reviews of the Environmental Impact Assessment. All components of a mining license application had now been completed with the Social Impact Assessment and Maritime Safety study having previously been accepted. The Project will move into the next phase which is a statutory public consultation phase. Major progress in permitting comes at an important time with the outlook for rare earth demand continuing to strengthen. The stock, after moving out of the Bollinger band, could not sustain and return to 20 SMA. It faces strong resistance at $0.35 beyond which it can have the potential to grow substantially. "Buy" was given to "Greenland Minerals Ltd" at the price of $0.145 on 16 July 2020. It has already grown by more than 93% in just three and a half months only. Veye maintains a "Hold" on "Greenland Minerals Ltd" at the current price of $0.28
Disclaimer
Veye Pty Ltd(ABN 58 623 120 865), holds (AFSL No. 523157 ). All information provided by Veye Pty Ltd through its website, reports, and newsletters is general financial product advice only and should not be considered a personal recommendation to buy or sell any asset or security. Before acting on the advice, you should consider whether it's appropriate to you, in light of your objectives, financial situation, or needs. You should look at the Product Disclosure Statement or other offer document associated with the security or product before making a decision on acquiring the security or product. You can refer to our Terms & Conditions and Financial Services Guide for more information. Any recommendation contained herein may not be suitable for all investors as it does not take into account your personal financial needs or investment objectives. Although Veye takes the utmost care to ensure accuracy of the content and that the information is gathered and processed from reliable resources, we strongly recommend that you seek professional advice from your financial advisor or stockbroker before making any investment decision based on any of our recommendations. All the information we share represents our views on the date of publishing as stocks are subject to real time changes and therefore may change without notice. Please remember that investments can go up and down and past performance is not necessarily indicative of future returns. We request our readers not to interpret our reports as direct recommendations. To the extent permitted by law, Veye Pty Ltd excludes all liability for any loss or damage arising from the use of this website and any information published (including any indirect or consequential loss, any data loss, or data corruption) (as mentioned on the website www.veye.com.au), and confirms that the employees and/or associates of Veye Pty Ltd do not hold positions in any of the financial products covered on the website on the date of publishing this report. Veye Pty Ltd hereby limits its liability, to the extent permitted by law to the resupply of services.