Alcidion Group Limited, continues investment in growth
Team Veye | 28 Oct 2020

ASX - ALC
Alcidion Group Limited (ASX: ALC)
Q1 FY2021 Business Update
The strong first quarter of sales, investment in growth continues
Alcidion Group Limited (ASX: ALC) on 27 October 2020 released its Appendix 4C for the three-month period ended 30 September 2020 (Q1 FY2021) and the below business update.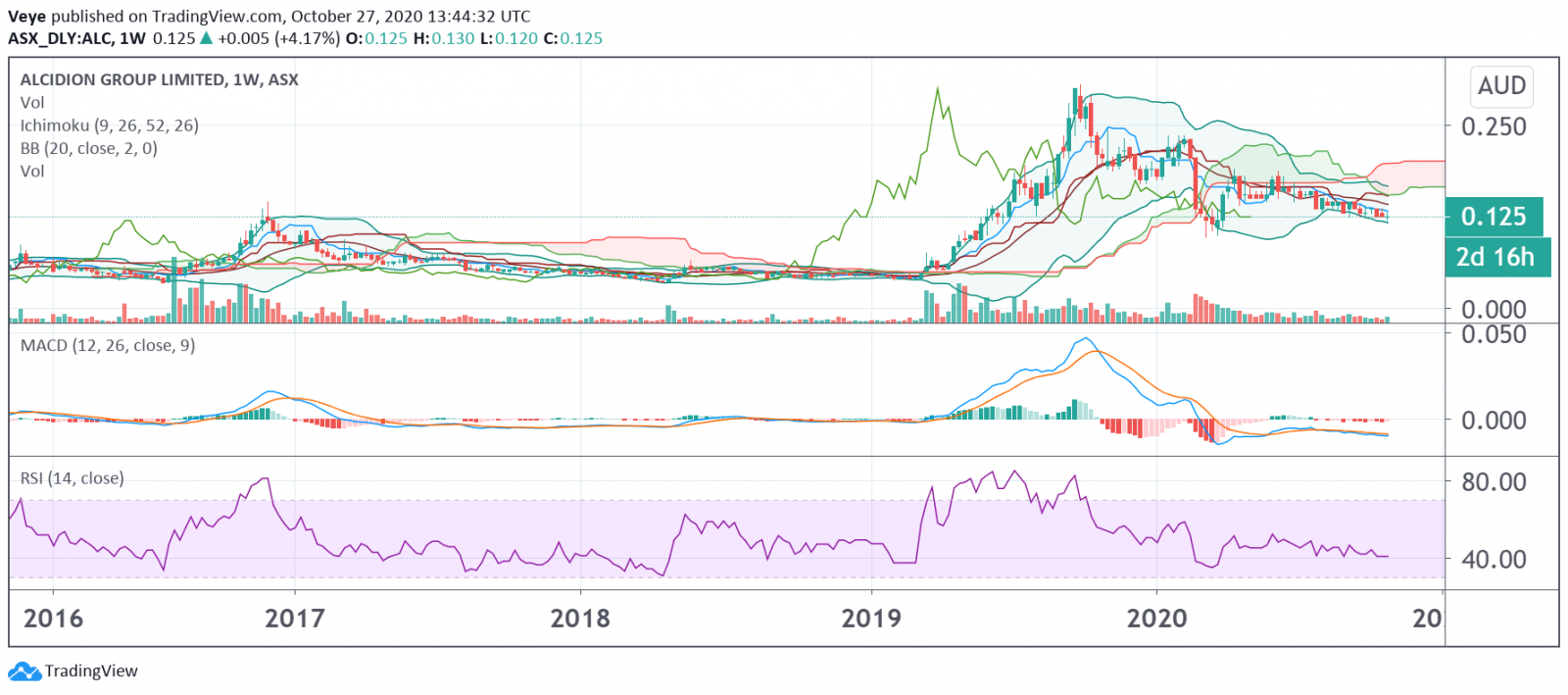 (Chart source: TradingView)
Highlights:
Strong start to FY2021, with $4.8M new contracted revenue sold in Q1 – up 30% on the previous quarter and up 92% on Q1 last year;

Total contracted revenue to be recognised in FY2021 stands at $14.7M at end Q1, up 14% on Q1 last year;

Cash receipts from customers were $6.4M in Q1, a 34% increase on Q1 FY20;

Net cash outflow of $1.2M, reflecting ongoing investment in growing the business with cash reserves of $14.7M at end Q1;

Significant contracts signed or announced since 1 July 2020:
Sydney LHD –12-month contract for Miya Precision to support COVID-19 virtual care

Murrumbidgee LHD – 12-month contract for Miya Precision platform including Miya Memory

NHS Lanarkshire – 5-year agreement to implement Patientrack across the board

ACT Health – 2-year extension to long term integration support contract and further project work

Queensland Health – additional work on the Referral Services Directory(RSD) platform

Lancashire Teaching NHS Trust – 5-year Smartpage contract

Panel contract with Vic DHHS for implementation and support of the Victorian Hospital Incident Management System

(Data Source – Company Reports)
Veye's Take
COVID-19 continued to challenge healthcare providers, particularly as the UK experiences a new wave of cases, though the operating environment had stabilised overall. Healthcare providers now had protocols in place to manage cases and were returning focus to digital health initiatives placed temporarily on hold. The stock had been in a correction mode on both short terms as well as long term charts. On the long term after forming head & shoulder pattern, it broke the shoulder line also indicating more fall. It could not cross long term resistance at $0.18 rather has even fallen below short term support at $0.13. "Buy" was given to "Alcidion Group Limited" at the price of $0.068 on 29 Mar 2019. It has given a fabulous return of more than 83% till now. Veye recommends a "Sell" on "Alcidion Group Limited" at the current price of $0.125
Disclaimer
Veye Pty Ltd(ABN 58 623 120 865), holds (AFSL No. 523157 ). All information provided by Veye Pty Ltd through its website, reports, and newsletters is general financial product advice only and should not be considered a personal recommendation to buy or sell any asset or security. Before acting on the advice, you should consider whether it's appropriate to you, in light of your objectives, financial situation, or needs. You should look at the Product Disclosure Statement or other offer document associated with the security or product before making a decision on acquiring the security or product. You can refer to our Terms & Conditions and Financial Services Guide for more information. Any recommendation contained herein may not be suitable for all investors as it does not take into account your personal financial needs or investment objectives. Although Veye takes the utmost care to ensure accuracy of the content and that the information is gathered and processed from reliable resources, we strongly recommend that you seek professional advice from your financial advisor or stockbroker before making any investment decision based on any of our recommendations. All the information we share represents our views on the date of publishing as stocks are subject to real time changes and therefore may change without notice. Please remember that investments can go up and down and past performance is not necessarily indicative of future returns. We request our readers not to interpret our reports as direct recommendations. To the extent permitted by law, Veye Pty Ltd excludes all liability for any loss or damage arising from the use of this website and any information published (including any indirect or consequential loss, any data loss, or data corruption) (as mentioned on the website www.veye.com.au), and confirms that the employees and/or associates of Veye Pty Ltd do not hold positions in any of the financial products covered on the website on the date of publishing this report. Veye Pty Ltd hereby limits its liability, to the extent permitted by law to the resupply of services.