Afterpay Limited, continuing its growth
Team Veye | 22 May 2020

ASX - APT
Afterpay Limited (ASX: APT)
Afterpay Reaches Five Million Active Customers after Two Years in U.S. Market
Nearly nine million U.S. consumers have joined the platform
More than one million new U.S. customers used Afterpay in the last ten weeks
Afterpay Limited (ASX: APT) (Afterpay) the leader in "Buy Now, Pay Later" payments, on 20 May 2020 announced that there were now more than five million active shoppers in the U.S. using the service at Afterpay merchant partners. Afterpay now had nearly nine million U.S. consumers who had joined the platform, including more than one million new customers using the platform during the COVID- 19 period of the last ten weeks. This represented a 30-40% increase in the weekly run rate from January and February. These milestones had been achieved after launching in the U.S. just two years ago - making Afterpay one of the fastest growing ecommerce payment companies in the market.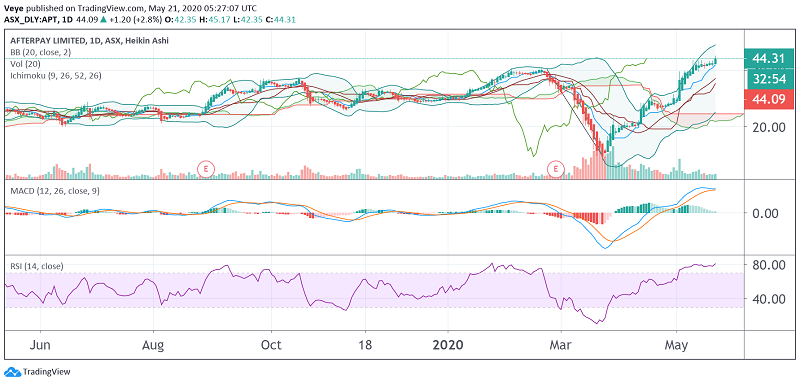 (Chart source: TradingView)
More than 15,000 brands and retailers are offering, or in the process of offering Afterpay to their customers, which now include A.L.C., AE/Aerie, American Eagle, Birkenstock, Furla, Herschel, Lancer Skincare, Marc Jacobs Beauty, Perricone MD, Soko Glam and The Hut Group, Tilly's, YSL Beauty, and more. A full list of brand and retail partners can be found on Afterpay's Shop Directory. The company assisted merchants in processing $2.4 billion year to date through Q3 FY20, a 354% increase over the same period in FY19.
In April of 2020, Afterpay had more than 15 million app and site visits, and Afterpay's U.S. Shop Directory contributed nearly 10 million lead referrals to its retail partners. (Data Source – Company Reports)
Veye's Take
Afterpay allows merchants to give shoppers the ability to receive products immediately and pay in four simple installments over a short period of time. The service is completely free for customers who pay on time thus helping consumers spend money responsibly. At a time in which ecommerce has become the primary way people are shopping, there is a growing interest and demand among consumers to pay for things they want and need over time using their own money instead of turning to expensive loans with interest, fees, or revolving debt. By offering Afterpay, merchants give consumers more flexibility and spending power. On average, merchants see customer conversion rates increase by over 20% and average order values increase by over 25% compared to all other payment methods. The stock witnessed good accumulation near $19-$20 range where we also had initiated a buy. The up move accelerated when the golden cross occurred near $25 area. "Buy" was given to "Afterpay Limited" at $19.10 on 30 March 2020. It has already given excellent returns by more than 130% in less than two months until now. We continue to have a positive view of the stock as long as it keeps its strong support at $39.50 intact. Veye maintains a "Hold" on "Afterpay Limited" at the current price of $44.00
Disclaimer
Veye Pty Ltd (ABN 58 623 120 865) authorised representative (AR No. 001261006) of Vested Equities Pty Ltd which holds an Australian Financial Services License (AFSL No. 478987). Veye is authorised to share only generic financial views through its website, reports and newsletters without taking into consideration your personal financial needs or investment objectives. Although Veye takes the utmost care to ensure the accuracy of the content and that the information is gathered and processed from reliable resources, it is recommended you seek professional advice from your financial advisor or stockbroker before acting on any of our recommendations. Veye Pty Ltd advises it's users to pursue investing as a long-term goal. Stocks are subject to real time changes therefore all the information we share represents our views at the date of publishing and we request our readers not to interpret our reports as direct recommendations. Past performance is no indication of potential future performance. The securities and financial products we study and share information on in Veye Reports may have a product disclosure statement or other offer document associated with them. You should obtain a copy of these documents before making any decision about acquiring the security or product. You can refer to our Terms & Conditions and Financial Services Guide for more information. Veye Pty Ltd confirms that the employees and/or associates of Veye Pty Ltd do not hold positions in any of the financial products covered on the website on the date of publishing this report (as mentioned on the website www.veye.com.au).