Hazer Group Limited, continuing to progress
Team Veye | 22 May 2020

ASX - HZR
Hazer Group Limited (ASX: HZR)
Company Update & Quarterly Cashflow Report
Hazer Group Limited ("Hazer" or "the Company") (ASX: HZR) on 21 APRIL 2020 lodged the Appendix 4C Quarterly Cashflow Report for the nine-month period ended 31 March 2020
Highlights:
Board approval of a Capex budget for the Hazer Commercial Demonstration Plant (CDP) of $16.65 million following completion of sufficient detailed engineering activities in conjunction with Primero Group, a multi-disciplinary engineering group, who was appointed under an Early Contractor Involvement contract.
Executed a binding Funding Agreement with the Australian Renewable Energy Agency (ARENA) for grant funding of up to $9.41 million under the Advancing Renewables Program to support the design, procurement, construction and operation of the Hazer CDP.
Received a $1.34 million R&D Tax Incentive cash rebate for the year ended 30 June 2019.
Cash reserves of $9.35 million at 31 March 2020.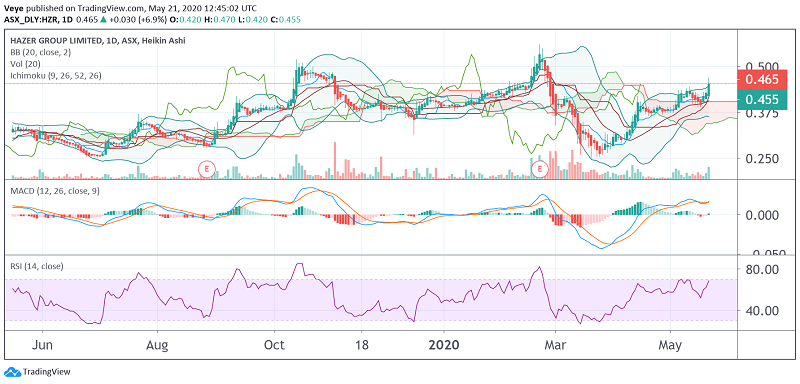 (Chart source: TradingView)
Activities Update
Hazer focussed on progressing the Hazer Commercial Demonstration Plant ("CDP") during the quarter. Key activities in relation to the CDP included:
Engineering, design and procurement planning necessary to support the Board approval of a $16.65 million project budget, including receipt of initial bids for key sub-packages;
Execution of a binding Funding Agreement with the Australian Renewable Energy Agency (ARENA); and
Continuing to progress other key agreements for the CDP.
The proposed Hazer Process CDP is a 100 tons per annum, low-emission hydrogen production facility that will be the first large-scale, fully integrated deployment of the Hazer Process. It is proposed to locate the CDP at the Water Corporation's Woodman Point Waste-Water Treatment Plant in Western Australia. The CDP will utilise biogas produced at the treatment plant as feedstock to produce hydrogen and graphite. The CDP represents the key next step in fully commercialising the Hazer technology. (Data Source – Company Reports)
Veye's Take
Hazer made significant progress during the quarter on developing the Hazer CDP, across technical, commercial, and funding activities. Hazer is continuing to progress engineering and procurement activities to maintain its current schedule target project commissioning date of Q1 2021. Hazer now has patents granted in New Zealand, Singapore, and Australia and further patent applications have been accepted in South Africa and Eurasia across two of its core patent families. The company had net cash outflows from operating activities for the quarter of $0.20 million and cash reserves of $9.35 million as at 31 March 2020. The company remains well funded to execute its key 2020 strategic objectives and planned activities. The stock has resumed its uptrend on good volumes. It is trading above 50MA on daily, weekly and monthly charts. It can have the potential to move significantly up. Veye recommends a "Buy" on "Hazer Group Limited" at the current price of $0.465
Disclaimer
Veye Pty Ltd (ABN 58 623 120 865) authorised representative (AR No. 001261006) of Vested Equities Pty Ltd which holds an Australian Financial Services License (AFSL No. 478987). Veye is authorised to share only generic financial views through its website, reports and newsletters without taking into consideration your personal financial needs or investment objectives. Although Veye takes the utmost care to ensure the accuracy of the content and that the information is gathered and processed from reliable resources, it is recommended you seek professional advice from your financial advisor or stockbroker before acting on any of our recommendations. Veye Pty Ltd advises it's users to pursue investing as a long-term goal. Stocks are subject to real time changes therefore all the information we share represents our views at the date of publishing and we request our readers not to interpret our reports as direct recommendations. Past performance is no indication of potential future performance. The securities and financial products we study and share information on in Veye Reports may have a product disclosure statement or other offer document associated with them. You should obtain a copy of these documents before making any decision about acquiring the security or product. You can refer to our Terms & Conditions and Financial Services Guide for more information. Veye Pty Ltd confirms that the employees and/or associates of Veye Pty Ltd do not hold positions in any of the financial products covered on the website on the date of publishing this report (as mentioned on the website www.veye.com.au).