TechnologyOne Limited, having a high proportion of locked in recurring revenues
Team Veye | 21 May 2020

ASX - TNE
TechnologyOne Limited (ASX: TNE)
H1 FY20 profit up 6%, driven by SaaS ARR up 33%
One of Australia's largest enterprise Software as a Service (SaaS) companies, TechnologyOne Limited (ASX: TNE) on 19 May 2020 announced its financial results for the half year ending 31 March 2020, showing continuing growth with profit up 6 percent underpinned by continuing strong demand for the TechnologyOne Global SaaS ERP Solution.

(Graphic Source – Company Reports)
Key results were as follows:
Profit after tax of $19.1m, up 6%
Profit before tax of $25.9m, up 6%
Revenue of $138.4m, up 7%
Expenses of $112.5m, up 7%
SaaS Annual Recurring Revenue (ARR) of $110.2m, up 33%
Cash Flow Generation of $9.9m, up 100+%
Cash and Cash Equivalents of $84m, up 23%
Dividend of 3.47cps, up 10%
R&D expenditure (before capitalisation) of $30.5m, up 10%, which is 22% of revenue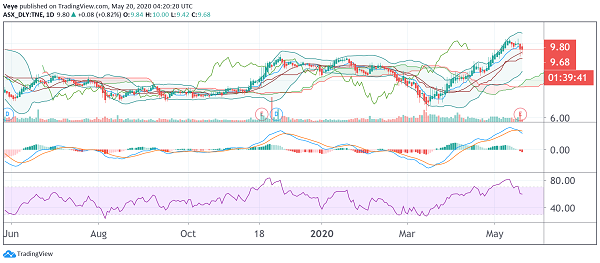 (Chart source: TradingView)
Outlook for 2020 Full Year
Strong Profit growth to continue in 2020
The markets we serve are generally resilient
TechnologyOne provides mission critical software with deep functionality for the markets we serve
Our Global SaaS ERP solution enables 'any device, anytime' access from anywhere around the world. This is allowing our customers to innovate and meet the challenges ahead with greater agility and speed, without having to worry about underlying technologies, making life simple for them
SaaS ARR growth, which is a key indicator of the strength of the company's offering in the market, is expected to be up 30%+
Our pipeline remains strong. We have a high proportion of locked in recurring revenues, no debt and a strong balance sheet
Having said this, COVID-19 is an evolving situation, and as such we have reflected this is our guidance for the full year (Data Source – Company Reports)
Veye's Take
TechnologyOne delivered its 11th year of record profit, revenue and SaaS fees. The Company's SaaS Annual Recurring Revenue (ARR) is up 33 per cent and the number of large-scale enterprise SaaS customers increased by 22 per cent, to 475. Its SaaS business is growing very fast, even in the midst of COVID-19 which is highlighting the substantial difference between 'cloud hosting' and SaaS. COVID-19 will accelerate the move to SaaS. With a strong pipeline, a high proportion of locked in recurring revenues, no debt and a strong balance sheet, TechnologyOne is well positioned to deliver continuing strong growth over the full year. The stock is undergoing a minor correction. It has a strong support at $8.95. Above $10.10, which is the near resistance, the stock can have the potential of resuming its upward path again. "Buy" was given to "TechnologyOne Limited" at the price of $4.46 on 29 May 2018 and again at $4.26 on 28 June 2018. It has returned over 119% and 130% in less than two years respectively. Veye maintains a "Hold" on "TechnologyOne Limited" at the current price of $9.81
Disclaimer
Veye Pty Ltd (ABN 58 623 120 865) authorised representative (AR No. 001261006) of Vested Equities Pty Ltd which holds an Australian Financial Services License (AFSL No. 478987). Veye is authorised to share only generic financial views through its website, reports and newsletters without taking into consideration your personal financial needs or investment objectives. Although Veye takes the utmost care to ensure the accuracy of the content and that the information is gathered and processed from reliable resources, it is recommended you seek professional advice from your financial advisor or stockbroker before acting on any of our recommendations. Veye Pty Ltd advises it's users to pursue investing as a long-term goal. Stocks are subject to real time changes therefore all the information we share represents our views at the date of publishing and we request our readers not to interpret our reports as direct recommendations. Past performance is no indication of potential future performance. The securities and financial products we study and share information on in Veye Reports may have a product disclosure statement or other offer document associated with them. You should obtain a copy of these documents before making any decision about acquiring the security or product. You can refer to our Terms & Conditions and Financial Services Guide for more information. Veye Pty Ltd confirms that the employees and/or associates of Veye Pty Ltd do not hold positions in any of the financial products covered on the website on the date of publishing this report (as mentioned on the website www.veye.com.au).