Will HT&E Limited be able to manage its way through the current situation?
Team Veye | 08 Apr 2020

ASX - HT1
HT&E Limited (ASX: HT1)
HT&E response & initiatives to COVID-19
HT&E Limited [ASX: HT1] on 6 April 2020 announced details regarding the measures it had been undertaking to deal with the impact and escalating uncertainty from COVID-19.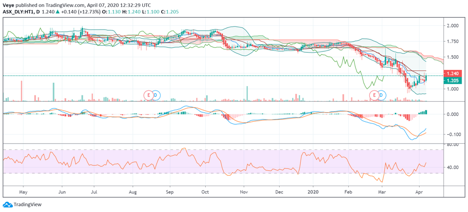 (Chart source: TradingView)
Key Points
HT&E entered 2020 with no debt, $111m net cash and $250m undrawn facilities
Total non-repeat cost savings of circa $10.5m in 2020
Reduced work hours and pay-cuts to generate further cost savings of $1.0m per month
Assessing eligibility to JobKeeper package benefits announced last week
Radio broadcasting unaffected across all metropolitan networks
Cody Outdoor in Hong Kong is implementing cost cutting programme to combat political unrest and COVID-19 impact
HT&E's ARN remains the #1 metropolitan radio network in Australia, with ratings success in 2019 and the first survey of 2020 starting to deliver commercial share gains. HT&E is in a strong financial position, with $111m in net cash and $250m of undrawn debt facilities as at 31 December 2019.
The impact on operations of a working from home policy has been controlled and managed effectively. ARN's technology investments have ensured radio broadcasts have been unaffected, with all staff able to work from home efficiently. Under any potential tightening of lock-down measures across the community, ARN is confident all of its shows will remain broadcasting uninterrupted across its network. (Data Source – Company Reports)
Veye's Take
HT&E has actively managed its balance sheet and cost base over a number of years, which has placed the company on a relatively strong footing leading into COVID-19. The company has commenced a further series of cost control and operational measures across the business in anticipation of a protracted economic downturn. The lean cost structure of its business combined with a strong balance sheet and no debt, provide the company with the strongest possible footing to manage its way through the current situation. The stock appears to be moving in a bullish rectangle. It has strong support at the current price level. Maintaining this support, it can have the potential of having a break out on the upper side. We give a "Hold" recommendation on "HT&E Ltd" at the current price of $1.24
Disclaimer
Veye Pty Ltd (ABN 58 623 120 865) authorised representative (AR No. 001261006) of Vested Equities Pty Ltd which holds an Australian Financial Services License (AFSL No. 478987). Veye is authorised to share only generic financial views through its website, reports and newsletters without taking into consideration your personal financial needs or investment objectives. Although Veye takes the utmost care to ensure the accuracy of the content and that the information is gathered and processed from reliable resources, it is recommended you seek professional advice from your financial advisor or stockbroker before acting on any of our recommendations. Veye Pty Ltd advises it's users to pursue investing as a long-term goal. Stocks are subject to real time changes therefore all the information we share represents our views at the date of publishing and we request our readers not to interpret our reports as direct recommendations. Past performance is no indication of potential future performance. The securities and financial products we study and share information on in Veye Reports may have a product disclosure statement or other offer document associated with them. You should obtain a copy of these documents before making any decision about acquiring the security or product. You can refer to our Terms & Conditions and Financial Services Guide for more information. Veye Pty Ltd confirms that the employees and/or associates of Veye Pty Ltd do not hold positions in any of the financial products covered on the website on the date of publishing this report (as mentioned on the website www.veye.com.au).