Does Synlait Milk Limited have a strong and growing core business?
Team Veye | 08 Apr 2020

ASX - SM1
Synlait Milk Limited (ASX: SM1)
Synlait Milk Limited (ASX: SM1) on 19 March 2020 presented its Interim Financial Statements for the six months ended 31 January 2020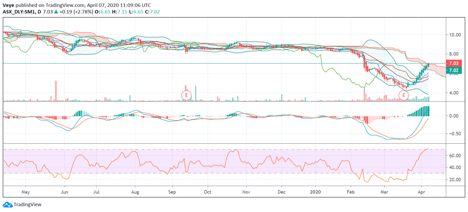 (Chart source: TradingView)
Results at a Glance
Net profit after tax down 30% reflecting higher depreciation and interest costs as we invest for growth
Sales of consumer packaged infant formula increased 22% to 21,571 MT, albeit at lower margins as previously signalled
Total milk processed was up 8.5% due to increased milk supply for Pokeno
Sales of powders and cream reduced by 18% to 46,259 MT (HY19: 56,116 MT) primarily due to delayed deliveries
As communicated in the February guidance update Synlait's HY20 performance was impacted by:
Increased incremental interest, manufacturing and SG&A costs associated with the Pokeno and Advanced Dairy Liquid Packaging facilities; and
lower sales volumes of ingredient products than anticipated due to sales phasing and product mix impacts
lower sales of infant base powders due to the China infant nutrition market consolidation.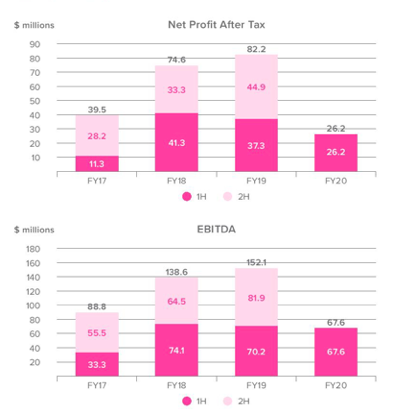 (Graphic Source – Company Reports)
Synlait FY20 Guidance Update
Synlait reiterates it remained comfortable with its full year 2020 earnings guidance range, which was updated in February 2020.
Synlait expects FY20 earnings guidance to be between $70 million and $85 million net profit after tax. Notwithstanding that, Synlait still anticipates strong growth in consumer-packaged infant formula sales volumes over the full year.
Factors contributing to this performance include:
Incremental costs of the new Pokeno facility impacting standard manufacturing costs;
lower sales of infant base powders due to the China infant nutrition market consolidation;
Higher SG&A costs due to increased business size and the continued focus on investing in future growth opportunities; and
The positive impact of a full year of operation of the expanded lactoferrin facility, albeit with more pricing volatility. (Data Source – Company Reports)
Veye's Take
Synlait Milk is on track to deliver stronger sales of consumer-packaged infant formula and lactoferrin in the second half of FY20. This is driven by the seasonality of its business. Historically, Consumer packaged infant formula sales are higher in the second half than the first (FY19: 41% occurred in H1). Lactoferrin sales are also seasonal due to production phasing, both volume and pricing to increase on last year (FY19: 72% occurred in H2). Synlait Pokeno will be operational for the final six months of FY20 compared with four months in HY20, due to commissioning and regulatory approvals. FY20 EBITDA is expected to be stronger than FY19 due to higher sales of consumer-packaged infant formula and lactoferrin offset by increased operational costs. The stock after making an almost perfect inverse head and shoulder formation have also broken the neckline. The stock can have the potential to continue moving up with strong support at $6.70. We give a "Hold" to "Synlait Milk Ltd" at the current price of $7.03
Disclaimer
Veye Pty Ltd (ABN 58 623 120 865) authorised representative (AR No. 001261006) of Vested Equities Pty Ltd which holds an Australian Financial Services License (AFSL No. 478987). Veye is authorised to share only generic financial views through its website, reports and newsletters without taking into consideration your personal financial needs or investment objectives. Although Veye takes the utmost care to ensure the accuracy of the content and that the information is gathered and processed from reliable resources, it is recommended you seek professional advice from your financial advisor or stockbroker before acting on any of our recommendations. Veye Pty Ltd advises it's users to pursue investing as a long-term goal. Stocks are subject to real time changes therefore all the information we share represents our views at the date of publishing and we request our readers not to interpret our reports as direct recommendations. Past performance is no indication of potential future performance. The securities and financial products we study and share information on in Veye Reports may have a product disclosure statement or other offer document associated with them. You should obtain a copy of these documents before making any decision about acquiring the security or product. You can refer to our Terms & Conditions and Financial Services Guide for more information. Veye Pty Ltd confirms that the employees and/or associates of Veye Pty Ltd do not hold positions in any of the financial products covered on the website on the date of publishing this report (as mentioned on the website www.veye.com.au).