Does Ingenia Communities Group have a very strong balance sheet with considerable liquidity?
Team Veye | 26 Mar 2020

ASX - INA
Ingenia Communities Group (ASX: INA)
Ingenia trading and guidance update
Ingenia Communities Group (ASX: INA) on 25 March 2020 provided the following update to the Group's trading activity and FY20 guidance, in light of the uncertain environment and potential extended duration of the COVID-19 pandemic.
Ingenia has a very strong balance sheet, considerable liquidity and a sizeable underlying base of stable rental revenues, largely underpinned by Commonwealth Government pension payments and rent assistance which continues to provide the Group with consistent, highly predictable rental cash flows.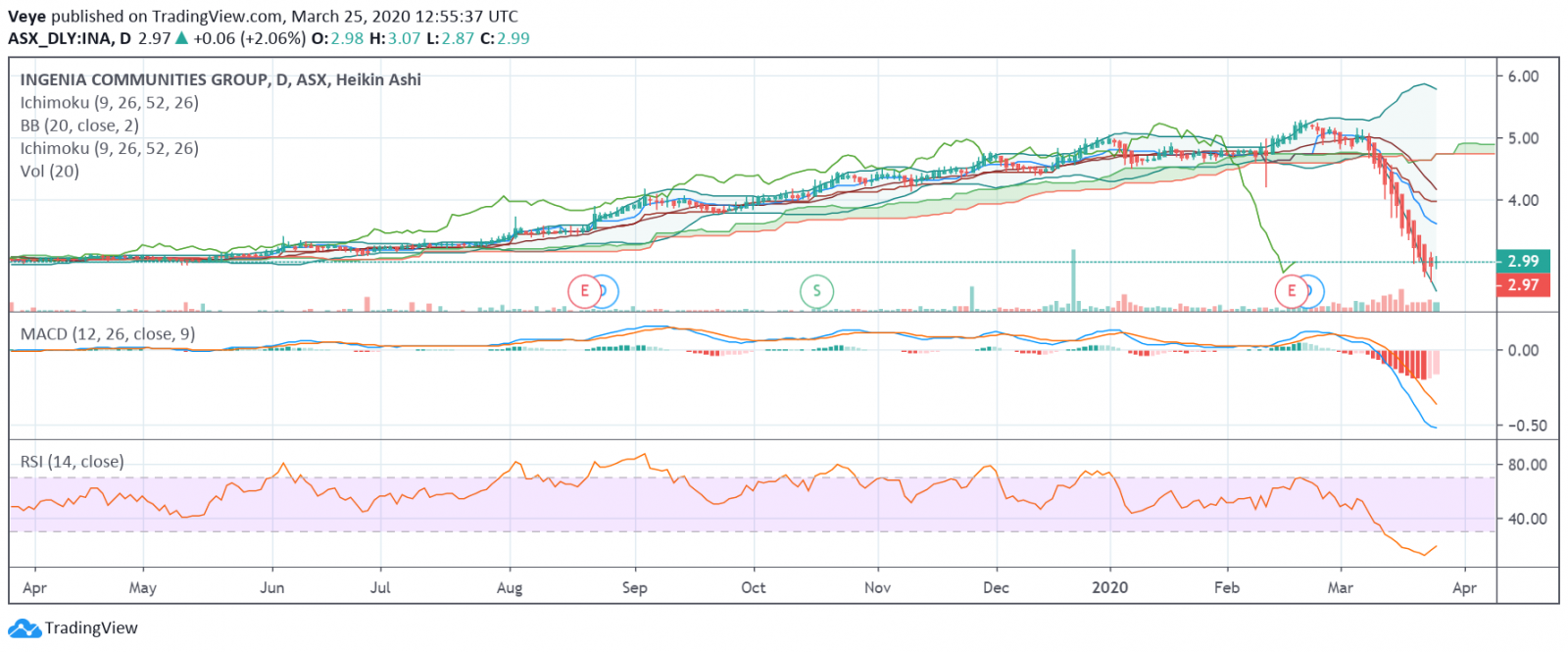 (
(Chart source: TradingView)
Key points
Cash and committed undrawn bank facilities available exceeding $200 million
LVR at 24 March of 27.7% compared to the covenant of 50%
205 new home settlements (corresponding period FY19: 176 homes) with a further 101 homes under contract and 155 deposited or reserved
Ingenia Gardens presently trading at near record occupancy, at 92%.
New home settlements have been moderately impacted by recent events with some prospective residents seeking extra time to sell their home which will likely see some settlements transfer from Q4 FY20 into Q1-2 FY21. Cancellations have been limited to date and inspections are continuing and are now online. Based upon a record month for open home inspections and deposits in February Ingenia was on track for increased settlements on FY19, until the rapid and unprecedented escalation of COVID-19. (Data Source – Company Reports)
Veye's Take
The Group's balance sheet is well-positioned. Ingenia has significant headroom in relation to its banking covenants and over $200 million of cash on hand and undrawn committed debt. Ingenia will comfortably meet its covenant on 30 June 2020. Ingenia is in the strong financial position to manage its way through this crisis. This includes spending the past eight years building a secure, recurring revenue model that delivers a stable rental base from over 5,800 income-producing sites across the portfolio. As the COVID-19 situation continues to evolve, this steady income flow will help underpin the business during this difficult period. Ingenia's key demand drivers are still firmly in place, which is an ageing population looking for high-quality affordable housing. The stock had come down to its support area from where it has the potential to rebound from there. Veye maintains a "Hold" on "Ingenia Communities Group" at the current price of $2.97
Disclaimer
Veye Pty Ltd (ABN 58 623 120 865) authorised representative (AR No. 001261006) of Global Merces Funds Management Ltd holds Australian Financial Services License (AFSL No. 460883). Veye is authorised to share only generic financial views through its website, reports and newsletters without keeping into consideration your personal financial needs or investment objectives. Although Veye takes utmost care about the accuracy of the content and ensure that the information is gathered and processed through reliable resources but it is recommended for you to seek professional advice from your financial advisor or stockbroker before acting on any of our content or taking a final decision on your investments. Veye Pty Ltd advises it's users to pursue investing as a long-term goal. Stocks are subject to real time changes therefore all the information we share represents our views at the date of publishing and we request our readers not to interpret our reports as direct recommendations. Future Performance of any Security/Financial Product cannot be assured basis its past performance. The securities and financial products we study and share information on, in Veye Reports, may have a product disclosure statement or other offer document associated with them. You should obtain a copy of these before making any decision about acquiring the security or product. You can refer to our Terms & Conditions and Financial Services Guide as per your convenience. Veye Pty Ltd confirms that the employees and/or associates of Veye Pty Ltd do not hold positions in any of the financial products covered on the website on the date of publishing this report (mentioned on the website).