Will Keytone Dairy Corporation drive efficiencies within the business and further improve gross margins?
Team Veye | 26 Mar 2020

ASX - KTD
Keytone Dairy Corporation Limited (ASX: KTD)
COVID-19 Update and second manufacturing plant in NZ Operational
Keytone Dairy Corporation Limited (ASX: KTD or KTD.AU) (the "Company" or "Keytone") on 25 March 2020 announced the first commercial production run at the Company's newly built second manufacturing plant in New Zealand, as well as an update on the impact of, and opportunities presented by, the outbreak of COVID-19.
Second manufacturing facility in New Zealand completes first commercial production run
New Zealand production capacity more than triples on a one shift basis
Significant increase in inbound demand for proprietary products as a result of COVD-19
KeyDairy formulated milk powders experiencing an increase in demand of four times greater than that prior to COVID-19
Increase in orders and inbound enquiries from private label clients for food staples as a result of COVID-19
Ketyone Dairy manufacturing sites, in Australia and New Zealand, considered essential food production service, and will continue operations through lockdown periods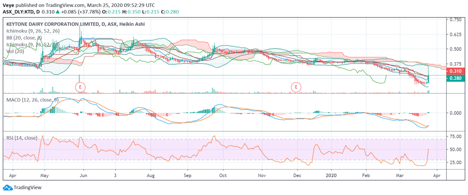 (Chart source: TradingView)
Coronavirus Update and Further Walmart Order
Keytone Dairy Corporation Limited on 26 February 2020 provided an update on the impact of, and opportunities presented by, the recent outbreak of Coronavirus and details of a further order received from Walmart ahead of schedule.
Coronavirus anticipated to have an immaterial impact on Keytone business
Chinese consumption of staple food products, including dairy, is reported to have increased substantially due to the Coronavirus crisis, including those sourced from New Zealand and Australian dairy
Keytone's product development team is prioritising the development of immunity-style nutritional products to meet in-bound demand from the Chinese market
Further order received from Walmart China ahead of schedule (Data Source – Company Reports)
Veye's Take
Keytone is experiencing a significant increase in inbound demand for its proprietary products and those manufactured for third party clients. This increase in demand is being recorded across all operations of the business in Australia and New Zealand and is being driven from international and domestic markets. The Company's proprietary KeyDairy formulated powdered dairy products have experienced an increase in demand approximately four times greater than that prior to the outbreak of COVID-19. Keytone's second manufacturing facility is now online to service this additional demand. The Company is also fast tracking the roll-out of an online platform for the direct purchase of its milk powders. The additional capacity from the second manufacturing facility will more than triple Keytone Dairy's total name plate product manufacturing capacity in New Zealand on a one shift basis and will be implemented immediately given the increased level of demand from that earlier anticipated, given the current outbreak of COVID-19. The Company expects to scale up production to multiple shifts over the short to medium term. Keytone expects that following the containment of COVID-19, there will likely be a structural shift in the consumption patterns of consumers globally with an increased focus on health and wellbeing, which the Company is ideally placed to service. The stock's MACD is having positive divergence. It can have the potential to move up substantially if it is able to cross $0.34 with volumes. Veye maintains a "Buy" on "Keytone Dairy Corporation Limited" at the current price of $0.31
Disclaimer
Veye Pty Ltd (ABN 58 623 120 865) authorised representative (AR No. 001261006) of Global Merces Funds Management Ltd holds Australian Financial Services License (AFSL No. 460883). Veye is authorised to share only generic financial views through its website, reports and newsletters without keeping into consideration your personal financial needs or investment objectives. Although Veye takes utmost care about the accuracy of the content and ensure that the information is gathered and processed through reliable resources but it is recommended for you to seek professional advice from your financial advisor or stockbroker before acting on any of our content or taking a final decision on your investments. Veye Pty Ltd advises it's users to pursue investing as a long-term goal. Stocks are subject to real time changes therefore all the information we share represents our views at the date of publishing and we request our readers not to interpret our reports as direct recommendations. Future Performance of any Security/Financial Product cannot be assured basis its past performance. The securities and financial products we study and share information on, in Veye Reports, may have a product disclosure statement or other offer document associated with them. You should obtain a copy of these before making any decision about acquiring the security or product. You can refer to our Terms & Conditions and Financial Services Guide as per your convenience. Veye Pty Ltd confirms that the employees and/or associates of Veye Pty Ltd do not hold positions in any of the financial products covered on the website on the date of publishing this report (mentioned on the website).