Has Vault Intelligence Limited demonstrated its substantial capability?
Team Veye | 26 Mar 2020

ASX - VLT
Vault Intelligence Limited (ASX: VLT)
Solo Crisis Management Launched and Key Contract Secured with KiwiRail
Vault Intelligence Limited (ASX: VLT) (Vault or the Company), a leading software provider in workforce performance and protection on 25 March 2020 announced New Zealand Government owned KiwiRail as a new customer for Vault's Solo Crisis Management solution.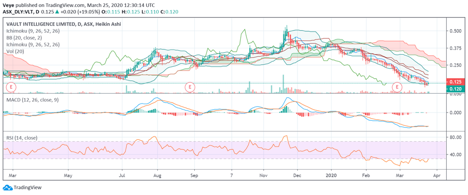 (Chart source: TradingView)
Vault has significantly strengthened the capability of its product range and reach with the release of the Solo Crisis Management solution as part of the Solo Ecosystem
Solo enables organisations to manage business continuity and performance through any crisis and is configured in compliance with the principles of relevant International Standards. Solo enables businesses to manage their workforce through crises, such as COVID-19, by being able to communicate with, connect and protect workers globally whether they be onsite, remote, isolated, quarantined or working from home
Vault is pleased the New Zealand Government-owned KiwiRail has selected Solo for its crisis management across its entire Group and will commence rollout immediately
KiwiRail's commitment for Solo is for an initial six months, subject to extension
Vault expects to enter into additional contracts given the current interest in the Vault Solo Crisis Management solution. Given the shortened sales cycle and rapid implementation capability of the solution, it is also expected to result in earlier cash flow
Solo Crisis Management provides an essential mechanism to organisations that have enacted their Business Continuity Plans, in a Crisis Management situation to help sustain and operate a business, including through a crisis such as COVID-19. Solo provides real-time visualisation and insights into the wellness and status of their workforce (Data Source – Company Reports)
Veye's Take
During these difficult times, Vault is assisting organisations in communicating with and protecting their workforces. Its Solo solution has enabled organisations to better manage remote workforces but the tailoring of the solution to specifically address Crisis Management further demonstrates the substantial capability of Solo. KiwiRail, amongst other large global enterprises, is increasingly looking for rapidly deployable, cost-effective and simple solutions. Vault is looking forward to assisting more organisations meet their Crisis Management goals. It is highly desirable for businesses that are planning or enacting the remote worker concept to ensure business continuity during a crisis such as responding to the effects and rapid spread of COVID-19. The stock has tried to reverse its ongoing fall with a considerable jump in a single day. We recommend a "Hold" on "Vault Intelligence Limited" at the current price of $0.125
Disclaimer
Veye Pty Ltd (ABN 58 623 120 865) authorised representative (AR No. 001261006) of Global Merces Funds Management Ltd holds Australian Financial Services License (AFSL No. 460883). Veye is authorised to share only generic financial views through its website, reports and newsletters without keeping into consideration your personal financial needs or investment objectives. Although Veye takes utmost care about the accuracy of the content and ensure that the information is gathered and processed through reliable resources but it is recommended for you to seek professional advice from your financial advisor or stockbroker before acting on any of our content or taking a final decision on your investments. Veye Pty Ltd advises it's users to pursue investing as a long-term goal. Stocks are subject to real time changes therefore all the information we share represents our views at the date of publishing and we request our readers not to interpret our reports as direct recommendations. Future Performance of any Security/Financial Product cannot be assured basis its past performance. The securities and financial products we study and share information on, in Veye Reports, may have a product disclosure statement or other offer document associated with them. You should obtain a copy of these before making any decision about acquiring the security or product. You can refer to our Terms & Conditions and Financial Services Guide as per your convenience. Veye Pty Ltd confirms that the employees and/or associates of Veye Pty Ltd do not hold positions in any of the financial products covered on the website on the date of publishing this report (mentioned on the website).