Will Domino's Pizza Enterprises Ltd continue its strong sales and profitability growth?
Team Veye | 25 Mar 2020

ASX - DMP
Domino's Pizza Enterprises Ltd (ASX: DMP)
Domino's Pizza Enterprises Ltd COVID-19 – Update 2
Domino's Pizza Enterprises Ltd (ASX: DMP) on 19 March 2020 made the decision, after consultation with our franchisees in France, to close all stores in the country for a period of 15 days – effective immediately

(Chart source: TradingView)
Domino's will voluntarily close stores in France for a period of 15 days starting today
At this time, Domino's stores in all nine markets are permitted to trade and the markets other than France are continuing to serve customers
It is not certain if the temporary closure of the Company's stores in France will have a material effect on the Financial Results for FY20
Domino's Pizza Enterprises Ltd Financial Results For the six months ended December 2019
Domino's Pizza Enterprises Ltd (ASX:DMP) has increased global food sales by $151.3m to $1.58b (+10.6% on the prior year, +4.1% on a Same Store Sales basis), and delivered Half Year EBITDA of $151.0m (+10.0%)
Highlights
Network sales: up +10.6% to $1.58b

Online sales: +18.8% to $1.11b
EBITDA: up +10.0% to $151.0m
Free Cash flow: up +59.3% to $58.2m
International EBITDA $86.2m, 57.1% of Group EBITDA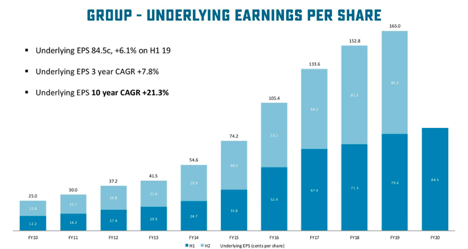 (Graphic Source – Company Reports)
Japan: Excellent H1 organic store openings and higher sales (+12.2% to ¥25.7b) driving brand penetration to new and existing customers, lifted EBITDA +10.6%, to ¥2.8b
Europe: Positive sales momentum in all countries, with a particularly strong performance in Germany, growing regional sales +9.4%, to €382.8m and increased EBITDA by +15.6%, to €29.4m
ANZ: Strong delivery growth grew sales +3.5% to $613.2m; the ongoing level of corporate store ownership, to deliver long-term network improvement, weighed on EBITDA growth +1.7% to $71.4m (Data Source – Company Reports)
Veye's Take
Domino's is prepared to move to 100% Zero Contact ordering (carry-out and delivery) in the near future – this could include a move to 100% Zero Contact Delivery only, if necessary, in certain markets. Its teams in all nine countries have been monitoring government health recommendations and requirements, reviewing and updating operational procedures and business continuity processes to ensure, as far as practicably possible, stores can continue to safely operate in this unprecedented environment. Domino's is now on track to pass $3b in global food sales this Financial Year, with the Company's International Operations delivering particularly strong sales and profitability growth in Europe, offsetting short-term domestic headwinds. Domino's closed the last decade with more than 780 stores and $700m in total network sales. It ended this decade with almost 2,600 stores, $3b in sales this year and confidence the strategy that has delivered this performance will allow it to more than double its store count and network sales in the next decade. Chart structure is trying to become positive with RSI turning up and a strong green candle. "Buy" was given to "Domino's Pizza Enterprises Ltd" at the price of $40.65 on 2 Jan'19 returning more than 31% thus far. Veye maintains a "Hold" on "Domino's Pizza Enterprises Ltd" at the current price of $53.40
Disclaimer
Veye Pty Ltd (ABN 58 623 120 865) authorised representative (AR No. 001261006) of Global Merces Funds Management Ltd holds Australian Financial Services License (AFSL No. 460883). Veye is authorised to share only generic financial views through its website, reports and newsletters without keeping into consideration your personal financial needs or investment objectives. Although Veye takes utmost care about the accuracy of the content and ensure that the information is gathered and processed through reliable resources but it is recommended for you to seek professional advice from your financial advisor or stockbroker before acting on any of our content or taking a final decision on your investments. Veye Pty Ltd advises it's users to pursue investing as a long-term goal. Stocks are subject to real time changes therefore all the information we share represents our views at the date of publishing and we request our readers not to interpret our reports as direct recommendations. Future Performance of any Security/Financial Product cannot be assured basis its past performance. The securities and financial products we study and share information on, in Veye Reports, may have a product disclosure statement or other offer document associated with them. You should obtain a copy of these before making any decision about acquiring the security or product. You can refer to our Terms & Conditions and Financial Services Guide as per your convenience. Veye Pty Ltd confirms that the employees and/or associates of Veye Pty Ltd do not hold positions in any of the financial products covered on the website on the date of publishing this report (mentioned on the website).