Has Oventus Medical Ltd increased its deal pipeline?
Team Veye | 14 Feb 2020

ASX - OVN
Oventus Medical Ltd (ASX: OVN)
Oventus launches three additional US 'lab in lab' sites, provides pipeline update
Obstructive Sleep Apnoea (OSA) treatment innovator, Oventus Medical Ltd (ASX: OVN) on 13 February 2020 announced the launch of its 'lab in lab' model across a further three clinical delivery sites in the United States and to provide an update on the status of total sites contracted under the Company's 'lab in lab' business model.
Key highlights:
Three additional sites now launched in South Carolina, Illinois and Texas, bringing the total number of launched sites to 14 out of the 36 sites contracted
Lead time to first patient bookings and revenue has been reduced for subsequent launches
Current average rate of site launch is one per week, with minimal capital expenditure
Strong growth expected quarter on quarter for CY 2020
Cash burn forecast for Q3 FY20 reduced
Deal pipeline now valued at over A$33m, compared to A$20m at end CY 2019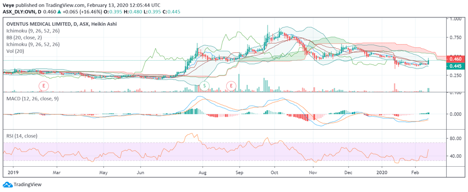 (Chart source: TradingView)
Oventus quarterly business review: additional sites contracted and launched
Oventus Medical Ltd on 14 January 2020 announced its Appendix 4C and quarterly business activities review for the three month period ended 31 December 2019 (Q2 FY2020).
Key highlights:
Three further material contracts secured, 36 sites now contracted with 11 sites deployed and five more in the implementation phase under 'lab in lab' business model
Additional agreements signed with:
California Center for Sleep Disorders in California
Bogan Sleep Consultants in South Carolina
Sleep Watchers in Illinois
First revenue booked from the lab in lab program during December quarter
Cash receipts for December quarter increased to A$112,000 representing early revenues from sites coming online; Company expects sales to continue to increase in the March quarter as site activity increases and further sites are deployed. Cash burn for the quarter down from forecast due to CAPEX efficiencies from utilising scanning equipment across multiple sites
Board composition strengthened to support current strategy, including the appointment of Paul Molloy as Non-Executive Director which will be of significant benefit as Oventus continues with the commercial execution of the lab in lab program; Paul replaced co-founder, CTO, and Non-Executive Director, Neil Anderson
Oventus strongly positioned to invest in growth and scale sales with further agreements expected to be announced throughout the remainder of CY2020 (Data Source – Company Reports)
Veye's Take
Oventus had the number of online sites doubled in the last month and revenue growth was expected to accelerate quarter on quarter through calendar 2020. Oventus expects to secure further agreements across its key markets over the coming months with the company currently in advanced negotiations with a large number of groups including some large regional and national sleep networks. With approximately 140 unique patient consultations up to the end of January, the unit sales through the lab in the lab program doubled from December to January and patients scheduled to be scanned in February are already sitting at more than double January unit sales. At the same time, Oventus deal pipeline has increased to more than $33 million from $20 million as of 31 December 2019. The company has no debt. We recommend a "Buy" on "Oventus Medical Limited" at the current price of $0.46
Disclaimer
Veye Pty Ltd (ABN 58 623 120 865) authorised representative (AR No. 001261006) of Global Merces Funds Management Ltd holds Australian Financial Services License (AFSL No. 460883). Veye is authorised to share only generic financial views through its website, reports and newsletters without keeping into consideration your personal financial needs or investment objectives. Although Veye takes utmost care about the accuracy of the content and ensure that the information is gathered and processed through reliable resources but it is recommended for you to seek professional advice from your financial advisor or stockbroker before acting on any of our content or taking a final decision on your investments. Veye Pty Ltd advises it's users to pursue investing as a long-term goal. Stocks are subject to real time changes therefore all the information we share represents our views at the date of publishing and we request our readers not to interpret our reports as direct recommendations. Future Performance of any Security/Financial Product cannot be assured basis its past performance. The securities and financial products we study and share information on, in Veye Reports, may have a product disclosure statement or other offer document associated with them. You should obtain a copy of these before making any decision about acquiring the security or product. You can refer to our Terms & Conditions and Financial Services Guide as per your convenience. Veye Pty Ltd confirms that the employees and/or associates of Veye Pty Ltd do not hold positions in any of the financial products covered on the website on the date of publishing this report (mentioned on the website).