JB Hi-Fi Limited
Team Veye | 23 Feb 2021

ASX - JBH
JB Hi-Fi Limited (ASX: JBH) is an Australia-based company engaged in retailing of home consumer products. The Company offers a range of brands with a focus on consumer electronics, software, including music, games and movies, whitegoods and appliances. Its segments include JB Hi-Fi Australia (JB Aust), JB Hi-Fi New Zealand (JBNZ) and The Good Guys (TGG). It sells various products, such as consumer electronics, including televisions, audio equipment, computers and cameras; telecommunications products and services; cooking products, heating and cooling products, small appliances and kitchen accessories; software, including compact discs (CDs), digital video discs (DVDs), Blu-ray discs and games and musical instruments. It also provides information technology and consulting services. It sells primarily from its branded retail store networks, such as JB Hi-Fi/JB Hi-Fi Home stores in Australia and New Zealand and The Good Guys stores in Australia and online operations (Profile source: Reuters)
From the Company Reports
JB Hi-Fi Limited (ASX: JBH) on 15 February 2021 reported its the Half Year 2021 Results for the 6 months ending 31 December 2020:
Group HY21 Financial achievements
Sales up 23.7% to $4.9 billion, with continued elevated customer demand for consumer electronics and home appliance products

Exceptional growth Online, with sales up by 161.7% to $678.8 million, representing 13.7% of total sales (HY20: 6.5%). Excluding Victorian sales during the period where stores were temporarily closed, Online sales represented 10.3% of total sales

EBIT up 76.0% to $462.8 million. Strong operating leverage from elevated sales and disciplined cost control

NPAT up 86.2% to $317.7 million

EPS up 86.2% to 276.5cps

Interim Dividend per share up 81.0cps or 81.8% to 180.0cps

(Graphic Source – Company Reports)
Group Operational achievements
The health, safety and wellbeing of our team members, customers, business partners and the wider community remained the Group's highest priority

Well planned and executed promotional programs throughout the half including Black Friday and Christmas

Stores, online and supply chain maintained a high level of customer service despite the Covid-19 related challenges and significantly increased volumes

Continued investments in online and supply chain operations, including upgrades to the websites and expanded delivery and warehouse options

The Group did not receive any government wage subsidies and continued to pay team members and landlords throughout the half, including the periods where stores were temporarily closed

(Chart source: TradingView)
Group Balance Sheet and Cash Flow
Inventory at December ended the flat year on year with inventory availability improving throughout the half. Inventory turnover was up 201 bps to 8.2x (HY20: 6.2x)

Payables were up year on year due to the increased supply of inventory late in HY21 which was needed to continue to meet ongoing heightened consumer demand and replenish inventory levels. Payment terms with suppliers have been maintained, with all suppliers paid in line with their payment terms - in full and on time

Receivables were down year on year, as we actively managed outstanding receivables during Covid-19

Operating cash flows and operating cash conversion continues to be strong

Capex remains in line with expectations as we continue to invest in the store portfolio, our digital propositions and strategic initiatives

Net Cash was $472.8 million in December as a result of the abnormally low level of net working capital. We expect net working capital to revert to historical levels as inventory availability improves and the timing of purchasing returns to normal. This normalisation of net working capital will have a corresponding impact on Net Debt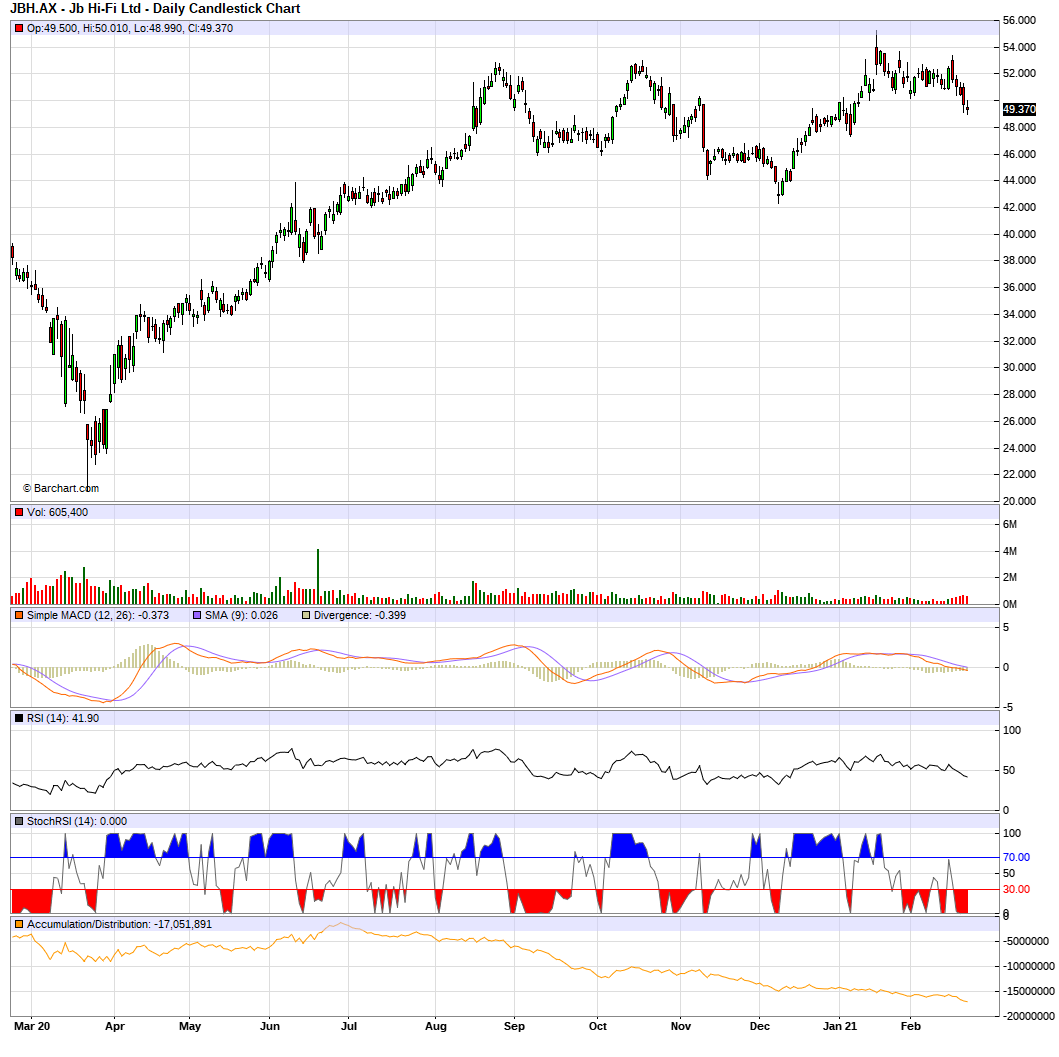 (Chart source: Barchart)
Capital Management
The interim dividend is 180 cents per share (cps) fully franked, up 81 cps or 81.8%, and represents 65% of NPAT

The Board will continue to regularly review the Company's capital structure with a focus on maximising returns to shareholders and maintaining balance sheet strength and flexibility

The record date for the interim dividend is 26 February 2021, with payment to be made on 12 March 2021
January 2021 sales update and outlook
Total sales growth for JB HI-FI Australia was 17.3% (January 2020: 6.5%) with comparable sales growth of 18.6% (January 2020: 6.0%)

Total sales growth for JB HI-FI New Zealand was 21.7% (January 2020: -1.6%) with comparable sales growth of 21.7% (January 2020: -1.6%)

Total sales growth for The Good Guys was 14.1% (January 2020: 1.4%) with comparable sales growth of 14.1% (January 2020: 1.4%)
JB Hi-Fi Limited (ASX: JBH)

Stock Overview

Sector

Retailing

Risk

Low to Medium

Market Cap

$5.7 billion

Share Volume

114.88 million

EPS (FY)

$3.91

PE RATIO

12.7

Yearly Dividend Yield

3.81%.

Target Price (s)

T1 $54.50 T2 $59.40

Stop Loss

$46.20

Recommendation

BUY

52 weeks High

$55.25

52 weeks Low

$20.79

Managing Director, CEO

Mr Richard Murray

Non-Exec. Director

Mr Richard Uechtritz
Key Financial Metrics:
Return vs Industry: JBH exceeded the Australian Specialty Retail industry which returned 22.4% over the past year.

PE vs Industry: JBH is good value based on its PE Ratio at 12.8x compared to the AU Specialty Retail industry average at 18.5x

PE vs Market: JBH is a good value based on its PE Ratio at 12.8x compared to the Australian market at 22.3x.

Earnings vs Industry: JBH earnings growth over the past year (72.5%) exceeded the Specialty Retail industry 29.1%.

Quality Earnings: JBH has high quality earnings. The earnings have grown by 19.4% per year over the past 5 years.

Growing Profit Margin: JBH's current net profit margins at 5.1% are higher than last year at 3.6%.

High ROE: JBH's Return on Equity (34.1%) is considered high.

Short Term Liabilities: JBH's short term assets (A$2.0B) exceed its short term liabilities (A$1.9B).

Long Term Liabilities: JBH's short term assets (A$2.0B) exceed its long term liabilities (A$637.5M).

Debt Level: JBH is debt free.

Notable Dividend: JBH's dividend at 3.81% is higher than the bottom 25% of dividend payers in the Australian market at 2.05%.

Growing Dividend: JBH's dividend payments have increased over the past 10 years.

Dividend Coverage: With its reasonable payout ratio of 69%, JBH's dividend payments are covered by earnings.
Market Risk Analysis
Changing consumer patterns

Lack of innovation

Brand and Reputation

General Economic Conditions

Compliance and Regulations
Technical Analysis
The stock has maintained the upside rally from the beginning of the year 2019. The strong support at the lower band of the Bollinger (Indicated on charts) has supported the upside strength. The RSI and MACD positive crossover (As indicated by arrows) have supported the beginning of the bullish move. The strong support near $45.77 plays a significant role. Though at the current juncture the stock is experiencing some dips, it remains bullish on the long term charts. With overall bullish momentum well built in the stock, it can have the potential to continue its upward journey in the short to medium term.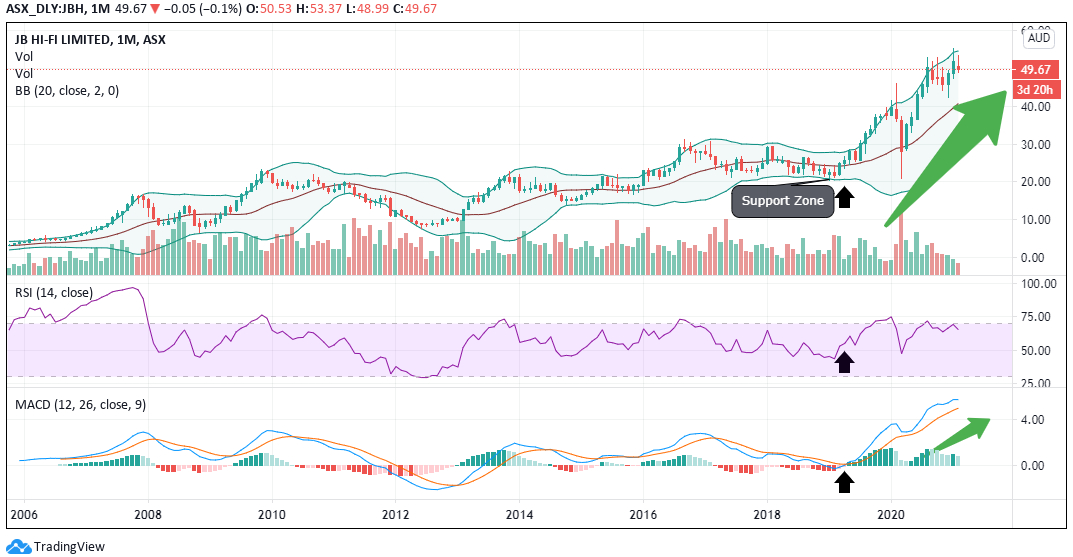 (Chart source: TradingView)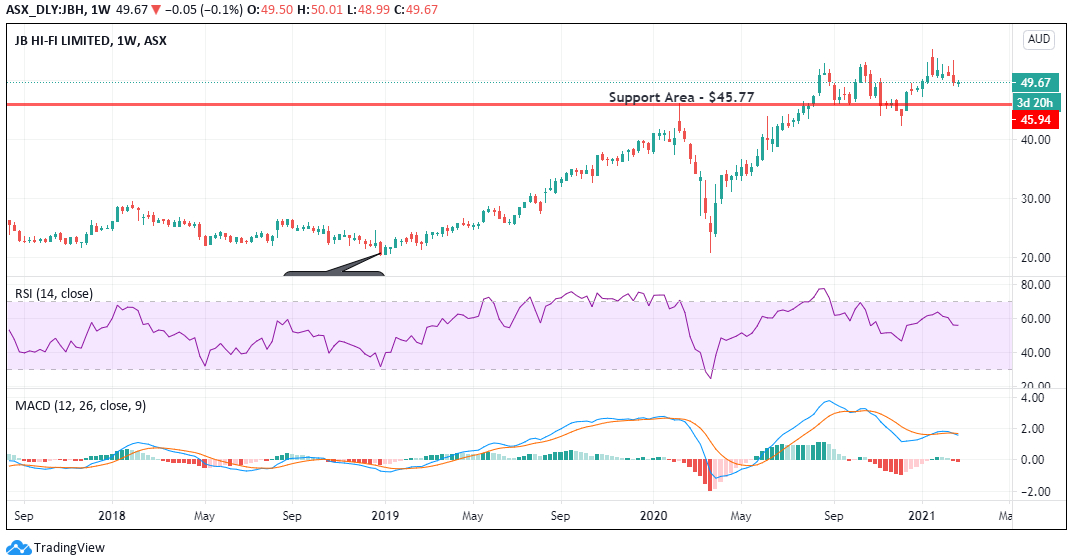 (Chart source: TradingView)
Veye's Take
JB Hi-Fi Limited reported record sales and earnings for HY21, in what has been an extraordinary period. Its continued focus on the customer, and investments in its online business and its supply chain, have enabled it to seamlessly meet customers' increased demand both in-store and online. JB HI-FI Australia's total sales grew by 23.3% to $3.36 billion, with comparable sales up 24.2%. Sales momentum was strong through the half, with continued elevated customer demand for consumer electronics and home appliance products. JB HI-FI New Zealand Total sales were up 9.1% to NZD 144.9 million, with comparable sales up 9.1%. Strong sales momentum has continued into January across all brands. JB HI-FI continues to execute well, whilst positioning for future growth. Veye recommends a "Buy" on "JB Hi-Fi Limited" at the current price of $47.91
Disclaimer
Veye Pty Ltd(ABN 58 623 120 865), holds (AFSL No. 523157 ). All information provided by Veye Pty Ltd through its website, reports, and newsletters is general financial product advice only and should not be considered a personal recommendation to buy or sell any asset or security. Before acting on the advice, you should consider whether it's appropriate to you, in light of your objectives, financial situation, or needs. You should look at the Product Disclosure Statement or other offer document associated with the security or product before making a decision on acquiring the security or product. You can refer to our Terms & Conditions and Financial Services Guide for more information. Any recommendation contained herein may not be suitable for all investors as it does not take into account your personal financial needs or investment objectives. Although Veye takes the utmost care to ensure accuracy of the content and that the information is gathered and processed from reliable resources, we strongly recommend that you seek professional advice from your financial advisor or stockbroker before making any investment decision based on any of our recommendations. All the information we share represents our views on the date of publishing as stocks are subject to real time changes and therefore may change without notice. Please remember that investments can go up and down and past performance is not necessarily indicative of future returns. We request our readers not to interpret our reports as direct recommendations. To the extent permitted by law, Veye Pty Ltd excludes all liability for any loss or damage arising from the use of this website and any information published (including any indirect or consequential loss, any data loss, or data corruption) (as mentioned on the website www.veye.com.au), and confirms that the employees and/or associates of Veye Pty Ltd do not hold positions in any of the financial products covered on the website on the date of publishing this report. Veye Pty Ltd hereby limits its liability, to the extent permitted by law to the resupply of services.