Bendigo and Adelaide Bank Limited (BEN)
Team Veye | 16 Feb 2021

ASX - BEN
Bendigo and Adelaide Bank Limited (ASX: BEN) is engaged in the provision of banking and other financial services. The Company operates through three segments: consumer, business and agribusiness. The Consumer division is focused on engaging with and servicing consumer customers and includes its branch network (including Community Banks and Alliance Banks), mobile relationship managers, third party banking channels, Wealth services, Homesafe, and customer support functions including call and processing centers. The Business division is focused on servicing business customers, particularly small and medium businesses who are seeking a relationship banking experience, and includes Portfolio Funding, Delphi Bank and Community Sector Banking and Great Southern. The Agribusiness division includes all banking services provided to agribusiness, rural and regional Australian communities through its Rural Bank brand, with a focus on a family corporate segment of Australian farm businesses (Profile source: Reuters)
From the Company Reports
Bendigo and Adelaide Bank Interim 2021 Financial Result
Bendigo and Adelaide Bank (ASX: BEN), Australia's fifth-largest retail bank, on 15 February 2021 announced its results for the half year ending 31 December 2020.
Statutory net profit: $243.9 million, up 67.3 percent

Cash earnings after tax: $219.7 million, up 1.9 percent

Net interest margin: 2.30 percent, down 7 basis points (bps)

Total income on a cash basis: $849.0 million, up 3.3 percent

Bad and doubtful debts: $19.5 million, down 15.9 percent

CET 1: 9.36 percent, up 36 bps

Cash earnings per share: 41.4 cents per share (cps), down 5.5 percent

Fully Franked Dividend: 28 cps, comprising 4.5 cps relating to the FY20 final dividend and 23.5 cps relating to the FY21 interim dividend

Dividend Reinvestment Plan with 1.5 percent discount to be fully underwritten

Total lending: $68.3 billion, up 8.6 percent

Residential lending: 3.6x system at 14 percent

Total deposits: $72.3 billion, up 8.5 percent, with customer deposits up 12.9 percent.
Total income

(Graphic Source – Company Reports)
Key metrics
In line with its strategy to reduce complexity and invest in capability, the Bank grew in all its key priority markets, which combined with effective cost management resulted in positive cash earnings across all divisions.
This momentum was complemented by very strong customer deposit growth as it moved fast to remove costs and simplified its business for the customers, partners, shareholders and its people. Total lending increased by 9.2 percent over the half against 0.1 system growth to $68.3 billion, with residential lending growing 14 percent or 3.6x system. This was further strengthened by a 26.3 percent increase in applications on the prior half. The Bank's deep connection with its customers and their communities, also resulted in a significant $5 billion increase in customer deposits since June 2020.

(Chart source: TradingView)
Bendigo and Adelaide Bank's Common Equity Tier 1 improved 36 basis points on the prior corresponding period to 9.36 percent, above APRA's 'unquestionably strong' benchmark. The Bank's consistently strong capital position reflects a well managed balance sheet and risk management approach, whilst supporting continued lending growth and future transformation investment.
As of 31 December 2020, 3,087 customer accounts remained on deferral, down 86 percent from the peak on 31 May 2020. The value of accounts where repayments have been deferred is ~$1.1 billion, down 84.2 percent from a peak of $6.9 billion:
Residential and consumer support packages total 2,466 accounts, down 86 percent since their May 2020 peak.

Commercial support packages total 621, with minimal loan exposure to the most impacted industries, down 87 percent since their peak in July 2020.
As of 31 January, the total number of loans on deferral arrangements represents less than one percent of the Bank's loan book.
Operating expenses

(Graphic Source – Company Reports)
Operating expenses
Operating expenses were $517.4 million, down 3.1 percent on the half, driven by a strong focus on achieving sustainable cost reductions across the business. Technology and transformation investment spend to support the Bank's strategic imperatives was $35.2 million. Underlying operating expenses declined $17.6 million for the half, reflecting a group-wide refocus on sustainable reductions in the cost base.
The majority of the Banks' FTE reductions occurred in November and December, pushing most of the expected cost benefit into the second half of the financial year 2021.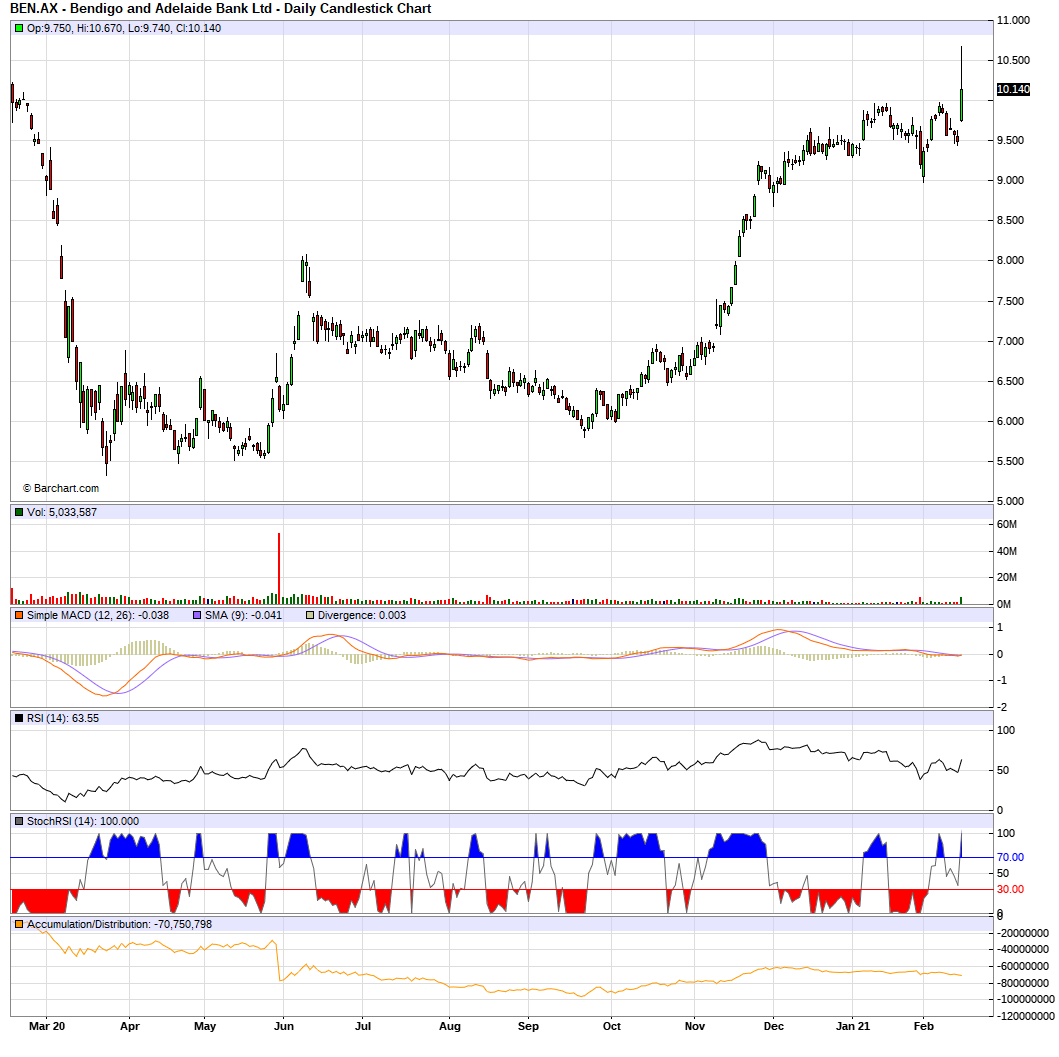 (Chart source: Barchart)
Bendigo and Adelaide Bank (ASX: BEN) on 4 November 2020 announced that it had successfully completed the Bookbuild for its offer of Capital Notes ("Capital Notes"), which was announced on 28 October 2020 (the "Offer").
Following the completion of the Bookbuild, Bendigo and Adelaide Bank confirmed an aggregate Offer size of $450 million, with the ability to raise more or less, and that the Margin had been set at 3.80 percent per annum.
Bendigo and Adelaide Bank Limited (ASX: BEN)

Stock Overview

Sector

Banking

Risk

Low to Medium

Market Cap

$5.61 billion

Share Volume

531.31million

EPS (FY)

$0.381.

PE RATIO

27.72.

Yearly Dividend Yield

2.94%.

Target Price (s)

T1 $13.73 T2 $15.30

Stop Loss

$9.44

Recommendation

BUY

52 weeks High

$10.67

52 weeks Low

$5.32

Managing Director, CEO

Ms Marnie Baker

Non-Exec. Director

Ms Jan Harris
Key Financial Metrics:
PB vs Industry: BEN's PB Ratio (0.87x) is in line with the AU Banks industry average.

Asset Level: BEN's Assets to Equity ratio at 13.1x is moderate.

Allowance for Bad Loans: BEN has a sufficient allowance for bad loans (183%).

Low-Risk Liabilities: 91% of BEN's liabilities are made up of primarily low risk sources of funding.

Loan Level: BEN has an appropriate level of Loans to Assets ratio at 85%.

Low-Risk Deposits: BEN's Loans to Deposits ratio at 101% is appropriate.

Level of Bad Loans: BEN has an appropriate level of bad loans at 0.3%

BEN's dividend payments have increased over the past 10 years.

Notable Dividend: BEN's dividend at 6.53% is higher than the bottom 25% of dividend payers in the Australian market at 2.07%.

High Dividend: BEN's dividend at 6.53% is in the top 25% of dividend payers in the Australian market at 5.16%

Future Dividend Coverage: BEN's dividends in 3 years are forecast to be covered by earnings (72% pay-out ratio)
Market Risk Analysis
Business risk: In the context of a bank, business risk is the risk associated with the failure of a bank's long term strategy, estimated forecasts of revenue and number of other things related to profitability.
Credit and Liquidity risk: Credit risk is most likely caused by loans, acceptances, interbank transactions, trade financing, foreign exchange transactions, financial futures, swaps, bonds, equities, options, and in the extension of commitments and guarantees, and the settlement of transactions
Technical Analysis
The stock formed a "Doji" candle (Indicated on charts) at the middle band of the Bollinger, indicating uncertainty for the trend. The Doji immediately followed by a bullish candle confirmed the upside trend continuation and formed the "Seven white Soldiers" pattern on the price chart. The formation of "Bullish Engulfing" (Indicated on the chart) followed by "Inside candle" signalling the upside move. The stock has moved above Ichimoku cloud on both short as well as long term charts indicating its uptrend. Further, the RSI making double bottom (Indicated by Horizontal Line) and MACD in positive crossover mode together supports the upside strength.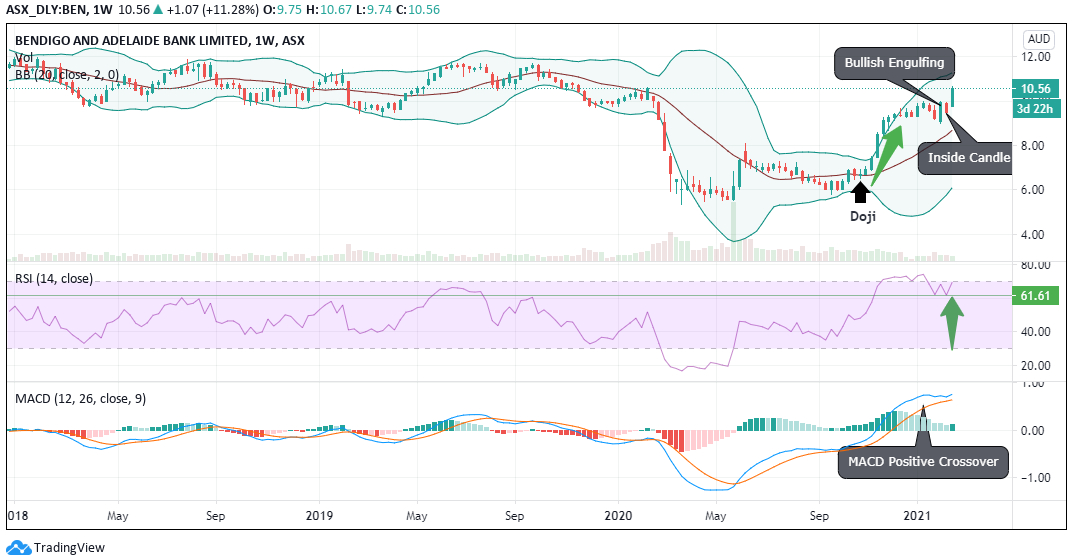 (Chart source: TradingView)
Veye's Take
BEN delivered on its growth opportunities and continued to support its customers, communities and all stakeholders, notwithstanding the challenges continuing into the half. BEN received an overwhelming level of support shown for the Bookbuild for BEN Capital Notes Offer, by both retail and institutional investors. The Bank's cash earnings were up 1.9 percent on the prior corresponding period, with statutory net profit up 67.3 percent to $243.9 million. Total income was $849.0 million, up 3.3 percent, as it continued to deliver well above system lending growth, maintain leading trust ratings, and further strengthen its balance sheet. The number of customers choosing to bank with BEN climbed again, increasing 4.3 percent to 1.96 million from 30 June. It continued to provide a positive customer experience as demonstrated through a net promoter score of 29, which remains much higher than the industry (26.8 points higher) and the average of the major banks (30.7 points higher). Bendigo and Adelaide Bank's Common Equity Tier 1 improved 36 basis points on the prior corresponding period to 9.36 percent, above APRA's 'unquestionably strong' benchmark. Its consistently strong capital position reflected a well-managed balance sheet and risk management approach, whilst supporting continued lending growth. Veye recommends a "Buy" on "Bendigo and Adelaide Bank" at the current price of $11.28
Disclaimer
Veye Pty Ltd(ABN 58 623 120 865), holds (AFSL No. 523157 ). All information provided by Veye Pty Ltd through its website, reports, and newsletters is general financial product advice only and should not be considered a personal recommendation to buy or sell any asset or security. Before acting on the advice, you should consider whether it's appropriate to you, in light of your objectives, financial situation, or needs. You should look at the Product Disclosure Statement or other offer document associated with the security or product before making a decision on acquiring the security or product. You can refer to our Terms & Conditions and Financial Services Guide for more information. Any recommendation contained herein may not be suitable for all investors as it does not take into account your personal financial needs or investment objectives. Although Veye takes the utmost care to ensure accuracy of the content and that the information is gathered and processed from reliable resources, we strongly recommend that you seek professional advice from your financial advisor or stockbroker before making any investment decision based on any of our recommendations. All the information we share represents our views on the date of publishing as stocks are subject to real time changes and therefore may change without notice. Please remember that investments can go up and down and past performance is not necessarily indicative of future returns. We request our readers not to interpret our reports as direct recommendations. To the extent permitted by law, Veye Pty Ltd excludes all liability for any loss or damage arising from the use of this website and any information published (including any indirect or consequential loss, any data loss, or data corruption) (as mentioned on the website www.veye.com.au), and confirms that the employees and/or associates of Veye Pty Ltd do not hold positions in any of the financial products covered on the website on the date of publishing this report. Veye Pty Ltd hereby limits its liability, to the extent permitted by law to the resupply of services.