Fortescue Metals Group Limited(FMG)
Team Veye | 25 Feb 2021

ASX - FMG
Fortescue Metals Group Limited (ASX: FMG) engages in the exploration, development, production, processing, and sale of iron ore in Australia, China, and internationally. It also explores copper and gold deposits. The company owns and operates the Chichester Hub that includes the Cloudbreak and Christmas Creek mines located in the Chichester ranges; and the Solomon Hub comprising the Firetail and Kings Valley mines located in the Hamersley ranges of Pilbara, Western Australia. It is also developing the Eliwana mine situated in the Pilbara region of Western Australia. In addition, the company holds a portfolio of properties situated in Ecuador and Argentina. Further, it provides port towage services. Fortescue Metals Group Limited was founded in 2003 and is headquartered in East Perth, Australia. (Profile source: Reuters)
From the Company Reports
Fortescue Metals Group Limited (ASX: FMG) on 18 February 2021 announced the Half yearly results for the period ended on 31 December 2020

(Chart Source: Bar Chart)
Operational Highlights:
On 18 February 2021, the company completed the

detailed review (Review) of the Iron Bridge Magnetite Project (Iron Bridge).
The Iron Bridge Project is an unincorporated joint venture between FMG Iron Bridge Ltd, via subsidiary FMG Magnetite Pty Ltd (69 per cent), and Formosa Steel IB Pty Ltd (31 percent). FMG Iron Bridge is jointly owned by Fortescue (88 percent) and Baosteel Resources International Company Limited (12 per cent)
As of 31 January 2021, the Joint Venture has incurred a capital expenditure of approximately US$1.1 billion since the Stage 2 investment decision in April 2019. Fortescue's share of Stage 2 investment is approximately US$750 million. Fortescue has also contributed US$274 million of deferred Joint Venture contributions relating to Stage 1 of the project.
The Review indicated a revised preliminary capital estimate of up to US$3.0 billion with the first production expected in the second half of the calendar year 2022:-
The conversion to autonomous haulage (AHS) is now complete at the Chichester Hub, bringing the total autonomous fleet to 183 on 31 December 2020

The Eliwana Mine and Rail Project was fully operational during H1FY21 with mined ore inventories built in preparation for processing and first ore fed through the OPF. The project transitioned to the Operations Team in January 2021 with a focus on commissioning and ramp up to full production.

Fortescue has continued the development and construction of US$700 million in energy infrastructure through the Pilbara Energy Connect (PEC) program of works

Fortescue Future Industries (FFI) has been established as a wholly owned subsidiary of Fortescue, and through FFI, renewable energy and green hydrogen projects both in Australia and globally have been identified.
Financial Highlights:
Strong cash flow generation during H1 FY21.

As of 31 December, 2020 cash balance reported at US$4.0 billion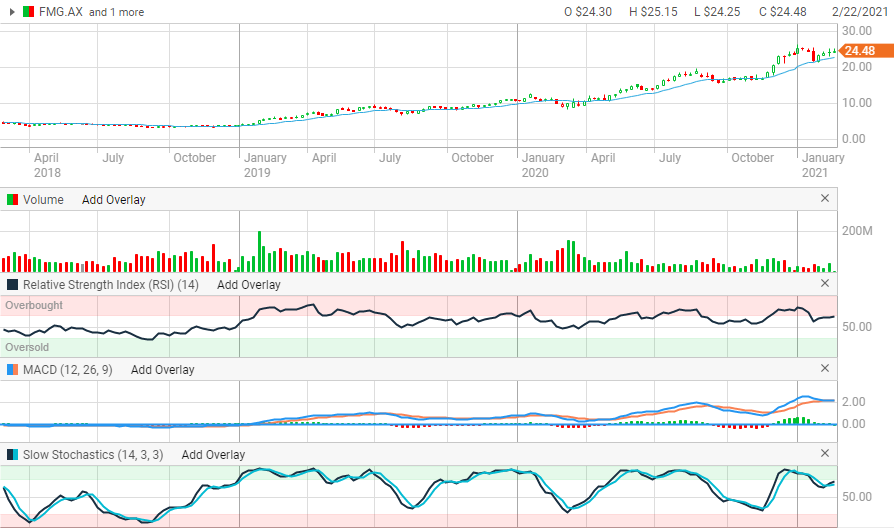 (Chart Source: Reuters)
As of 31 December, 2020 gross debt was US$4.1 billion following the repayment of the US$1.0 billion revolving credit facility during the half.

Net debt of US$110 million on 31 December 2020 compares to net debt of US$258 million on 30 June 2020.

Net cash from operating activities was up by 42% on H1FY20 to US$4.4 billion. The growth in net cash flow reflected the increase in Underlying EBITDA.

Free cash flow available for dividends and debt was US$2.5 billion, after investing US$1.2 billion in major projects (Eliwana, Iron Bridge and Energy).

Strong credit metrics

Gross debt to EBITDA of 0.4 times and gross gearing of 21% reported on 31 December 2020.

A fully franked interim dividend of $1.47 per share. The interim dividend is 93% higher than the FY20 interim dividend and represents an 80% payout of H1 FY21 NPAT. This is consistent with the company's dividend policy of a payout ratio of 50% to 80% of full year NPAT.

The ex-dividend date is 1 March 2021, and the dividend will be paid to shareholders on 24 March 2021

Revenue of US$9.3 billion was 44% higher than H1 FY20, reflecting both the three percent increase in ore sold to 90.2 million tonnes (mt) and a 42% increase in average realised price to US$114 per dry metric tonne (DMT).

Underlying EBITDA of US$6.6 billion for the six months ending 31 December 2020 (H1 FY21) was 57% higher than the prior period, and the EBITDA margin increased to 71%

Net profit after tax (NPAT) of US$4.1 billion and earnings per share of US$1.33 (A$1.84) increased 66% from the prior corresponding period.
FY21 guidance
Iron ore shipments of 178 - 182mt

C1 costs of US$13.50 - US$14.00/wmt

Capital expenditure at the upper end of the range of US$3.0 - US$3.4 billion.

Guidance for C1 costs and capital expenditure is based on a revision to the assumed FY21 average exchange rate from AUD: USD 0.70 to 0.75.
Value proposition
FMG holds an excellent balance sheet with a solid track record and pays a dividend.
Quality Earnings: FMG has high quality earnings.

Growing Profit Margin: FMG's current net profit margins of 40.6% are higher than last year NPM of 38.7%

Earnings Trend: FMG's earnings have grown significantly by 39.9% per year over the past 5 years.

High ROE: FMG's Return on Equity is outstanding at 42.4%

Earnings vs Industry: FMG earnings growth over the past year (27.5%) exceeded the Metals and Mining industry 22.2%.

Growing Dividend: FMG's dividend payments have increased over the past 10 years

Dividend Coverage: At its current payout ratio of 87.7%, FMG's payments are covered by earnings.

Future Dividend Coverage: FMG's dividends in 3 years are forecast to be covered by earnings (74.1% payout ratio).
Key Financial Metrics
Peer Analysis:
Company

ASX Code

Market Cap

EPS Growth (TTM YOY)

P/E (TTM)

Return on Average Equity (TTM)

Price/Cash Flow

Dividend Yield (5Y)

Payout ratio (TTM)

Fortescue Metals Group Ltd

ASX:FMG

76.48B

27.4

9.3

46.31

7.36

8.6

90.09

Rio Tinto Limited

ASX:RIO

48.25B

22.97

16.7

22.31

9.96

5.23

25.59

Newcrest Mining Limited

ASX:NCM

20.77B

65.12

16.0

11.15

9.42

1.73

21.47

James Hardie Industries Plc

ASX:JHX

17.41B

-42.8

90.4

13.34

48.33

2

29.91
Debt Level: FMG's debt to equity ratio of 21.3% is considered satisfactory.
The debt to equity ratio has reduced from 101.6% to 21.3% over the past 5 years.
Debt Coverage: FMG's debt is well covered by operating cash flow (240.7%).
Interest Coverage: FMG's interest payments on its debt are well covered by EBIT at 60.2x coverage
Short Term Liabilities: FMG's short term assets of $6.0B exceed its short term liabilities of $2.9B
PE vs Industry: FMG is a good value based on its PE Ratio at 9.3x compared to the AU Metals and Mining industry average at 13.3x.
PE vs Market: FMG is good value based on its PE Ratio at 9.3x compared to the Australian market at 22.3x.
Return vs Industry: FMG exceeded the Australian Metals and Mining industry which returned 29% over the past year.
Return vs Market: FMG exceeded the Australian Market which returned -0.7% over the past year.
Notable Dividend: FMG's dividend of 9.94% is higher than the bottom 25% of dividend payers in the Australian market (2.05%).
Fortescue Metals Group Limited (ASX: FMG)

Stock Overview

Sector

Metal Mining

Risk

Low to Medium

Market Cap

$76.48B

Shares Outstanding

3077.33M

EPS (TTM)

$2.66

PE RATIO

9.3

Yearly Dividend Yield

9.94%.

Target Price (s)

T1 $29.8 T2 $32.2

Stop Loss

$20.50

Recommendation

BUY

52 weeks High

$26.40

52 weeks Low

$8.2

Managing Director

Ms. Elizabeth Anne Gaine

Non-Exec. Director

Mr Mark B. Barnaba
Market Risk Analysis
The mining industry comes with its fair share of challenges; from scarce resources to uncertainty around commodity prices
Access to Energy

: As resources in some areas become scarce or depleted, companies are forced to push new frontiers of exploration.

Health and Safety

: Mining is a dangerous profession. The traditional occupational hazards such as coal dust inhalation, damage to hearing due to the noise in a mine and chemical hazards still stand but the changing nature of mining has led to a raft of new issues.

Volatility of commodity prices

: Volatile commodity prices make it extremely difficult for companies to plan income and therefore expenditure.

Environmental footprint
Technical Analysis
The overall strong bullish momentum is maintained from 2019 onwards. The stock has remained on the upside and continuing at the current juncture. The formation of "Bullish Engulfing "on monthly charts indicates continuing bullish momentum. The upside strength is supported by momentum indicators and MACD (indicated by arrows on the chart). With ADX more than 42 indicates the trend strength is strong. On a weekly chart minor dips that stock has undergone (Indicated by red arrows) and "Bullish Piercing candle" (Indicated on charts) signal the upside potential in the stock. The RSI is marked by certain arrows indicating price patterns followed the same trend as RSI moved. RSI is again turning upside supported by ADX. The stock is expected to continue the upside momentum.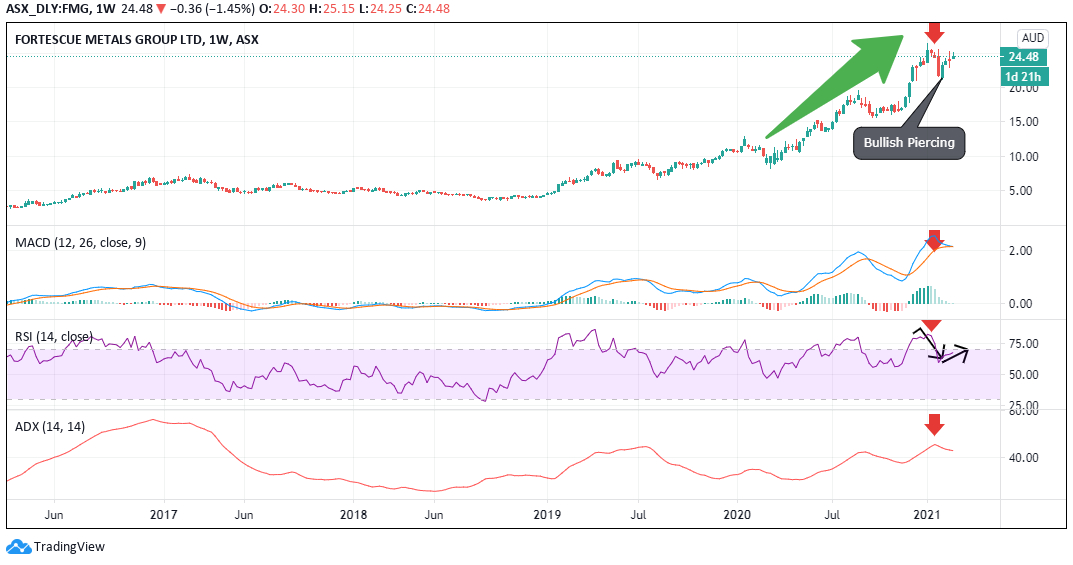 (Chart source: TradingView)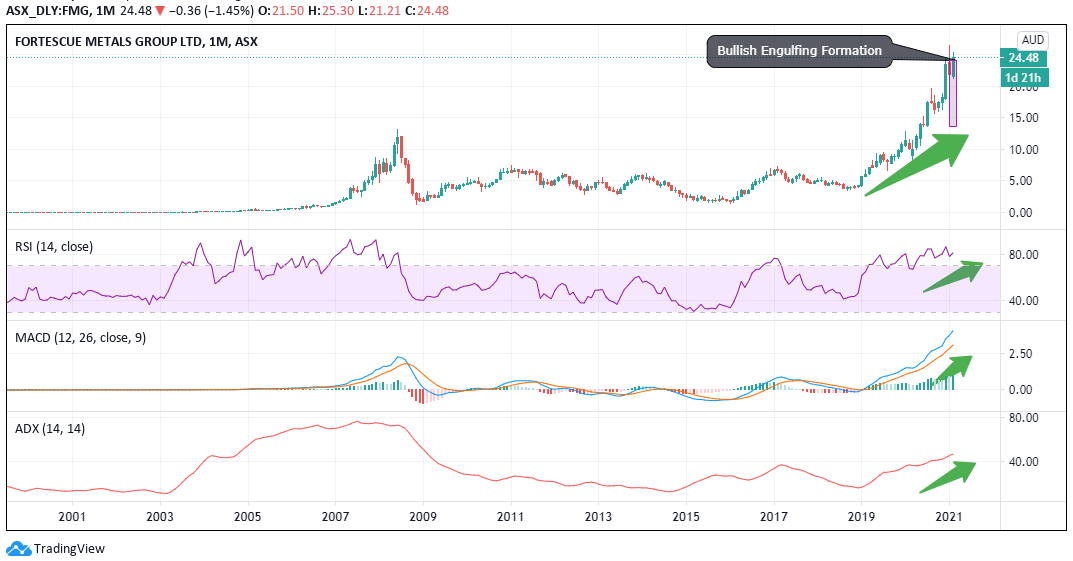 (Chart source: TradingView)
Veye's Take
Fortescue's world class, integrated operations and customer-focused marketing strategy underpin their strong market penetration in China and other countries. The Company is investing in a range of practical initiatives to decarbonise its operations which will underpin the achievement of its industry leading emissions target of net zero operational emissions by 2040. The company intends to allocate 10 % of NPAT to fund renewable energy growth through FFI, and 10% to other resource growth opportunities. With demonstrated capability of adopting innovation and technology to ensure future green energy projects Fortescue stands at the forefront of this emerging industry. Veye recommends a "Buy" on "Fortescue Metals Group Limited" at the current price of $25.240
Disclaimer
Veye Pty Ltd(ABN 58 623 120 865), holds (AFSL No. 523157 ). All information provided by Veye Pty Ltd through its website, reports, and newsletters is general financial product advice only and should not be considered a personal recommendation to buy or sell any asset or security. Before acting on the advice, you should consider whether it's appropriate to you, in light of your objectives, financial situation, or needs. You should look at the Product Disclosure Statement or other offer document associated with the security or product before making a decision on acquiring the security or product. You can refer to our Terms & Conditions and Financial Services Guide for more information. Any recommendation contained herein may not be suitable for all investors as it does not take into account your personal financial needs or investment objectives. Although Veye takes the utmost care to ensure accuracy of the content and that the information is gathered and processed from reliable resources, we strongly recommend that you seek professional advice from your financial advisor or stockbroker before making any investment decision based on any of our recommendations. All the information we share represents our views on the date of publishing as stocks are subject to real time changes and therefore may change without notice. Please remember that investments can go up and down and past performance is not necessarily indicative of future returns. We request our readers not to interpret our reports as direct recommendations. To the extent permitted by law, Veye Pty Ltd excludes all liability for any loss or damage arising from the use of this website and any information published (including any indirect or consequential loss, any data loss, or data corruption) (as mentioned on the website www.veye.com.au), and confirms that the employees and/or associates of Veye Pty Ltd do not hold positions in any of the financial products covered on the website on the date of publishing this report. Veye Pty Ltd hereby limits its liability, to the extent permitted by law to the resupply of services.