Metcash Limited
Team Veye | 11 Feb 2021

ASX - MTS
Metcash Limited (ASX: MTS) is an Australia-based wholesaler and distributor, engaged in supplying and supporting independent retailers and other businesses across the food, grocery, liquor and hardware industries. The Company's segments include food, liquor and hardware. Food activities comprise the distribution of a range of products and services to independent supermarkets and convenience retail outlets. Liquor activities comprise the distribution of liquor products to independent retail outlets and hotels. Hardware activities comprise the distribution of hardware products to independent retail outlets and the operations of Company owned retail stores. Its Independent Brands Australia (IBA) business operates national independent retail brands including Cellarbrations, The Bottle-O, IGA Liquor, Duncans, Thirsty Camel, Big Bargain and Porters. The Company has operations in Australia and New Zealand. (Profile source: Reuters)
From the Company Reports
Metcash Limited (ASX: MTS) on 7 December 2020 released its financial results for the half year ended 31 October 2020.
Highlights:
Reported significant growth in sales volumes across all Pillars.
An increment of 12.2 %to $8bnin 1H21 from 47.2bn in 1H20 in Group Sales revenue (including charge-through sales) was contributed by:
Total Food sales (including charge-through) increased by 9.5% to $4.8bn and by 16.3% excluding Drake's and 7-Eleven impact.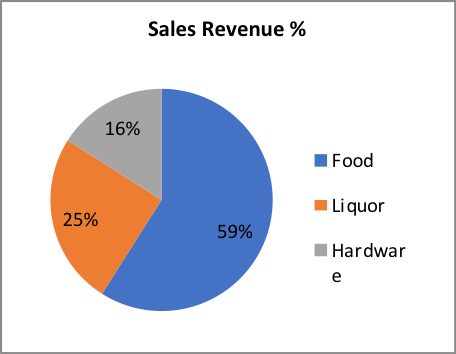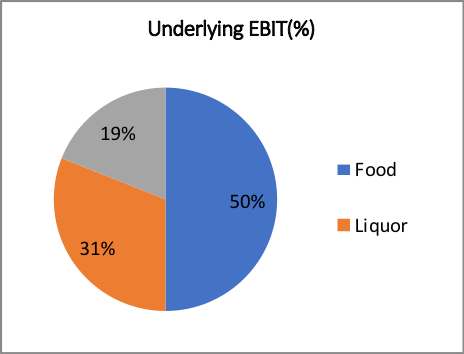 (Graphic Source – Company Reports)
Supermarkets sales increased by 14.6% to $4.1bn in 1H21 compared to $3.59bn in 1H20 Sales increased by 18.3% excluding Drakes.

The increase in Supermarket sales was driven by a change in consumer behaviour with more home cooking and Preference for local neighborhood shopping resulting in an increase in both foot traffic and average basket size,

Supermarket sales ex-tobacco increased by 13.0% and by 16.7% excluding Drakes.

With increased demand in rural and remote areas, Convenience sales were down by 14.3% to $672.7m in 1H21 as compared to $784.6m in 1H20

MFuture investment initiatives assisted in the retention of new and returning IGA customers.

Total Liquor sales (including charge-through) increased by 14.3% to $2.0bn from $1.78bn underpinned by strong demand across the retail stores offsetting the adverse impact of trading restrictions on 'on-premises' customers.

Total Hardware sales (including charge-through) increased by 20.6% to $1.3bn, with significant growth in DIY sales.

Strong performance from Sapphire stores together with MFuture initiatives and changes preferences of consumer led to growth in DIY sales.

Loyalty membership was up 13% to 1.15m

Significant growth of 104% in online sales with 26% growth in transactions and 13% rise in average basket size together contributed to increase in Hardware sales.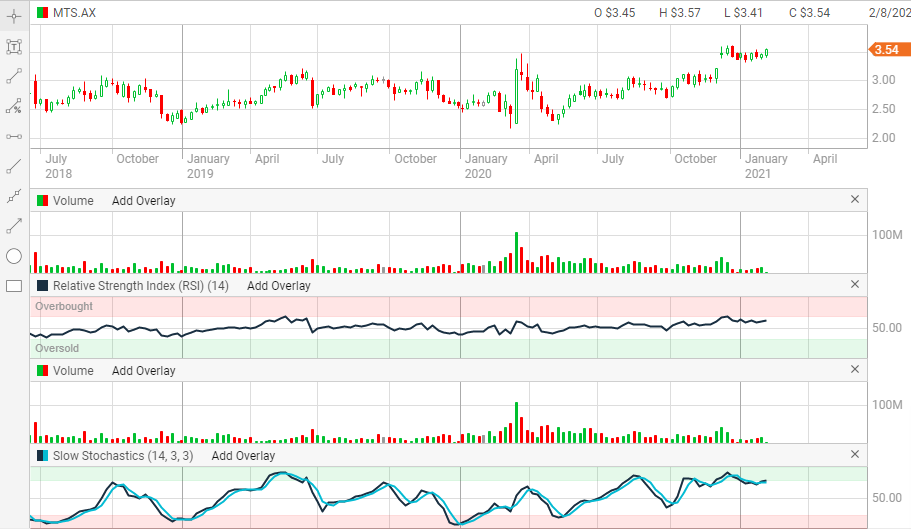 (Chart source: TradingView)
Strong earnings growth with underlying Group EBIT up 30.4% to $203.0m
Food EBIT increased by $14.6m or 16.5% to $103.0 m. The growth EBIT was driven by strong growth in sales volumes and higher contribution from joint venture stores.

Food EBIT margins improved by 10bps to 2.1% reflecting the positive operating leverage from higher sales volumes.

Liquor EBIT increased by $9.4m or 30.6% to $40.1m, driven by the strong sales growth. EBIT margin increased by 2.0% to 30 bps reflecting the positive operating leverage from higher sales volumes.

Hardware EBIT increased by $25.6m or 65.8% to $64.5 m. The growth was attributed significant increase in sales volumes along with an increased contribution from joint ventures and company-owned stores and well managed costs.

Hardware EBIT margins improved by140bps or5.1% reflecting the reflecting higher proportion of DIY in the sales mix.
Financial Highlights
Underlying profit after tax increased by 43.0% to $129.6m

Statutory profit after tax of $125.1m as compared to a loss of $151.6m in 1H20

Group revenue increased 12.2% to $7.1bn and 12.3% to $8.1bn including charge-through sales

Strong earnings growth with underlying Group EBIT up 30.4% to $203.0m

Increase in interim dividend to 8.0 cents per share as compared to 6.0 cents in 1H20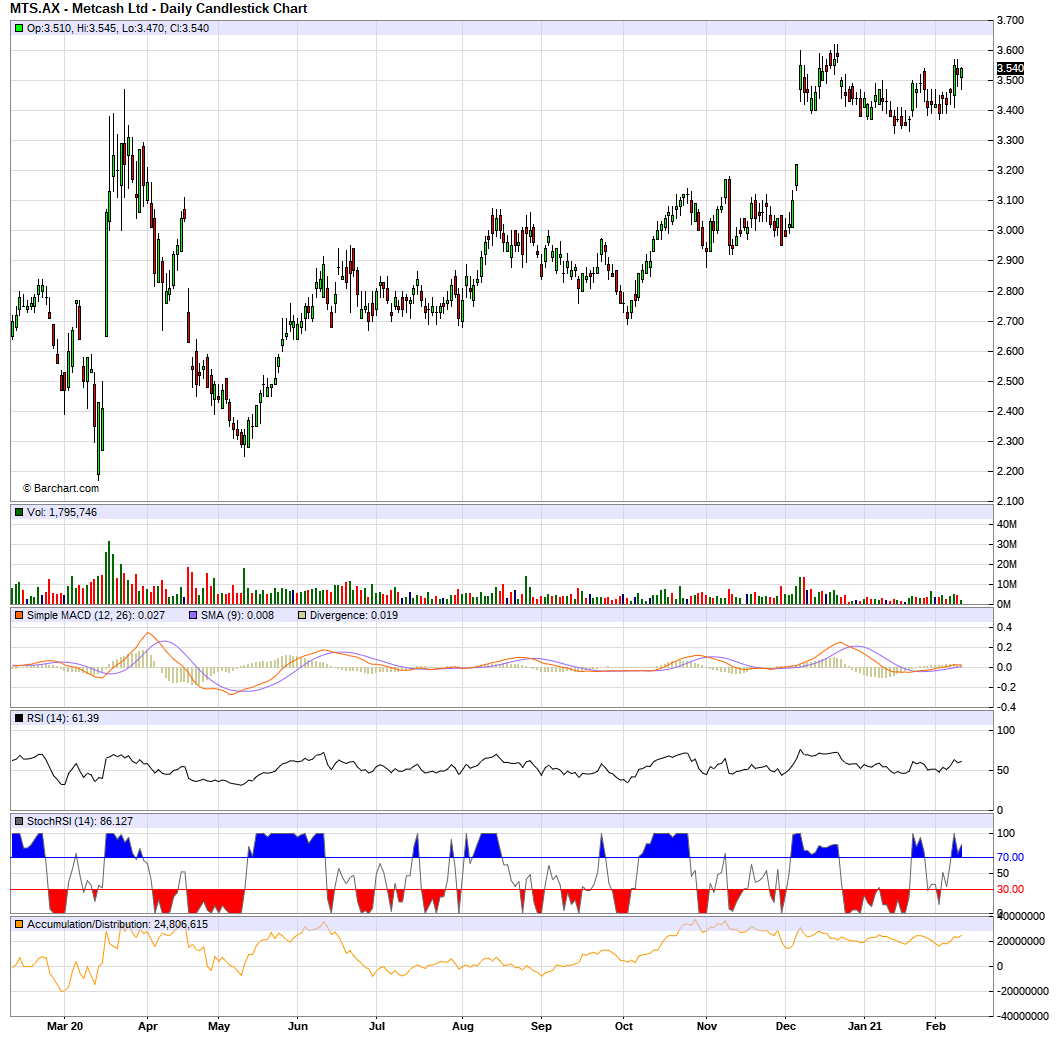 (Chart source: Barchart)
MTS Value Proposition
MTS has become profitable over the past 5 years, growing earnings by 3.7% per year.

MTS's dividend yield at 4.19% is higher than the bottom 25% of dividend payers in the Australian market at 2.03%.

Dividend payout ratio of 60% of underlying profit after tax for 1H21, well in line with current policy.
Metcash Limited (ASX: MTS)

Stock Overview
Sector

Trading

Risk

Low to Medium

Market Cap

$3.629B

Shares Outstanding

1022.36M

EPS (FY)

$0.23

PE RATIO

15.72

Yearly Dividend Yield

4.19%.

Target Price (s)

T1 $4.86 T2 $5.39

Stop Loss

$3.06

Recommendation

BUY

52 weeks High

$3.62

52 weeks Low

$2.17

Managing Director

Mr. Jeffery K. Adams

Non-Exec. Director

Ms. Christine Francis Holman
Key Financial Metrics:
Peer Analysis
| | | | | | | | |
| --- | --- | --- | --- | --- | --- | --- | --- |
| Company | ASX CODE | Market cap | Net income (TTM) | P/E (TTM) | P/BV (MRQ) | Return On Investment (TTM)) | Payout ratio (TTM) |
| Metcash Limited | ASX: MTS | 3.62bn | 219.90m | 15.72 | 2.68 | 10.53 | 67.26 |
| GrainCorp Limited | ASX: GNC | 1.01B | 35.2m | 28.99 | 0.92 | 1.67 | 0.00 |
| Coles Group Limited. | ASX: COL | 24.46B | 978m | 25.02 | 9.36 | 10.77 | 78.32 |
| Woolworths Group Limited | ASX: WOW | 52.70B | 1165 | 45.2 | 6.02 | 6.10 | 101.8 |
Debt Level: MTS is debt-free.

Reducing Debt: MTS has no debt compared to 5 years ago when its debt to equity ratio was 37.4

PB vs Industry: MTS PB Ratio 2.68x is in line with the XO Consumer Retailing industry average.

PE vs Industry: MTS is good value based on its PE Ratio at15.72x compared to the XO Consumer Retailing industry average at 24.9x

PE vs Market: MTS is a good value based on its PE Ratio at 15.2x compared to the Australian market at 23.8x.

Short Term Liabilities: MTS's short term assets at A$3.0B exceed its short term liabilities A$2.7B and long term liabilities at A$805.6M

Return vs Industry: MTS exceeded the Australian Consumer Retailing industry which returned -0.4% over the past year.

Return vs Market: MTS exceeded the Australian Market which returned 1.1% over the past year.
Market Risk Analysis
Rising interest rates.

Higher interest rates usually mean that borrowers end up paying more for their purchases. If interest rates go up, consumer spending may drop, affecting sector performance.

Changing consumer preferences.

Customers have shifted their buying habits to include e-commerce and specialty brands, such as organic, fresh options. Companies need to continually keep in touch with consumers.

Competition from direct-to-consumer delivery

- Consumers' comfort with buying anything online has meant that a company with some clever marketing and lots of venture capital backing can quickly gain significant market share by selling staples directly to the consumer.
Technical Analysis
The stock after making a high at $3.47 remained completely bearish till the levels of $2.25. The stock managed to take the support at the lower band of the Bollinger. The overall trend has remained bullish after that (as indicated by the "Trend Line" on the charts. The formation of the "Bullish engulfing" at the middle band of the Bollinger continued the upside trend. Formation of the "Bearish engulfing" at the upper band of the Bollinger (indicated on charts) gave some dips to the upside trend. The stock currently is experiencing "Higher High" formation. The overall upside trend strength is well supported by the RSI and MACD in positive territory. On a larger time frame chart, drawing a Fibonacci from a swing high to swing low, as marked on the charts, the stock has retraced from its low and currently trading above 50% fibo levels. The two horizontal lines on the chart indicate the next immediate resistance levels.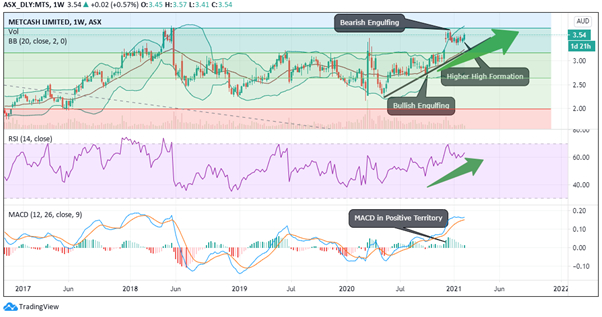 (Chart source: TradingView)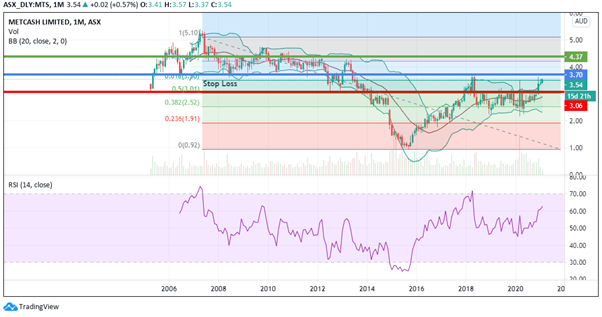 (Chart source: TradingView)
Veye's Take
MTS has posted a strong start to 2H21 with sales momentum continuing in all Pillars in the first five weeks of 2H21. Strong demand across the retail network resulted in a 16.9% increase in Liquor sales in the first five weeks of 2H21, a 2.4% increase in food sales.25.3% increase in Hardware sales driven by strong demand in DIY and trade sales progressing positively on track. The competitiveness of the retail network is expected to further improve with the MFuture initiatives, which will further assist in the retention of new and returning customers gained through the COVID-19 period. The company is strongly focused on costs to help offset the impact of inflation and other cost pressures. Veye recommends a "Buy" on "Metcash Limited" at the current price of $3.56
Disclaimer
Veye Pty Ltd(ABN 58 623 120 865), holds (AFSL No. 523157 ). All information provided by Veye Pty Ltd through its website, reports, and newsletters is general financial product advice only and should not be considered a personal recommendation to buy or sell any asset or security. Before acting on the advice, you should consider whether it's appropriate to you, in light of your objectives, financial situation, or needs. You should look at the Product Disclosure Statement or other offer document associated with the security or product before making a decision on acquiring the security or product. You can refer to our Terms & Conditions and Financial Services Guide for more information. Any recommendation contained herein may not be suitable for all investors as it does not take into account your personal financial needs or investment objectives. Although Veye takes the utmost care to ensure accuracy of the content and that the information is gathered and processed from reliable resources, we strongly recommend that you seek professional advice from your financial advisor or stockbroker before making any investment decision based on any of our recommendations. All the information we share represents our views on the date of publishing as stocks are subject to real time changes and therefore may change without notice. Please remember that investments can go up and down and past performance is not necessarily indicative of future returns. We request our readers not to interpret our reports as direct recommendations. To the extent permitted by law, Veye Pty Ltd excludes all liability for any loss or damage arising from the use of this website and any information published (including any indirect or consequential loss, any data loss, or data corruption) (as mentioned on the website www.veye.com.au), and confirms that the employees and/or associates of Veye Pty Ltd do not hold positions in any of the financial products covered on the website on the date of publishing this report. Veye Pty Ltd hereby limits its liability, to the extent permitted by law to the resupply of services.