ANSELL LIMITED
Team Veye | 04 Feb 2021

ASX - ANN
The company Ansell Limited (ASX: ANN) is a world leader in providing superior health and safety protection solutions that enhance human well-being. It operates under two main business segments namely Industrial and Healthcare. Its Industrial division manufactures and markets high-performance hand and body protection solutions for a wide-range of industrial applications. The Healthcare division manufactures and markets surgical and exam gloves for both healthcare and industrial applications. . It offers its products under various brands, such as HyFlex, AlphaTec, TouchNTuff, Ringers Gloves, Encore, Micro-Touch and Sandel. With operations in North America, Latin America/Caribbean, EMEA and Asia Pacific, customers in more than 100 countries around the world the company has well established itself as the market leader that continues to grow (Profile source: Reuters)

(Graphic source: Company Reports)
Trading Update for FY21:
Despite the uncertainties prevailing with an increasing number of COVID-19 cases worldwide and a strong focus on protection against transmission, the company has reported elevated demand for a number of its products across Exam/SU, Life Sciences and Chemical Protective Clothing. Strong market gains reported from its Mechanical and Surgical segments.
The company has reported strong growth in sales and earnings in FY21 H1. It has delivered better than expected performance across all of our strategic business units.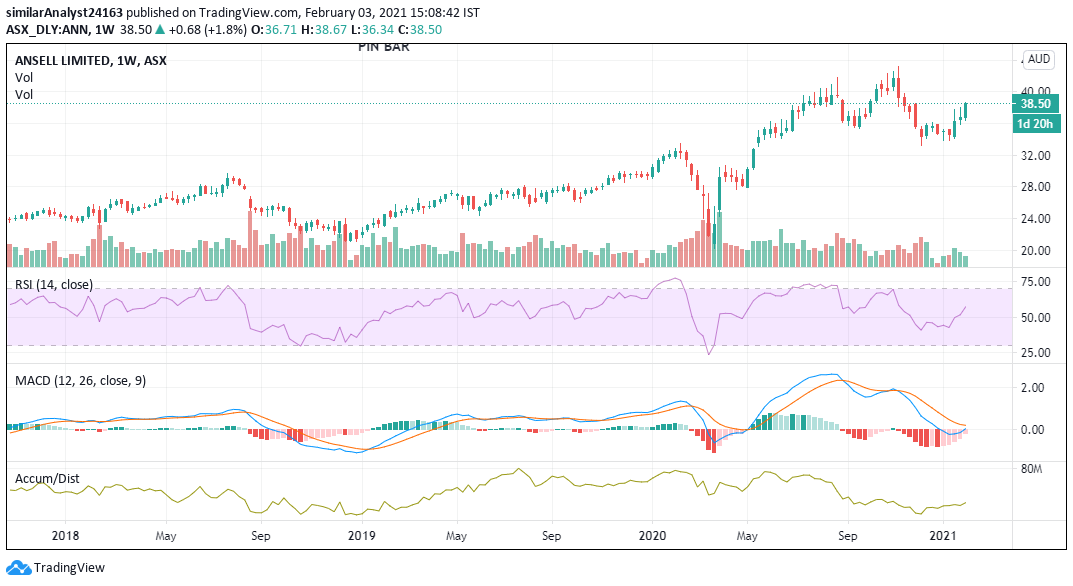 (Chart Source: Trading View)
Highlights:
The company expects to deliver organic growth north of +20%

Unaudited Earnings per Share ("EPS") to remain in the range of 81¢ - 84¢ representing 62% - 68% growth on EPS of FY20 at¢.

FY21 EPS guidance is expected to exceed and remain in the range of 135¢ - 145¢ (provided on 30 October 2020).

The company has efficiently managed to navigate the fluid environment in "F21 H1" and anticipates higher demand for its products to continue for the remainder of FY21.

Better than anticipated production volumes and sales across all of its five Strategic Business Units

Efficiently Managed the Exam/Single Use supplier cost increase.

There are expectations for additional cost increases to occur during Q3 FY21 but expect a small decline in GPADE margin %;

Capital expenditure investments including capacity increases are progressing to plan.

Exchange rates have been more favourable than originally budgeted.
From Company AGM Report
ANN performed exceptionally well and delivered strong performance despite operational challenges faced during Covid-19
For the fiscal year ended 30 June 2020
Delivered 7.6% organic growth well ahead of the set target of 3%-5% organic growth per annum

EPS was up by 23.6% on a CC basis, well supported by benefits from the share buyback program, GPADE margin growth supported by pricing, net favourable raw materials and transformation benefits

ROCE increased by 14%, up by 85bps from FY19

The operating cash flow of $191.7m with exceptional cash generation

Cash conversion increased by 117.7%

Revenues were up by 8% to $1.61B.

Net income reported an increment by 42% to $158.7M.

Net profit increased by 45% to $0.16B

Healthcare segment revenue increase by 12% to $894.6M,

Industrial segment revenue increased by 2% to $719.1M, with the North American segment reporting an increase of 12% to $755.1M and the Asia Pacific segment an increase of 15% to$208.2M.

Improved Net income driven by reduced Restructuring charges

Restructuring Charges decreased from $37.2M (expense) to $0K
ANN Value Proposition:
The company has exceptionally exceeded the targets across all financial metrics.
Year on year Ansell Ltd grew revenues 7.65% from $1.50bn to $1.61bn while net income improved 42.08% from $111.70m to $158.70m

.

ANN has high quality earnings with net profit margins at 9.8% higher than last year NPM at 7.5%

ANN's dividends in 3 years are forecast to be well covered by earnings (44.4% payout ratio).
Peer Analysis:
| | | | | | | |
| --- | --- | --- | --- | --- | --- | --- |
| Company | Market cap | Net income (TTM) | P/E (TTM) | P/BV (MRQ) | Total Debt /Capital | Payout ratio (5yrAvg) |
| Kossan Rubber Industries Berhad | 3.69bn | 196.54m | 18.8 | 5.89 | 0.2147 | 38 |
| Mani Inc | 3.71bn | 40.81m | 83.71 | 7.53 | 0.0014 | 39.01 |
| Eyebright Medical Technol Beijing Co Ltd | 3.85bn | -20.29bn | -- | 12.75 | 0 | -- |
| LifeTech Scientific Corp | 3.86bn | 27.73m | 127 | 14 | 0.2385 | 0 |
| Ship Healthcare Holdings Inc | 3.90bn | 122.83m | 32.6 | 2.79 | 0.3826 | 30.75 |
| Shanghai MicroPort Edvcl MdTch Grp Co Ltd | 4.13bn | 38.88m | 106.23 | 17.24 | 0.0037 | -- |
| Shandong Pharmaceutical Glass Co., Ltd | 4.63bn | 107.91m | 42.91 | 5.56 | 0.102 | 35.45 |
| Micro-Tech Nanjing Co Ltd | 4.78bn | 57.82m | 86.02 | 9.24 | 0 | -- |
| Ansell Limited | 4.89bn | 207.67m | 23.77 | 2.66 | 0.2915 | 48.94 |
| Sri Trang Gloves (Thailand) PCL | 4.97bn | 265.23m | 16.76 | 2.27 | 0.1616 | -- |
| Venus MedTech HangZhou Inc | 5.92bn | -16.93bn | -- | 8.86 | 0.0092 | -- |
| Supermax Corporation Berhad | 6.01bn | 752.73m | 7.66 | 5.38 | 0.0799 | -- |
Key Financial Metrics:
Debt Level: ANN debt to equity ratio has reduced from 63.6% to 37% over the past 5 years.

Debt coverage: ANN debt is well covered by an operating cash flow of 56%.

Interest Coverage: ANN interest payments on its debt are well covered by EBIT (15.43x coverage).

PB vs Industry: ANN is good value based on its PB Ratio at 2.66x compared to the AU Medical Equipment industry average of 7.2x.

PE vs Industry: ANN is good value based on its PE Ratio at 23.77x compared to the AU Medical Equipment industry average of 42.7x

Return vs Industry: A

NN exceeded the Australian Medical Equipment industry which returned -8.5% over the past year.

Short Term Liabilities: ANN's short term assets at $961.0M exceed its short term liabilities $408.4M and long term liabilities at $636.8M

Earnings are forecast to grow 5.48% per year

Stable Dividend: ANN's dividends per share have been stable and reported reasonable growth in the past 10 years.

Dividend Coverage: With its reasonably low payout ratio (39.68%), ANN's dividend payments are well covered by earnings.
Market Risk Analysis:
Compliance Lapse: Today's healthcare regulatory environment is more complex than ever, putting facilities at higher risk of non-compliance. Healthcare organizations and providers need to be fully aware of all laws and regulations that apply to them.
Healthcare Illness

: One of the greatest risks of healthcare facilities is spreadable illness and germs. Affecting both staff and patients, unnecessary exposure to bacteria or viruses can completely derail the operations. This ranges from catching a cold to Healthcare-associated infections (HAIs)

Cyber Threats

: The healthcare industry continuously undergoes changes as new technology is developed and implemented into patient care, facility management, and everyday routines. As a result, cyber threats continue to evolve to adapt to and circumnavigate these updates. Primary concerns stem from electronic records of personally identifiable information (PII) which are easy to access internally and through approved third-parties, and thus become more vulnerable to cybercriminals.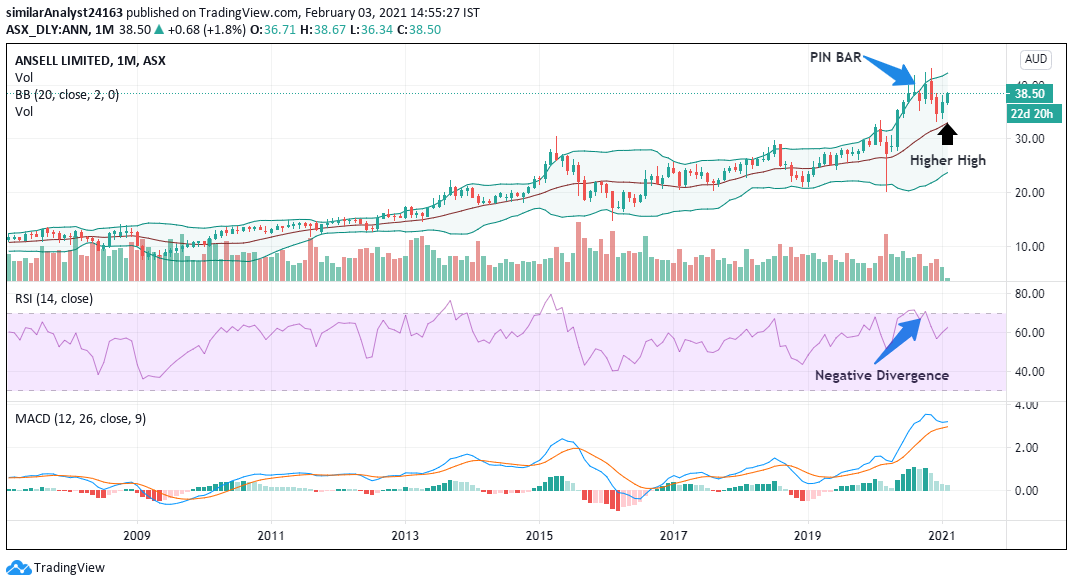 (Chart Source: Trading View)
Technical Analysis: The formation of the "Pin Bar(indicated By Arrow On the Charts) at the top of the Bollinger band together with the formation of negative divergence on the RSI charts indicated the downside move to begin. The movement was well seen for few sessions. The stock after the downward move managed to take support near $33.23 and showed an upside move. The "Higher High" formation on the price chart is well supported by the RSI.
Veye Take:
Ansell is well positioned with its balanced portfolio and strong brand presence. Ansell is focused on maintaining its healthy balance sheet and implementing efficiencies to increase output and investing in increased production capacity at its own plants, Ansell has been able to successfully and safely meet higher demand where others in the industry have struggled. In addition to sizable volume increases, the Company has been able to effectively pass through price increases to offset higher costs from raw material, particularly in Exam/SU and labor costs. Veye recommends "Buy" on "Ansell limited" at the current price of $37.71
Disclaimer
Veye Pty Ltd(ABN 58 623 120 865), holds (AFSL No. 523157 ). All information provided by Veye Pty Ltd through its website, reports, and newsletters is general financial product advice only and should not be considered a personal recommendation to buy or sell any asset or security. Before acting on the advice, you should consider whether it's appropriate to you, in light of your objectives, financial situation, or needs. You should look at the Product Disclosure Statement or other offer document associated with the security or product before making a decision on acquiring the security or product. You can refer to our Terms & Conditions and Financial Services Guide for more information. Any recommendation contained herein may not be suitable for all investors as it does not take into account your personal financial needs or investment objectives. Although Veye takes the utmost care to ensure accuracy of the content and that the information is gathered and processed from reliable resources, we strongly recommend that you seek professional advice from your financial advisor or stockbroker before making any investment decision based on any of our recommendations. All the information we share represents our views on the date of publishing as stocks are subject to real time changes and therefore may change without notice. Please remember that investments can go up and down and past performance is not necessarily indicative of future returns. We request our readers not to interpret our reports as direct recommendations. To the extent permitted by law, Veye Pty Ltd excludes all liability for any loss or damage arising from the use of this website and any information published (including any indirect or consequential loss, any data loss, or data corruption) (as mentioned on the website www.veye.com.au), and confirms that the employees and/or associates of Veye Pty Ltd do not hold positions in any of the financial products covered on the website on the date of publishing this report. Veye Pty Ltd hereby limits its liability, to the extent permitted by law to the resupply of services.