AGL Energy Limited (AGL)
Team Veye | 12 Jan 2021

ASX - AGL
AGL Energy Limited (ASX: AGL) is an Australia-based company that supplies energy and other services. The Company's segments include Wholesale Markets, Customer Markets, Group Operations and Investments. Wholesale Markets comprises Wholesale Electricity, Wholesale Gas and Eco Markets and also controls the dispatch of its owned and contracted generation assets and associated portfolio of energy/hedging products. Customer Markets comprises the consumer and large business customer portfolios and is responsible for the retailing of electricity, gas, solar and energy efficiency products and services. Group Operations comprises its power generation portfolio and other sites and operating facilities across the thermal, renewables, natural gas, and other business units. Investments comprise its interests in the ActewAGL Retail Partnership, Perth Energy, PARF, Advanced Microgrid Solutions Inc, Energy Impact Partners' Fund, Solar Analytics Pty Limited, Sunverge Energy Inc and Ecobee Inc. (Profile source: Reuters)
From the Company Reports
Trading Update and Revised FY21 Guidance
AGL Energy Limited (AGL) on 21 December 2020 updated its earnings guidance for the financial year ending 30 June 2021 (FY21). AGL now expects Underlying Profit after tax for FY21 to be between $500 million and $580 million, down from the previous guidance range of $560 million to $660 million.

(Chart source: TradingView)
This update followed confirmation of the anticipated impact of the transformer incident at Unit 3 of the Liddell Power Station in New South Wales announced on Friday, 18 December 2020. AGL expects the unit will return to service in early March 2021. AGL estimates the financial impact of this outage, including direct trading impacts on the day of the event, estimated portfolio trading impacts through to early March 2021 and the direct cost of replacing the transformer, to be $25 million (after tax). The update to AGL's FY21 guidance range reflects this impact as well as increasing earnings pressure arising from the recent trading performance and a continued deterioration in the market and operating conditions in Wholesale Electricity.
AGL's original earnings guidance for FY21 provided in August 2020 noted headwinds including the impact of lower-cost supply contracts maturing in Wholesale Gas, lower market prices in Wholesale Electricity, higher depreciation expense, and costs associated with responding to the COVID-19 pandemic. AGL's most recent forecasts of overall demand and pricing, having regard to December trading results to date, have softened further as a result of these headwinds.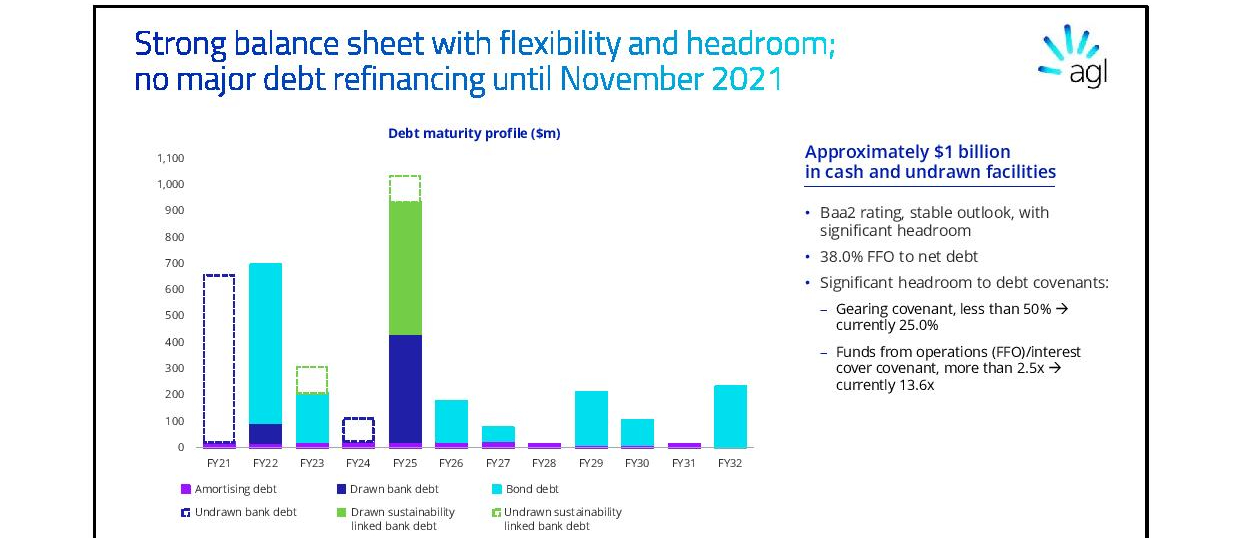 (Graphic Source – Company Reports)
Impact on FY22
The financial impact of the Liddell Unit 3 outage is not recoverable via insurance in future years. AGL also notes that it had previously stated that there will be no recurrence in FY22 of the FY21 contribution to Underlying Profit after tax of $80 million to $100 million expected from insurance proceeds related to a prior outage at Unit 2 of the Loy Yang A power station in Victoria. In addition to the non-recurrence of these Loy Yang A insurance receipts, AGL anticipates a further material step-down in Wholesale Electricity earnings in FY22 as hedging positions established when wholesale prices were materially higher progressively roll off, and are re-contracted at lower levels reflecting the deterioration in wholesale prices.
AGL enters binding agreement to acquire 100% of the Click Energy Group
AGL Energy Limited on 31 August 2020 announced that it had entered into an agreement for the acquisition of 100% of the shares of Click Energy Group Holdings Pty Ltd (Click Energy), a wholly owned subsidiary of ASX listed amaysim Australia Limited (ASX: AYS), for $115 million. The transaction does not include amaysim's mobile customer base or business.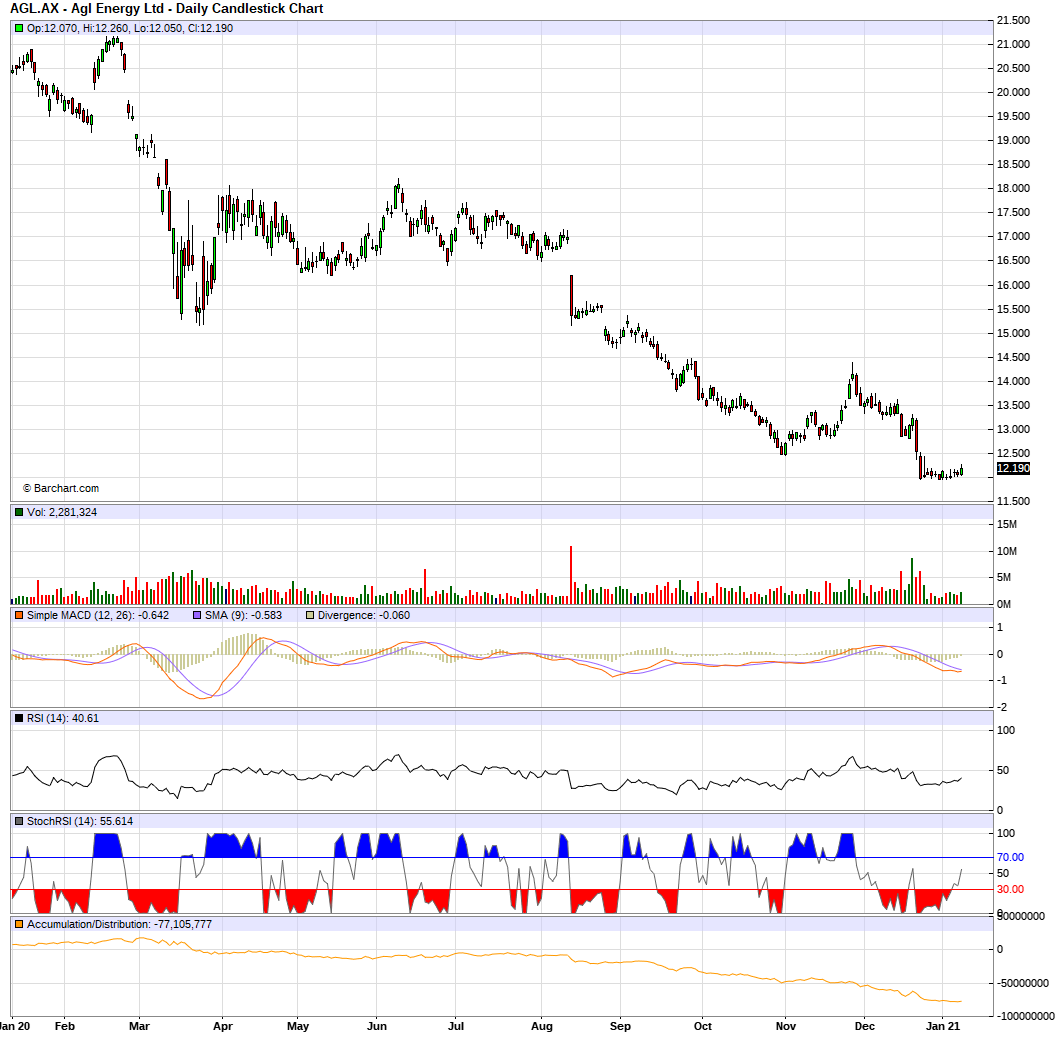 (Chart source: Barchart)
FY20 results announcement and FY21 earnings guidance
AGL Energy Limited (AGL) on 13 August 2020 announced its results for the financial year ended 30 June 2020 ("FY20")
FY20 Result Highlights
Statutory Profit after tax: $1,015 million, up 12 percent on FY19

Underlying Profit after tax: $816 million, down 22 percent on FY19, within guidance range provided for FY20

Net cash from operating activities: $2,156 million, up 35 percent on FY19

Consistent growth in total services to customers to 3.95 million

Resilient portfolio generation despite AGL Loy Yang Unit 2 outage, COVID-19 and ongoing maintenance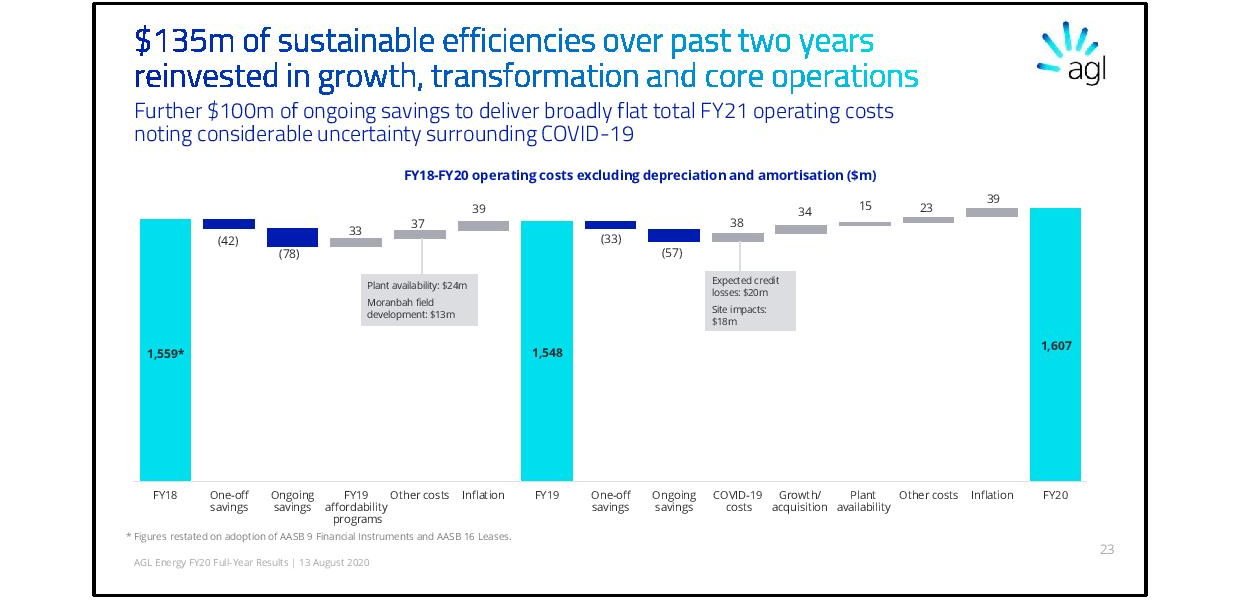 (Graphic Source – Company Reports)
$135m of recurring operating cost efficiencies since FY18 invested in growth and transformation

Final FY20 dividend declared of 51 cents per share, taking total FY20 dividends declared to 98 cents per share, 80% franked

Intention to pay special dividends during FY21 and FY22 and temporary removal of franking during this period

Guidance for FY21 Underlying Profit after tax: between $560 million and $660 million
Key Financial Metrics:
| | | | | | |
| --- | --- | --- | --- | --- | --- |
| Peer analysis | | | | | |
| Key Information | | | | | |
| Company | Net income (TTM) | Market cap | P/BV | Debt/Total Capital | Pay-out(5yr Average) |
| Chugoku Electric Power Co Inc | 482.65m | 6.03bn | 0.6755 | 0.7725 | 54.66 |
| Wintime Energy Co Ltd | 41.29m | 6.15bn | 0.7305 | 0.6531 | 30.46 |
| China Resources Power Holdings Co. Ltd. | 1.18bn | 6.68bn | 0.5088 | 0.5317 | 50.81 |
| Ausnet Services Ltd | 344.60m | 6.86bn | 2.17 | 0.748 | 108.68 |
| GUANGXI GUIGUAN ELECTRIC POWER CO.,LTD. | 361.24m | 6.96bn | 2.38 | 0.5713 | 62.83 |
| Datang Intl Power Generation Co Ltd | 164.94m | 7.02bn | 0.6502 | 0.6059 | 192.28 |
| Xinyi Energy Holdings Ltd | 161.56m | 7.08bn | 4.12 | 0.2065 | -- |
| Contact Energy Limited | 116.70m | 7.15bn | 2.95 | 0.3137 | 234.9 |
| Aboitiz Equity Ventures Inc | 392.39m | 7.17bn | 1.52 | 0.6069 | 33.28 |
| AGL Energy Ltd | 1.02bn | 7.52bn | 0.9314 | 0.2779 | 88.8 |
| GD Power Development Co Ltd | 201.19m | 8.49bn | 0.7884 | 0.5951 | 53.04 |
| Sichuan Chuantou Energy Stock Co Ltd | 602.08m | 8.76bn | 1.55 | 0.2355 | 38.07 |
| Adani Transmission Ltd | 156.08m | 8.79bn | 5.96 | 0.718 | 0 |
| Origin Energy Ltd | 83.00m | 9.02bn | 0.7099 | 0.3504 | -- |
| Manila Electric Company | 434.63m | 9.03bn | 4.34 | 0.341 | 51.84 |
Financial Metrics:
Short term Liabilities:

AGL Short term assets are A$3.1B which are sufficient to cover its short term liabilities of A$2.4B

Debt Level

:

AGL debt to equity ratio is t satisfactory level of 37.2%

Reducing Debt

:

AGL debt to equity ratio has reduced from44.6% to 37.2% over the past 5 years

Debt Coverage

:

AGL debt is well covered by operating cash flow of 71.7%

Interest Coverage

:

AGL interest payment on its debt are well covered by EBIT (11.1x)

Notable Dividend: AGL dividend of 8.01% is higher than the bottom 25% dividend payers in the Australian market

High Dividend: AGL dividend of 8.01% is in the top 25% of dividend payers in the Australian market (5%)

Price/Book Value: AGL is good value based on its P/BV of 0.9x compared to the industry average of 1.7x

PE Vs Industry: AGL is good value based on its P/e of 7.7x compared to the industry average of 20.7x

PE Vs Market: AGL is good value based on its P/e of 7.7x compared to the industry average of 22.9x

At current levels of $12.23, AGL is trading below its estimated fair value of$26.6.
AGL Energy Limited (ASX: AGL)

Stock Overview
Sector

Energy

Risk

Medium

Market Cap

$7.62 billion

Share Volume

623.03 million

EPS (FY)

$1.58

PE RATIO

7.7

Yearly Dividend Yield

8.01%.

Target Price (s)

T1 $14.30 T2 $16.05

Stop Loss

$11.30

Recommendation

BUY

52 weeks High

$21.17

52 weeks Low

$11.95

Managing Director

Brett Alan Redman

Chairman of the Board

Graeme Peter Hunt
Market Risk Analysis
Wholesale market pricing and volatility: AGL is unable to effectively manage the impact of wholesale price changes and market volatility. AGL's longer-term strategic risks (government intervention, regulatory intervention and climate change) remain and have been heightened by the uncertainties created by the pandemic. AGL is unable to meet expectations and/or deliver on its commitments to transition to a low carbon future within an acceptable timeframe.
Technical Analysis
The stock after remaining bearish for a long time broke the descending wedge pattern. Stock while making lower lows had shrinking volumes. In the current month, the stock is trading near the support levels and at the bottom of the Bollinger bands. RSI has started turning slightly positive along with MACD just entering positive territory. Price action shows it becoming bullish. The stock faces resistance near $13.50. It can have the potential of offering a good buying opportunity.
Veye's Take
The acquisition of Click Energy Group, which follows the recent acquisitions of Perth Energy and Southern Phone, aligns with AGL's growth strategy and leverages the investment made in customer service platforms. The acquisition of the Click Energy business allows AGL to continue to grow its customer base and deliver value through all its products and services. With AGL's cost to serve already below that of Click Energy's, it believes that it will be able to unlock further value as these customers share in further benefits from its continuing investment in automation, optimisation and digitisation. AGL expects the acquisition to be modestly accretive to AGL's underlying earnings. AGL's operating cost controls continued to enable it to reinvest in the business. It had delivered $135 million of recurring operating cost efficiencies since FY18 from systems investment and other efficiency programs, which have been reinvested in the ongoing transformation of the business. Veye recommends a "Buy" on "AGL Energy Limited" at the current price of $11.95
Disclaimer
Veye Pty Ltd(ABN 58 623 120 865), holds (AFSL No. 523157 ). All information provided by Veye Pty Ltd through its website, reports, and newsletters is general financial product advice only and should not be considered a personal recommendation to buy or sell any asset or security. Before acting on the advice, you should consider whether it's appropriate to you, in light of your objectives, financial situation, or needs. You should look at the Product Disclosure Statement or other offer document associated with the security or product before making a decision on acquiring the security or product. You can refer to our Terms & Conditions and Financial Services Guide for more information. Any recommendation contained herein may not be suitable for all investors as it does not take into account your personal financial needs or investment objectives. Although Veye takes the utmost care to ensure accuracy of the content and that the information is gathered and processed from reliable resources, we strongly recommend that you seek professional advice from your financial advisor or stockbroker before making any investment decision based on any of our recommendations. All the information we share represents our views on the date of publishing as stocks are subject to real time changes and therefore may change without notice. Please remember that investments can go up and down and past performance is not necessarily indicative of future returns. We request our readers not to interpret our reports as direct recommendations. To the extent permitted by law, Veye Pty Ltd excludes all liability for any loss or damage arising from the use of this website and any information published (including any indirect or consequential loss, any data loss, or data corruption) (as mentioned on the website www.veye.com.au), and confirms that the employees and/or associates of Veye Pty Ltd do not hold positions in any of the financial products covered on the website on the date of publishing this report. Veye Pty Ltd hereby limits its liability, to the extent permitted by law to the resupply of services.