Milton Corporation Limited
Team Veye | 21 Jan 2021

ASX - MLT
| Call | Buy |
| --- | --- |
| Asx | MLT |
| sector | Financial |
Milton Corporation Limited (ASX: MLT) is an investment company. The Company's objective is to invest in a diversified portfolio of assets, which are Australian listed companies and trusts; increase fully franked dividends paid to shareholders over time, and provide capital growth in the value of the shareholders' investment. The Company invests its assets across a range of industry sectors, such as banks, consumer staples, energy, diversified financials, insurance, commercial services, telecommunications, real estate, healthcare, retailing, utilities, capital goods, transport, media and other materials. The Company also invests in fixed interest securities, and liquid assets, such as cash and term deposits. It may also invest in hybrid securities, as well as real property development through joint ventures. Its subsidiaries are 85 Spring Street Properties Pty Ltd, Chatham Investment Co. Pty Limited, Incorporated Nominees Pty Limited and Milhunt Pty Limited (Profile source: Reuters)
From the Company Reports
Monthly NTA and Portfolio Report – 31 December 2020
Milton Corporation Limited (ASX: MLT) on 11 January 2021 reported a net profit after tax of $116.9 million and a final dividend of 8.5 cents per share
Total Returns to 31 December 2020
Commonly used indicators of LIC performance are Total Portfolio Return (TPR) and Total Shareholder Return (TSR). TPR combines the change in value of the NTA per share with the dividends paid in the period. TSR combines the change in share price with the dividends paid in the period and captures the impact of any premium or discount to NTA. The below TPR & TSR calculations do not take into account franking credits which may be of benefit to certain shareholders.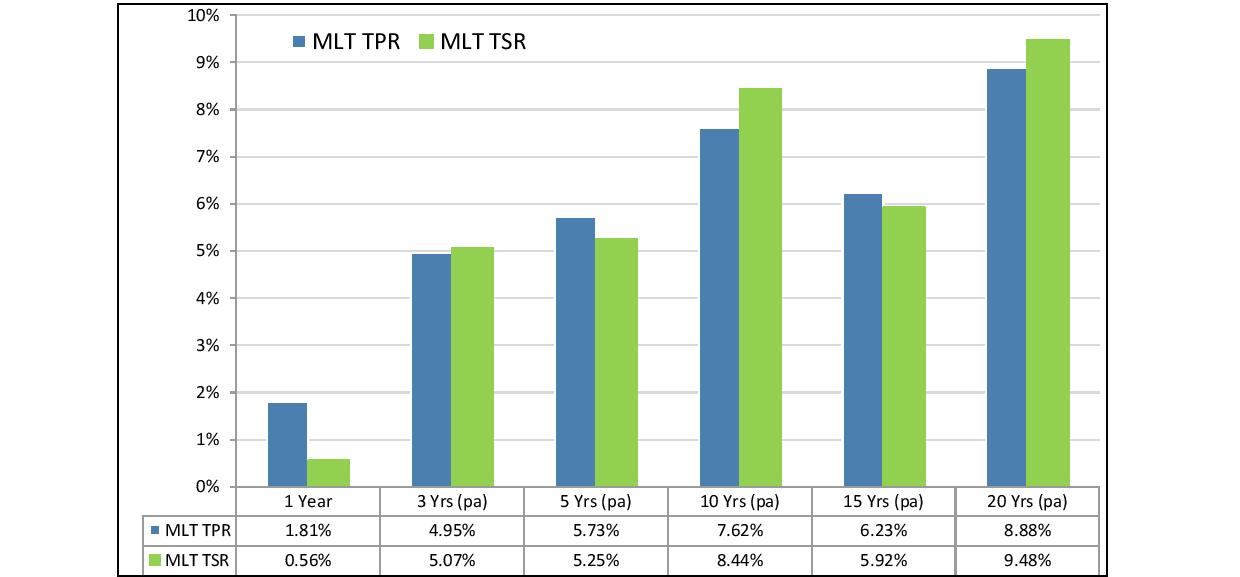 (Graphic Source – Company Reports)
Milton Corporation Limited (ASX: MLT), in a release to the Australian Securities Exchange on 24 July 2020, reported a net profit after tax for the year ended 30 June 2020 of $116.9 million on operating revenues of $120.1 million.
In 2020 Milton reported a net profit after tax of $116.9 million on operating revenues of $120.1 million, a decrease of 20.8% from 2019
Earnings per share fell by 21.4% to 17.45 cents per share
Sharply reduced ordinary dividend income was received on Milton's $2.7 billion investment portfolio and, as expected special dividend income also fell materially after an extraordinarily strong 2019 financial year

(Chart source: TradingView)
Highlights
Fully franked dividends: Final fully franked ordinary dividend of 8.5 cents per share down 18.3% Full year ordinary dividends of 17.5 cents per share down 9.8%

Earnings per share: Down 21.4% to 17.45 cents (including special investment revenue) Down 17.3% to 16.60 cents (excluding special investment revenue)

Profit after tax: Down 20.8% to $116.9 million (including special investment revenue) Down 16.7% to $111.3 million (excluding special investment revenue)

Net tangible asset backing per share (NTA): Down 13.4% to $4.26 (before provision for tax on unrealised capital gains) Down 10.9% to $3.83 (after provision for tax on unrealised capital gains)

Management Expense Ratio (MER): Milton's annualised MER as of 30 June 2020 was 0.14%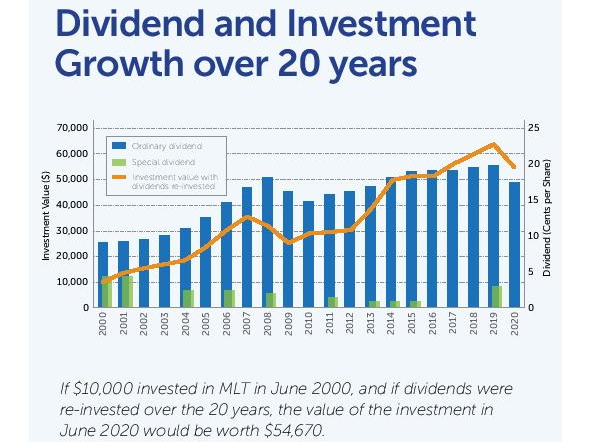 (Graphic Source – Company Reports)
Milton Value Proposition
Milton is a long term investor in equities, interest bearing securities and real property
Assets are not sold to increase profits for distributions

Portfolio turnover is low
Milton pays fully franked dividends semi annually
An ordinary dividend has been paid every year since listing in 1958

Dividends are paid from income received from Milton's long term investment portfolio
Milton holds a diverse portfolio of Australian listed companies
Equity investment portfolio at 30 June 2020 was valued at $2.7 billion

Total assets at 30 June 2020 were valued at $2.9 billion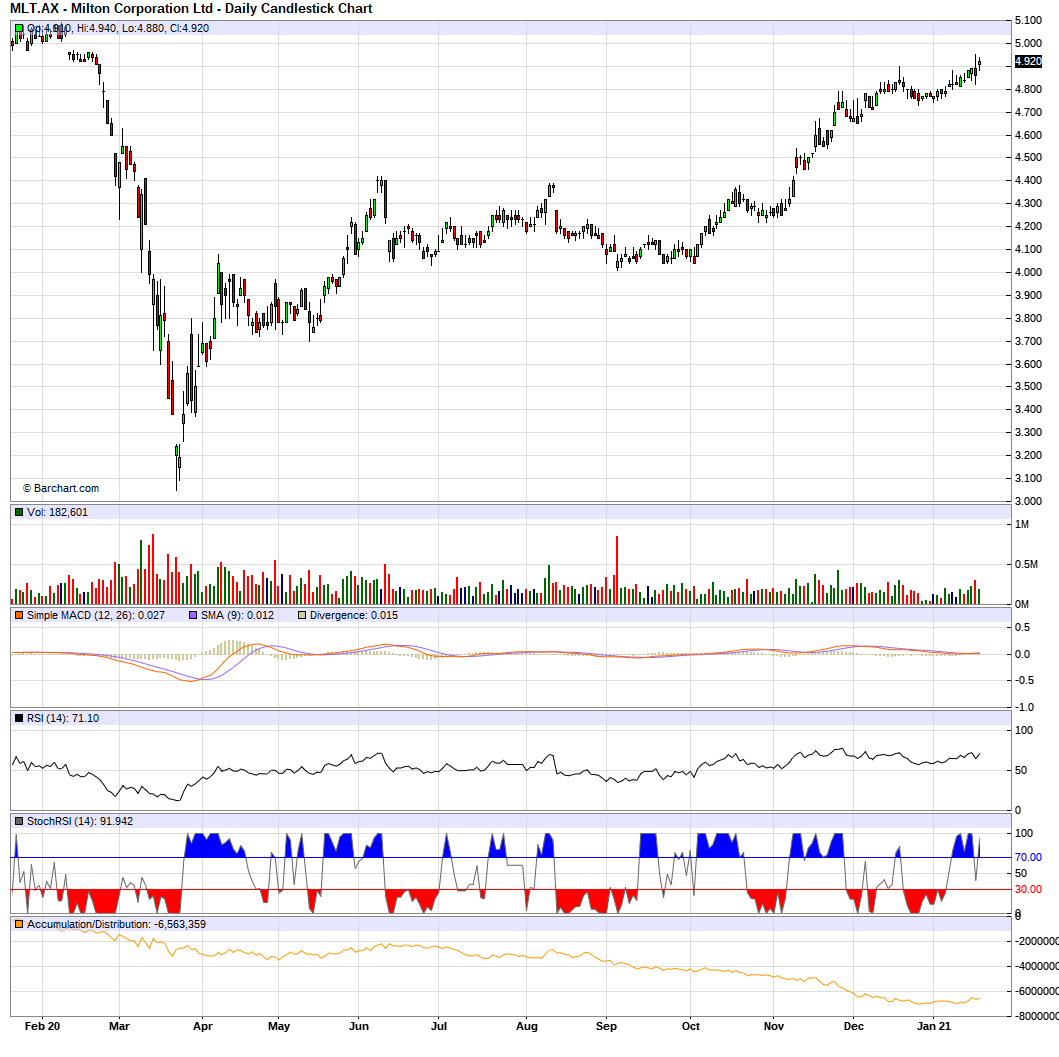 (Chart source: Barchart)
Milton is an efficient and low cost manager of investments
Operating costs represent 0.14% of average total assets

Milton is internally managed and no management or performance fees are charged
The full year dividends represent a payout ratio of 105.5% of underlying profit.

Sharply lower dividends were received on Milton's investment portfolio in 2020 as many companies reduced dividends to preserve cash. These cash flow concerns arising from COVID19 mandated business lockdowns and elevated uncertainty. Proactive measures were taken by Milton's investment team to reduce exposures to banks and make other targeted portfolio adjustments to reduce this impact.

Reduced liquidity income was received on Milton's cash balances due to reductions in term deposit rates.

Cash balances (before provision for the final dividend) of $114.1 million were held at 30 June 2020.

Milton has no debt on its balance sheet and net tangible assets before provision for tax on unrealised capital gains of $2.7 billion at 30 June 2020
Key Financial Metrics:
| | | | | | |
| --- | --- | --- | --- | --- | --- |
| Company | ASX Code | Revenue (TTM) | Net income (TTM) | Market cap | Total Debt/Capital |
| Magellan Global Fund | ASX: MGF | -100.00bn | -100.00bn | 2.10bn | 0 |
| ETFS Metal Securities Australia Ltd | ASX:ETPMAG | -100.00bn | -100.00bn | 2.26bn | 0.0003 |
| Deterra Royalties Ltd | ASX: DRR | 92.30m | 59.10m | 2.40bn | 0.9281 |
| Platinum Asset Management Ltd | ASX: PTM | 290.00m | 155.61m | 2.41bn | 0.0269 |
| Milton Corporation Limited | ASX: MLT | 125.90m | 116.96m | 3.27bn | 0 |
Debt Level: MLT is debt free and has not taken any debt for the past 5 years.

Debt coverage: MLT being debt free, does not need to be covered by operating cash flow

Interest Coverage: MLT with no debt history over past 5 yrs., therefore coverage of interest payments is not a concern.

PB vs Industry: MLT's PB ratio at 1.3x is well in line with the AU capital markets industry average

Return vs Industry:

MLT exceeded the Australian Capital Markets industry which returned -6.1% over the past year

Short term liabilities: MLT's short term assets reported at $125.4M exceeds its short term liabilities at $2.3M

Earnings Trend: MLT's earnings have grown by 1.9% per year over the past 5 years. It has maintained high quality earnings
As compared to its peers MLT possess strong revenue and Net income. Maintaining zero debt along with quality earnings gives strong financial healthy position to it.



Milton Corporation Limited (ASX: MLT)

Stock Overview
Sector

Trading

Risk

Low to Medium

Market Cap

$3.31 billion

Share Volume

672.53 million

EPS (FY)

$0.18

PE RATIO

-

Yearly Dividend Yield

3.56%.

Target Price (s)

T1 $5.65 T2 $6.45

Stop Loss

$4.26

Recommendation

BUY

52 weeks High

$5.09

52 weeks Low

$3.05

CEO

Mr Brendan J O'Dea

Non-Executive Directors

Mr Graeme L Crampton
Market Risk Analysis
The risks associated with the financial instruments, such as investments and cash, include credit, market and liquidity risks which could affect Milton's future financial performance. Milton is exposed to market risk through the movement of the security prices of the companies and trusts in which it is invested.
Technical Analysis
The stock has been on upside rally since October. It has managed to hold firmly above the middle band of the Bollinger with no sign of bearish trend. Small Doji at the top of the Bollinger gave some indication of dips but immediate bull candles have cancelled it. RSI and MACD are strongly positive along with the upside momentum built on the price charts.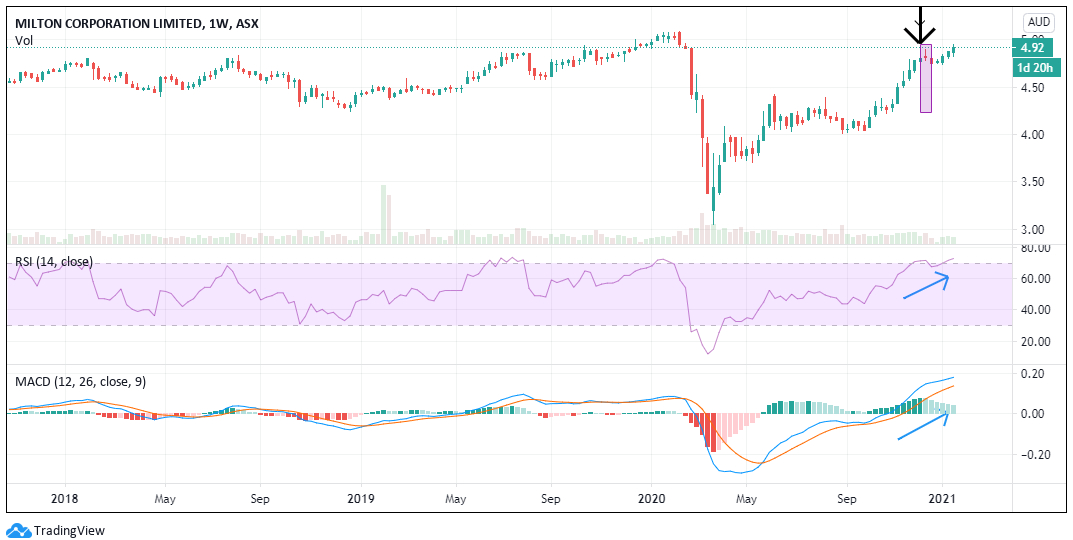 Veye's Take
Milton is predominantly a long term investor in companies and trusts that are listed on the Australian Securities Exchange (ASX). The composition of the equity portfolio is not aligned with any stock exchange index. It reflects the emphasis Milton has always placed on investing in well-managed companies that have a profitable history and are expected to grow dividends over time. Milton has a long track record of paying fully franked dividends, which are predominantly funded by the dividends received from its equity investment portfolio. Milton's efficient internal management structure aligns interests with shareholders and results in an MER of 15 basis points. Milton has significant capacity to maintain dividends in future periods due to a robust profit reserve and franking credit position. Interest rates are expected to remain low, which will act as a support for stock prices, notwithstanding the difficult earnings environment. Veye recommends a "Buy" on "Milton Corporation Limited" at the current price of $4.93
Disclaimer
Veye Pty Ltd(ABN 58 623 120 865), holds (AFSL No. 523157 ). All information provided by Veye Pty Ltd through its website, reports, and newsletters is general financial product advice only and should not be considered a personal recommendation to buy or sell any asset or security. Before acting on the advice, you should consider whether it's appropriate to you, in light of your objectives, financial situation, or needs. You should look at the Product Disclosure Statement or other offer document associated with the security or product before making a decision on acquiring the security or product. You can refer to our Terms & Conditions and Financial Services Guide for more information. Any recommendation contained herein may not be suitable for all investors as it does not take into account your personal financial needs or investment objectives. Although Veye takes the utmost care to ensure accuracy of the content and that the information is gathered and processed from reliable resources, we strongly recommend that you seek professional advice from your financial advisor or stockbroker before making any investment decision based on any of our recommendations. All the information we share represents our views on the date of publishing as stocks are subject to real time changes and therefore may change without notice. Please remember that investments can go up and down and past performance is not necessarily indicative of future returns. We request our readers not to interpret our reports as direct recommendations. To the extent permitted by law, Veye Pty Ltd excludes all liability for any loss or damage arising from the use of this website and any information published (including any indirect or consequential loss, any data loss, or data corruption) (as mentioned on the website www.veye.com.au), and confirms that the employees and/or associates of Veye Pty Ltd do not hold positions in any of the financial products covered on the website on the date of publishing this report. Veye Pty Ltd hereby limits its liability, to the extent permitted by law to the resupply of services.