Star Entertainment Group Limited
Team Veye | 05 Jan 2021

ASX - SGR
The Star Entertainment Group Limited (ASX: SGR) operates in the gaming, entertainment and hospitality industries. The Company operates The Star Sydney (Sydney), The Star Gold Coast (Gold Coast) and Treasury Brisbane (Brisbane). The Company also manages the Gold Coast Convention and Exhibition Centre on behalf of the Queensland Government and invests in various strategic joint ventures. The Company's segments include Sydney, Gold Coast and Brisbane. The Sydney comprises The Star Sydney's casino operations, including hotels, apartment complexes, restaurants, bars and night club. The Gold Coast segment includes Jupiters' casino operations, including hotels, theatre, restaurants and bars. The Brisbane segment includes Treasury's casino operations, including hotels, restaurants and bars. The Company also manages the Gold Coast Convention and Exhibition Centre on behalf of the Queensland Government. The Company also owns Broadbeach Island on which the Gold Coast casino is located (Profile source: Reuters)
From the Company Reports
Update on COVID-19 operating restrictions in NSW and Queensland
The Star Entertainment Group Limited (ASX code: SGR) (The Star) on 3 December 2020 referenced the NSW Government's announcement of 2 December 2020 about COVID-19 related restrictions that applied to larger hospitality venues (including The Star Sydney) with effect from Monday 7 December 2020.

(Chart source: TradingView)
The easing in operating restrictions includes an increase in the number of patrons as permitted under the 1 person per 2sqm rule (previously 1 person per 4sqm) and the removal of the 300 patron cap per area. Notwithstanding these changes, The Star Sydney was still required to comply with the rules regarding spatial distancing between gaming positions. The changes permit The Star Sydney to increase patronage from the current maximum of 1,800 patrons at any one time within the casino area to up to approximately 10,000 patrons, based on the square metreage of the property.
The Star Entertainment Group Limited announced its AGM Presentation on 22 October 2020.
Group Year to date Trading Update
Trading update for the period from 1 July 2020 to 15 October 2020
Group domestic gaming revenue ~75% of pcp with group domestic revenue ~70% of pcp on reduced capacity at all properties

The Queensland properties have traded strongly with domestic gaming revenue broadly in-line with the prior period

Sydney continues to be impacted by the more onerous constraints on the operations of the property – patron caps per area and no co-mingling between areas

Group loyalty gaming revenue remains strong, enhanced by the newly opened Sovereign PGR in Sydney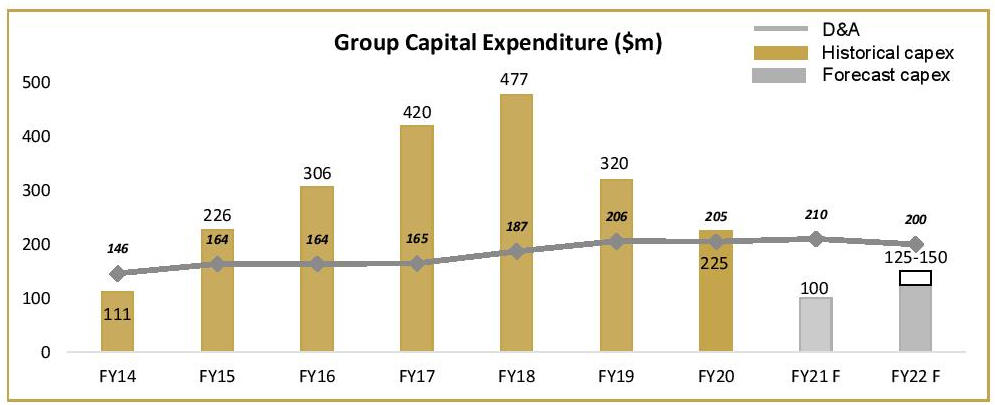 (Graphic Source – Company Reports)
Operating costs managed during restricted operations resulting in domestic EBITDA margin improvement in 1QFY2021, despite lower revenues

Negligible VIP turnover given border closures

Strong cashflow generated, enabling significant debt reduction ($145m in 1QFY2021)
Restrictions may change over the remainder of the year which could materially impact revenues
Update on debt covenant waivers and JobKeeper Program
The Star Entertainment Group Limited (ASX code: SGR) announced on 6 October 2020 that it had reached agreement with its debt providers around amendments to debt covenants and provided an update on the application of the Federal Government's JobKeeper program.
Debt covenant waivers and amendments
The Star has secured covenant support from its debt providers for the 31 December 2020 and 30 June 2021 testing dates as follows.
In relation to the 31 December 2020 testing date, The Star's debt providers have agreed to a full waiver of its gearing and interest cover ratio covenants.

In relation to the 30 June 2021 testing date, The Star's debt providers have agreed to an amendment of its financial covenant ratios, resulting in enhanced gearing and interest cover ratio headroom for that testing date.
Other than this covenant support, there are no material changes to margins or terms of the existing debt facilities.
JobKeeper update
The Star successfully applied to participate in the Federal Government's JobKeeper Payment wage subsidy scheme (JobKeeper) in April 2020, with almost 7,000 staff eligible under the scheme.
The Star Entertainment Group Limited (ASX: SGR) (The Star Entertainment Group) on 20 August 2020 provided its FY2020 Results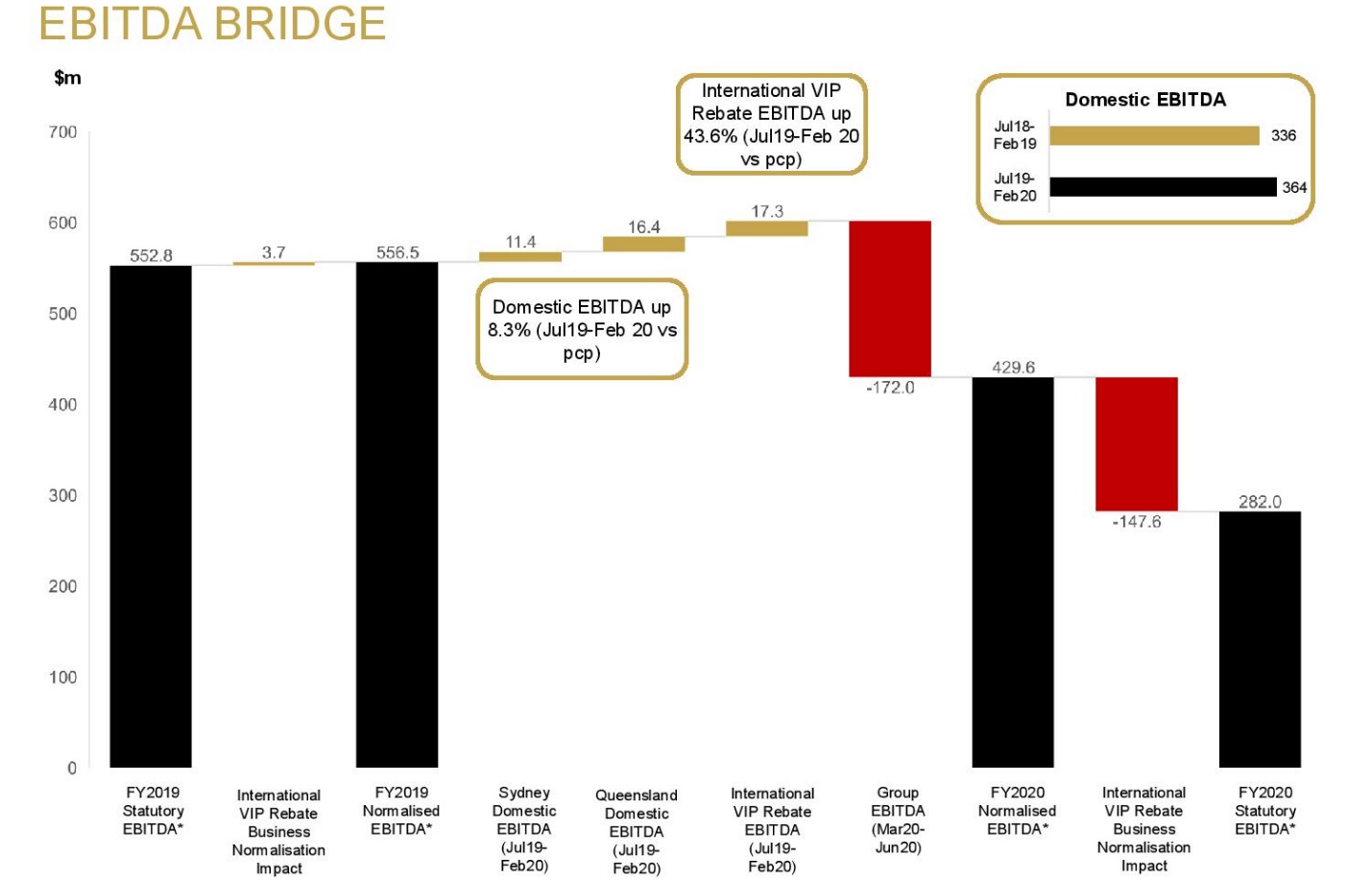 (Graphic Source – Company Reports)
Highlights
Strong performance pre-COVID19 (Jul 2019 to Feb 2020 vs pcp), COVID19 shut-down a material impact on full year results

Normalised NPAT up 15.6% pre-COVID19, down 46.0% full year

Domestic EBITDA up 8.3% with margin expansion pre COVID19

Comprehensive response to mitigate COVID19 impacts

Safeguarded staff and customers

Secured $200m additional liquidity and June 2020 covenant waivers

Preserved cash (reduced OPEX and CAPEX, underwritten interim dividend)

$112m post-tax significant items largely COVID19 related

Key milestones attained over FY2020 which drive significant long-term value

Agreed Sydney gaming tax arrangements and casino EGM exclusivity to FY2041

Favourable conclusion to Gold Coast second casino licence process

Completed QWB financing on terms agreed pre-COVID19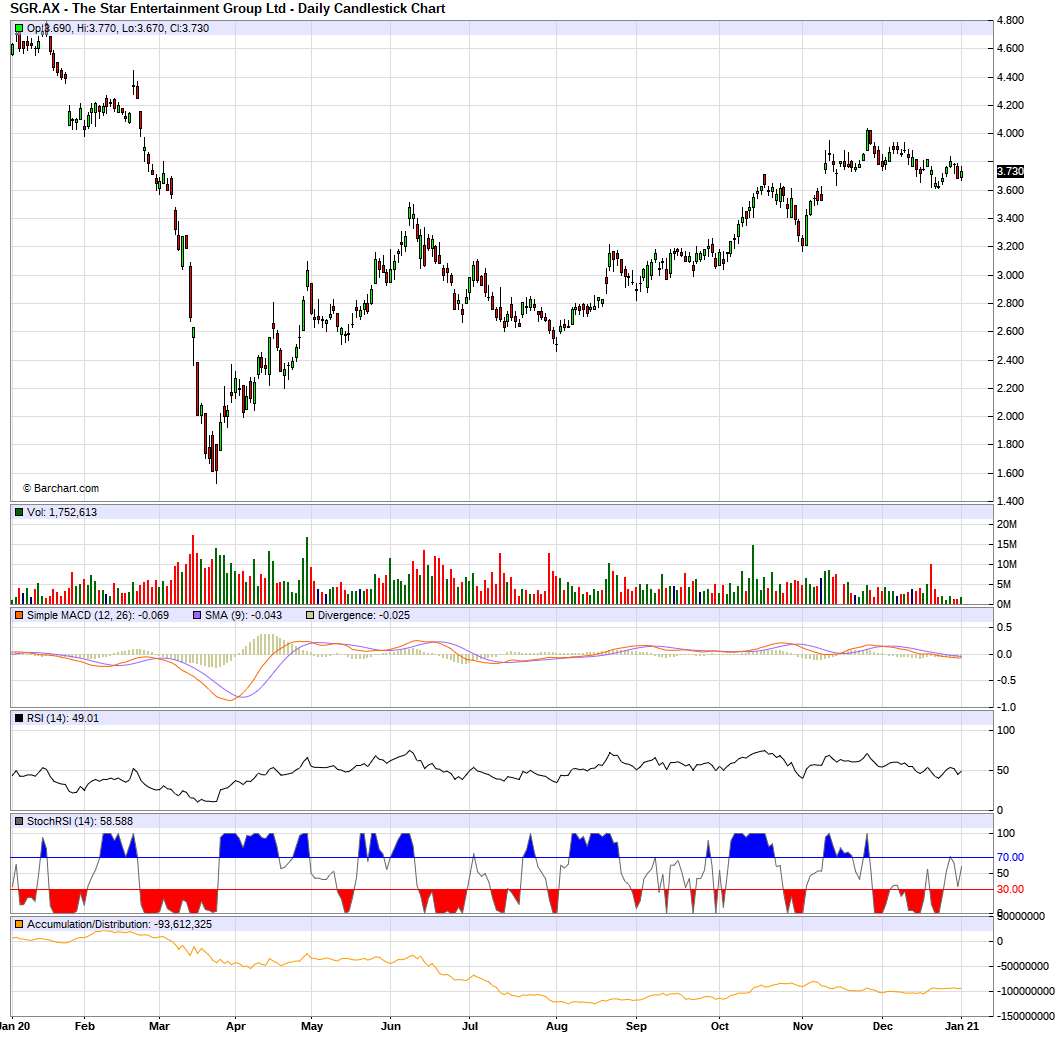 (Chart source: Barchart)
Focused on safe and effective management of reopened properties

Cost management and asset recycling initiatives

Mitigate impacts from Sydney competition

Positive early 1H FY2021 trading

Revenue impacted by COVID19 restrictions

July domestic gaming revenue ~80% of PCP, margins similar to PCP (ex JobKeeper)

July materially cash flow positive after investments, enabling debt reduction
Key Financials
| | |
| --- | --- |
| price to Revenue Ratio (TTM) | 2.26 |
| Price to Book (FY) | 0.9686 |
| Price to Sales | 2.2634 |
| Debt To Equity Ratio | 0.4690 (Debt to equity ratio has increased from 27% to 45.7%over the past 5 years)) |
| Gross Profit | 677.6m |
| Annual Dividend Yield (%) | 5.57 |
| | |
Peer analysis
| | | | |
| --- | --- | --- | --- |
| Company | Code | Market Cap | Annual Yield |
| Skycity Entertainment Group Limited | ASX:SKC | 2.25B | 6.37% |
| | ASX:IVC | 1.64B | 2.53% |
| | ASX:IEL | 5.52B | 1.2% |
| | ASX:CKF | 1.12B | 2.17% |
| Jumbo Interactive Limited | ASX:JIN | 878.02M | 2.52% |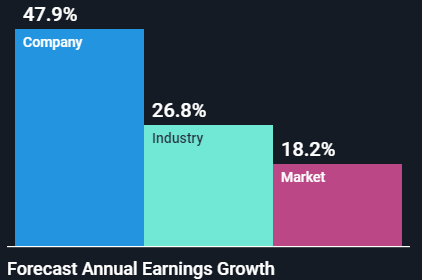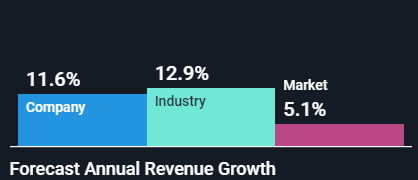 The Star Entertainment Group Limited (ASX: SGR)

Stock Overview

Sector

Services

Risk

Medium

Market Cap

$3.57 billion

Share Volume

952.01 million

EPS (FY)

-$0.10

PE RATIO

-

Yearly Dividend Yield

5.47%

Target Price (s)

T1 $4.40 T2 $5.90

Stop Loss

$3.30

Recommendation

BUY

52 weeks High

$4.79

52 weeks Low

$1.53

CEO

Mr Matthias Michael Bekier

Non-Executive Directors

Mr Richard Sheppard
Market Risk Analysis
NSW Government's announcement in relation to COVID-19 related restrictions that apply to Greater Sydney in light of the growing COVID-19 cluster centered on the northern beaches will impact The Star Sydney property.
Technical Analysis
Technically the stock has remained in a bullish phase from the month of March but encountered trend reversal between June-July. The month of August witnessed a bullish trend which continued till the current month of December. At the current juncture, the stock price is trading above the middle band of the Bollinger and is expected to continue the upside move, well supported by the oscillating indicators RSI and MACD well in a positive zone. The scrip holds a minor resistance at $3.86, Managing to close above this can have the potential to push the stock to continue the upside momentum.
Veye's Take
The Star Entertainment Group continued executing its growth strategy despite an unprecedented environment. Whilst the impacts of COVID19 has been extraordinarily challenging, the fundamental earnings prospects for The Star remain unchanged, underpinned by valuable long-term licences in sought after destinations. Major projects at Queen's Wharf Brisbane and The Star Gold Coast were proceeding to plan, with the upgraded and expanded Sovereign at The Star Sydney delivered on time and budget. The Star delivered record normalised and domestic earnings for July 2019 to February 2020 on a PCP basis before the full impact of COVID19. This reflected growth from investments, operational improvements and cost management benefits. SGR revenue (11.6%) per year is forecasted to grow faster than the Australian market which is growing at a rate of 5.1% per year. The Star remains committed to maintaining a balance sheet that positions the Group for the postCOVID19 recovery. The Star's business is fundamentally strong, evidenced by the step-up in earnings growth from 1H FY2020 into early 2H FY2020. The long-term value uplift from investments in its network of integrated resorts and continuing operational improvements to drive visitation and earnings remain substantial. Veye recommends a "Buy" on "The Star Entertainment Group Limited" at the current price of $3.70
Disclaimer
Veye Pty Ltd(ABN 58 623 120 865), holds (AFSL No. 523157 ). All information provided by Veye Pty Ltd through its website, reports, and newsletters is general financial product advice only and should not be considered a personal recommendation to buy or sell any asset or security. Before acting on the advice, you should consider whether it's appropriate to you, in light of your objectives, financial situation, or needs. You should look at the Product Disclosure Statement or other offer document associated with the security or product before making a decision on acquiring the security or product. You can refer to our Terms & Conditions and Financial Services Guide for more information. Any recommendation contained herein may not be suitable for all investors as it does not take into account your personal financial needs or investment objectives. Although Veye takes the utmost care to ensure accuracy of the content and that the information is gathered and processed from reliable resources, we strongly recommend that you seek professional advice from your financial advisor or stockbroker before making any investment decision based on any of our recommendations. All the information we share represents our views on the date of publishing as stocks are subject to real time changes and therefore may change without notice. Please remember that investments can go up and down and past performance is not necessarily indicative of future returns. We request our readers not to interpret our reports as direct recommendations. To the extent permitted by law, Veye Pty Ltd excludes all liability for any loss or damage arising from the use of this website and any information published (including any indirect or consequential loss, any data loss, or data corruption) (as mentioned on the website www.veye.com.au), and confirms that the employees and/or associates of Veye Pty Ltd do not hold positions in any of the financial products covered on the website on the date of publishing this report. Veye Pty Ltd hereby limits its liability, to the extent permitted by law to the resupply of services.