Whitehaven Coal Limited
Team Veye | 14 Jan 2021

ASX - WHC
Whitehaven Coal Limited (ASX: WHC) is an Australia-based company that produces coal. The Company operates through two reportable segments: Open Cut Operations and Underground Operations. It operates approximately four mines in the Gunnedah Basin of New South Wales (NSW), such as Maules Creek mine, Narrabri mine, Tarrawonga mine and Werris Creek mine. It also operates two development assets being Vickery, near Gunnedah, and Winchester South, in Queensland's Bowen Basin. Maules Creek is located approximately 45 kilometers (km) south east of Narrabri. Narrabri mine is located approximately 17km south east of Narrabri and 70km north west of Gunnedah. Tarrawonga mine is located approximately 16km north east of Boggabri. Werris Creek mine is located approximately four km south of Werris Creek, 15km north of Quirindi. The Company also operates The Gunnedah Coal Handling and Preparation Plant (CHPP) and train load out facility that support its open-cut mines in the Gunnedah Basin (Profile source: Reuters)
From the Company Reports
Winchester South Coal Resources and Reserves
Whitehaven Coal Limited (ASX: WHC) (Whitehaven) on 16 December 2020 released its maiden Reserves Statement for the Winchester South Project metallurgical coal mine (the Project) and announce an associated update to its Coal Resources in accordance with the JORC Code (2012).

(Chart source: TradingView)
The Project JORC Resource is upgraded to 1,100Mt from 530Mt and includes 665Mt of Measured and Indicated Resources which has resulted in Whitehaven Coal Limited Coal Total Resources increasing by 12% since August 2020. The release on this day of the maiden JORC Reserves of 350Mt has increased the Total Whitehaven Coal Limited Coal Reserves by 26% since August 2020.
Winchester South is located approximately 30km southwest of Moranbah within the Northern Bowen Basin in Central Queensland and is 100% owned by Whitehaven Coal. It will be a majority metallurgical coal mine producing a blend of coking and thermal coal for export to established and emerging markets in Asia where demand for these products to fuel industrial activity and economic growth is increasing.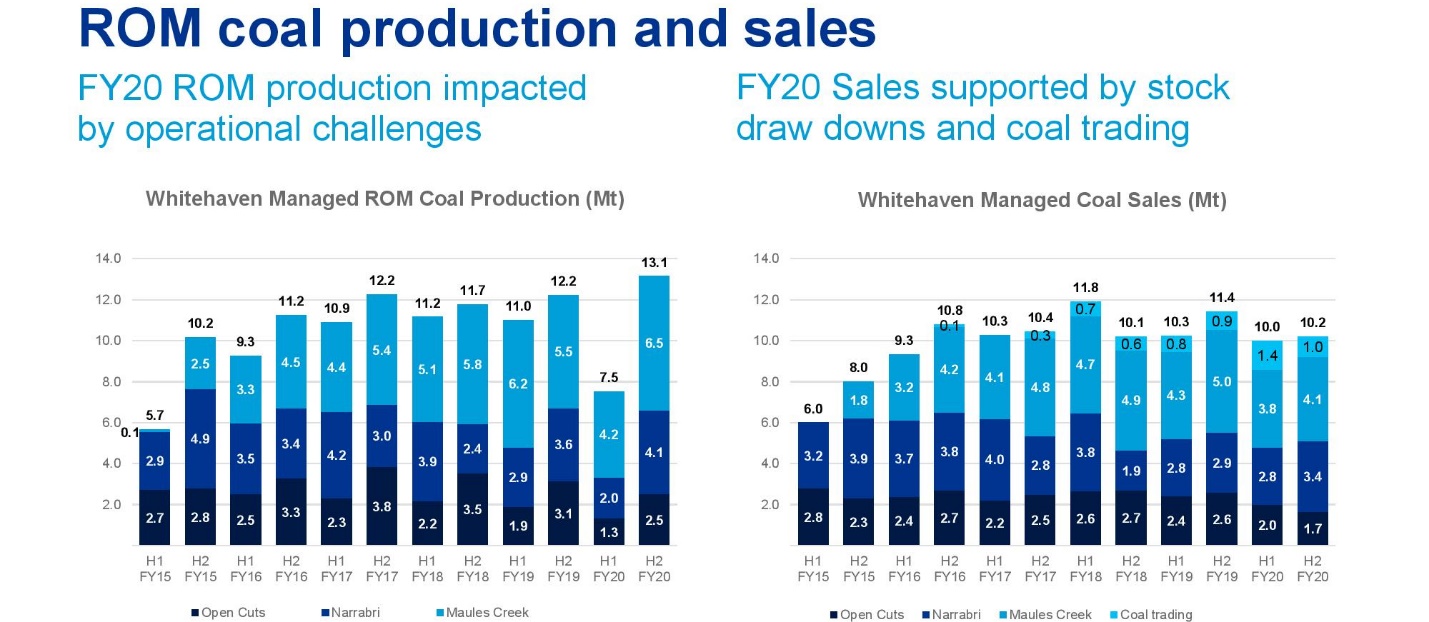 (Graphic Source – Company Reports)
September 2020 Quarter Production Report & Refined FY21 Cost Guidance
Whitehaven Coal Limited on 15 October 2020 released its September 2020 Quarter Production Report & Refined FY21 Cost Guidance
Highlights
Maintaining strong safety performance with TRIFR at 4.74 for the twelve months ended 30 September 2020

Strong September quarter coal sales, total managed coal sales 6.0Mt, up 13% on previous corresponding period (pcp), managed own coal sales 5.6Mt, up 15% on pcp, record total equity coal sales 5.0Mt, up 13% on pcp, record equity sales of own coal 4.6Mt, up 16% on pcp

September quarter managed run-of-mine (ROM) production of 4.5Mt, up 4% on pcp

September quarter managed saleable coal production of 4.9Mt, up 2% on pcp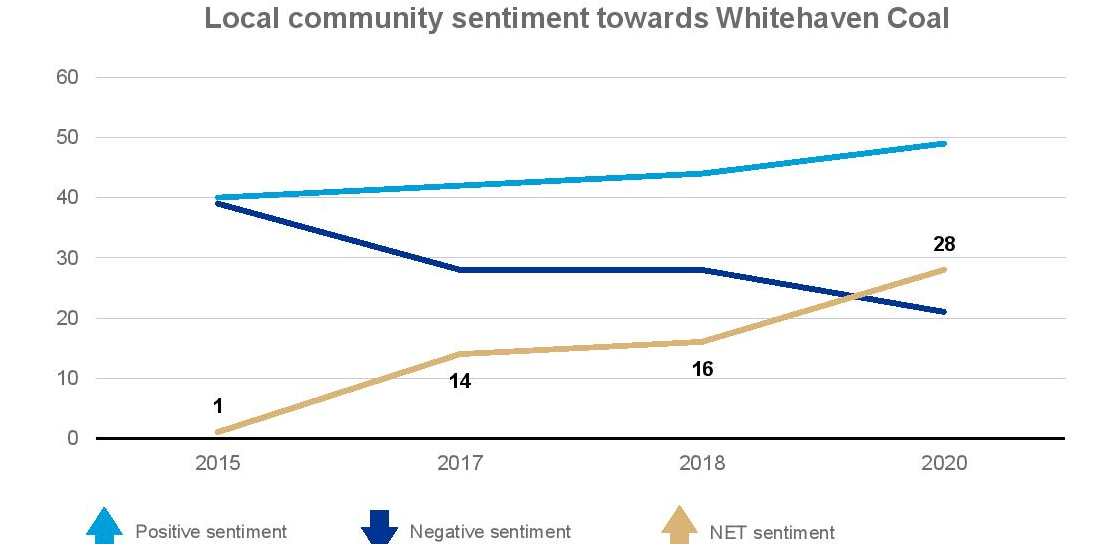 (Graphic Source – Company Reports)
Managed coal stocks of 1.8Mt at period end

On 12 August 2020 the NSW Independent Planning Commission (IPC) approved the Vickery Extension Project to operate at up to a 10Mtpa open cut metallurgical and thermal coal mine

Refined FY21 guidance unit cost range of A$69-A$72/t

Strong liquidity level which remains unchanged from 30 June 2020

Finalising agreement with finance providers to amend ICR covenant ratio to generate enhanced headroom

No known cases of COVID-19 have been confirmed at any of our sites to date and operations remain largely unaffected but for distancing and hygiene measures
In the September quarter, the globalCoal Newcastle Index (gC Newc) price averaged US$52/t. This historically low pricing reflects the impact COVID-19 has had on Asian industrial activity and the impact of quota restrictions in China on coal demand.
Whitehaven realised an average price of US$52/t for sales of own thermal coal, in line with the gC Newc average price for the September quarter. This outcome reflected a sales mix where premiums in high-CV sales were largely offset by pricing realisations achieved for other thermal coal.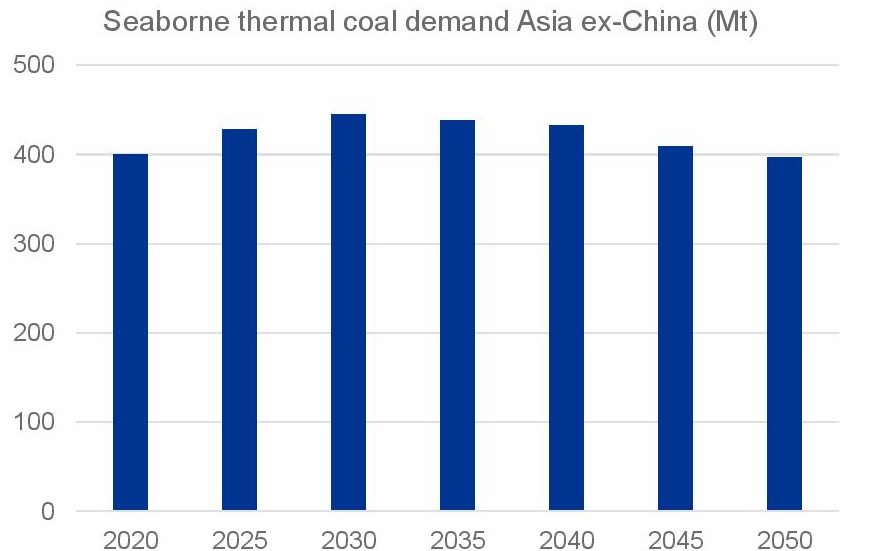 (Graphic Source – Company Reports)
Whitehaven Coal Limited on 26 August 2020 released its Full Year Results for FY2020
Financial Highlights
Underlying net profit after tax (NPAT) of $30.0m, a decrease of 95%

Underlying EBITDA of $306.0m, a decrease of 71%

Operating cash flows of $146.4m, a decrease of 84%

FY20 earnings reflect the softening of gC Newcastle thermal prices and the impact on ROM production of previously reported labour shortages and dust events at our largest mine, Maules Creek, and the scheduled eight week Narrabri mine longwall move

Net debt of $787.5m at 30 June 2020

Dividends of $312.2m were paid during the period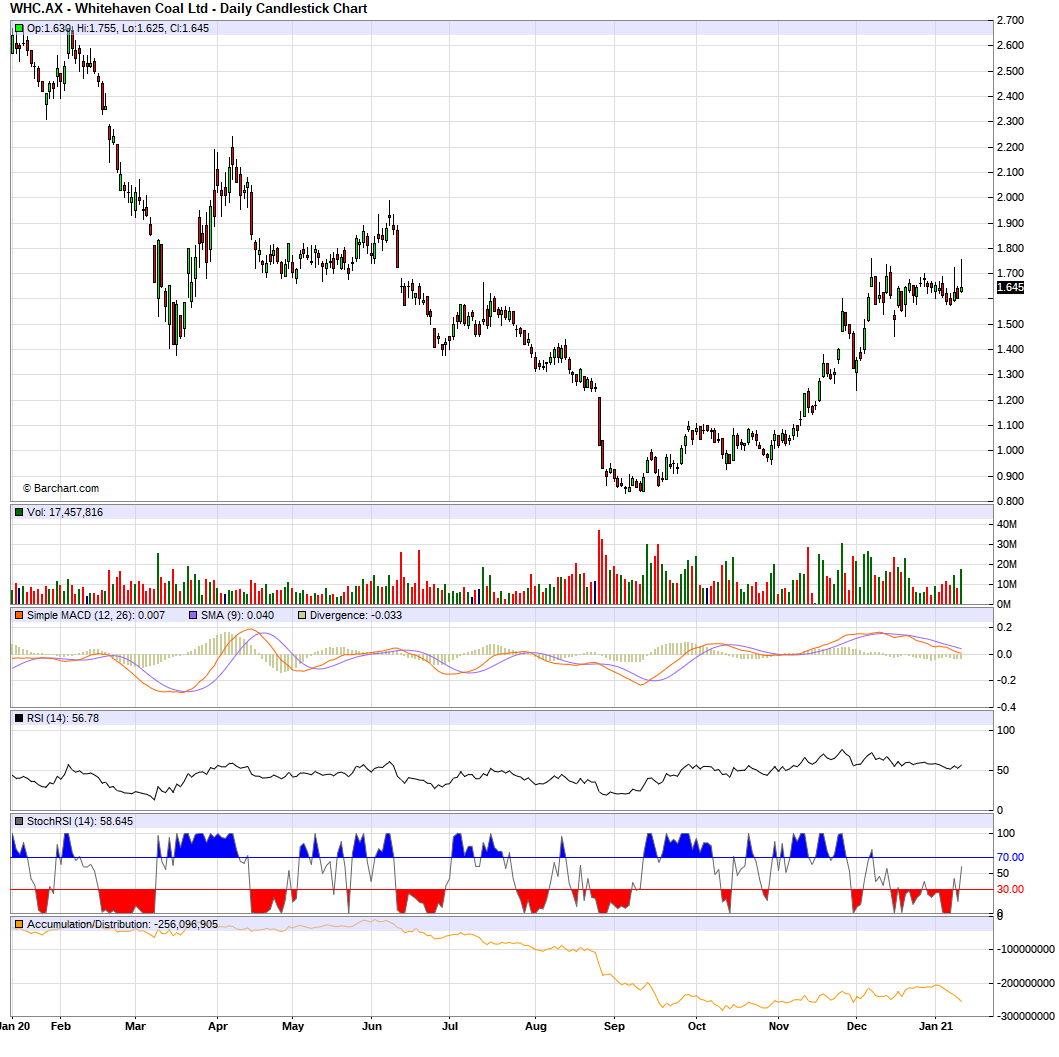 (Chart source: Barchart)
Refinanced our A$1.0bn secured bank debt facility, now maturing in July 2023

$468.8m of available liquidity
Key Financial Metrics:
Peer analysis

Key Information

Total debt to capital (MRQ)

Company

Revenue (TTM)

Net income (TTM)

Market cap

Shanxi Lanhua Sci-Tech Venture Co Ltd

1.31bn

33.42m

1.18bn

0.5013

Shanghai Topcare Medical Services Co Ltd

898.19m

39.29m

1.32bn

0.2126

Shanghai Datun Energy Resources Co. Ltd.

1.49bn

101.29m

1.33bn

0.1611

Golden Energy Mines Tbk PT

1.46bn

107.49m

1.34bn

0.2776

Anhui Hengyuan Coal Industry Co Ltd

958.75m

162.94m

1.39bn

0.1951

Indo Tambangraya Megah Tbk PT

1.64bn

87.43m

1.45bn

0.0329

Shougang Fushan Resources Group Ltd

618.72m

174.00m

1.55bn

0.0016

Semirara Mining and Power Corporation

804.33m

118.55m

1.57bn

0.331

Whitehaven Coal Ltd

1.72bn

30.04m

1.65bn

0.2397

Jinneng Holding Shanxi Cal Indtry Co Ltd

2.12bn

195.74m

1.86bn

0.4119

Shandong Yulong Gold Co Ltd

2.14bn

25.53m

1.88bn

0.0915

Henan Dayou Energy Co Ltd

1.15bn

12.54m

2.15bn

0.453
WHC is a good value based on its PB ratio of 0.5xcompared to AU Oil and Gas Industry average of 1.7x Short term Liabilities: Short term assets of WHC reported at $433.0m exceeds its short term liabilities of $312.4m Debt Level: WHC debt to equity ratio at 23.9%is considered satisfactory. Reducing Debt: The debt to equity ratio has reduced from 32.9% to 23.9% over the past 5 years. Debt Coverage: WHC debt is well covered by operating cash flow of 21.6%. Earnings vs Market: WHC earnings of 41.4% are forecasted to grow faster than the Australian market growing at 17.9% per year
Market Risk Analysis
The risk of its assets being stranded in a carbon-constrained world is considered to be low. Softening of coal prices due to surplus gas supply in the market can impact EBITDA. Climatic conditions and weak USD. China import policy for coal is unclear.
Technical Analysis
The stock has remained bearish on the charts for a long time with no sign of pull back. However, in the month of September, candles took support near the levels of $0.840-$0.850 at the lower band of the Bollinger and showed some momentum. The bullish candle made during the next trading session gave the confirmation for the upside. The stock made a "Higher High "pattern with RSI equally supporting the upside strength and MACD entering in the positive zone. The stock is now testing the levels near $1.760, closing above this could indicate strong upside potential for the stock.
Veye's Take
The future of the Australian coal sector is expected to remain robust over the long term (particularly for high-quality coal producers such as Whitehaven. WHC climate scenario analysis indicates long-term resilience and value generation in a range of de-carbonising scenarios (including a 2°C scenario). Even under a Sustainable Development scenario, all of its mines will continue to have positive valuations and will have economic lives consistent with current plans. Notwithstanding COVID-19 headwinds, the September quarter saw strong sales in response to demand for our product from customers in Asia. Operationally, we have continued the June quarters' momentum by delivering on-plan mining performance of coal and overburden across all operations laying a solid foundation to much improved operational results. As a large-scale producer of high energy, low impurity thermal coal, Whitehaven is also well-aligned to the stricter climate and pollution policies that have either been enacted or are in discussion among the key Asian customer nations, which seek to reduce their emissions while maintaining the stability and reliability of their electricity grids. Whitehaven's business is leveraged to the continuing forecast demand that exists in Asian export markets, where rapid electrification and the relative youth of the installed power generation fleet means coal will generate value for Whitehaven stakeholders for decades to come. Veye recommends a "Buy" on "Whitehaven Coal Limited" at the current price of $1.805
Disclaimer
Veye Pty Ltd(ABN 58 623 120 865), holds (AFSL No. 523157 ). All information provided by Veye Pty Ltd through its website, reports, and newsletters is general financial product advice only and should not be considered a personal recommendation to buy or sell any asset or security. Before acting on the advice, you should consider whether it's appropriate to you, in light of your objectives, financial situation, or needs. You should look at the Product Disclosure Statement or other offer document associated with the security or product before making a decision on acquiring the security or product. You can refer to our Terms & Conditions and Financial Services Guide for more information. Any recommendation contained herein may not be suitable for all investors as it does not take into account your personal financial needs or investment objectives. Although Veye takes the utmost care to ensure accuracy of the content and that the information is gathered and processed from reliable resources, we strongly recommend that you seek professional advice from your financial advisor or stockbroker before making any investment decision based on any of our recommendations. All the information we share represents our views on the date of publishing as stocks are subject to real time changes and therefore may change without notice. Please remember that investments can go up and down and past performance is not necessarily indicative of future returns. We request our readers not to interpret our reports as direct recommendations. To the extent permitted by law, Veye Pty Ltd excludes all liability for any loss or damage arising from the use of this website and any information published (including any indirect or consequential loss, any data loss, or data corruption) (as mentioned on the website www.veye.com.au), and confirms that the employees and/or associates of Veye Pty Ltd do not hold positions in any of the financial products covered on the website on the date of publishing this report. Veye Pty Ltd hereby limits its liability, to the extent permitted by law to the resupply of services.