Oil Search Limited
Team Veye | 07 Jan 2021

ASX - OSH
Oil Search Limited (ASX: OSH) is an oil and gas exploration and production company. The Company is engaged in the exploration for oil and gas fields and the development and production of such fields. The Company's segments include PNG Business Unit (PNG BU), Exploration and Other. The PNG BU segment is engaged in the development, production and sale of liquefied natural gas (LNG), crude oil, natural gas, condensate, naphtha, other refined products and electricity from the Company's interest in its operated assets for Papua New Guinea crude oil and Hides gas-to-electricity operations and from the Company's interest in the PNG LNG Project. The Exploration segment is engaged in the exploration and evaluation of crude oil and gas in Papua New Guinea. The Other segment includes the Company's ownership of drilling rigs, investment and development towards the Company's power strategy and corporate activities. The PNG LNG Project is a 6.9-million tons per annum (MTPA) integrated LNG project (Profile source: Reuters)
From the Company Reports
Oil Search Limited (ASX: OSH) on 19 November 2020 provided its Alaska update
Highlights
33% increase in 2C contingent resource, taking total gross Alaskan North Slope 2C resources within Oil Search's portfolio from 728 million barrels of oil (mmbbl) to 968 mmbbl (494 mmbbl net to Oil Search).

(Graphic Source – Company Reports)
Increases reflect Oil Search's positive achievements on the North Slope since acquisition of the assets in 2018, with gross 2C oil resources now 93% higher than the original 500 mmbbl 2C gross resource estimate.

Well positioned to progress into FEED in early 2021 for a single drill site first phase of the Pikka Project. The development will use a capital efficient approach that will deliver a breakeven cost of supply of less than US$40/barrel, with gross capital costs of under US$3 billion.

Joint Venture fully aligned on Pikka Phase 1 development, targeting a Final Investment Decision (FID) in late 2021 and first oil in 2025, using an initial 80,000 bopd modular facility to process production.

Production from Phase 1 of the full field development will support funding for Phase 2, which will comprise the full field development incorporating two additional well pads.

Modification to United States Army Corps of Engineers (USACE) permit received, allowing for construction of a new Seawater Treatment Plant (STP) at Oliktok Point to ensure appropriate water supply and quality is available and controlled by the Pikka Joint Venture to maximise production efficiency.

(Chart source: TradingView)
Third Quarter Report for the Period ended 30 September 2020
Oil Search Limited (ASX: OSH) on 20 October 2020 released its Third Quarter Report for the Period ended 30 September 2020
Highlights
Sustained outperformance of PNG LNG, which operated at an annualised rate of 8.9 MTPA during the quarter and delivering the highest first nine months of production since the project commenced in 2014.

2020 capital investment guidance lowered to US$390 – 460 million (from US$440 – 530 million), following further reductions in exploration activities and rephasing of FEED activities in Alaska.

Optimisation studies targeting material initial development capital reduction and lower breakeven of the Pikka Unit Development are nearing completion, with details to be provided at the Strategy Day on Thursday 19 November 2020.

Capital prioritisation and sustainable cost reduction programs are being actively coordinated and rolled out across the Company, consistent with the previously issued revised full year unit production costs guidance of between US$9.50 – 10.50/boe. Aside from one-off major maintenance programs planned in 2021, ongoing cost management and efficiency programs are being prepared to ensure the sustainability of the reduced cost base going forward.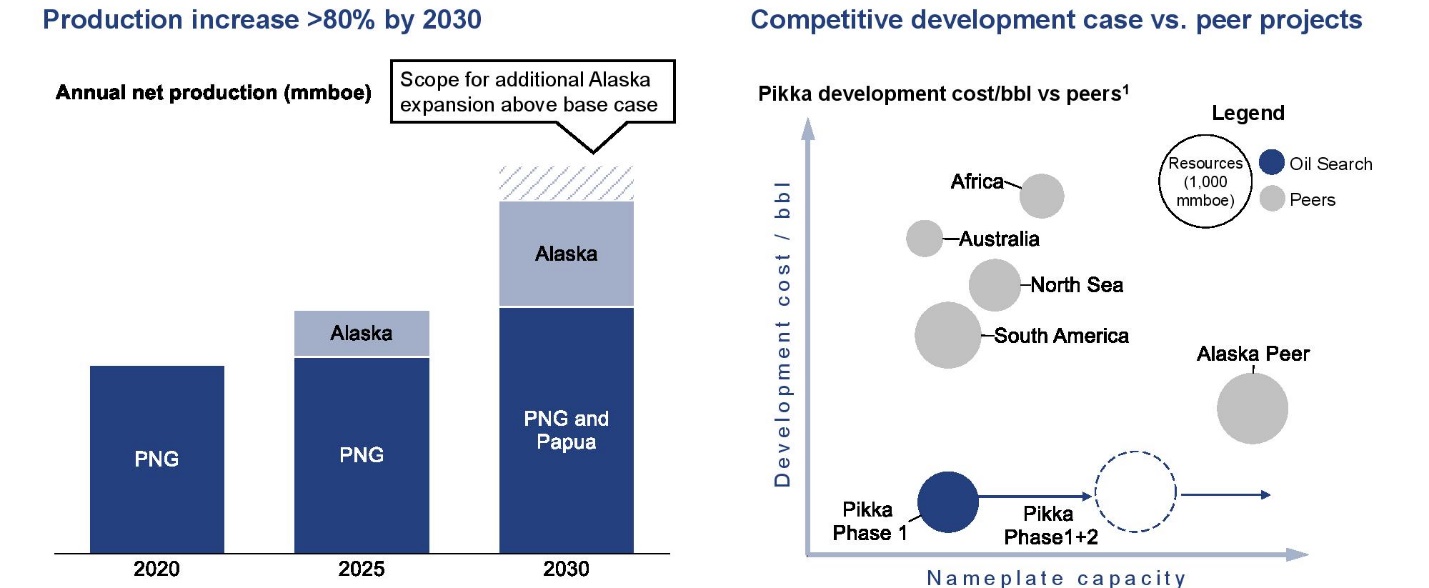 (Graphic Source – Company Reports)
2020 Third Quarter Summary
Production: Total production for the third quarter of 2020 increased slightly to 7.30 million barrels of oil equivalent (mmboe). This included 6.55 mmboe from the PNG LNG Project, which produced at an annualised rate of 8.9 MTPA during the quarter, and 0.75 mmboe from Oil Search-operated assets. Oil production declined 7% to 0.68 mmbbls, while production from the Hides Gas-to-Electricity (GTE) Project remained suspended, following the cessation of mining and minerals processing at the Porgera gold mine in April 2020. Total production for the first three quarters of 2020, net to Oil Search, was 21.96 mmboe, up 5% on the same period in 2019.

Sales: Total hydrocarbon sales for the quarter were 7.55 mmboe, 11% higher than the second quarter of 2020. Total revenue generated from hydrocarbons declined 29% to US$189.0 million. The lower revenue was due to a large reduction in the average realised LNG and gas price, impacted by the two-to-three-month oil price lag on LNG contract prices, a higher proportion of LNG sold on the spot market and a US$14 million negative revenue adjustment relating to the final price determinations for seven delivered ex ship (DES) cargoes delivered during the second quarter, with pricing finalised during the third quarter. Other revenue, comprising rig lease income, infrastructure tariffs, electricity, refinery and naphtha sales, fell 32% to US$5.6 million.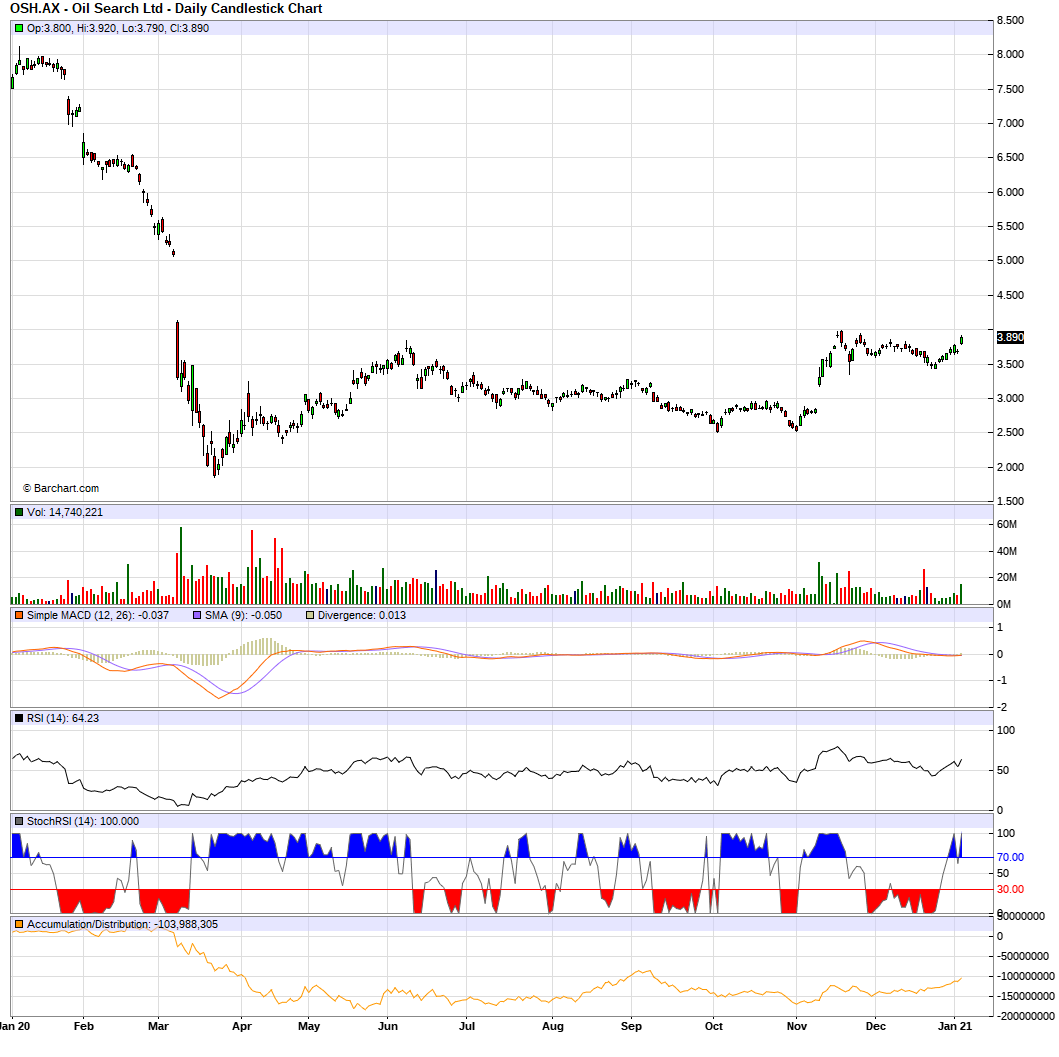 (Chart source: Barchart)
Pricing: The average oil and condensate price realised during the third quarter was US$36.52 per barrel, up 58% on the prior quarter. The average realised LNG and gas price fell 42% to US$4.23 per million British thermal units (mmBtu), due to the two-to-three-month oil price lag, capturing the oil price weakness in April and May 2020 flowing through to LNG contract prices and an increased portion of spot market sales volumes at historically low North Asian prices. Liquidity: At 30 September 2020, Oil Search had liquidity of US$1.65 billion, comprising US$752.7 million in cash and US$895.6 million in undrawn credit facilities. During the quarter, the Company repaid US$60.0 million under its revolving credit facilities.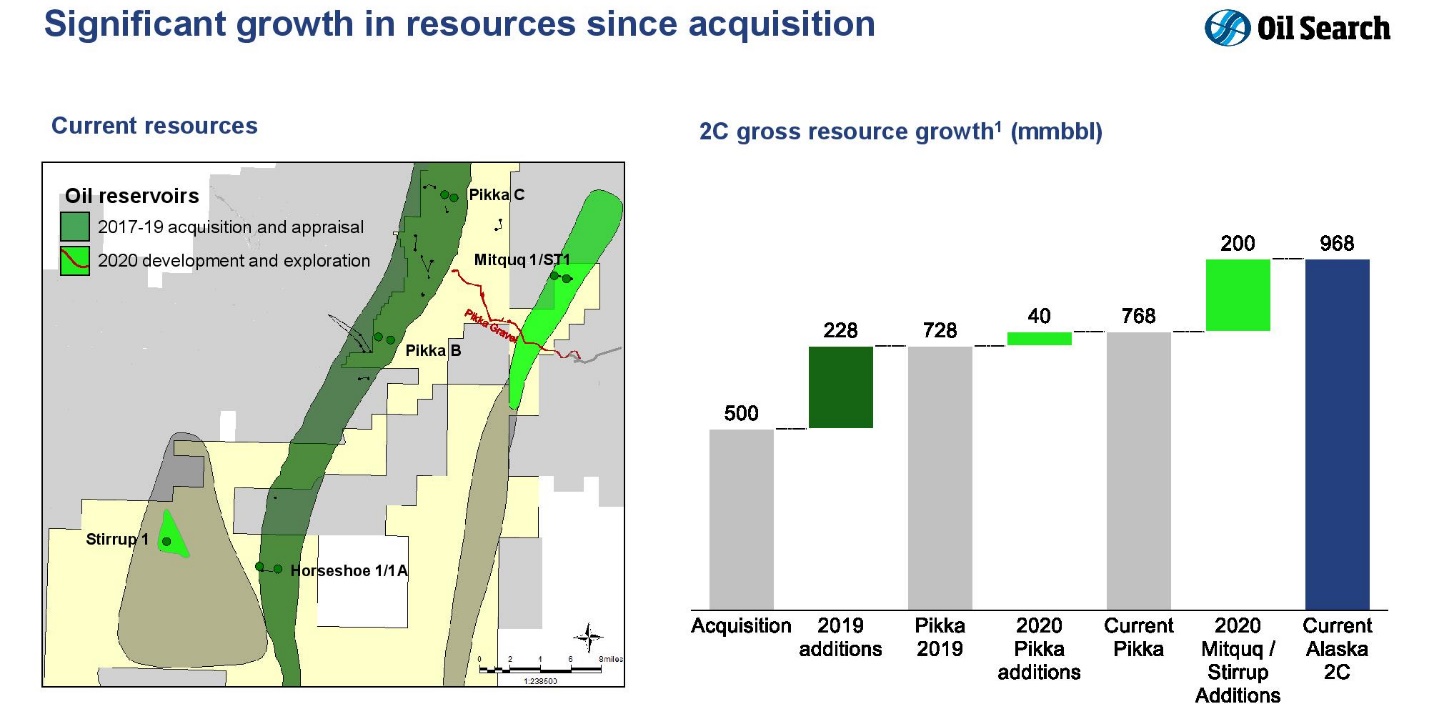 (Graphic Source – Company Reports)
LNG expansion: Discussions continued between the PRL 3 (P'nyang) operator ExxonMobil and the PNG Government with the objective of securing fair and balanced fiscal terms on the P'nyang Gas Agreement. Internal analysis carried out by Oil Search during the quarter, utilising independent data and discussions with potential customers, assessed the impact of COVID-19 on future LNG demand, resulting in a view that the supply gap anticipated for the mid-2020s has been deferred by a few years
Key Financial Metrics:
| | | | | | | |
| --- | --- | --- | --- | --- | --- | --- |
| Peer analysis | | | | | | |
| Company | Revenue (TTM) | | Net income (TTM) | Market cap | Price/book value (MRQ) | Total Debt/Capital |
| Beach Energy Ltd | 1.73bn | | 500.80m | 4.09bn | 1.45 | 0.0404 |
| Iwatani Corp | 8.13bn | | 263.90m | 4.83bn | 1.73 | 0.3807 |
| Thai Oil PCL | 12.22bn | | -369.44m | 4.94bn | 1.06 | 0.5968 |
| Hindustan Petroleum Corporation Limited | 44.78bn | | 1.10bn | 5.99bn | 0.9761 | 0.4668 |
| Sinopec Shanghai Petrochemical Co Ltd | 15.95bn | | -20.09m | 6.20bn | 1.37 | 0.1139 |
| United Energy Group Ltd | 1.08bn | | 226.10m | 6.25bn | 3.02 | 0.3222 |
| Petronet LNG Ltd | 5.04bn | | 435.90m | 6.78bn | 3.35 | 0.2188 |
| Petronas Dagangan Berhad | 7.09bn | | 100.52m | 6.82bn | 3.75 | 0.0338 |
| Oil Search Ltd | 1.87bn | | -150.97m | 7.65bn | 1.04 | 0.3878 |
| Idemitsu Kosan Co., Ltd. | 63.49bn | | -1.26bn | 8.39bn | 0.6125 | 0.543 |
| Petronas Gas Bhd | 1.79bn | | 638.89m | 10.73bn | 2.68 | 0.2324 |
Price to Book Value Vs. Industry:
OSH is a good value based on its (1.1x) compared to the AU oil and Gas Industry average (1.6 x)
Revenue Vs Market: OSH revenue is forecasted to grow at 6.1% per year as compared to the Australian Market which is forecasted to grow at 5% per year. OSH short term assets at $1.1B is equal to short term liabilities at $1.1B. Reduction in Debt: OSH Debt to Equity ratio has reduced from 85.2% to 55.7% over the past 5 years. Debt Coverage: OSH debt is well covered by operating cash flow. Earnings are forecasted to grow at a rate of 59.06% per year
Oil Search Limited (ASX: OSH)

Stock Overview
Sector

Energy

Risk

Medium

Market Cap

$8.08 billion

Share Volume

2.08 billion

EPS (FY)

-$0.08

PE RATIO

-

Yearly Dividend Yield

1.75%

Target Price (s)

T1 $4.55 T2 $6.7

Stop Loss

$3.45

Recommendation

BUY

52 weeks High

$1.81-$7.91

52 weeks Low

$1.81-$7.91

Chairman,

Mr Richard J Lee

Non-Executive Directors

Dr Bakheet S Al Katheeri
Market Risk Analysis
Beyond the geological risk, the price of oil and gas is the primary factor in deciding whether a reserve is economically feasible. Basically, the higher the geological barriers to easy extraction, the more price risk a given project faces a long-term risk for oil and gas companies is a dwindling natural supply. Short-term risks include political stances and supply-and-demand.
Technical Analysis
From the month of November, the stock has shown some strength and made "Higher High "on the price charts. The formation is well supported by the positive divergence built on the RSI chart and MACD pointing in a positive zone. The stock is currently trading near the upper band of "Bollinger ". The resistance near $3.94 plays a significant role. Closing above this will signal upside potential for the near term.
Veye's Take
Despite the challenging environment, the Company's safety performance was outstanding across all areas of operations. The ExxonMobil-operated PNG LNG Project continued to perform well ahead of expectations, producing at record levels of 8.8 MTPA on average for the first nine months of the year. This included 6.55 mmboe from the PNG LNG Project, which produced at an annualised rate of 8.9 MTPA during the quarter. The challenges posed by the pandemic and oil price downturn, combined with global trends and societal expectations, have been the catalyst for the Company to review its past performance and make sustained improvements to position Oil Search for long term success. It now has a lower cost base, is more resilient and in a strong position to commercialise its world-class resource base. These changes have been achieved while delivering record safety performance and stable production. In 2020, Oil Search enhanced its resilience, strengthened its liquidity and balance sheet. It reduced 2020 Capex by 40% and generated stable cash flow from core producing assets. Oil Search has a strong track record. Veye recommends a "Buy" on "Oil Search Limited" at the current price of $4.16
Disclaimer
Veye Pty Ltd(ABN 58 623 120 865), holds (AFSL No. 523157 ). All information provided by Veye Pty Ltd through its website, reports, and newsletters is general financial product advice only and should not be considered a personal recommendation to buy or sell any asset or security. Before acting on the advice, you should consider whether it's appropriate to you, in light of your objectives, financial situation, or needs. You should look at the Product Disclosure Statement or other offer document associated with the security or product before making a decision on acquiring the security or product. You can refer to our Terms & Conditions and Financial Services Guide for more information. Any recommendation contained herein may not be suitable for all investors as it does not take into account your personal financial needs or investment objectives. Although Veye takes the utmost care to ensure accuracy of the content and that the information is gathered and processed from reliable resources, we strongly recommend that you seek professional advice from your financial advisor or stockbroker before making any investment decision based on any of our recommendations. All the information we share represents our views on the date of publishing as stocks are subject to real time changes and therefore may change without notice. Please remember that investments can go up and down and past performance is not necessarily indicative of future returns. We request our readers not to interpret our reports as direct recommendations. To the extent permitted by law, Veye Pty Ltd excludes all liability for any loss or damage arising from the use of this website and any information published (including any indirect or consequential loss, any data loss, or data corruption) (as mentioned on the website www.veye.com.au), and confirms that the employees and/or associates of Veye Pty Ltd do not hold positions in any of the financial products covered on the website on the date of publishing this report. Veye Pty Ltd hereby limits its liability, to the extent permitted by law to the resupply of services.