Mercury NZ Limited
Team Veye | 24 Dec 2020

ASX - MCY
Mercury NZ Limited (ASX: MCY), formerly Mighty River Power Limited, is engaged in the energy retail business. The Company is an electricity retailer and generator, which is engaged in providing energy services to homes, businesses and industrial customers throughout New Zealand. The Company's segments include Energy Markets and Other Segments. The Energy Markets segment encompasses activities associated with the production, sale and trading of energy and related services and products, and generation development activities. Other Segments includes metering and international geothermal development and operations. The Company sells electricity, through multiple retail brands, including GLOBUG, Tiny Mighty and Bosco. Its generation consists of two fuel sources: hydro and geothermal. It operates approximately nine hydro plants along the Waikato River. The Company supplies metering infrastructure and services to the utility sector across New Zealand (Profile source: Reuters)
From the Company Reports
Mercury sells interest in Hudson Ranch 1
On November 4, 2020, Mercury NZ Limited (ASX: MCY) announced that it had sold its interest in Hudson Ranch 1 geothermal power station (HR1), located on the Salton Sea in California, to a subsidiary of Macquarie Infrastructure Partners V, a fund managed by Macquarie Infrastructure and Real Assets.

(Chart source: TradingView)
Mercury acquired its interest in HR1 in 2010, partially funding the development of the 55MW geothermal station which has now been operating for over eight years. Mercury received net proceeds for the sale of approximately NZ$40m.
Mercury has retained its minority interest in EnergySource LLC, the developer and operator of HR1, and EnergySource Minerals LLC, a related company currently trialling lithium and other mineral extraction from the geothermal brine at HR1.
Mercury NZ Limited on 20 October 2020 released its Quarterly Operational Update for the 3 months ended 30 September 2020
A hydro generation down on record low 12-month inflows; Geothermal generation stable
Mercury's hydro generation in the first quarter of FY2021 was 142GWh below average, decreasing by 170GWh to 1,044GWh. This reflected continued drought conditions with the Lake Taupo catchment experiencing the lowest 12-month inflow sequence to 30 September on record. Mercury announced during the quarter that its FY2021 hydro generation forecast reduced by 200GWh to 3,700GWh, more than 300GWh below average. Geothermal generation was stable versus the prior comparable period.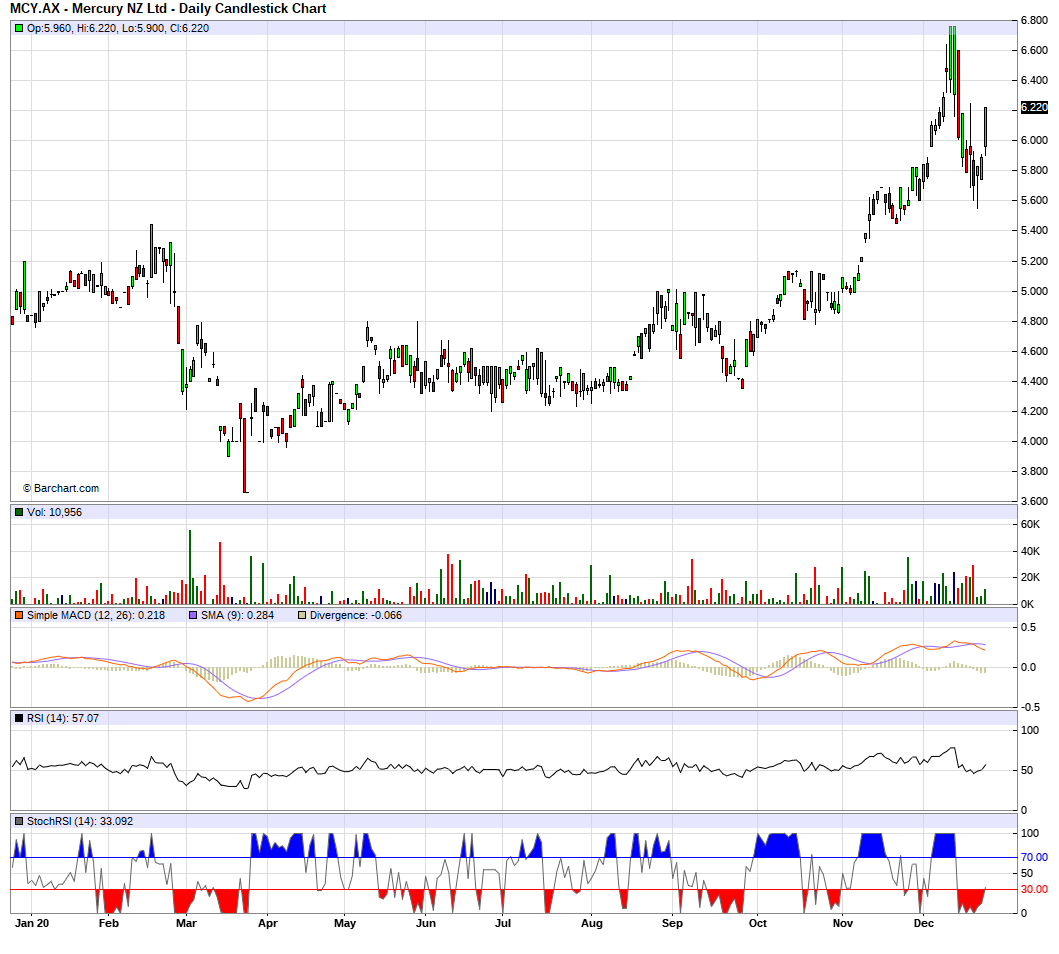 (Chart source: Barchart)
Low inflows lift spot prices; FY2022 Futures increase on speculation around Tiwai smelter exit timing
Dry hydrological conditions affected both North and South Islands resulting in national hydro storage tracking more than 500GWh below average until late September before lifting due to South Island rainfall, ending the quarter at 172GWh below average. This was reflected in the average spot price for the quarter reaching a record of $136/MWh at Otahuhu, increasing from $125/MWh in the prior comparable period. The FY2021 futures price also reflected current dry hydrological conditions, increasing from $114/MWh at Otahuhu and $104/MWh at Benmore at the start of the quarter to $122/MWh and $111/MWh respectively.
Longer-term futures prices increased during the quarter as the market appeared to speculate on the likelihood of the Tiwai smelter operation being extended beyond August 2021. FY2022 futures prices ended the quarter at $100/MWh at Otahuhu and $85/MWh at Benmore after falling as low as $69/MWh and $51/MWh respectively during the quarter.

Graphic Source – Company Reports)
Focus on customer value sees increased sales yields
Mercury's continued focus on customer value saw the average Commercial & Industrial sales yield (including both physical and financial sales) increase by 8.6%, from $88/MWh in the prior comparable period to $96/MWh, with sales volumes increasing by 130GWh.
The sales yield in the Mass Market segment increased by 6.6% to $137/MWh with volumes decreasing by 60GWh to 832GWh. Customer connections decreased by 6,000 across the quarter to 342,000, 19,000 lower compared to the end of FY2020-Q1.
Demand lower due to reduced industrial activity
Demand decreased by 0.6% on a temperature-adjusted basis as industrial sector load (-1.2%) was affected by the shutdown of the 4 th potline at the Tiwai Point aluminum smelter and reduced activity at the Marsden Point refinery. This was partially offset by increased demand from the dairy sector (+0.4%) and irrigation (+0.1%) sectors. Demand from the urban (-0.1%), rural (+0.1%) and other (+0.1%) sectors was flat.

(Graphic Source – Company Reports)
FY2021 EBITDAF guidance revised to $505 million 24 September 2020
Mercury NZ Limited on 24 September 2020 announced that it had revised its FY2021 EBITDAF guidance from $515 million to $505 million. This reflected an expected 200 GWh decrease in full year hydro generation to 3,700 GWh due to dry weather conditions in the Taupo catchment in FY2021 to date.
Mercury NZ Limited (ASX: MCY)

Stock Overview

Sector

Utilities

Risk

Low to Medium

Market Cap

$8.47 billion

Share Volume

1.36 billion

EPS (FY)

$0.142

PE RATIO

43.8

Yearly Dividend Yield

2.41%

Target Price (s)

T1 $6.76 T2 $7.15

Stop Loss

$5.95

Recommendation

Buy

52 weeks High

$6.760

52 weeks Low

$3.660

Managing Director

Vincent Hawksworth

Non-Executive Directors
Market Risk Analysis
Dry hydrological conditions can impact both the North and South Islands resulting in below average national hydro storage. Reduced industrial activity will further reduce demand. Impact of drought in the Taupo catchment
Technical Analysis
Technically the stock has shown good upside momentum from the month of October 2020. Previous week candle was a bearish candle, but the formation of bullish piercing candle covering more than half of the previous candle signals bullish move for the near term. It is now trading above its MAs. It faces minor resistance near $6.25. Crossing this level can potentially signal a good upside move for the stock.
Veye's Take
Mercury's sale outcome was capped off a successful investment at HR1, while the minority interest retained in the EnergySource companies allowed Mercury to participate in any further value brought about by the development of innovative mineral extraction technologies currently underway. Sustained and continuous focus on customer value resulted in the Sales yield increment. Commercial & Industrial sales yield (including both physical and financial sales) on an average reported an increase of 8.6% to 96/MWH as compared to the prior period which reported sales of $88/MWh. Its sales volume increased by 130 GWh. The sales yield in the Mass Market segment increased by 6.6% to $137/MWh with volumes decreasing by 60GWh to 832GWh. Veye recommends a "Buy" on "Mercury NZ Limited" at the current price of $6.08
Disclaimer
Veye Pty Ltd(ABN 58 623 120 865), holds (AFSL No. 523157 ). All information provided by Veye Pty Ltd through its website, reports, and newsletters is general financial product advice only and should not be considered a personal recommendation to buy or sell any asset or security. Before acting on the advice, you should consider whether it's appropriate to you, in light of your objectives, financial situation, or needs. You should look at the Product Disclosure Statement or other offer document associated with the security or product before making a decision on acquiring the security or product. You can refer to our Terms & Conditions and Financial Services Guide for more information. Any recommendation contained herein may not be suitable for all investors as it does not take into account your personal financial needs or investment objectives. Although Veye takes the utmost care to ensure accuracy of the content and that the information is gathered and processed from reliable resources, we strongly recommend that you seek professional advice from your financial advisor or stockbroker before making any investment decision based on any of our recommendations. All the information we share represents our views on the date of publishing as stocks are subject to real time changes and therefore may change without notice. Please remember that investments can go up and down and past performance is not necessarily indicative of future returns. We request our readers not to interpret our reports as direct recommendations. To the extent permitted by law, Veye Pty Ltd excludes all liability for any loss or damage arising from the use of this website and any information published (including any indirect or consequential loss, any data loss, or data corruption) (as mentioned on the website www.veye.com.au), and confirms that the employees and/or associates of Veye Pty Ltd do not hold positions in any of the financial products covered on the website on the date of publishing this report. Veye Pty Ltd hereby limits its liability, to the extent permitted by law to the resupply of services.