Bank of Queensland Limited (BOQ)
Team Veye | 15 Oct 2020

ASX - BOQ
| Call | Buy |
| --- | --- |
| Investment Duration | Long Term |
| Asx | BOQ |
| sector | Banks |
Bank of Queensland Limited (ASX: BOQ) (BOQ) is an Australia-based regional bank. The Company's operating segments include retail banking, BOQ business and other. The retail banking solutions to customers are managed through its Owner Managed and Corporate branch network, third party intermediaries' and Virgin Money distribution channels. BOQ Business includes the BOQ branded commercial lending activity, BOQ Finance and BOQ Specialist businesses. The BOQ business division provides tailored business banking solutions including commercial lending, equipment finance and leasing, cashflow finance, foreign exchange, interest rate hedging, transaction banking and deposit solutions for commercial customers. Other segment includes the Treasury, St Andrew's Insurance and Group Head Office. The Company operates over 180 branches across Australia (Profile source: Reuters)
From the Company Reports
Bank of Queensland Limited (ASX: BOQ) on 14 October 2020 announced its FY20 financial results

(Chart source: TradingView)
Cash NPAT FY20 cash earnings after tax of $225m, down 30% on FY19. This was largely the result of the $133m COVID-19 collective provision.
Statutory NPAT decreased by 61% to $115m due to the previously guided restructuring charges and intangible asset review.
Total income increased to $1,096m for the year, up 1% from FY19, driven by lending growth of $827m and a focus on margin management.
Net Interest Income increased to $986m for the year, up 3% from FY19, driven by lending growth and NIM.
Net Interest Margin increased by 3 basis points (bps) in 2H20 which, combined with lending growth drove the 3% uplift in revenue during the half.
Non-interest income decreased by 14% over the year, reflecting industry trends towards low and fee free banking products, as well as a c.$10m impact from COVID-19 related fee reductions, waivers and lower income relating to the Velocity program.
Operating expenses increased by 7% to $594m in what was a transitional year for BOQ. The key drivers were digital transformation and $21m invested in risk and regulatory programs. This expense growth was partly offset by $30m in productivity savings.
CET1 at 9.78%, well above APRA's unquestionably strong benchmark. BOQ continues to have a strong balance sheet.
FY20 Dividend: BOQ has determined to pay a full year dividend of 12 cents per share representing 6 cents per share from 1H20 profits and 6 cents per share from 2H20 profits.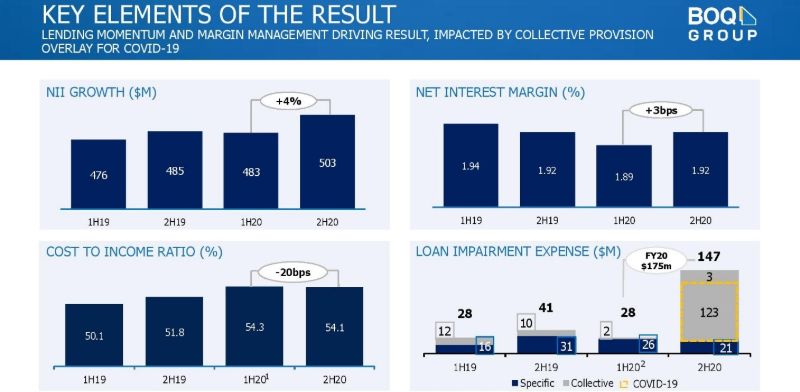 (Graphic Source – Company Reports)
Loan impairment expenses increased to $175m. This increase was primarily due to the $133m collective provision overlay in relation to the anticipated lifetime losses from COVID-19.
COVID-19 Banking Relief: Of the 21,000 customers who accessed banking relief, 25% continued to make full or partial repayments. Since the peak in April, we have seen a reduction in the total loan balances on deferral by 18.8%. As of 31 August 2020, BOQ has 12% of housing customers and 16% of SME customers (based on GLA) remaining on banking relief.
Lending growth momentum increased across both the housing and business lending portfolios during FY20. Housing growth lifted to be broadly in line with system, while business lending grew by 3% as system growth contracted.
Customer deposit growth of $2.3bn over the year assisted by elevated liquidity arising from government stimulus. Deposit to loan ratio of 74% up from 69% in FY19.
Consumer and mortgage NPS increased to 3rd and 5th respectively, up from the FY19 ranking of 5th and 11th as a result of improvements to our customer experience and enhanced mortgage processes.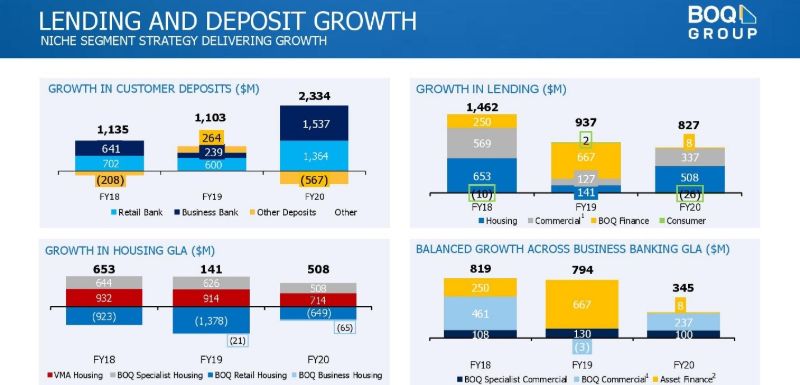 (Graphic Source – Company Reports)
Bank of Queensland Limited, Basel III Pillar 3 Disclosures
For the Quarter Ended 31 August 2020
Bank of Queensland Limited (ASX: BOQ) on 14 October 2020 reported Basel III Pillar 3 Disclosures for the Quarter Ended 31 August 2020
This report has been prepared by Bank of Queensland Limited (Bank or BOQ) to meet its disclosure requirements under the Australian Prudential Regulation Authority's (APRA) Prudential Standard APS 330: Public Disclosure. It has been prepared using 31 August 2020 data.
For the Quarter Ended 31 August 2020
Key points The Bank's capital management strategy aims to ensure adequate capital levels are maintained to protect deposit holders. The Bank's capital is measured and managed in line with Prudential Standards issued by APRA. The capital management plan is updated annually and submitted to the Board for approval. The approval process is designed to ensure the plan is consistent with the overall business plan and for managing capital levels on an ongoing basis.
The Board has set the Common Equity Tier 1 Capital target range to be between 9.0% and 9.5% and the Total Capital range to be between 11.75% and 13.5%.
As of 31 August 2020:
Common Equity Tier 1 Capital Ratio was 9.8% (9.8% as of 31 May 2020); and
Total Capital Ratio was 12.7% (12.7% as of 31 May 2020).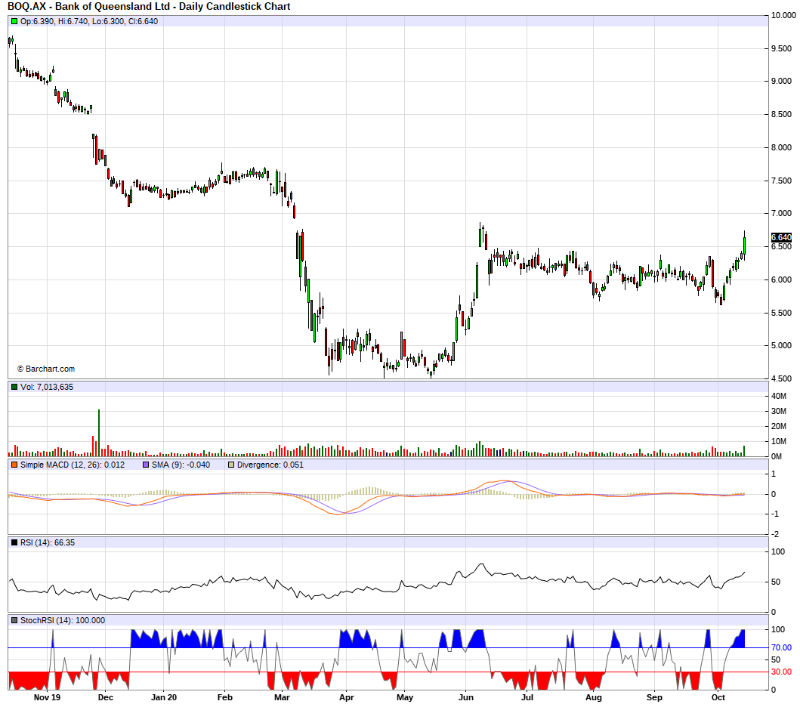 (Chart source: Barchart)
BOQ announces agreement to sell St Andrew's Insurance
Bank of Queensland Limited on 14 October 2020 announced that it had entered into an agreement to sell St Andrew's Insurance to Farmcove Investment Holdings for proceeds of $23 million.
The sale is consistent with BOQ's refreshed strategy announced in February 2020, delivering group simplification benefits and is aligned with BOQ's focus on its five core strategic pillars.
The transaction is expected to result in an indicative post-tax statutory loss on the sale of approximately $27 million to $30 million and be broadly neutral to BOQ's Common Equity Tier 1 ratio. St Andrew's made an immaterial contribution to BOQ's net profit in FY20, following the decision to largely close to new business during the period.
Farmcove is a private investment vehicle controlled by Matt Lancaster, who has 25 years of experience in finance and investment in Australia and internationally.
Completion of the transaction is subject to certain conditions, including regulatory approval from APRA. Dependent upon the timing of regulatory approvals, completion is expected to occur before the end of FY21. Under the transaction, BOQ will provide a capped indemnity to Farmcove for certain pre-completion matters. In addition, a vendor loan has been agreed between BOQ and Farmcove which will become effective on the completion date.
Bank of Queensland Limited (ASX: BOQ)

Stock Overview

Sector

Banking

Risk

Medium

Market Cap

$3.06 billion

Share Volume

454.34 million

EPS (FY)

$0.569

PE RATIO

11.8

Yearly Dividend Yield

4.61%

Target Price (s)

T1 $8.35 T2 $9.50

Stop Loss

$5.47

Recommendation

Buy

52 weeks High

$9.690

52 weeks Low

$4.510

Managing Director

Mr George Frazis

Non Executive Director(s)
Ms Kathleen Anne Bailey-Lord
Mr Bruce Carter
Market Risk Analysis
While Australia is well-positioned given the Government's management of the health crisis and economic stimulus, the potential impacts of COVID-19 remain uncertain. The challenging environment can affect BOQ's strategy execution and transformation. It takes into account the RBA forecasts but the ongoing uncertainty can influence the considered economic assumptions.
Technical Analysis
After moving in a channel for the past few months, the stock has finally broken it on the upside. On the short term charts, it had formed an inverse head & shoulder pattern and went past the neckline, indicating strong bullishness on the daily t/f. It is trading above 50 MA and its daily support area. The stock can have the potential of being long term bullish upon firmly clearing the resistance at $8 40.
Veye's Take
Bank of Queensland's FY20 financial performance has been impacted by both COVID-19 and by a number of strategic foundational investments. Its business momentum continued with revenues growing 1% over the year and 3% half on half. BOQ has a strong balance sheet, with CET1 at 9.78%, well above APRA's unquestionably strong benchmark and customer deposit growth of $2.3bn over the year. BOQ's capital position is strong and organic capital generation will provide it with the ability to invest in and grow its business. BOQ remains focused on executing its strategy and maintaining momentum in its business. The Bank expects to broadly deliver neutral jaws in FY21 driven by above system growth in lending, margin management to within 2-4bps decline, and cost growth of c.2%. Its prudent collective provision sees it well placed to withstand anticipated lifetime losses arising from COVID-19. BOQ believes there is a potential upside opportunity should the economy recover at a faster rate than currently forecast. Veye recommends a "Buy" on "Bank of Queensland Limited" at the current price of $6.88
Disclaimer
Veye Pty Ltd(ABN 58 623 120 865), holds (AFSL No. 523157 ). All information provided by Veye Pty Ltd through its website, reports, and newsletters is general financial product advice only and should not be considered a personal recommendation to buy or sell any asset or security. Before acting on the advice, you should consider whether it's appropriate to you, in light of your objectives, financial situation, or needs. You should look at the Product Disclosure Statement or other offer document associated with the security or product before making a decision on acquiring the security or product. You can refer to our Terms & Conditions and Financial Services Guide for more information. Any recommendation contained herein may not be suitable for all investors as it does not take into account your personal financial needs or investment objectives. Although Veye takes the utmost care to ensure accuracy of the content and that the information is gathered and processed from reliable resources, we strongly recommend that you seek professional advice from your financial advisor or stockbroker before making any investment decision based on any of our recommendations. All the information we share represents our views on the date of publishing as stocks are subject to real time changes and therefore may change without notice. Please remember that investments can go up and down and past performance is not necessarily indicative of future returns. We request our readers not to interpret our reports as direct recommendations. To the extent permitted by law, Veye Pty Ltd excludes all liability for any loss or damage arising from the use of this website and any information published (including any indirect or consequential loss, any data loss, or data corruption) (as mentioned on the website www.veye.com.au), and confirms that the employees and/or associates of Veye Pty Ltd do not hold positions in any of the financial products covered on the website on the date of publishing this report. Veye Pty Ltd hereby limits its liability, to the extent permitted by law to the resupply of services.