Opthea Limited
Team Veye | 01 Oct 2020

ASX - OPT
Opthea Limited (ASX: OPT), formerly Circadian Technologies Limited, is engaged in developing and commercializing therapies primarily for eye diseases. The Company operates in medical technology and healthcare industry in Australia. The Company is involved in the development activities, which are based on the intellectual property portfolio covering key targets, such as vascular endothelial growth factors [VEGF]-C, -D and VEGF Receptor-3 for the treatment of diseases associated with blood and lymphatic vessel growth, including angiogenesis and lymph angiogenesis respectively, as well as vascular leakage. It is developing its lead molecule, which is a soluble form of VEGFR-3 referred to as OPT-302, for the treatment of wet age-related macular degeneration (wet AMD). OPT-302 blocks two members of the vascular endothelial growth factor family, VEGF-C and VEGF-D, which cause blood vessels to grow and leak. It is investigating OPT-302 in an ongoing Phase I/IIA clinical trial in wet AMD patients (Profile source: Reuters)
From the Company Reports
Opthea Files Registration Statement for Proposed Initial Public Offering in the United States
Opthea Limited (ASX: OPT), a clinical stage biopharmaceutical company developing a novel therapy to treat highly prevalent and progressive retinal diseases, on 25 September 2020 announced the public filing of a registration statement on Form F-1 with the U.S. Securities and Exchange Commission (the "SEC") relating to a proposed public offering (the "Offering") of American Depositary Shares ("ADSs"), each of which will represent one or a number of the Company's ordinary shares in the United States. Concurrent with the proposed public offering, Opthea also intends to list the ADSs on the Nasdaq Global Market ("Nasdaq").
All securities to be sold in the Offering will be offered by Opthea. The number of securities to be sold and the price per ADS under any proposed Offering have not yet been determined.

(Chart source: TradingView)
Opthea Completes Successful Meetings with FDA and EMA for OPT-302 Phase 3 Clinical Program in Wet AMD
Opthea Limited on 21 August 2020 announced that it had successfully completed End-of-Phase 2 meetings with the U.S. Food and Drug Administration (FDA), and a Scientific Advice meeting with the European Medicines Agency (EMA), to obtain guidance on the Phase 3 clinical development plans of OPT-302 as a treatment for neovascular (wet) age-related macular degeneration (wet AMD). The outcome of the meetings supports the progression of OPT-302 into Phase 3 and pre-commercial development. The company is on-track to initiate Phase 3 trials in early 2021.
Regulatory engagement provides clear pathway through Phase 3 to support filing for marketing approvals in US and Europe
Regulatory agreement of using Lucentis® and Eylea® in combination with OPT-302 across two pivotal Phase 3 trials increases the potential multi-billion dollar market opportunity
Lucentis® and Eylea® had combined sales for retinal diseases of USD11.9BN in 2019
Company on-track to initiate Phase 3 trials in early 2021
The regulatory engagement conducted with the FDA and EMA covered key elements of the Phase 3 clinical studies and associated manufacturing processes for OPT-302 that will support the submission of a Biologics License Application in the US and Marketing Authorisation Application in Europe for the targeted wet AMD indication.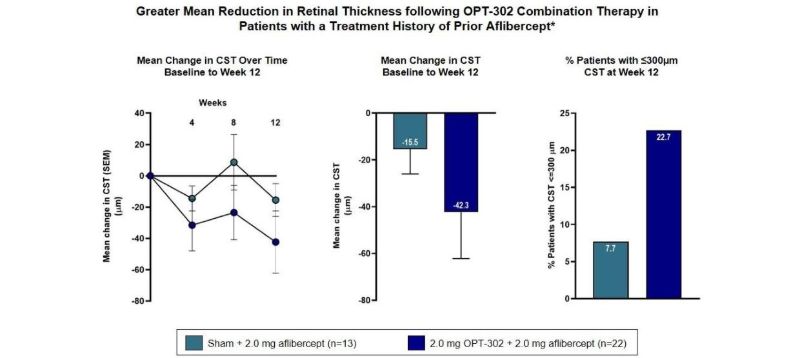 (Graphic Source – Company Reports)
The FDA and EMA agreed on key aspects of the proposed Phase 3 clinical trial designs, including the conduct of two concurrent, global, multicenter, randomized, sham-controlled studies evaluating OPT-302 in combination with ranibizumab (Lucentis®) (Study OPT-302-1004, referred to as ShORe) or aflibercept (Eylea®) (Study OPT-302-1005, referred to as COAST). If successful, the investigation of OPT-302 in combination with two approved standard of care VEGF-A inhibitors could enable OPT-302 to be administered with either Eylea or Lucentis which had combined sales for retinal diseases of USD$11.9 billion in 2019. Furthermore, each trial will compare the clinical efficacy of OPT-302 administered in combination with a VEGF-A inhibitor on an every 4-week and every 8-week dosing regimen in order to understand the durability of OPT-302 treatment effect with less frequent dosing.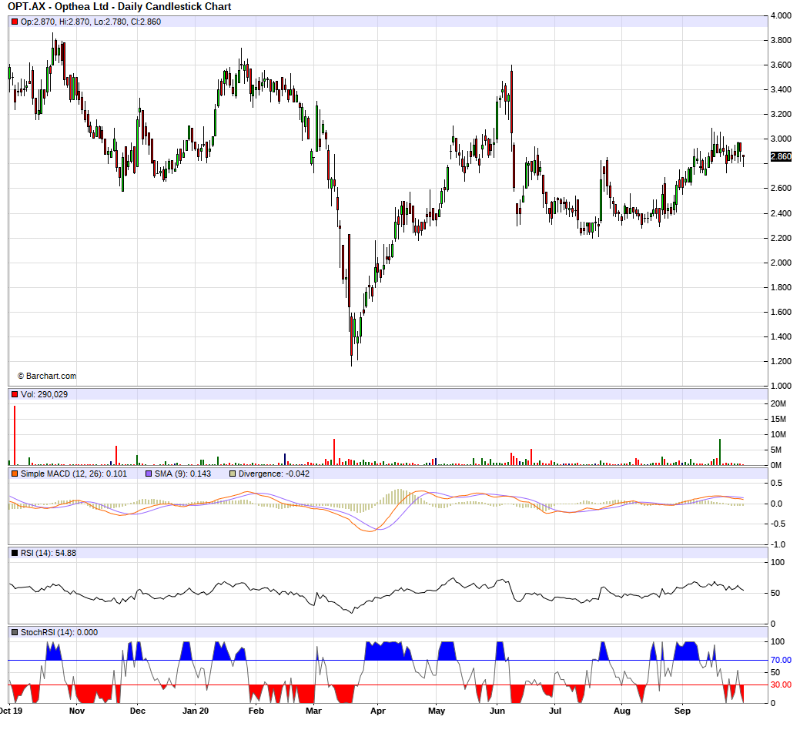 (Chart source: Bar Charts)
Opthea Reports New Data of OPT-302 in Diabetic Macular Edema at the 2020 Annual Meeting of the American Society of Retina Specialists
Company to host Key Opinion Leader Symposium on Wet AMD & DME on Aug 6 AEST
Opthea Limited on 27 July 2020 announced that new data from the Phase 1b/2a clinical study of OPT-302 in patients with treatment refractory diabetic macular edema (DME) has been presented at the 2020 American Society of Retina Specialists (ASRS) Virtual Annual Meeting (24-26 July 2020).
The presentation titled "Switching to combination OPT-302 with aflibercept from prior anti-VEGF-A monotherapy in eyes with persistent diabetic macula edema (DME)" was presented by Dr David Boyer, MD, Senior Partner Retina Vitreous Associates Medical Group, Los Angeles, and Clinical Professor at the University of Southern California Roski Eye Institute, Keck School of Medicine. The presentation was part of the "Diabetic Retinopathy Symposium" and provided an overview of the scientific rationale for targeting VEGF-C/-D for the treatment of DME and new data from Opthea's Phase 1b/2a clinical trial of OPT-302, including subgroup analyses to evaluate outcomes in patients with a more homogeneous prior treatment history of previous aflibercept (Eylea) therapy.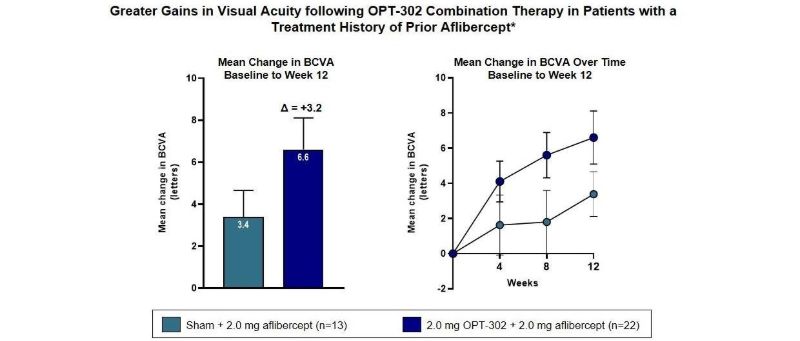 (Graphic Source – Company Reports)
In the subset of patients who received a minimum of at least three consecutive aflibercept intravitreal injections on a regular basis immediately before enrollment into the Phase 2a trial (n=35), a mean improvement in best corrected visual acuity (BCVA) of +6.6 letters (n=22) from baseline to week 12 was observed following OPT-302 + aflibercept combination treatment, compared to +3.4 letters (n=13) for patients continuing on aflibercept monotherapy.
Opthea Limited (ASX: OPT)

Stock Overview

Sector

Health Care

Risk

Medium

Market Cap

$764.41 million

Share Volume

269.16 million

EPS (FY)

-$0.063

PE RATIO

-

Yearly Dividend Yield

-

Target Price (s)

T1 $4.50 T2 $6.00

Stop Loss

$2.30

Recommendation

Buy

52 weeks High

$3.860

52 weeks Low

$1.165

Managing Director

Dr Megan Baldwin

Non Executive Director(s)

Mr Michael Sistenich
Veye's Take
With a scarcity of novel combination therapies in development that may offer improved outcomes for retinal disease patients, Opthea's OPT‑302 is a promising drug candidate with large commercial potential that has demonstrated improved visual acuity outcomes in patients when administered in combination with a VEGF‑A inhibitor in a randomized, controlled, double‑masked Phase 2b clinical study. As such, the commercial potential is substantial, as OPT‑302 has the potential to be combined with currently available VEGF‑A inhibitors or next generation anti‑VEGF‑A agents. Opthea owns a patent family covering the OPT‑302 molecule, and uses thereof, extending out to February 2034. This patent has been filed in 19 jurisdictions and has already granted in the United States, Europe (validated in 38 countries), Japan, Australia, New Zealand, Malaysia, Singapore, Mexico, South Africa, Colombia and Russia. The patent application has been accepted for grants in Canada and Israel and is currently pending in China, Brazil, India, South Korea, Indonesia and the Philippines. Opthea continues to advance the clinical development of OPT‑302 to key commercial milestones through the completion of the Phase 2a clinical trial with OPT‑302 in persistent DME patients, as well as manufacturing and regulatory engagement for a Phase 3 wet AMD study. OPT's short term assets ($71.3M) exceed its short term liabilities ($6.9M). OPT's short term assets ($71.3M) exceed its long term liabilities ($160.2K). OPT is debt free. It has not had any debt for the past 5 years. The Company has sufficient cash runway for more than 3 years based on its current free cash flow. The stock has closed above 50 and 200 MAs on weekly and 50 MA on monthly t/f. It is also above near resistances on both short term and long term charts. Though some retracement could be possible in the near future, it can have the potential of giving good returns in the medium to long term. Veye recommends a "Buy" on "Opthea Limited" at the current price of $2.85
Disclaimer
Veye Pty Ltd(ABN 58 623 120 865), holds (AFSL No. 523157 ). All information provided by Veye Pty Ltd through its website, reports, and newsletters is general financial product advice only and should not be considered a personal recommendation to buy or sell any asset or security. Before acting on the advice, you should consider whether it's appropriate to you, in light of your objectives, financial situation, or needs. You should look at the Product Disclosure Statement or other offer document associated with the security or product before making a decision on acquiring the security or product. You can refer to our Terms & Conditions and Financial Services Guide for more information. Any recommendation contained herein may not be suitable for all investors as it does not take into account your personal financial needs or investment objectives. Although Veye takes the utmost care to ensure accuracy of the content and that the information is gathered and processed from reliable resources, we strongly recommend that you seek professional advice from your financial advisor or stockbroker before making any investment decision based on any of our recommendations. All the information we share represents our views on the date of publishing as stocks are subject to real time changes and therefore may change without notice. Please remember that investments can go up and down and past performance is not necessarily indicative of future returns. We request our readers not to interpret our reports as direct recommendations. To the extent permitted by law, Veye Pty Ltd excludes all liability for any loss or damage arising from the use of this website and any information published (including any indirect or consequential loss, any data loss, or data corruption) (as mentioned on the website www.veye.com.au), and confirms that the employees and/or associates of Veye Pty Ltd do not hold positions in any of the financial products covered on the website on the date of publishing this report. Veye Pty Ltd hereby limits its liability, to the extent permitted by law to the resupply of services.