Has AGL Energy Ltd got an upside potential?
Team Veye | 01 May 2018

ASX - AGL
AGL Energy Ltd (ASX:AGL)
The company published its H1 FY2018 results on 8th Feb'18 highlighting a very strong performance across key metrics. The company highlighted that its Statutory Profit after tax stood at $622 million for the six months ended 31st Dec'17 (1H18), an increase of 91% on the prior corresponding period. The increase reflected continued underlying earnings growth and a positive movement in the fair value of financial instruments used for hedging activities of $127 million. Its Statutory earnings per share stood at 94.8 cents, up 97%; Underlying Profit after tax stood at $493 million, up 27%; Underlying earnings per share stood at 75.2 cents, up 30%; Interim dividend stood at 54 cents per share (80% franked), up 32%; Return on equity was 11.7%, up 2.8 percentage points (rolling 12-month basis).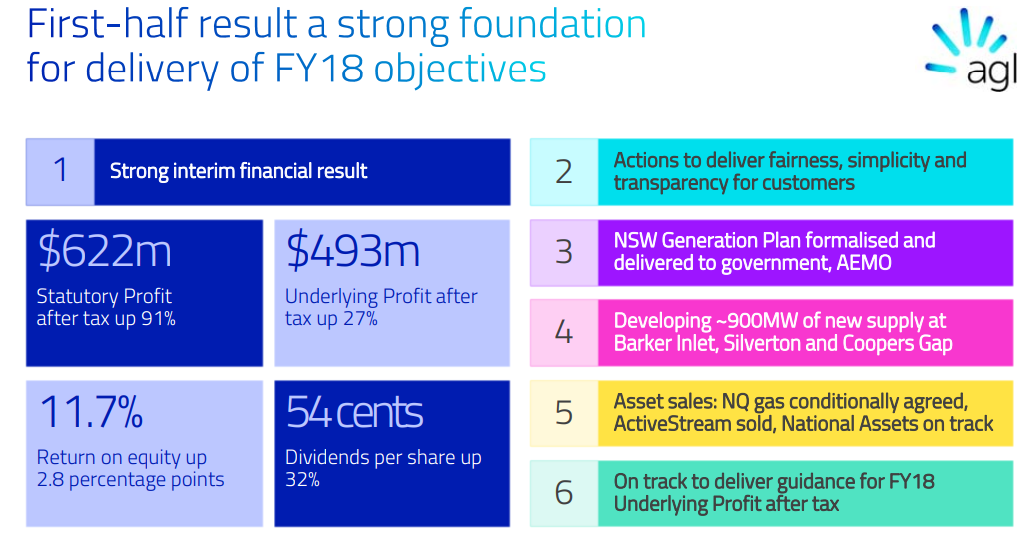 (Graphic Source - Company Reports)
As part of its Outlook got 2018, the company stated that subject to normal trading conditions and to any adverse impacts arising from policy and regulatory uncertainty, it continues to expect Underlying Profit after tax in the financial year ending 30 June 2018 within the previously stated range of $940 million to $1.04 billion.
On 23rd Apr'18, AGL Energy Limited agreed to sell a portfolio of small generation and compressed natural gas refuelling assets, known to AGL as the National Assets, to Sustainable Energy Infrastructure, a consortium led by Whitehelm Capital. AGL will record a profit on this transaction as a Significant Item when financial close occurs. The National Assets carry a value of $74 million. On 26th Apr'18, AGL Energy Limited announced its commitment to build a 252 MW gas-fired electricity generation plant near Newcastle in NSW. The commitment represents an estimated investment of up to $400 million with a target completion during 2022.
On 30th Apr'18, AGL Energy Limited confirmed receiving a non-binding, highly conditional indicative offer from Chow Tai Fook Enterprises (CTFE) and Alinta Energy Pty Limited (Alinta) to acquire the Liddell Power Station, associated assets and the related site for cash consideration payable to AGL of $250 million. (Data Source – Company Reports).
Financials
The company currently offers a decent partially franked Annual Dividend Yield of 4.85% (80% franking) against a sector average of only 3.16%. The company's EPS stands at 150.03 and EBITD margin at 15.21. The Debt-to-Equity ratio is 42.24 against a sector average of only 109.80. The group has a P/E ratio of 16.92 against the sector average of 19.01. The stock has a Market cap of 14.07bn & a Share Volume of 655.83m. The stock price of the company grew 23% from Nov'17 until mid-Dec'17 until it slipped again by 21% until last week. The stock started gaining strength again after 23rd Apr'18, has grown 7.5% since then and still has a lot of upside potential (Data Source – Reuters.com).
Veye's Take
We are Bullish on "AGL Energy Ltd" and give it a "Buy" at the current price of $21.73
Disclaimer
Veye Pty Ltd(ABN 58 623 120 865), holds (AFSL No. 523157 ). All information provided by Veye Pty Ltd through its website, reports, and newsletters is general financial product advice only and should not be considered a personal recommendation to buy or sell any asset or security. Before acting on the advice, you should consider whether it's appropriate to you, in light of your objectives, financial situation, or needs. You should look at the Product Disclosure Statement or other offer document associated with the security or product before making a decision on acquiring the security or product. You can refer to our Terms & Conditions and Financial Services Guide for more information. Any recommendation contained herein may not be suitable for all investors as it does not take into account your personal financial needs or investment objectives. Although Veye takes the utmost care to ensure accuracy of the content and that the information is gathered and processed from reliable resources, we strongly recommend that you seek professional advice from your financial advisor or stockbroker before making any investment decision based on any of our recommendations. All the information we share represents our views on the date of publishing as stocks are subject to real time changes and therefore may change without notice. Please remember that investments can go up and down and past performance is not necessarily indicative of future returns. We request our readers not to interpret our reports as direct recommendations. To the extent permitted by law, Veye Pty Ltd excludes all liability for any loss or damage arising from the use of this website and any information published (including any indirect or consequential loss, any data loss, or data corruption) (as mentioned on the website www.veye.com.au), and confirms that the employees and/or associates of Veye Pty Ltd do not hold positions in any of the financial products covered on the website on the date of publishing this report. Veye Pty Ltd hereby limits its liability, to the extent permitted by law to the resupply of services.