Is the Sydney Airport Holdings Ltd share price a buy?
Team Veye | 23 Apr 2018

ASX - SYD
Sydney Airport Holdings Ltd (ASX:SYD)
The company published its FY2017 Full Year results on 21st Feb'18 highlighting a weak performance across key metrics. The company highlighted growth across all businesses with total revenue increasing 8.7%, record passenger numbers of 43.3 million, up 3.6%, international passengers grew 7.2%, Significant investment program driving customer service and experience improvements and business performance, Earnings before interest, tax, depreciation and amortisation (EBITDA) of $1,198.9m1, up 8.3% on the prior corresponding period, Net Operating Receipts up 13.5%1 on the PCP, Significant interest rate and currency hedging in place with 93% of interest exposures hedged on a spot basis, Significant balance sheet flexibility with over $1.3 billion in cash and undrawn facilities, 2018 distribution guidance of 37.5 cents per stapled security , up 8.7% on the PCP, subject to external shocks to the aviation industry and material changes to forecast assumptions. This reflects solid tailwinds, strong competitive position and board and management confidence in the business outlook.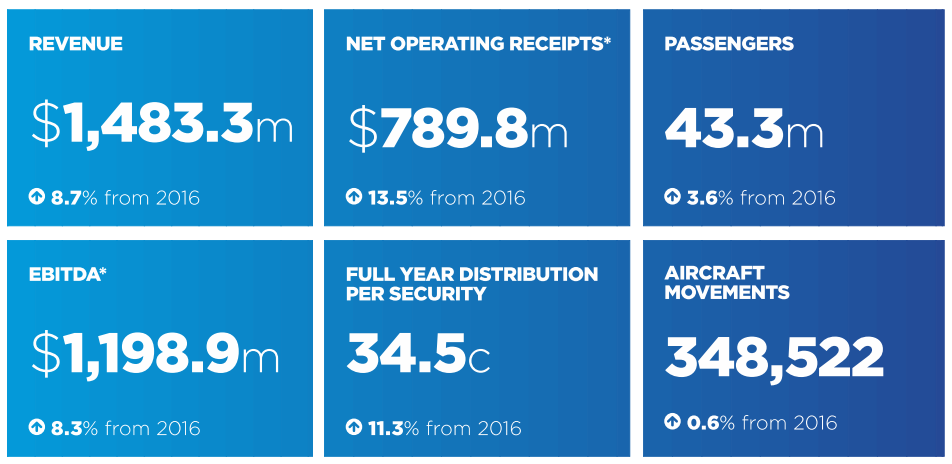 (Chart Source - Company Reports)
As part of its Outlook, the company stated that during 2017 Sydney Airport generated strong international passenger growth, invested in aviation capacity and facilitation, and delivered positive investor returns. Their financial position is the strongest it has been since privatisation. Together with their airline and airport business partners, the company will continue to develop new and underserved routes and markets and support the growth of aviation in Sydney, NSW and Australia. Their focus for 2018 remains optimising the efficient use of their airport and investing efficient infrastructure to support the delivery of world-class facilities, operations and passenger experience. On 20th Apr'18, Sydney Airport announced successful completion of its EUR500m 10-year Eurobond issue with maturity in Apr2028. This development has enhanced the company's strong liquidity position, providing significant capital management flexibility. The Debt maturity profile has got lengthened, with average maturity extended four months to mid-2024. The debt maturity profile has smoothened, with less than 15% of debt maturing in any one year and the funding sources have got diversified, with the company's second issue into Euro market. The currency exposures have 100% hedged over the life of the bond (Data Source – Company Reports).
Financials
The company currently offers un-franked Annual Dividend Yield of 5.26% against a sector average of only 1.51%. The company's EPS stands at 17.99 and EBITD margin at 80.78. The Debt-to-Equity ratio is 1388.28 against a sector average of only 87.94. The group has a P/E ratio of 42.21 against the sector average of 25.33. The stock has a Market cap of 14.71bn & a Share Volume of 2.2bn. The stock price of the company has slipped 13% during the last 4.5 months and is currently hovering around its resistance level with a lot of upside potential (Data Source – Reuters.com).
Veye's Take
We are still Bullish on "Sydney Airport Holdings Ltd" and give it a "Hold" at the current price of $6.56
Disclaimer
Veye Pty Ltd (ABN 58 623 120 865) authorised representative (AR No. 001261006) of Vested Equities Pty Ltd which holds an Australian Financial Services License (AFSL No. 478987). Veye is authorised to share only generic financial views through its website, reports and newsletters without taking into consideration your personal financial needs or investment objectives. Although Veye takes the utmost care to ensure the accuracy of the content and that the information is gathered and processed from reliable resources, it is recommended you seek professional advice from your financial advisor or stockbroker before acting on any of our recommendations. Veye Pty Ltd advises it's users to pursue investing as a long-term goal. Stocks are subject to real time changes therefore all the information we share represents our views at the date of publishing and we request our readers not to interpret our reports as direct recommendations. Past performance is no indication of potential future performance. The securities and financial products we study and share information on in Veye Reports may have a product disclosure statement or other offer document associated with them. You should obtain a copy of these documents before making any decision about acquiring the security or product. You can refer to our Terms & Conditions and Financial Services Guide for more information. Veye Pty Ltd confirms that the employees and/or associates of Veye Pty Ltd do not hold positions in any of the financial products covered on the website on the date of publishing this report (as mentioned on the website www.veye.com.au).