Cedar Woods Properties Limited
Team Veye | 12 May 2020

ASX - CWP
Cedar Woods Properties Limited (ASX: CWP) is engaged in property investment and development. The Company's principal interests are in urban land subdivision and built form development for residential, commercial and retail purposes. The Company's portfolio of assets is located in Western Australia, Victoria, Queensland and South Australia. The Company's offerings include small housing lots at its residential estates through to high-end apartments at boutique waterfront developments. The Company's projects include Mariners Cove, The Brook at Byford, Rivergums Baldivis, Byford on the Scarp, Harrisdale Green, Banbury Village, Jackson Green, Williams Landing Residential, Williams Landing Town Centre, Ellendale, Wooloowin, Mangles Bay and Western Edge. The Company's subsidiaries include Cedar Woods Properties Harrisdale Pty Ltd, Cedar Woods Properties Investments Pty Ltd, Cedar Woods Properties Management Pty Ltd and Cedar Woods Property Sales Pty Ltd. (Profile source: Reuters)
From the Company Reports
Third Quarter FY20 Operational Update
Cedar Woods Properties Limited (ASX: CWP) ('Cedar Woods' or 'the Company') on 22 April 2020 provided the following operational update.
The Company was well placed to weather the impacts of the COVID-19 pandemic and has taken proactive measures to safeguard staff, customers and projects, to adapt marketing and sales functions and to reinforce disciplined cost and balance sheet management.
Factors that may impact the Company's performance include pandemic led weaker consumer sentiment and social distancing practices at construction sites to the extent that project completions are affected.
While sales centres remain open, social restrictions and weak buyer demand have impacted enquiry and sales. Pre-sales at the end of March 2020 stood at $363 million ($380 million in the previous corresponding period) and are expected to settle over the balance of FY20, FY21 and FY22.
During the third quarter of FY20 construction of a number of projects and stages were completed by the Company.
Portfolio Highlights
In March 2020 the Company announced the $25.93 million settlement of the Emergency Communications Facility at Williams Landing, Victoria, which contributes to FY20 earnings. The completion of this building increased employment at Williams Landing to more than 2,000 jobs supporting the vibrancy of Williams Landing.
The Grace apartments at Glenside in South Australia achieved 25 percent pre-sales in the first week after launch. Sales included a record $2.725 million penthouse apartment.
Several stages at the Company's projects in Western Australia, Victoria and Queensland are nearing completion and due to settle from Q4 FY20.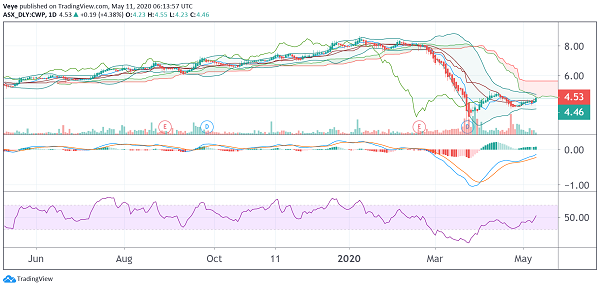 (Chart source: TradingView)
Market Conditions
Housing conditions are currently very challenging, with enquiry and sales at low levels relative to market norms. Buyers remain cautious and housing finance continues to be difficult to secure for some buyer segments. Job losses and the uncertainty of ongoing employment have caused customers to defer buying decisions and the Company is expecting an increase in fall overs of existing sales contracts.
Federal and state governments are expected to announce targeted stimulus for the housing sector which, like the stimulus provided after the global financial crisis in 2009, will significantly boost sales.
In addition, the Reserve Bank of Australia recently lowered the cash rate to a record 0.25 percent and mortgage rates in Australia are at record low levels which will assist mortgagors and home buyers.
Cedar Woods delivers Emergency Communications Facility in Williams Landing
Cedar Woods Properties Limited on 24 March 2020 announced the $25.93 million settlement of the recently completed Emergency Communications Facility in Williams Landing, Victoria, which will contribute directly to FY20 earnings.
Cedar Woods' Managing Director, Nathan Blackburne said that the state-of-the-art building will perform a vital role in emergency call-taking and dispatch services, and handling major emergencies for Victorians.
The Emergency Communications Facility was a valued addition to Williams Landing and a credit to the Cedar Woods team, the Victorian State Government and builder partner Hacer.
The vibrancy of Wiliams Landing will continue to grow with around 300 people working at the building, bringing total employment at Williams Landing to approximately 2,100 persons.
The 3,126 square metre property was pre-sold to Hellenic Property Investments Pty Ltd in 2018 and was pre-leased in full to the Assistant Treasurer for and on behalf of the State Government of Victoria, under a 15- year lease agreement.
Cedar Woods holds a significant pipeline of undeveloped sites at Williams Landing which will continue to be developed over the next 10 years
The project has approximately 17 hectares of development land still available for a mix of office, retail and residential projects.
The project's masterplan will continue to be an important element of its strategy to grow a national portfolio diversified by geography, price point and product type.
According to economist MacroPlan Dimasi, Williams Landing has the capacity to host up to 23,000 jobs once fully developed, making it a significant commercial centre and business hub in Melbourne's west.
Cedar Woods' first half profit in line with guidance; remains on track for the strong second half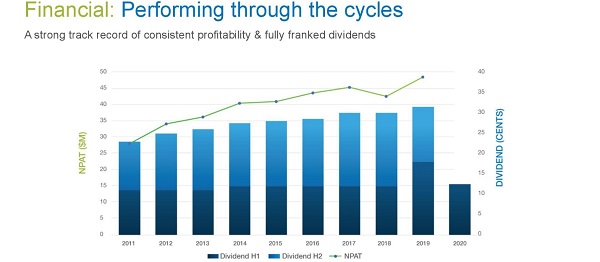 (Graphic Source – Company Reports)
Cedar Woods Properties Limited had on 19 February 2020 reported a net profit after tax for the first half of the 2020 financial year (FY20) of $10.2 million ($30.8 million in the previous corresponding period). The result was in line with the guidance of first-half earnings being lower than in the previous year, with full-year earnings weighted to the second half.
In anticipation of a strong second half, the Board has declared a fully franked interim dividend of 12.5 cents per share. The Dividend Reinvestment and Bonus Share Plans remain available for the interim dividend. The Board maintains the policy of distributing approximately 50 percent of full year net profit to shareholders via dividends.
During the first half, the Company advanced its development and construction program across its national portfolio making solid progress on projects in Queensland, Western Australia, South Australia and Victoria.
The completion of significant development stages during this period underpins a significantly stronger second half, when it will see three new projects deliver revenue for the first time.
Pre-sales at the end of December stood at $340 million ($358 million PCP), with approximately half of these presales expected to settle in FY20 and the balance in FY21.
Presales include $49 million of commercial developments ($56 million PCP), at two separate projects, reflecting the Company's ongoing commercial development activities and continued commitment to diversifying its portfolio.
Cedar Woods' balance sheet remains robust with net bank debt-to-equity of 38 percent as at 31 December 2019, and substantial undrawn capacity under current bank facilities available to fund operations and future growth.

(Graphic Source – Company Reports)
Consistent with its strategy of counter-cyclical purchasing, Cedar Woods acquired three quality developments in Western Australia and Victoria during the first half, supplementing its national portfolio to more than 9400 dwellings, lots and offices.
These acquisitions contribute to a healthy forward development pipeline that will continue to diversify Cedar's portfolio by geography, product type and price point.
Cedar Woods Properties Limited (CWP)

Stock Overview

Sector

Real Estate

Risk

Low to Medium

Market Cap

$349.14 million

Daily average Volume

84,064

EPS (FY)

$0.35

PE RATIO

12.4

Yearly Dividend Yield

5.99%

Target Price (s) T1 and T2

T1 $5.70 T2 $7.00

Stop Loss

$3.65

Recommendation

Buy

52 weeks High

$8.66

52 weeks Low

$2.87

Directors

Mr Nathan John Blackburne

Non-executive Directors
Mr William G Hames
Mr Robert S Brown
Veye's Take
CWP's strategy of diversification by geography, product type and price point continues to serve it well in these challenging conditions and for a recovery when pandemic conditions ease. Its strong balance sheet, low gearing and strong support from its financiers also positions us well to endure the current downturn and capitalise on opportunities that may arise during the recovery phase. A number of new projects are expected to contribute to earnings in future years positioning the Company well for the medium term. The Company is well placed to take advantage of likely favourable conditions for acquisitions as the economy recovers. Earlier also the Company had actively taken advantage of soft market conditions to secure three significant development sites. Cedar Woods has high-quality earnings. Its earnings have grown by 4.3% per year over the past 5 years. CWP's short term assets ($183.05M) exceed its short term liabilities ($63.0M). The Company has a satisfactory debt to equity ratio at (38.9%). CWP's dividend payments have increased over the past 10 years. With its reasonable payout ratio (74.4%), CWP's dividend payments are covered by earnings. Its dividends in 3 years are forecast to be covered by earnings (50.1% payout ratio). The stock is receiving all bullish indicators and only volume increase is needed. All along, during subsequent retracements, the stock has been protecting its bottom formed in end-March. It is already past its initial resistance at $4.25 and still moving up. Once it crosses $4.90 with volumes it would have completed an inverse head and shoulder pattern. It can have the potential of significantly moving up then. Veye recommends a "Buy" on "Cedar Woods Properties Limited" at the current price of $4.26
Disclaimer
Veye Pty Ltd (ABN 58 623 120 865) authorised representative (AR No. 001261006) of Vested Equities Pty Ltd which holds an Australian Financial Services License (AFSL No. 478987). Veye is authorised to share only generic financial views through its website, reports and newsletters without taking into consideration your personal financial needs or investment objectives. Although Veye takes the utmost care to ensure the accuracy of the content and that the information is gathered and processed from reliable resources, it is recommended you seek professional advice from your financial advisor or stockbroker before acting on any of our recommendations. Veye Pty Ltd advises it's users to pursue investing as a long-term goal. Stocks are subject to real time changes therefore all the information we share represents our views at the date of publishing and we request our readers not to interpret our reports as direct recommendations. Past performance is no indication of potential future performance. The securities and financial products we study and share information on in Veye Reports may have a product disclosure statement or other offer document associated with them. You should obtain a copy of these documents before making any decision about acquiring the security or product. You can refer to our Terms & Conditions and Financial Services Guide for more information. Veye Pty Ltd confirms that the employees and/or associates of Veye Pty Ltd do not hold positions in any of the financial products covered on the website on the date of publishing this report (as mentioned on the website www.veye.com.au).