Will Challenger Ltd overcome its challenges?
Team Veye | 20 Apr 2018

ASX - CGF
Challenger Ltd (ASX:CGF)
The company published its H1 FY2018 results on 13th Feb'18 highlighting a weak performance across key metrics. The company announced a statutory net profit after tax (NPAT) of $195m, down 3%, Net income $409m up 7%, Expenses $131m up 4%, EBIT $283m up 6%,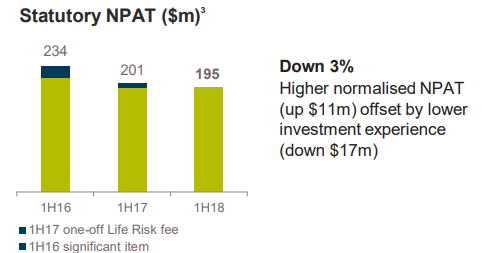 (Chart Source - Company Reports)
The company stated that they have a clear plan for sustainable long-term growth in their vision and strategy. This includes increasing the Australian retirement savings pool allocation to secure and stable incomes, Be recognised as the leader and partner of choice in retirement income solutions with a broad product offering, Providing customers with relevant investment strategies exhibiting consistently superior performance & Delivering superior outcomes to customers and shareholders through a highly engaged, diverse and agile workforce committed to sustainable business practices and a strong risk and compliance culture. On 19th Apr'18, The company released its FY2018 3rd quarter results highlighting mixed outcomes - Total assets under management of $78.6 billion, up 3% for the quarter, Life net book growth of $629 million, up 74% on PCP, Life net book growth of 5.2% in third quarter, Total Life sales of $1.1 billion, down 13% on PCP, Long term annuities account for 43% of annuity sales, Funds Management net flows $2.1 billion. The company clarified that the Total Life sales for the quarter were down 13% on the prior corresponding period (PCP), primarily because of a lower Japanese reinsurance quota share (being Challenger's share in each sale). The reinsurance quota share varies from time to time and in the March 2018 quarter the quota share was half the level it was in the same period last year. As part of its outlook for 2018, the company highlighted that it's on track to achieve normalised net profit before tax guidance of between $545 million and $565 million, representing growth of 8% to 12% on FY17. The company remains committed to its 18% pre-tax normalised return on equity target, noting that ROE in FY18 will be impacted by higher levels of capital received at the start of the financial year (Data Source – Company Reports).
Financials
The company currently offers a fully ranked Annual Dividend Yield of 3.14% against a sector average of only 2.20%. The company's EPS stands at 66.69 and EBITD margin at 34.56. The Debt-to-Equity ratio is 183.01 against a sector average of only 57.55. The group has a P/E ratio of 17.06 against the sector average of 19.87. The stock has a Market cap of 6.8bn & a Share Volume of 610.86m. The stock price of the company touched an all-time high of $14.35 on 20th Dec'17 and has slipped 24% during the last 3.5 months with no signs of recovery. We reckon that it would be wise to wait until the price drop stabilizes before taking the plunge (Data Source – Reuters.com).
Veye's Take
We are Bearish on "Challenger Ltd" and give it a "Stay Away" at the current price of $10.69
Disclaimer
Veye Pty Ltd (ABN 58 623 120 865) authorised representative (AR No. 001261006) of Vested Equities Pty Ltd which holds an Australian Financial Services License (AFSL No. 478987). Veye is authorised to share only generic financial views through its website, reports and newsletters without taking into consideration your personal financial needs or investment objectives. Although Veye takes the utmost care to ensure the accuracy of the content and that the information is gathered and processed from reliable resources, it is recommended you seek professional advice from your financial advisor or stockbroker before acting on any of our recommendations. Veye Pty Ltd advises it's users to pursue investing as a long-term goal. Stocks are subject to real time changes therefore all the information we share represents our views at the date of publishing and we request our readers not to interpret our reports as direct recommendations. Past performance is no indication of potential future performance. The securities and financial products we study and share information on in Veye Reports may have a product disclosure statement or other offer document associated with them. You should obtain a copy of these documents before making any decision about acquiring the security or product. You can refer to our Terms & Conditions and Financial Services Guide for more information. Veye Pty Ltd confirms that the employees and/or associates of Veye Pty Ltd do not hold positions in any of the financial products covered on the website on the date of publishing this report (as mentioned on the website www.veye.com.au).