Xero Limited
Team Veye | 21 May 2020

ASX - XRO
Xero Limited (ASX: XRO) is a New Zealand-based software as a service company. The Company offers cloud-based accounting software. Its segments include Australia and New Zealand (ANZ) and International. The features and tools of its software platform include accepting payments, asset management, advisor tools, bank connections, bank reconciliation, business performance dashboard, contacts and smart lists, dashboard, data capture, expenses, files, GST returns, inventory, invoicing, multi-currency accounting, pay bills, payroll, project management, purchase orders, projects, quotes, reporting, and search. It also offers its Xero mobile application. The features of its mobile application include manage invoices, bank reconciliation, manage contracts, monitor spending, and reporting on the go. The Company serves various industries, such as retail, high tech, non-profit, hospitality, cafes, startups, and construction. (Profile source: Reuters)
From the Company Reports
Xero Delivers 30% Revenue Growth & Free Cash Flow Progress
Focus is on supporting Xero customers during COVID-19
Xero Limited (ASX: XRO) on 14 May 2020 reported full year earnings to 31 March 2020 (FY20) delivering top-line growth with positive free cash flow and net profit outcome.
(Graphic Source – Company Reports)
The effect of COVID-19 on the global business environment, and associated social distancing measures that commenced in March, fell late in FY20 and had a relatively modest impact on Xero's operating and financial performance for the year.
However, the impact of COVID-19 on March trading did result in some reduction in annualised monthly recurring revenue (AMRR) progress in that month. This outcome, along with the ongoing COVID-19 environment, will be reflected in Xero's FY21 financial performance. Xero does not anticipate significant changes to its long-term strategy, and it believes strongly in the value Xero can bring to small businesses and their advisors.
Performance highlights FY20 (All figures in NZD as of 31 March 2020. Comparisons are made against FY19)
30% growth in operating revenue to $718.2 million (29% in constant currency (CC))
29% growth in AMRR to $820.6 million
26% growth in total subscribers to 2.285 million
Rest of World and North America contributed almost one in four subscriber additions in H2 FY20
Total subscriber lifetime value grew by 27% (25% in CC) to $5.5 billion
Free cash flow was $27.1 million, taking total available liquid resources to $686.1 million
Net profit of $3.3 million, an improvement of $30.5 million over a net loss of $27.1 million
EBITDA of $137.7 million, an improvement of 88% compared to $73.2 million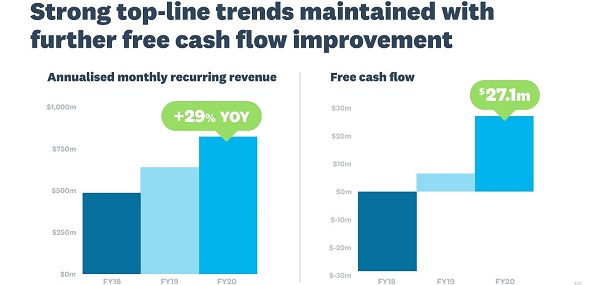 (Graphic Source – Company Reports)
Market highlights
Australia subscribers grew by 26% in the year to reach 914,000. Net subscriber additions of 188,000 set a new high for net additions in all our markets. Revenue was up 23% (25% in CC). We continued to benefit from the opportunity represented by Single Touch Payroll.
UK subscribers grew by 32% to 613,000. Revenue grew by 54% (50% in CC). The strong net subscriber additions of 150,000 were assisted in part by the Making Tax Digital initiative and Xero Tax now offering end-to-end integration with HMRC.
New Zealand subscribers grew by 12% in the year to 392,000, with 41,000 subscribers joining in FY20. Revenue outpaced subscriber growth, increasing by 19%.
North America subscribers grew by 24% in the year to 241,000. Net additions of 26,000 in H2 FY20 compared to 17,000 in H2 FY19. This is a strong indicator of the early progress from our renewed positioning in a key global market. Revenue grew by 25% (19% in CC).
Rest of World subscribers grew by 51% to 125,000, maintaining the momentum that this part of the business has reported in recent periods. Revenue grew by 43% (36% in CC).
Outlook
While Xero has performed strongly in FY20, trading in the early stages of FY21 has been impacted by the COVID-19 environment. The continued uncertainty surrounding COVID-19 means it would be speculative for us to say anything more at this time on its potential impact on our expected performance for FY21.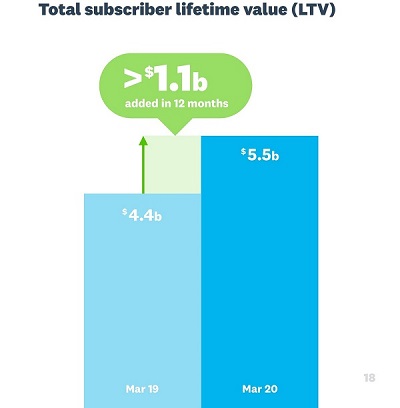 (Graphic Source – Company Reports)
Xero's ambition is to be a long-term oriented, high-growth business. We continue to operate with disciplined cost management and targeted allocation of capital. This allows us to remain agile so we can continue to innovate, invest, support our customers, and respond to opportunities and changes in our operating environment.
Xero Delivers 32% Operating Revenue Growth & Passes 2 Million Global Subscribers
Annualised monthly recurring revenue increased 30% to $764 million
Xero Limited (ASX: XRO) on 7 November 2019 reported half year earnings to 30 September 2019 (H1 FY20) delivering strong topline growth combined with improving gross margin and free cash flow.
Performance highlights H1 FY20 (All figures in NZD and comparisons are made against H1 FY19)
Operating revenue was up 32% to $338.7 million (33% in constant currency (CC))
30% growth in annualised monthly recurring revenue (AMRR) to $764.1 million
30% growth in total subscribers to 2.057 million
Total subscriber lifetime value grew by 37% (38% in CC) to $5.4 billion, with more than $1 billion added in the half
Free cash flow was $4.8 million, compared to a free cash outflow of $9.8 million in H1 FY19
Net profit after tax increased by $29.9 million to $1.3 million
EBITDA excluding impairments of $65.9 million almost doubled from $34.5 million in H1 FY19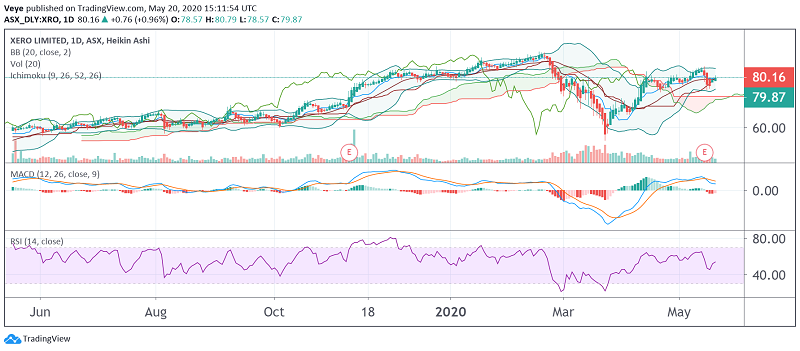 (Chart source: TradingView)
Xero achieved a significant milestone in the half, surpassing two million subscribers globally, to end the period with 2.057 million subscribers. While it took more than a decade to add Xero's first million subscribers, it took just two and a half years to add the next million, demonstrating the pace of Xero's adoption across a number of markets.
XERO LIMITED (XRO)

Stock Overview

Sector

Software & Services

Risk

Medium

Market Cap

$11.38 billion

Daily average Volume

-

EPS (FY)

$0.023

PE RATIO

3470.1

Yearly Dividend Yield

-

Target Price (s) T1 and T2

T1 $93.0 T2 $110.0

Stop Loss

$75.00

Recommendation

Buy

52 weeks High

$90.22

52 weeks Low

$54.69

Directors

Mr Steve Vamos

Non-executive Directors
Mr Rod Drury
Mr Craig Winkler
Veye's Take
Xero achieved its first full year net profit after tax of $3.3 million, an improvement of $30.5 million compared to a $27.1 million loss in FY19. The net profit result was driven by ongoing growth in operating revenue, improved gross margin, and disciplined management of operating costs. Xero has focused on maintaining the quality and continuity of its 100% cloud-based products and services while moving swiftly to roll out a range of new customer and partner support services. In FY20 Xero continued to execute its strategy, delivering operational revenue growth of 30 percent driven by subscriber growth in all markets. Xero is trading above 50 and 200 Mas on both daily and weekly t/f. It is also in the process of forming a bull flag. The stock has good support at the $75.0 area. In the medium term, it can have the potential of attempting $93.0 and above. Veye recommends a "Buy" on "Xero Limited" at the current price of $ 79.94
Disclaimer
Veye Pty Ltd (ABN 58 623 120 865) authorised representative (AR No. 001261006) of Vested Equities Pty Ltd which holds an Australian Financial Services License (AFSL No. 478987). Veye is authorised to share only generic financial views through its website, reports and newsletters without taking into consideration your personal financial needs or investment objectives. Although Veye takes the utmost care to ensure the accuracy of the content and that the information is gathered and processed from reliable resources, it is recommended you seek professional advice from your financial advisor or stockbroker before acting on any of our recommendations. Veye Pty Ltd advises it's users to pursue investing as a long-term goal. Stocks are subject to real time changes therefore all the information we share represents our views at the date of publishing and we request our readers not to interpret our reports as direct recommendations. Past performance is no indication of potential future performance. The securities and financial products we study and share information on in Veye Reports may have a product disclosure statement or other offer document associated with them. You should obtain a copy of these documents before making any decision about acquiring the security or product. You can refer to our Terms & Conditions and Financial Services Guide for more information. Veye Pty Ltd confirms that the employees and/or associates of Veye Pty Ltd do not hold positions in any of the financial products covered on the website on the date of publishing this report (as mentioned on the website www.veye.com.au).