Integrated Research Limited
Team Veye | 07 May 2020

ASX - IRI
Integrated Research Limited (ASX: IRI) is a provider of performance monitoring, diagnostics and management software solutions for business-critical computing environments. The Company's principal activities are the design, development, implementation and sale of systems and applications management computer software for business-critical computing, unified communication (UC) network and payment networks. Its geographical segments include the Americas, which operates from the United States with responsibility for the countries in North, Central and South America; Europe, which operates from the United Kingdom with responsibility for the countries in Europe; the Asia Pacific, which operates from the Australia and Singapore with responsibility for the countries in the rest of the world, and Corporate Australia. It is focused on three markets: Infrastructure, which includes users of computing systems; Communications, which includes users of Internet Protocol telephony and UC applications, and Payments (Profile source: Reuters)
From the Company Reports
Material Contract Disclosure: Largest deal in IR's Corporate History
Integrated Research Limited (ASX: IRI) on 12 March 2020 announced a significant renewal and extension software licence agreement with JP Morgan Chase, for a total contract value of US$10 million. The contract is a binding agreement with a term of 5 years, for products in its Payments and Infrastructure portfolio.
JP Morgan Chase has been a customer of IR for over 25 years, with the IR Prognosis solution providing realtime payment transaction data to support business-critical decisions. Recent innovations and enhancements delivered in the 11.7 release of IR Prognosis, were instrumental in the decision by JP Morgan Chase to extend its relationship with IR.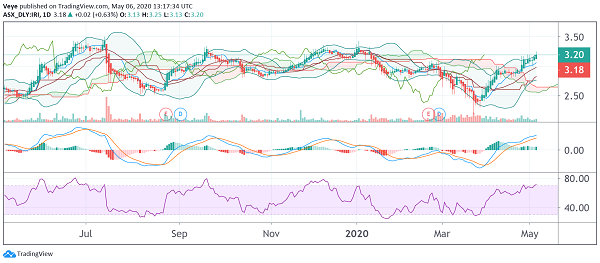 (Chart source: TradingView)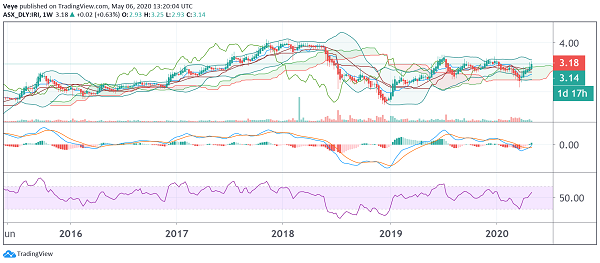 (Chart source: TradingView)
Integrated Research Limited Reports First Half Results
Quality Revenue Underpins Performance
Integrated Research (ASX: IRI), a leading global provider of performance management software for critical IT infrastructure, payments and unified communications on 20 February 2020 released its results for the six month period ended 31 December 2019.
The Company reported its fifth consecutive year of interim profit growth. The Company achieved a 1% increase in profit after tax to $11.8 million when compared to the prior corresponding period. The result is at the midpoint of the guidance provided to the ASX on 13 January 2020. Overall licence sales increased by 7% to $33.4 million and total revenue increased by 6% to $53.2 million.
Product and service revenue performance was as follows:
Unified Communications revenue up 10% to $29.7 million
Payments revenue down 14% to $7.8 million
Infrastructure revenue up 1% to $11.2 million
Professional Services revenue up 39% to $4.5 million
The Company's revenue growth in both Australian and US currencies for the first half of the 2020 financial year and the nine prior equivalent periods.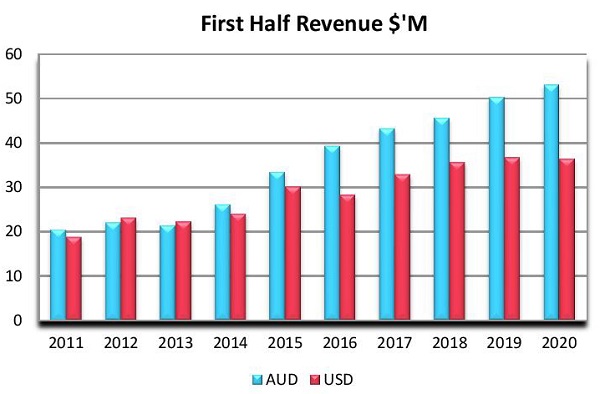 (Graphic Source – Company Reports)
Over 95% of the Company's revenue was derived outside of Australia. IR Prognosis is sold in over 60 countries. Some of the more significant sales during the half-year period came from ANZ Bank, AT&T, BT, Capgemini, Fiserv, HCL Technologies, and Prisma Medios.
John Ruthven, Chief Executive Officer said that the Company executed well in the first half to deliver a solid result underpinned by high quality revenues. The Asia Pacific was the standout performance with 62% growth and the Unified Communications business returned to growth as expected. It anticipated delivering a strong result for the full year based on the quality of the second half pipeline.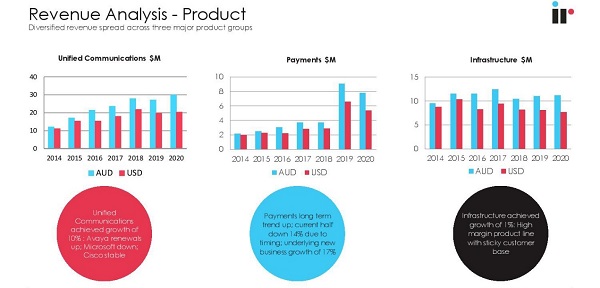 (Graphic Source – Company Reports)
Payments revenue declined by 14% to $7.8 million against a strong prior-year performance. While there is a cyclical aspect to the result, there are clear signs that the revenue stream is growing. Underlying growth in new business was 17% which will provide further momentum for long term growth in a market where transactional volumes continue to expand.
Unified Communications revenues increased by 10% to $29.7 million. As anticipated, the result was supported by the successful closure of renewals on the Avaya platform. Revenue on the Microsoft platform continued to decline as customers migrate away from Skype to Teams. Licence sales growth from the Cisco platform was stable for the half. The outlook for the full year remains positive as the Company looks to execute on further renewal opportunities in the second half and win new customers.
The Company's cash flow from operations increased by 28% to $13.2 million. Gross spending on research and development for the half was 21% (December 2018: 19%) of revenues. On 20 December, the Company's new 'real time' SaaS platform went live and it has now moved into the customer beta phase with a Payments Assurance product. This significant milestone was achieved through a balanced approach to R&D investment, supporting both the development of the brand new SaaS platform and ongoing innovation on Prognosis.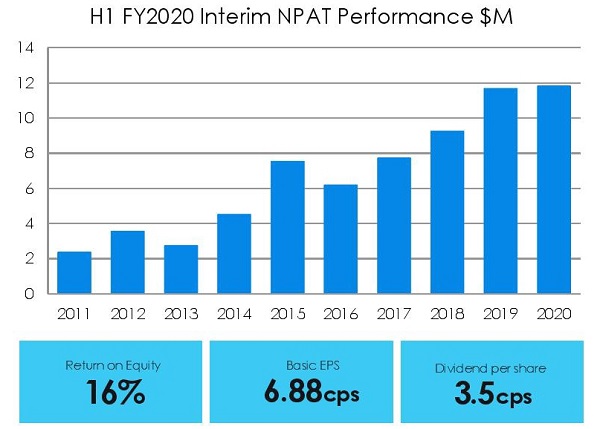 (Graphic Source – Company Reports)
The Company's profit margins remained steady for half. The NPAT margin (as measured by NPAT/Revenue) was 22% compared to 23% for the equivalent prior half. Total staff numbers at the end of the half were 268 (December 2018: 262).
Dividends
Directors have declared a fully franked interim dividend of 3.5 cents per share. Integrated Research maintains a strong financial position with total cash of $7.6 million at 31 December 2019 (31 December 2018: $9.6 million).
Integrated Research Limited (IRI)

Stock Overview

Sector

Software & Services

Risk

Low to Medium

Market Cap

$546.52 million

Daily average Volume

241,308

EPS (FY)

$0.128

PE RATIO

24.9

Yearly Dividend Yield

2.28%

Target Price (s) T1 and T2

T1 $3.60 T2 $4.15

Stop Loss

$2.90

Recommendation

Buy

52 weeks High

$3.50

52 weeks Low

$2.19

Directors

Mr John David Ruthven

Non-executive Directors
Mr John Nicolas Abrahams
Mr Garry Dinnie
Veye's Take
Integrated Research's renewal and extension software licence agreement with JP Morgan Chase, for a total contract value of US$10 million is further validation of the mission critical nature of IR solutions with major enterprises. The Company reported its fifth consecutive year of interim profit growth. IRI's overall licence sales increased by 7% to $33.4 million and total revenue increased by 6% to $53.2 million. Its 86% of revenue is term recurring with 93% maintenance retention rate. IRI's PE ratio (24.9) is below the software industry average. Its Return on Equity is forecast to be high in 3 years time (27.7%). IRI has high quality earnings. Its earnings have grown by 12% per year over the past 5 years. The Company's short term assets ($65.05M) exceed its short term liabilities. Its short term assets also exceed its long term liabilities ($13.8M). IRI is debt free. IRI has not had any debt for the past 5 years. IRI's dividend payments have increased over the past 10 years. With its reasonable payout ratio (56.7%), IRI's dividend payments are covered by earnings. The stock had been consolidating for a while now. It appears that it has been well accumulated. On the longer time frame chart, it is making an inverse head & shoulder pattern where it can try to cross its resistance zone at $3.40 initially, beyond which it can gain further strength. Veye recommends a "Buy" on "Integrated Research Limited" at the current price of $3.20
Disclaimer
Veye Pty Ltd (ABN 58 623 120 865) authorised representative (AR No. 001261006) of Vested Equities Pty Ltd which holds an Australian Financial Services License (AFSL No. 478987). Veye is authorised to share only generic financial views through its website, reports and newsletters without taking into consideration your personal financial needs or investment objectives. Although Veye takes the utmost care to ensure the accuracy of the content and that the information is gathered and processed from reliable resources, it is recommended you seek professional advice from your financial advisor or stockbroker before acting on any of our recommendations. Veye Pty Ltd advises it's users to pursue investing as a long-term goal. Stocks are subject to real time changes therefore all the information we share represents our views at the date of publishing and we request our readers not to interpret our reports as direct recommendations. Past performance is no indication of potential future performance. The securities and financial products we study and share information on in Veye Reports may have a product disclosure statement or other offer document associated with them. You should obtain a copy of these documents before making any decision about acquiring the security or product. You can refer to our Terms & Conditions and Financial Services Guide for more information. Veye Pty Ltd confirms that the employees and/or associates of Veye Pty Ltd do not hold positions in any of the financial products covered on the website on the date of publishing this report (as mentioned on the website www.veye.com.au).