Zip Co Limited
Team Veye | 09 Apr 2020

ASX - Z1P
Zip Co Limited (ASX: Z1P), formerly zipMoney Limited, offers point-of-sale credit and digital payment services to consumers and merchants. The Company provides a range of integrated Retail Finance solutions to small, medium and enterprise businesses across various industries, both online and in-store. The Company offers its services primarily to the retail, education, health and travel industries. Its products include zipMoney and zipPay. zipMoney is classified as a continuing line of credit and generally applied to various ticket purchases where a promotional interest-free period is applied, between 6 to 24 months. zipPay is a no-interest ever digital shopping account and generally applied to various ticket purchases, such as fashion, accessories, food, and hospitality. It supports prime, near-prime and emerging prime borrowers by providing those customers with a revolving unsecured line of credit to finance their transactions (Profile source: Reuters)
From the Company Reports
Q3 FY20 Trading Update
Delivering on The Numbers, Covid-19 Response
Zip Co Limited (ASX: Z1P) (Zip or the Company) on 8 April 2020 provided a trading update for the quarter ended 31 March 2020 (Q3 FY20)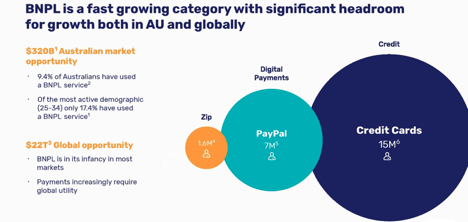 (Graphic Source – Company Reports)
Group Highlights
Record quarterly revenue of $45.0m, up 96% YOY (up 17% on Q2 FY20).
Receivables increased to $1,168.2m, up 107% YOY (up 12% on Q2 FY20).
Quarterly transaction volume of $518.7m, up 84% YOY.
Customer numbers increased to 1.95 million, up 67% YOY (194k added in quarter).
Merchant numbers increased to 22,744, up 58% YOY (1.9k added in quarter).
Zip signs first global payments deal with the Cotton On Group across Australia, New Zealand, UK, South Africa and the US.
City Chic, Grill'd, Nandos, Barbeques Galore, PVH Brands (Calvin Klein, Tommy Hilfiger) and a number of other major retailers went live or joined the platform.
Launched "Shop Everywhere", a product allowing Zip customers to pay at any website globally within the Zip app using a virtual card number.
The Zip app continues to rank in the top 10 across both the Apple (rating 4.9) and Google Stores (rating 4.6).
Decisive action taken in response to COVID-19, including a number of cost-cutting initiatives.
Continuing to strengthen the executive leadership team with the global appointment of Anna Buber-Farovich as Chief People and Culture Officer (ex Google).
Quarterly Performance and Outlook
In April, trading month-to-date (the first 7 days of the month), Zip has seen a 6% uplift in transaction volume compared to March, and a 15% increase to February – demonstrating sustained demand for Zip's services and a pleasing result given the COVID-19 outlook.
Zip believes it is uniquely placed to trade through the current economic environment:
Exposure to defensive, recession-proof sectors and online: There has been an increasing shift in shopping behaviour to online as well as strong demand for everyday categories, bills, home improvements and office supplies, electronics and gaming, whitegoods and furniture. This has offset a reduction in sales across fashion and apparel, travel and leisure, personal care and hospitality.
Exposure to credit-verified, older millennials: The average age of a Zip customer is close to 35, representing a slightly older, more financially savvy customer segment that has gone through a fully underwritten application and wishes to be in control of their everyday finances.
Investment in credit-decision technology: Strong investment in proprietary market-leading credit-decision technology has been proven via superior credit performance. Credit and ID checks have been conducted on every customer since inception, and in many cases a real time review of their banking data. Zip's ability to adjust credit scorecards in real-time and the healthy repayment profile, ensures any acquisition or portfolio management adjustments quickly flow through the receivables book.
Unique, 'account-based' concept: The Zip product construct offers significant more payment flexibility vs traditional BNPL 'pay in 4' models, whereby customers can choose their repayment frequency, and repay from as little as $10/week (although many choose to pay more than this).
H1FY20 Half Year Results
Record Half Year Result, Investing for Growth
Zip Co Limited on 27 February 2020 announced its half year results for the period ending 31 December 2019.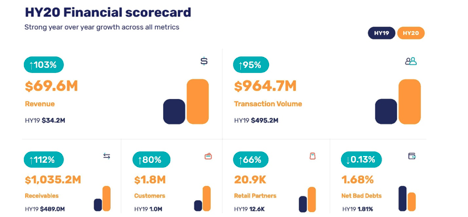 (Graphic Source – Company Reports)
Key Highlights (H1 FY20)
Record revenue, $69.6 million, up 103% on H1FY19.
Record transaction volume, $964.7 million, up 95% on H1FY19.
Loan book (receivables) surpassed $1 billion, up 52% from June 2019.
1.8m customers in ANZ (up 80% from December 2018), transacting across 21k merchants.
Continued to deliver Cash EBTDA breakeven, whilst investing for growth, demonstrating strong unit economics.
Acquired global instalment technology platform PartPay for upfront consideration of $60 million, providing immediate exposure to New Zealand, United Kingdom, United States and South Africa. Subsequently, increased investment in US BNPL provider QuadPay to 15%.
Acquired SME credit provider Spotcap ANZ for total consideration of $9 million – Zip Biz, now in beta, leverages Spotcap's market leading credit decisioning capability as part of a SME focused BNPL offering.
Launched with Amazon Australia in November 2019. Zip is Amazon Australia's first instalment payment option. Big W, Carsales.com, Ola, Optus, Seafolly, Mighty Ape, Freedom and a number of other household brands recently joined the platform – strong pipeline ahead.
Continued strong credit performance with net bad debts of 1.68%.
Released a number of new product innovations – instore QR payments, facial ID verification and Zip Biz.
The Zip app continues to rank in the top 10 across both the Apple (#7, rating 4.9) and Google Stores (#4, rating 4.8) with more than 1.3m downloads.
Pocketbook, Australia's leading personal financial management app has over 747k users.
Strengthened the executive team with a number of key appointments (across product, commercial, marketing, people and culture).
Successful capital raising of $62 million (before costs) from institutional, sophisticated and retail investors. Launched world first master trust program in the BNPL sector with an initial $500 million issuance.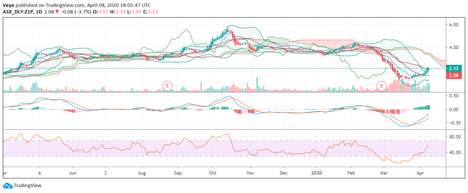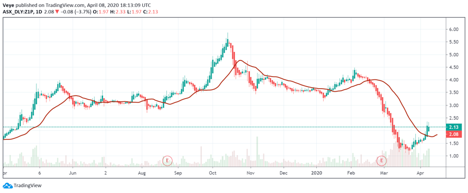 (Chart source: TradingView)
Focus on Growth
In FY20 Zip is focused on 3 key growth areas, with the latest status updates provided below.
Focus on Core:
Strong momentum across core metrics – 95% growth in transaction volume and 140% growth in transactions over H1YFY19.
Launched Zip's first brand campaign in Q2 and dramatically improved awareness, with 1 in 3 Australians having heard of Zip (vs 1 in 4 prior to the campaign).
Investment in the app, the inclusion of new, lighthouse brands and the attraction of interest-free terms drove increased customer engagement and transactions:
App usage was up 105% year on year
New customers transacting 25% more often than prior year cohorts
33% increase in transactions per active customer compared to early 2019
The merchant acceptance network expanded by 4.7k new retailers including Amazon, Ola, Optus and Freedom across ANZ.
2. Product Innovation:
Demonstrated strong demand for Zip Biz, with pilot SMEs transacting over 3x per month.
Streamlined ID verification with OCR and facial ID technology to support seamless onboarding.
Continued improvement in both the online and in-store payment experience with new features including one-click checkout, QR code and native mobile SDK.
3. Global Expansion:
NZ showing good momentum since the acquisition, with customer numbers up 81% in H1. Net transaction margin was over 2% and losses remained stable at 1%.
Success in onboarding AU clients in NZ under regional agreements – recent retailer wins include Bunnings NZ and Mighty Ape.
Appointed UK MD, Anthony Drury in Jan '20, currently building out sales channels and partners. Significant investment in platform in preparation of an official launch in Q4 FY20.
Strategic investments in BNPL players, QuadPay (US) and Payflex (South Africa) are paying off. Unlocking strong synergies across the group. (Data Source – Company Reports).
ZIP CO LIMITED (Z1P)

Stock Overview

Sector

Diversified Financials

Risk

Low

Market Cap

$812.01 million

Daily average Volume

8,161,398

EPS (FY)

-$0.097

PE RATIO

Yearly Dividend Yield

Target Price (s) T1 and T2

T1 $2.75 T2 $3.80

Stop Loss

$1.90

Recommendation

Buy

52 weeks High

$3.80

52 weeks Low

$2.75

Directors

Mr Larry Diamond

Non-executive Directors
Mr John Batistich
Ms Dianne Challenor
Veye's Take
Despite the economic impact of COVID-19, the Zip ANZ business continues to perform strongly, with healthy customer growth, transaction volume, and a strong pipeline of new partners in the March quarter. Zip had set itself two financial targets for FY20. Annualised transaction volumes at EOFY 2020 of $2.2bn, and a global target of 2.5 million customers at EOFY 2020. Based on Q3 volumes, Zip has an annualised transaction volume of $2.1bn. and it currently has 1.95 million customers with an active Zip account. Although the current economic conditions and delayed launch in the UK, have impacted its ability to reach its global customer target. However, Zip is comfortable that the annualised transaction volumes will meet or exceed the stated target. Zip is well funded and uniquely positioned to trade through the current environment. It strongly believes that the credit card model is broken with customers in need of flexible, responsible, interest-free alternatives. The stock is having strong support near $1.90 area. Both RSI and MACD are turning bullish with good volumes. It can have the potential to reach a $2.80 area initially in the current circumstances. Though it may retrace a bit before moving up. Veye recommends a "Buy" on "Zip Co Limited" at the current price of $2.23
Disclaimer
Veye Pty Ltd (ABN 58 623 120 865) authorised representative (AR No. 001261006) of Vested Equities Pty Ltd which holds an Australian Financial Services License (AFSL No. 478987). Veye is authorised to share only generic financial views through its website, reports and newsletters without taking into consideration your personal financial needs or investment objectives. Although Veye takes the utmost care to ensure the accuracy of the content and that the information is gathered and processed from reliable resources, it is recommended you seek professional advice from your financial advisor or stockbroker before acting on any of our recommendations. Veye Pty Ltd advises it's users to pursue investing as a long-term goal. Stocks are subject to real time changes therefore all the information we share represents our views at the date of publishing and we request our readers not to interpret our reports as direct recommendations. Past performance is no indication of potential future performance. The securities and financial products we study and share information on in Veye Reports may have a product disclosure statement or other offer document associated with them. You should obtain a copy of these documents before making any decision about acquiring the security or product. You can refer to our Terms & Conditions and Financial Services Guide for more information. Veye Pty Ltd confirms that the employees and/or associates of Veye Pty Ltd do not hold positions in any of the financial products covered on the website on the date of publishing this report (as mentioned on the website www.veye.com.au).