Fortescue Metals Group Limited
Team Veye | 02 Apr 2020

ASX - FMG
Fortescue Metals Group Limited (ASX: FMG) (Fortescue) is engaged in the exploration, development, production, processing, and sale of iron ore. Fortescue owns and operates a fully integrated infrastructure and supply chain including five berth Herb Elliott Port in Port Hedland, the Judith Street Harbour towage infrastructure and the heavy haul railway covering 620 kilometers (km) of the track. The Company is developing the Eliwana Mine and Rail Project and the Iron Bridge Magnetite Project. The Chichester Hub, which includes the Cloudbreak and Christmas Creek mines, is located in the Chichester Ranges. The Solomon Hub is located in the Hamersley Ranges, and includes the Firetail and Kings Valley mines, which produce in excess of 70 million tons per annum (mtpa). Its Iron Bridge project is located over 145 km south of Port Hedland. It's Eliwana Mine and Rail development includes 143km of rail and a 30mpta dry ore processing facilities. (Profile source: Reuters)
From the Company Reports
Coronavirus (COVID-19) Update – Measures to address the COVID-19 Pandemic at Fortescue Metals Group Limited (Fortescue) Sites and Offices
Since the outbreak of coronavirus (COVID-19) in January 2020, Fortescue Metals Group Ltd (ASX: FMG, Fortescue) on 30 March 2020 announced that it had implemented and expanded a range of measures to protect the health and safety of the Fortescue team and contribute to efforts to contain the spread of COVID-19 across the community.

(Chart source: TradingView)
Chief Executive Officer Elizabeth Gaines said that while COVID-19 had brought uncertainty and volatility to global markets, including the iron ore market, Fortescue's shipments continued from Port Hedland as scheduled. Its mining, processing and shipping activity remained in line with the guidance for FY20 of shipments towards the upper end of its guided range of 170 – 175 mt.
Fortescue's balance sheet is strong with debt facilities structured on low cost,
investment-grade terms, and conditions. As of 31 December 2019, Fortescue had US$4.3 billion of liquidity available including US$3.3 billion of cash on hand and US$1 billion available from the revolving credit facility.
While its international and Australian exploration activities had been suspended in line with local restrictions, its Eliwana Mine and Rail and Iron Bridge Magnetite major growth projects were progressing.
The State and Federal Governments had acknowledged the importance of the sector's contribution to the economy and have identified the resources sector as providing essential services and exempted mining and other resources industries from some of the travel restrictions and other guidelines introduced across the country.
Operational excellence drives record performance for the first half of FY20
Fortescue released its results on 19 February 2020 for the half-year ended 31 December 2019 (1H20) reporting record shipments of 88.6 million tonnes (mt), underlying EBITDA of US$4.2 billion and net profit after tax of US$2.5 billion.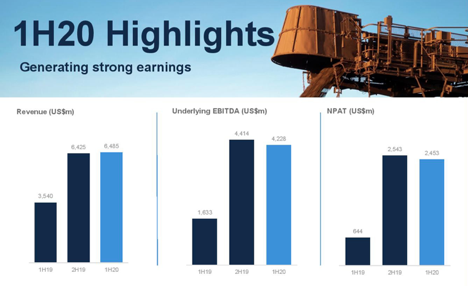 (Graphic Source – Company Reports)
Half-year highlights
Total Recordable Injury Frequency Rate (TRIFR) of 2.5, a 38 percent improvement compared to 1H19
Shipments of 88.6mt, seven percent higher than 1H19
Record half year revenue of US$6.5 billion
C1 cost of US$12.73/wmt, three percent lower than 1H19
Underlying EBITDA of US$4.2 billion with an EBITDA margin of 65 percent
Net profit after tax of US$2.5 billion
Net debt of US$0.7 billion, inclusive of US$3.3 billion cash on hand at 31 December 2019
Fully franked interim dividend of A$0.76 per share (1H19: A$0.30 per share)
Completion of towage infrastructure and commencement of towage operations at the Port of Port Hedland
Continued commitment to emissions reduction through investment in energy infrastructure and renewables
Investment in Eliwana Mine and Rail and Iron Bridge Magnetite growth projects progressing on schedule and budget.
Fortescue Chief Executive Officer, Elizabeth Gaines, said that Fortescue's
excellent results for the first half of FY20 included record production and shipments across the operations generating half-year revenue of US$6.5 billion at an average realised price of US$80/dmt for the half year, 73 percent higher than the prior comparable period.
Fortescue was investing US$700 million in energy transmission infrastructure and solar-gas hybrid generation, to optimise existing assets and deliver low-cost power to the Iron Bridge project. Consistent with its commitment to reduce emissions, it was estimated that 25 – 30 percent of stationary energy would be powered by solar on completion of these developments.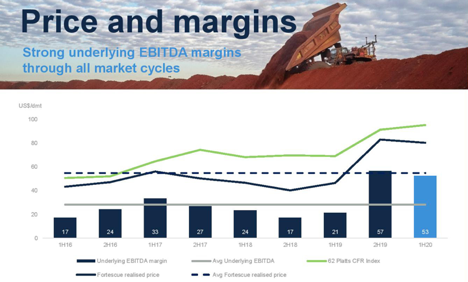 (Graphic Source – Company Reports)
Their continued focus on disciplined capital management together with a flexible balance sheet positioned Fortescue strongly for the next phase of growth and the delivery of enhanced returns to shareholders. The Board had declared a fully franked interim dividend of A$0.76 per share (1H19: A$0.30 per share), which was a 65 percent pay-out ratio of 1H20 net profit after tax, said Ms. Gaines.
Fortescue invests US$450 Million In Energy Infrastructure Through Pilbara Generation Project
Fortescue Metals Group (Fortescue, ASX: FMG) on 30 January 2020 announced the US$450 million Pilbara Generation Project, the next stage of its Pilbara Energy Connect program. The Pilbara Generation Project complemented the US$250 million Pilbara Transmission Project announced in October 2019 and would provide low cost power to the energy-efficient Iron Bridge Magnetite Project.
The Pilbara Transmission Project consisted of 275km of high voltage transmission lines connecting Fortescue's mine sites, while the Pilbara Generation Project would include 150MW of gas-fired generation, together with 150MW of solar photovoltaic (PV) generation. This would be supplemented by large scale battery storage and would be constructed, owned and operated by Fortescue.
Together, the transmission and generation projects, totalling US$700 million, form the Pilbara Energy Connect program of works providing Fortescue with a hybrid solar gas energy solution that would enable low cost power to be delivered to Iron Bridge. This allowed Fortescue to leverage its existing energy infrastructure including the Fortescue River Gas Pipeline and generation capacity at the Solomon Power Station and supported the incorporation of large scale renewable energy.
The Pilbara Energy Connect project builds on the Chichester Solar Gas Hybrid Project which was announced last year. This landmark agreement with Alinta Energy will see up to 100 percent of daytime stationary energy requirements of the Chichester Hub iron ore operations powered by renewable energy. Alinta will build, own and operate the 60MW solar PV generation facility at the Chichester Hub and 60-kilometre transmission line linking the Christmas Creek and Cloudbreak mining operations with Alinta Energy's Newman gas-fired power station. On completion, this will integrate with the Pilbara Energy Connect program, via the Pilbara Transmission Project.
FORTESCUE METALS GROUP LTD (FMG)

Stock Overview

Sector

Materials

Risk

Medium

Market Cap

$31.87 billion

Daily average Volume

9,264,460

EPS (FY)

$2.313

PE RATIO

4.500

Yearly Dividend Yield

9.66%

Target Price (s) T1 and T2

$13.00 - $16.00

Stop Loss

$9.00

Recommendation

Buy

52 weeks High

$12.87

52 weeks Low

$6.59

Directors

Ms Elizabeth Anne Gaines

Non-executive Directors
Dr Jean Baderschneider
Mr Mark Barnaba
Veye's Take
Fortescue Metals Group continues to generate strong margins, driven by its industry leading cost position and product strategy, resulting in a 281 percent increase in net profit after tax to US$2.5 billion, delivering outstanding shareholder returns. The Group's integrated mine to market infrastructure is delivering sustained operational efficiencies across the business and both of its significant growth projects, Eliwana, and Iron Bridge, were progressing on schedule and budget. Fortescue's balance sheet is strong with debt facilities structured at a low cost. It has strong underlying EBITDA margins through all market cycles. Fortescue's commitment of US$700 million in electricity generation and transmission infrastructure will complete the integration of Fortescue's stationary energy requirements in the Pilbara into an efficient network, while lowering the overall cost of electricity to existing and future sites. By installing 150MW of solar PV as part of the Pilbara Generation Project, the modelling indicates that it will avoid up to 285,000 tonnes of CO2e per year in emissions, as compared to generating electricity solely from gas. Pilbara Energy Connect allows for large scale renewable generation such as solar or wind to be connected at any point on the integrated network, positioning Fortescue to readily increase its use of renewable energy in the future. The stock has been trading in a range. It did not breach its trendline even during massive market falls. The strong support area is nearby at $9.70. Maintaining this, it can have the potential of growing significantly. Veye recommends a "Buy" on "Fortescue Metals Group Limited" at the current price of $9.99
Disclaimer
Veye Pty Ltd (ABN 58 623 120 865) authorised representative (AR No. 001261006) of Vested Equities Pty Ltd which holds an Australian Financial Services License (AFSL No. 478987). Veye is authorised to share only generic financial views through its website, reports and newsletters without taking into consideration your personal financial needs or investment objectives. Although Veye takes the utmost care to ensure the accuracy of the content and that the information is gathered and processed from reliable resources, it is recommended you seek professional advice from your financial advisor or stockbroker before acting on any of our recommendations. Veye Pty Ltd advises it's users to pursue investing as a long-term goal. Stocks are subject to real time changes therefore all the information we share represents our views at the date of publishing and we request our readers not to interpret our reports as direct recommendations. Past performance is no indication of potential future performance. The securities and financial products we study and share information on in Veye Reports may have a product disclosure statement or other offer document associated with them. You should obtain a copy of these documents before making any decision about acquiring the security or product. You can refer to our Terms & Conditions and Financial Services Guide for more information. Veye Pty Ltd confirms that the employees and/or associates of Veye Pty Ltd do not hold positions in any of the financial products covered on the website on the date of publishing this report (as mentioned on the website www.veye.com.au).