Stockland Corporation Limited(SGP)
Team Veye | 17 Mar 2020

ASX - SGP
| Call | Buy |
| --- | --- |
| Investment Duration | Long Term |
| Asx | SGP |
Stockland Corporation Limited (ASX: SGP) is an Australia-based diversified property company. The Company owns, develops and manages a portfolio of retail town centers, workplace and logistics assets, residential communities and retirement living villages. Its segments include Commercial Property, Residential, Retirement Living and Other. Commercial Property segment invests in, develops and manages retail town centers, logistics, and workplace properties. Residential provides a range of master-planned and mixed-use residential communities in growth areas and townhouses and apartments in general metropolitan areas. Retirement Living segment designs develops and manages communities for over 55s and retirees. The Company's portfolio includes approximately 35 retail town centers, 29 logistics properties, five workplace properties, 56 residential communities, and 62 established villages. (Profile source: Reuters)
From the Company Reports
Stockland Restocks Sydney Residential Pipeline with Acquisition of The Gables in Box Hill
Stockland Corporation Limited (ASX: SGP) on 16 March 2020 confirmed the exchange of contracts with Celestino Developments for the acquisition of the undeveloped portion of 'The Gables', a 293-hectare master-planned residential community in Sydney's Box Hill, with Stockland purchasing the project for $415 million on capital-efficient terms, including an initial upfront payment of $40.2 million and annual progress payments over a six-year period.
Stockland 1H20 Result – On Track for Full-Year Guidance
Stockland on 19 February 2020 announced that its results for the first half of FY20 were in line with expectations, with the anticipated profit skew to the second half continuing to support its full-year guidance. FFO was down 5.6 percent to $384 million and FFO per security was 16.1 cents. Statutory profit was up 68.1 percent, primarily reflecting $199 million of positive net revaluations
Financial Results for the half year ended 31 December 2019:
Statutory profit up 68.1% to $504 million on 1H19
Funds from operations (FFO) of $384 million, down 5.6% on 1H19 due to the expected second-half skew
FFO per security of 16.1 cents, down 4.2% on 1H19 due to the expected second half skew
Adjusted funds from operations (AFFO) of $338 million, down 4.2% on 1H19
AFFO per security of 14.2 cents, down 2.7% on 1H19
Net tangible assets (NTA) per security of $4.12, up from $4.04 at 30 June 2019
Distribution per security (DPS) of 13.5 cents, distribution payout ratio of 84%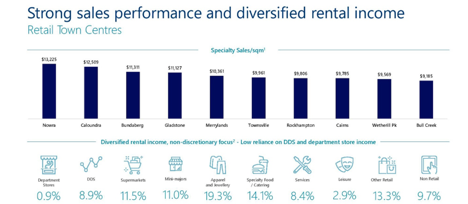 (Graphic Source – Company Reports)
Outlook for FY20:
Stockland's forecast FFO per security of 37.4 cents and DPS of 27.6 cents for FY20, assuming no material change in market conditions.
Stockland Corporation continued to make good progress on the re-weighting of its portfolio to balance its exposure to Communities, Workplace and Logistics, and Retail, which will deliver resilient and sustainable security holder returns. Stockland Corporation expects that this portfolio rebalancing will be achieved over the next five years.
Stockland Corporation has achieved strong momentum on the delivery of its strategic priorities. Highlights included:
Increased its workplace and logistics allocation by 7 percent over the last 18 months, and now represents 26 percent of its portfolio by asset value
Doubled its workplace and logistics development pipeline from over $2 billion to $4.3 billion
Strategic acquisitions to consolidate 100 percent ownership of Piccadilly in the Sydney CBD and additional sites in Walker Street, North Sydney has created significant redevelopment opportunities which are progressing well. This will allow Stockland Corporation to develop a premium workplace portfolio on the eastern seaboard
Broadly stable retail valuations reflect proactive resetting of rents, stable capital expenditure and remixing, with rent reversions in line with the budget
Delivered 2,158 residential settlements, including 266 townhomes. Stockland is on track to deliver over 5,200 settlements for the full year at a margin of around 19 percent
Increased its residential market share from 15 percent to 16 percent (over the six months to 31 December 2019), reaffirming its position as the leading community creator in the country
Restocking its land bank early in the cycle, with the acquisition of three sites including 1,500 lots in Donnybrook, Melbourne and a number of further significant opportunities to be finalised in the near term
Strong operating cash flows, demonstrating its ability to recycle cash at speed, and a forecast cost of debt which is decreasing from 4.4 percent at 31 December 2019 to around 4.0 percent at 30 June 2020. Gearing is at 26.1 percent, which is within its target range.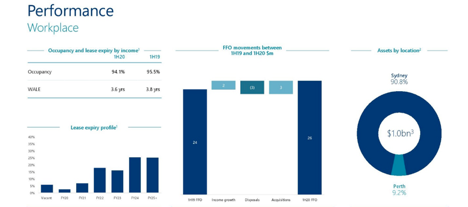 (Graphic Source – Company Reports)
Commercial Property
The Commercial Property business delivered FFO of $308 million, down 1.7 per cent as it divested noncore retail properties and re-weighted the portfolio towards workplace and logistics. The result reflected a solid overall operating performance, with positive net revaluations and strong occupancy levels.
Workplace and Logistics
Logistics FFO: $81 million, comparable growth of 3.9%. Workplace FFO: $26 million, comparable growth of 6.1%
Completed approximately 45,000 square metres of new developments over the period
Around $1.2 billion of new workplace and logistics developments on the eastern seaboard
Retail Town Centres
Retail FFO: $209 million, comparable growth up 0.7%
Achieved portfolio comparable MAT growth of 3.3%, maintained high occupancy at 99.4%
Communities
Residential
Residential FFO $134 million, down 6.0%; and operating profit margin 17.2% (compared to around 19% forecast for FY20)
Results reflect the second half skew to high margin Sydney projects and settlement timing of The Grove and Merrylands Court
2,158 residential lots settled including 266 townhomes.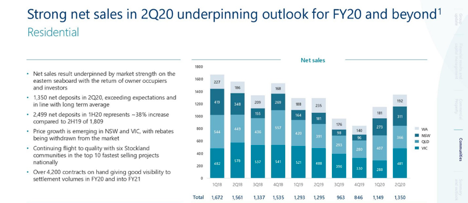 (Graphic Source – Company Reports)
Retirement Living
Retirement Living FFO $17 million, down $3 million or 13.8%, due to development product mix and second half skew due to settlement timings and village disposal profit
Over 12.0% improvement in established sales in 1H20 compared with 1H19, on track to deliver over 850 settlements in line with expectations
Progressing pipeline of 11 land lease communities, which includes over 2,000 future dwellings
Financials
The company currently offers an annual dividend yield of 8.17%. The company has a P/E ratio of 15.5. The EPS stands at 0.218. The stock has a market cap of $8.06 billion and a Share volume of 2.38 billion. The stock has a 52-week price range of $3.38-$5.47 (Data Source – Company Reports).
Veye's Take
Stockland's current acquisition is in line with its strategy to restock its residential development pipeline with a well-located, market-ready project which increases the company's exposure to the strong Sydney residential land market. As a scale creator of property assets, Stockland has a clear strategy to leverage its diversified business model to maximise security holder returns through community creation. Stockland is improving portfolio quality and accelerating growth opportunities in its Communities business. The company is well-positioned to take advantage of the improving residential cycle, deliver a series of exciting new workplace and logistics developments, and to deal with structural changes in the retail sector. SGP is trading at 55% below its fair value. Stockland's earnings are forecast to grow 5.29% per year. The Company is considered one of the top dividend payers in the market. With its reasonable payout ratio (67.6%), SGP's dividend payments are covered by earnings. Although the chart on the shorter time frame is indicating some more fall, it is signalling the end of retracement on the longer time frame. We recommend a "Buy" on Stockland Corporation Ltd at the current price of $3.30
Disclaimer
Veye Pty Ltd (ABN 58 623 120 865) authorised representative (AR No. 001261006) of Global Merces Funds Management Ltd holds Australian Financial Services License (AFSL No. 460883). Veye is authorised to share only generic financial views through its website, reports and newsletters without keeping into consideration your personal financial needs or investment objectives. Although Veye takes utmost care about the accuracy of the content and ensure that the information is gathered and processed through reliable resources but it is recommended for you to seek professional advice from your financial advisor or stockbroker before acting on any of our content or taking a final decision on your investments. Veye Pty Ltd advises it's users to pursue investing as a long-term goal. Stocks are subject to real time changes therefore all the information we share represents our views at the date of publishing and we request our readers not to interpret our reports as direct recommendations. Future Performance of any Security/Financial Product cannot be assured basis its past performance. The securities and financial products we study and share information on, in Veye Reports, may have a product disclosure statement or other offer document associated with them. You should obtain a copy of these before making any decision about acquiring the security or product. You can refer to our Terms & Conditions and Financial Services Guide as per your convenience. Veye Pty Ltd confirms that the employees and/or associates of Veye Pty Ltd do not hold positions in any of the financial products covered on the website on the date of publishing this report (mentioned on the website).